ZviDance Presents the World Premiere of
MIGRATIONS
At New York Live Arts
219 West 19th Street
November 3-5, 222
Artistic Director: ZVI GOTHEINER
Associate Artistic Director: DORON PERK
Choreography: ZVI GOTHEINER in collaboration with The Dancers
Music: Original Score by SCOTT KILLIAN and JACOB LAWSON (violin)
Lighting Design: MARK LONDON
Costume Design: GABRIELLE GRYWALSKI
Dancers
DORON PERK
NAT WILSON
CAITLIN JAVECH
ANSON ZWINGELBERG
MATILDA MACKEY
NICOLE LEUNG
LESLIE MERCED
Zvi Gotheiner's MIGRATIONS begins with bodies writhing and twisting and undulating in preparation for their flight. They move into a syncopated dance formation that is quickly disregarded as each dancer breaks off to display their individual talents. Movement is broad, precise, graceful, and descriptive as the dancers breathe life into the message.
Migration, whether by birds or humans, is a journey in search of a better condition. This work celebrates the anticipation, the triumphs, and the joys, as well as the confusion, the fear, the danger, and the pain. MIGRATIONS connects humans with nature by the universal need for survival and the desire for improvement. This is a beautiful way to remind us all that we are part of a larger community.
- Laurie Lawson -
Ballet Hispanico Presents
New York Premiere of
DONA PERON
City Center Dance Festival
131 West 55th Street
212-581-1212 or CityTix@NYCityCenter.org
April 1- 3, 2022
Choreography: ANNABELLE LOPEZ OCHOA
Artistic Collaboration with NANCY MECKLER
Music by PETER SALEM
Scenery Design by MARK ERIC
Lighting Design by CHRISTOPHER ASH
Projection Design by CHRISTOPHER ASH
Starring
DANDARA VEIGA, CHRIS BLOOM, and NINA BASU
With
LEONARDO BRITO, ANTONIO CANGIANO, SHELBY COLONA, AMANDA DEL VALLE, ALEXANDER HAQUIZ
PAULO HERNANDEZ-FARELLA, CORI LEWIS, LAURA LOPEZ, HUGO PIZANO OROZCO, OMAR RIVERA
ISABEL ROBLES, GABRIELLE SPRAUVE, LENAI ALEXIS WILKERSON, MARIANO ZAMORA
Musicians
HECTOR DEL CURTO (Brandoneon)
AHMED ALON VEGA (Pianist)
BRIAN SHANKAR ADLER (Percussionist)
SAMI MERDINIAN (Violinist)
JISOO OK (Cellist)
Ballet Hispanico's New York Premiere of DONA PERON is mesmerizing from beginning to end. Of course, there are the usual flowing colorful costumes, the bodies that perform feats that the average mortal can only dream of, stark but clever sets, and synchronized movement. But that is where the similarities end and the power to create something new and special begins. Choreographer Annabelle Lopez Ochoa and this talented company use a variety of dance and music to beautifully portray the short but triumphant life of Evita Peron. Tango, tap, modern, marching, salsa, and breakdancing all merge with ballet to display the passion and power of a woman who became a beloved legend. Amidst the tinkling of a piano, strings, percussion, and accordion provide pulsating music to enhance the movement and the story. Kudos to this performance's Evita, Dandara Veiga, who stays onstage throughout the entire presentation, including costume changes.
If you love the ballet, this production turns the genre on its lovely ear and presents you with the possibility and versatility of the dance. And if this is your first ballet, Ballet Hispanico's DONA PERON will make you a fan.
- Laurie Lawson -
SIX SOLOS: Legend, Myth & Nature
Conceived, Narrated and Performed by LYNN NEEDLE
Lighting Design/Stage Manager: STEPHEN PETRILLI
United Solo Festival 2021 New York
410 West 42nd Street (between Ninth & Tenth Avenues
October 28, 2021 @ 7:30 PM
https://unitedsolo.org/shows

One of the presentations of the United Solo Festival 2021 is Lynn Needle's SIX SOLOS: Legend, Myth & Nature. It is an impressive work leaving no doubt that Needle knows her dance stuff. She is in total control of her 60-year-old body, utilizing every part to its full advantage. Starting with a metallic stretchy bag where no flesh can be seen, she creates images, shapes and forms that blend with the music perfectly. She moves on to Impromptu, a memorial to a lost child, and then Haunted, a jazz dance performed to a cacophony of sounds. The last trilogy (Forest, Monarch, Shakti) is a tribute to nature with beautiful elaborate costumes.
In between dances, Needle gives a little background material complete with personal anecdotes and behind-the-scenes tidbits. The only complaint I would voice is about the long period between dances while costumes are being changed. Perhaps she could record the narration and play them during the dance changes; then the audience could enjoy a fluid presentation of Lynn Needle's talents. That would make the experience even more pleasurable.
- Laurie Lawson -
LOOK WHO'S COMING TO DINNER
COMPANY SBB//Stefanie Batten Bland

Dance
Lincoln Center Restart Stages
August 3, 2021

Internationally known choreographer, Stefanie Batten Bland and founder of COMPANY SBB, brings her provocative and dynamic production of LOOK WHO'S COMING TO DINNER to Lincoln Center's Restart Stages, a series of free performances in ten outdoor venues to revitalize the performing arts sector in New York City.

LOOK WHO'S COMING TO DINNER draws on themes of racial tension from the 1967 film, Guess Who's Coming to Dinner (the basic plot: a young white woman invites her black boyfriend to dinner with her family). The ensemble sets the stage with several folding tables and sheer table coverings with the family gathered to meet the guest. His initial solo performance seeks to entertain and please them. As the production evolves and conflicts among the characters increase, the cast deconstructs the tables and coverings and uses them as props and scenery. One particularly compelling scene sets a table on its end with one dancer behind it and another in front of it, pounding on it as a door for access to another, better part of the world.

The young, energetic cast brings joyful exuberance to the stage. The audience could feel their enthusiasm and happiness at being there, performing live and in-person, and responded with a standing ovation. Stefanie Batten Bland provided an additional highlight and joined her company to perform.
In a nod to conquering COVID and the world returning to normalcy, as an introduction to the show, the entire company takes the stage in masks, then slowly in full dance mode, removes and discards them. Bravo!!

- Faye Argentine -

YOU ARE HERE
Commissioned by Lincoln Center for the Performing Arts
A project of the Arnhold Dance Innovation Fund
Sculpture, Sound & Performance Installation
July 14-30, 2021
Lincoln Center Hearst Plaza
LincolnCenter.org/YouAreHere
CREATIVE TEAM
Concept and Choreography – ANDREA MILLER
Co-Directors – ANDREA MILLER and LYNSEY PEISINGER
Composer and Sound Artist – JUSTINE HICKS
Production Design – MIMI LIEN
Costume Design – OANA BOTEZ
Dramaturg - IYVON E.
GALLIM DANCERS
LAUREN HAYES, CHRISTOPHER KINSEY, NOUHOUM KOITA, MISA LUCYSHYN, GARY REAGAN
CONNOR SPEETJENS, TAYLOR STANLEY, HALEY SUNG, GEORGIA USBORNE, AMADI WASHINGTON
Andrea Miller's YOU ARE HERE is a great way to dip your toe back into the theatrical world. Dancers clad in sequined fish-scale-like costumes utilize the pond in Hearst Plaza at Lincoln Center to do just that. Interpretative dance accompanies narratives about New Yorkers who faced and survived the pandemic. Dancers of all ilks – ballet, wheelchair bound, performing arts, and even an ICU nurse – share their experiences through song, dance, and band instruments, ending with a rollicking crescendo of renewed, if still cautious, freedom. It's a tribute, it's a memorial, it's a celebration, it's an experience. A hot summer evening well spent.
- Laurie Lawson -
Appalachian Springs Foundation
announces
the Virtual World Premiere of

THOREAU'S HENHAWK VISITS MEXICO

July 11, 2021 7 p.m. EDT

thoreausociety.org

Featuring
CLARA GIBSON MAXWELL: Choreographer and Dancer
ROMAIN GARIOUD: Cellist

This lovely work evokes the peaceful, naturalist philosophy of Thoreau. We can now view him as more than a philosopher. He was a prophet.

The HENHAWK was inspired by Thoreau's words: "It's not what you look at that matters, it's what you see." The henhawk sees the trees as friends as he soars above them. Man sees the henhawk as a predator. Man's gun is loaded and will shoot him down just for existing.

Per Thoreau, so it is for anything wild or different, including genius.

This mixed-media treasure poetically and beautifully portrays the soul of Thoreau: ecology and ethics. Viewing it lightens the spirit while evoking thoughts of where we are and where we should be with Mother Earth and all her living things.

-Karen D'Onofrio-
Peter Stathas Dance
presents
the Virtual Premiere of

WHAT WE HAVE TO GIVE

June 18-20, 2021

https://secure.givelively.org/event/peter-stathas-dance-inc/what-we-have-to-give-fundraiser/what-we-have-to-give

The piece is available from June 18, 2021 at 7pm ET through June 20, 2021 at 10pm ET.

Featuring
TY GRAYNOR, SELINA HACK, ANDREW McSHEA, PAULINA MENESES, JESSE OBREMSKI, EMILEE PRATT, SASHA RYDLIZKY, & LAUREN TWOMLEY


PETER STATHAS has taken the lemons of COVID isolation and made a beautiful layered visual serving of art and heart.

With no ensemble work possible, STATHAS contacted his dancers, encouraging them to stay active and motivated. WHAT WE HAVE TO GIVE is the result of this remote yet collaborative effort. Each dancer was to express the "now" they were feeling. The outcome is this series of solos and one duet radiating pain and isolation while at the same time beaming sunshine and hope.

It begins in Chicago in May, 2020. We move to Brooklyn for June. A sadder note. Brooklyn in July on a roof garden. Roosevelt Island in September. Queens in October, Manhattan in December. A new year dawns in North Carolina. Each dancer is more brilliant than the next, each month more evocative.

Kudos to all the brilliant talent involved in this film.

-Karen D'Onofrio-
2021 CROSSCURRENT
CONTEMPORARY DANCE VIRTUAL FESTIVAL
SEVENTH SEASON

Flushing Town Hall

Produced by NAI-NI CHEN

June 11, 2021 7:30 p.m.

https://www.flushingtownhall.org/2021-crosscurrent

NAI-NI CHEN is a wonder. She has brought together a massively talented group of the most imaginative contemporary Asian-American choreographers for this enjoyable festival. The first evening features six varied and enticing works.

In V/\NISH by Maya Lam, she is outside in the autumn leaves, then on a rooftop, then invisible in her stretchy, amorphous amniotic sac. She depicts an experience of life as one moment, the "now". You need do nothing but exist. LÚTALICA | WANDERER by Taiwanese-American Peter Cheng lets us see the New York skyline, dance in the bamboo garden, break free from the definition thrust upon us at birth.

INCOMPLETE JOURNEY by Korean Seyong Kim is a ballet-style duet. Graceful in their black attire, the dancers evoke the violin concerto that accompanies their elegant movement. 母老虎 TIGRESS by Julia Foti, an adopted Chinese American woman, explores her journey through cultural identity. LOST IN TRANSLATION by Taiwanese Chieh Hsiung surprises the viewer with a couple in silk pajamas dancing to 1940's jazz.

Fiona Tsang's UNNOTICED exposes the lack of representation of Asian-Americans in American history, media, and conversation. This piece retells the tragic story of Vincent Jen Chin, a Chinese American who was beaten to death the night before his wedding in 1982. The racially motivated attack was committed by two white men who thought he was of Japanese descent.

The dancing is not only a pleasure to watch, it takes the viewer on a journey of ideas and imagination in a wonderful way. NAI-NI CHEN and these young choreographers are truly a "dream team".

-Karen D'Onofrio-
Vangeline Theater/New York Butoh Institute
In Collaboration with Howl Arts
presents

QUEER BUTOH

FLOWERS

Featuring
XUE
In collaboration with MIKA OROTEA & JOHN BARRINGTON

June 8, 2021 8 p.m.

Performances of new dances in the series will air on June 15 & 22, 2021 8 p.m.

Livestream
www.howlarts.org

Available through June 30, 2021
www.vimeo.com/vangeline

XUE is a surrogate for butoh artist Sher Chew. In FLOWERS, she uses chrysanthemums to powerfully evoke humanity's addiction to attachment and the emotional and physical traps we set for ourselves.

Filmed in black and white under a small spotlight, the naked XUE bit by bit brings the flowers into the light. Crouching, she calmly pulls the petals from their stems, laying the blossoms to create a large circle on the stage. Now enclosed in her self-created prison, she wordlessly exudes strength, doubt, thoughts, and decisions, even in her pauses. Such is butoh.

A change erupts. XUE crushes the petals, whips herself mercilessly with the headless stalks. The viewer must feel the performance, become immersed in the silent power. Is she destroying her patterns, her entrapments? Punishing herself for falling into social restrictions? Inflicting pain to awaken her Self to a new reality? Or is she so numbed by her banal existence that even pain cannot reach her soul? Her physical vocabulary emerges as conventions surrender.

XUE presents a moving, touching, elegant performance. She perfectly embodies the magnificent essence of butoh.

-Karen D'Onofrio-
South Orange Performing Arts Center presents

Nai-Ni Chen Dance Company
in

AWAKENING

Featuring
NAI-NI CHEN
GRETA CAMPO, ETHAN GWYNN, SONNY SHIU, EVAN MATTHEW STEWART, YUKA NOTSUKA,
RIO KAKUCHI, & CANDACE JARVIS

sopacnow.org/events/nai-ni-chen-dance-company
(973) 313-2782

April 10, 2021 7:30PM

This hour-long collection of choreographer NAI-NI CHEN's recent works highlights her intense distinctive vision and amazing talent for conveying the deepest emotions through seemingly effortless movement.

"Truth Bound" (2019) was inspired by all the free newspapers and junk mail that arrive unbidden and smother us daily. The dancers are completely covered in crumpled newsprint, which adds its own sound to the performance. After much struggle, they rip the papers off, shredding them, tossing them, until only they, simply dressed individuals, remain. They have found truth not in words, but in freedom. NAI-NI CHEN leads them elegantly to the light with her white glowing paper lantern.

In "Introspection", the dancers use flashlights to illuminate themselves and the other dancers on the pitch-black stage. Through the interplay of light and shadows, we see the same people as ever-changing images through the prism of multiple perspectives. NAI-NI CHEN uses light to powerful effect, awakening us to the reality that nothing is static. The blink of an eye can transform our perceptions of everything and everyone.

"Luminescence" (premiere) confronts the choreographer's increasing dependence on the power of nature to help her remain physically and mentally resilient during the pandemic. In this ode to nature's grace, NAI-NI CHEN reminds us that we are not the only life form on earth. To discover the beauty in nature and to respect and protect the environment are vital to our survival.

Shadow Force (premiere) is one of the darkest dances the choreographer has made. It embodies the struggle of the nation and its people to stay united despite powerful opposing forces.

NAI-NI CHEN is herself a force of nature. She and her dancers embody grace, power, sorrow, glory, and joy through their flawless, flowing movement. The viewer is drawn in by the beauty and grace of it all. A wonderful performance, as always.

-Karen D'Onofrio-
DANCE/NYC 2021 SYMPOSIUM
Lead Corporate Sponsor Con Edison
Justice Track
A Reckoning of Power, Accountability, and Gender Equity
Wednesday, March 17/ Thursday, March 18/ Friday, March 19/ Saturday, March 20
Featured Speakers:
Lauren Wingenroth, Editor in Chief, Dance Teacher and Dance Business Weekly, Senior Consulting Editor, Dance Magazine (moderator)
Germaul Barnes, Choreographer, Director, Master Educator, Scholar, Designer and Curator of Contemporary Improvisation for Black Men
Lady Krow, Dancer and Visual Artist
Leslie Scott, Founder Youth Protection Advocates in Dance (YPAD)
Linda La, Artistic Activist, Transgender Advocate, Performance Poet
Presenter from The Actors Fund: Mario Ismael Espinoza, LMSW, Dancers' Resource Social Worker, The Actors Fund
Mental Health Support Clinicians from Okay Let's Unpack This:
Catherine Drury, Licensed Clinical Social Worker and Psychotherapist
Anginese Phillips, Licensed Creative Arts Therapist, Board Certified Dance/Movement Therapist, Co-Director of Full Force Wellness & Dance Repertory

I came to the party late, but the DANCE/NYC 2021 SYMPOSIUM went out with a bang! Justice Track – A Reckoning of Power, Accountability, and Gender Equity closed out the four-day event, whose mission was to promote and encourage the knowledge, appreciation, practice, and performance of dance in the metropolitan New York City area.
The panel started out by introducing themselves with detailed descriptions of what they look like, where they were, identifying gender pronouns, and able/disabled status. Present throughout the entire discussion were ASL interpreters. Inclusion was the name of the game. And in case you were thinking that dance is just a fluid movement of toned bodies, extravagant costumes, and melodious background songs, this panel quickly dispelled that notion. They discussed oppressive practices, such as sexual harassment, gender inequity, body obsession, and putting health on the back burner because the show must go on. At times, the exchanges were raw, vulnerable, frightening, thoughtful, and inspirational. In the Chat Room, Mental Health Clinicians stood by providing self-care advice and resources to help those who may be triggered by the revelations. No quick fixes were offered but the event left participants with the feeling that they were not alone and that there were advocates working to reimagine the dance ecology. Powerful!
- Laurie Lawson -
Metropolitan Playhouse
Virtual Playhouse
Presents
METROPOLITAN IN MOTION: 2021
Featuring New Works by Choreographers
AMANDA SELWYN, RACHAEL KOSCH & ADRIANA SANANES,
ANTONIA FRANCESCHI, CATHERINE THARIN, & HANNAH NEWMAN-PAN
www.MetropolitanPlayhouse.org/metinmotion
Metropolitan Playhouse at YouTube.com
March 3, 2021, 8 p.m.
Available online through Saturday, March 6, 2021
Metropolitan Playhouse inaugurates its new series, "The Wednesday Alternative", with this contemporary dance production. Presented on film with great videography, the choreographers strut their signature styles.
First is "The Bells of St. Genevieve" by CATHERINE THARIN. Dancer Sarah Bauer floats elegantly, a barefoot waif in white, to music with an exotic eastern vibe. The intriguing "Madam Excerpt", in contrast, starts with a hunched, black-shrouded figure (RACHAEL KOSCH) creeping about. She created the dance with ADRIANA SANANES. Wait for the magic on this one!
"The Kiss of Judas", choreographed and performed by HANNAH NEWMAN-PAN, opens a new vista that includes side-by-side film clips and outdoor performance. Ballet style enters with "Suddenly Singing/Everyone Sang" to beautiful music played by DANIEL HOPE on violin and JACQUES AMMON on piano. AMANDA SELWYN and her dancers wrap it up with full orchestral music and multiple visual frames of dancers in the snow, outdoors, and indoors.
METROPOLITAN IN MOTION: 2021 is just what the doctor ordered: a "happy pill" to shake off the winter blues. Gorgeous body movement, sunshine even in the snow. An absolute "upper" for the soul.
-Karen D'Onofrio-
Nai-Ni Chen Dance Company
presents
YEAR OF THE GOLDEN OX
February 11, 12, & 13, 2021
https://nainichen/yearofox
What a delightful performance! Beautiful costumes, grace, beauty, delicacy, acrobats, two lions, and a dragon!
Chinese New Year is the most joyous holiday of the Chinese year. Imagine a 12-course dinner and exchanging red envelopes containing money so that you will have good fortune. These are solid, material things. The dances are magic dreams to amaze and lighten worldly cares.
First, the Double Lion Dance, featuring the most adorable lions ever. (Two dancers in each lion costume, of course). All red and gold, colors carrying good luck. Then Dream of the Peacock, where Chinese Toe Tip Balancing artist LINA LIU floats into place to balance and swirl large and seemingly weightless umbrellas on her toes and the bottoms of her feet. Unbelievably beautiful.
Six ladies in tasseled headdresses interweave for the Bai Ethnic Coinstick Dance. It is reminiscent of Morris Dancing, if Morris Dancers took ballet lessons and dressed in silk.
The luscious excerpt from Kunju Opera, "The Exodus of Wang Zhaojun", is a change of pace. Coming from Ming-era style, the movements are small steps, then stop and pose. Lady Wang Zhaojun's costume is out of this world.
This special online virtual presentation also includes the works of The Renaissance Chinese Opera Society, Master Balancing Acrobat Yang XiaoDi, Kuaiban Artist XingYe Ma, Kunqu actor Yaozhong Zhang, Yonghong Jia, Yi Chuan Yan, and others. The New York Chinese Music Ensemble adds amazing instrumental music featuring Erhu, Ruan, Pipa, and the ancient Sheng, a reed instrument.
If you get a chance to see any of these performers, don't miss it! You will not believe your eyes. The peacefulness, precision, and joy is medicine for the soul as well as a delight for the eyes.
HAPPY YEAR OF THE GOLDEN OX!
-Karen D'Onofrio-
Works & Process at the Guggenheim
Presents the Four-part Docuseries
ISOLATION TO CREATION
By filmmaker NIC PETRY of DANCING CAMERA
Featuring BUBBLE RESIDENCY Artists
EPHRAT ASHERIE DANCE
LES BALLET AFRIK WITH OMARI WILES
THE MISSING ELEMENT WITH CHRIS CELIZ AND ANTHONY RODRIGUEZ "INVERTEBRATE"
MUSIC FROM THE SOLE WITH GREGORY RICHARDSON & LEONARDO SANDOVAL
JAMAR ROBERTS
SEVEN DEADLY SINS WITH JOSHUA BERGASSE, JUSTIN VIVIAN BOND, JEFFREY GUIMOND, MARC HAPPEL, & SARA MEARNS
Airing on WNET's ALL ARTS
Streaming nationwide February 17, at 8 p m. EST
EPISODE FOUR: SHOWTIME
allarts.org
It's Episode Four, and time to pack up and go home, back to the city. The performers got outside into the sunshine for some final antics, stretches, and tap-offs. OMARI WILES of LES BALLET AFRIK calls it "euphoria". The artists were permitted to perform outdoors for a small audience at Kaatsbaan Cultural Park. Joy for all.
Performances were filmed at the Kaatsbaan Festival. Others were filmed outdoors at Lincoln Center in quarantined conditions, allowing the performers to work without masks. The exciting results will premiere live at the Guggenheim when health regulations permit.
During all of this, everyone was COVID-tested again and again, always with negative results. The participants and sponsors are proud to announce that their quarantine protocols worked perfectly. They have established a process that can be duplicated by others to further artistic interaction during this pandemic.
Lead funding for Works & Process is provided by the Ford Foundation, the Christian Humann Foundation, Leon Levy Foundation, Mertz Gilmore Foundation, NYC COVID-19 Response and Impact Fund, Stavros Niarchos Foundation, Rockefeller Brothers Fund, and Evelyn Sharp Foundation. The New York City Department of Cultural Affairs, in partnership with the City Council and the National Endowment for the Arts, supplied public funds. The U.S. Small Business Administration Paycheck Protection Program and NYC Employee Retention Grant Program also provided financial assistance.
A wonderful, inspiring accomplishment by everyone!
-Karen D'Onofrio-
Works & Process at the Guggenheim
Presents the Four-part Docuseries
ISOLATION TO CREATION
By filmmaker NIC PETRY of DANCING CAMERA
Featuring
BUBBLE RESIDENCY Artists
EPHRAT ASHERIE DANCE
LES BALLET AFRIK WITH OMARI WILES
THE MISSING ELEMENT WITH CHRIS CELIZ AND ANTHONY RODRIGUEZ "INVERTEBRATE"
MUSIC FROM THE SOLE WITH GREGORY RICHARDSON & LEONARDO SANDOVAL
JAMAR ROBERTS
SEVEN DEADLY SINS WITH JOSHUA BERGASSE, JUSTIN VIVIAN BOND, JEFFREY GUIMOND, MARC HAPPEL, & SARA MEARNS

Airing on WNET's ALL ARTS
Streaming nationwide February10 & 17, at 8 p m. EST

EPISODE THREE: AFRIK, BALLET, BALLROOM, BROADWAY, CLUB, HOUSE, & VOGUE
February 10, 2021 8 p.m. EST
allarts.org,
It's all coming together now. Each of the bubble residencies is transforming energy and imagination into movement and music. Soon they will be ready for their public outdoor performance in the Hudson Valley.
One bubble is breaking and freestyling so intensely that they "almost black-out". Total commitment of muscle movement free of conscient thought. Solid emotion. Their world is that of the classic underground dancers whose lineage is defined by diversity, embracing and freeing those who were ethnic and members of the LGBT community.
LES BALLETS AFRIK swirls and blends the power of tribal dance with the elegance of ballroom. Director OMARI WILES provides guidance, then lets the dancers create at will, with amazing results.
The revival of SEVEN DEADLY SINS promises to be a smash. Written by Kurt Weill and Bertolt Brecht in 1933, it is referred to as a "sung ballet". Imagine a split-personality plot and vocals written for Lotte Lenya.
Throw in some jazz sax and tap freestyling around the campfire, and enjoy this episode!
Once again, thank you to the Emmy-winning ALL ARTS, the New York arts and culture hub created by WNET, for documenting this amazing work. The performers are outstanding in rehearsals. The finished performances promises to be awe-inspiring.
-Karen D'Onofrio-
Works & Process at the Guggenheim
Presents
The Four-part Docuseries
ISOLATION TO CREATION
By filmmaker NIC PETRY of DANCING CAMERA
Featuring BUBBLE RESIDENCY Artists
EPHRAT ASHERIE DANCE
LES BALLET AFRIK WITH OMARI WILES
THE MISSING ELEMENT WITH CHRIS CELIZ AND ANTHONY RODRIGUEZ "INVERTEBRATE"
MUSIC FROM THE SOLE WITH GREGORY RICHARDSON & LEONARDO SANDOVAL
JAMAR ROBERTS
SEVEN DEADLY SINS WITH JOSHUA BERGASSE, JUSTIN VIVIAN BOND, JEFFREY GUIMOND, MARC HAPPEL, & SARA MEARNS
Airing on WNET's ALL ARTS
Streaming nationwide February 3, 10, and 17 at 8 p m. EST

EPISODE TWO: BEATBOX, MODERN, STREET, TAP DANCE, AND AFRO-BRAZILIAN RHYTHM
February 3, 2021 8 p.m. EST
allarts.org.

In this episode, BEATBOX, MODERN, STREET, TAP DANCE, AND AFRO-BRAZILIAN RHYTHM, we glimpse the creative process within the eight WORKS & PROCESS "bubble residencies". The artists from MISSING ELEMENT meld beatbox, breaking, flexn, and krumping. MUSIC FROM THE SOLE works on perfecting its "salad of cultures". JAMAR ROBERTS shares his 17 years of experience with Alvin Ailey's Dance Theater to push his group to dig backward and move forward, all in the present. EPHRAT ASHERIE jumps in with high energy hip-hop.
Amazing talent and energy here. Enthusiasm in the face of COVID. The bubble residencies give each group a completely safe environment in which to interact. No masks needed. Freedom inside and outside in the acres of Hudson Valley greenery.
The performers' styles are incredibly diverse and innovative. This series is the best. It turns viewers on to the ultra-modern and gives us all a much-needed jolt of optimism.
WORKS & PROCESS pioneered the "bubble residencies" in the summer of 2020. Under protocols developed with Dr. Wendy Ziecheck and ethical oversight by Dr. Robert Klitzman, artists isolated by the pandemic gathered together in COVID-free quarantine to expand their visions. The jointly subsidized residencies were produced in partnership with Kaatsbaan Cultural Park, Mount Tremper Arts, and Petronio Residency Center.
-Karen D'Onofrio-
Works & Process at the Guggenheim Presents the Premiere of the Four-part Docuseries
ISOLATION TO CREATION
By filmmaker NIC PETRY of DANCING CAMERA
Featuring Bubble Residency Artists
EPHRAT ASHERIE DANCE
LES BALLET AFRIK WITH OMARI WILES
THE MISSING ELEMENT WITH CHRIS CELIZ AND ANTHONY RODRIGUEZ "INVERTEBRATE"
MUSIC FROM THE SOLE WITH GREGORY RICHARDSON & LEONARDO SANDOVAL
JAMAR ROBERTS
SEVEN DEADLY SINS WITH JOSHUA BERGASSE, JUSTIN VIVIAN BOND, JEFFREY GUIMOND, MARC HAPPEL, & SARA MEARNS
Airing on WNET's ALL ARTS
Streaming nationwide January 27 and February 3, 10, and 17, at 8 p m. EST
EPISODE ONE: A WAY FORWARD
January 27, 2021 8 p.m. EST
January, 2020. The start of an amazing new year full of creativity, invention, performance, and surprise. Or so thought WORKS & PROCESS at the Guggenheim. Of course, we all know what happened. Seemingly overnight the COVID pandemic took over the world.
With their performers stifling in self-isolation, WORKS & PROCESS forged a path for artists to safely gather, create, and perform. After months of research and consultation, in the summer of 2020 they pioneered a series of "bubble residencies". Under a protocol developed with medical counsel Dr. Wendy Ziecheck, and ethical oversight by Dr. Robert Klitzman, artists isolated by the pandemic gathered in quarantine in the Hudson Valley. In partnership with Kaatsbaan Cultural Park, Mount Tremper Arts, and Petronio Residency Center, through jointly subsidized residencies, eight creative bubbles were born.
Episode One chronicles the process of "bubble" creation. Individual COVID testing, ensuring that every venue was "sterile", finding a safe bus and driver to take them all to their "bubbles". Quite complicated, quite thorough. Amazing, really. It is a joy to see the smiles on their faces. Freedom to interact and create! In front of a live audience!
Now to create and develop their performances. Styles include beatbox, krumping, flexing, Afro-Brazilian tap, New York street and club dance, vogue ballroom, and a revival of the 1933 musical "The Seven Deadly Sins". The next episodes in the series will follow their progress. A must-see for anyone who loves the arts. Out-of-the-box, onto the stage, it is enchanting to see the drive, energy, and spirit that flows through these performers.
A big thank you to the Emmy-winning ALL ARTS, the New York arts and culture hub created by WNET, for documenting what can be accomplished, even in the worst of times.
-Karen D'Onofrio-
Vangeline Theater/New York Butoh Institute
presents

RISING OF THE UNCHAINED SILENT SCREAMS

Starring TEBBY RAMASIKE

Followed by a Discussion with the Artist

October 24, 2020 5 p.m. & 8 p.m.

https://www.vangeline.com/online-tickets

TEBBY RAMASIKE is the absolute embodiment of Butoh. He was performing Butoh before he had ever heard of Butoh. People complimented him on his amazing Butoh skill until he was finally forced to find out what Butoh was. Talk about a "natural".

His RISING OF THE UNCHAINED SILENT SCREAMS portrays exactly that. Using the tiny, contorted movements of the dance form, he struggles to rise from his seated position, huddled in a corner of the stage. His internal tension and emotion are palpable, despite the minimalism of his actions. With awkward, shuddering steps, he fights the terror of his inner demons. Finally, for a moment, he is able to stand erect. Then he begins to shrink again, hunched, overcome.

Born in South Africa, Tebby left that country at the age of eight. He experienced racial hatred there, then the trauma of leaving his homeland. All these struggles inform his dancing. He is professionally trained and danced with troops in Europe. Meanwhile, he was developing a solo form of his own creation, combining his beloved exuberant tribal dances with whatever came from his own heart. It is now called Afro-Butoh. He has studied with Butoh masters and is highly regarded in the Butoh community.

Once someone asked him, "Oh, do black people dance Butoh?" With a laugh he answered, "I don't know. But I do"

-Karen D'Onofrio-
Vangeline Theater/New York Butoh Institute
presents

BUTOH IMPROVISATION

Starring YUKO KASEKI

Followed by a Discussion with the Artist

October 17, 2020 5 p.m. & 8 p.m.

https://www.vangeline.com/online-tickets

Butoh dancer YUKO KASEKI is internationally known for her performances, choreography, and teaching. Based in Berlin since 1995, she combines Butoh with performance art, resulting in unique form that is all her own.

Her solo IMPROVISATION is compelling and fluid, unpredictable and engaging. She is unbelievably agile, as if she were all muscle and sinew, that even her bones are bending and arching.

She crawls, struggling, into view. The only sound is breathing. Writhing, slowly rising, clad in shreds of cloth, she summons all her strength just to stand. Hulking behind her, her shadow echoes each effort. Her head and face are covered in a nylon stocking, obliterating her features. She slowly spreads her arms, like a fragile baby bird. Desperately pulling the stocking off, she gasps to take breath. I will say no more. This performance must be seen to be appreciated.

YUKO KASEKI indeed stands alone.

-Karen D'Onofrio-
The Washington, D.C.
Chamber Dance Project

presents

The World Premiere Dance Film Collaboration

NEW WORKS 2020 (& BEYOND)

September 26, 2020

https://chamberdance.org/beyond/

Reaching beyond the stage and into the virtual world, CHAMBER DANCE PROJECT has thrown its energy and innovation into creating new works and new ways to present them. The results transport the viewer into a world of struggle, peace, and beauty.

EXIT WOUNDS is a gripping duet. On the bare, dark stage, two men entangle and embrace, one always physically supporting the other, keeping him safe, keeping him close. ANAILE NDLOVU and LUIS R. TORRES exude power and grace in this dance created specifically for them by DIANE COBURN BRUNING.

Next, a dreamy pas-de-deux to Godard's "Berceuse" from "Jocelyn". Performing in the glowing white atrium of the Milwaukee Museum of Art, LUZ SAN MIGUEL and DAVIT HOVHANNISYAN, dressed in black, are ethereal. Again, choreography by DIANE COBURN BRUNING.

The film A SINGLE LIGHT begins in black and white. Soon a split screen reveals colors indoors and outside, dancers clawing up stairs, sliding down stairs, hopping, on a journey. Cut to girls in bobby socks rocking to the sounds in their big old-fashioned headphones. Smiles and giggles. Suddenly the camera is overhead, dancers rolling on tables, posing, stretching. Then we are back on the stairs, struggling. Certainly a metaphor for today.

An enlightening and energetic talkback with the artists tops off this wonderful production. Vive la danse!

-Karen D'Onofrio-
Battery Dance
presents
A Virtual Performance
of
The 39th Annual Battery Dance Festival

Night Seven: NORTH AMERICA

August 20, 2020

https://batterydance.org/battery-dance-festival/

This evening showcases dances from Canada, Mexico, and the U.S. It begins al fresco near Toronto, Ontario, land of the Huron, Wyandot, and other tribes. KAEJA D'DANCE takes us through the tall grass, trees, and shrubs while 20 dancers improvise brief solos popping up from the greenery on the shore of Lake Ontario. Freedom, breezes, leaves rustling, the whisper of the water. And finally, in the distance, the Toronto skyline, so near, yet a world away.

Next, indoors in the U.S. with the CORNFIELD DANCE company. A ballet in a spacious room bright with windows, "Portal" is a dance in silence. The performers' interactions and detachments are human orbits, moving through vast emptiness to find peace, inspiration, noise, agitation, or a quiet suspension in the eye of a spiritual storm.

DELFOS DANZA from Mexico presents "Telempathies", a modern dance hybrid making maximum use of Zoom and today's elusive borders between together and apart, freedom and restriction. Six dancers, six peep-holes, one eye looking out from each. An intricate mix of video effects portray people inside people, splashes of red color, all against the narrative of a U.S. space mission. The film strikes to the heart of today's surrealistic "reality".

Staying in the modern genre, PONY BOX DANCE THEATRE, an all-male company based in New York City, gives us "The Vision". Drone video exposes a dirt-covered figure emerging from dry earth. He shows amazement at his surroundings, arches his back to feel the sun on his face. He has been born!

DANCING WHEELS, also U.S., is recognized as the first and foremost professional dance company that integrates dancers both with and without disabilities. Their exceptional "Imagine, If You Will…" must be seen to be appreciated. It is delightful beyond description, emanating power and absolute fearlessness.

"Gratitude" provides a glorious finale to the evening from the NATIONAL BALLET OF CANADA. Each dancer choreographed their own homage to the audience and to all essential workers during the COVID pandemic. Beautiful dancing with a beautiful thought behind it.
Battery Dance
presents
A Virtual Performance
of

The 39th Annual Battery Dance Festival

Night One: BLACK VOICES IN DANCE

August 14, 2020

https://batterydance.org/battery-dance-festival/

This night's performances explore the nexus of African and Caribbean dance traditions with the Black experience in America.

In "Crossroads", the KOFAGO DANCE ENSEMBLE salutes the spirit deity Eshu, the Caribbean guardian of the crossroads. Trinidadian and Haitian blend as the dancers in diaphanous white follow the throbbing rhythm to its conclusion. A beautiful viewing experience.

Cut to the ERV WORKS DANCE "I-will I-will I-WILLLLL". WILLIAM ERVIN's choreography moves him from modern dance to smooth jazz in a remix of "Here Comes the Sun". Outdoors, dancing in gravel, he moves into ballet poses and graceful extensions to express one's relationship to the self.

The beautiful and athletic "greener grASsEs", an ensemble work, uses lighting changes and multiple dance and music styles to evoke the death journey of migration and spiritual wreckage of leaving loved ones behind.

"What do you want to shed?" Your masks? The coverings you have donned to protect yourself from yourself? "tenderheaded.." works to unravel our layers against the "music" of garbled radio-station tuning. Dance company Co.D has excelled in this presentation.

-Karen D'Onofrio-
Battery Dance
presents
A Virtual Performance
of

The 39th Annual Battery Dance Festival

Night Two: INDIA INDEPENDENCE DAY

August 15, 2020

https://batterydance.org/battery-dance-festival/


Get ready to be blown away by these dances! All about brightness, color, silver, bangles, joy, face-painting, foot-painting, religion, and culture, they offer a fabulous sampling of styles from all over the country. The hostess, RAJIKA PURI, introduces each with a bit of history and geography. Her smile is as contagious as the rhythms of tabla.

Highlights include an example of Contemporary Kathak, inspired by a classic Chinese novel. It explores the search for our higher selves and the attempt to overcome states of mind that can hold us back. The world premiere of "Grapple" by SANTOSH NAIR evokes the search through darkness to light. A short duet movement collage from "Samsara" portrays the steps taken in the journey of life, both forward and backward, drawing on Buddhist philosophy.

"Theyyam" chronicles in time-lapse the three-hour process of transforming PRADEESH K. THIRUTHIYA into Bhagavati, the Mother Goddess. Bright orange face and body paint, spangles, and an elaborate scarlet headdress prepare him for the ritualist dance, normally performed in front of a temple. Equally astonishing is the southwest India stately, mesmerizing representation of the second incarnation of Vishnu into the form of a turtle. KAPILA VENU uses the language of facial expression, gestures, and postures to convey the tale. She, too, is elaborately made-up and costumed.

On a dreamy note, ADITI MANGALDAS intercuts her 2006 work "Zero Moment" with her current feelings in "Amorphous—The Zero Moment". Switching between color and stark black-and-white, she tries to capture the shapelessness of time and the mysteries in the concept of past/present/future. A mirror and harsh shadows make us ask: "Are there three of her?" Perhaps. The old, the now, the future.

The last video is total Bollywood and so much fun. It has become a standard in India at weddings, anniversary parties, and any event where Aunt Martha decides to jump up and shake her booty. Namaste! Good luck getting the tune out of your head.

-Karen D'Onofrio-
Battery Dance
presents
A Virtual Performance
of

The 39th Annual Battery Dance Festival

Night Six: FROM AFRICA

https://batterydance.org/battery-dance-festival/

August 19, 2020

This evening welcomes dances from Johannesburg, Kampala, and Harare, providing an emotional tour-de-force of southern and east Africa.

MOVING INTO DANCE (South Africa) presents two performances. First, "Everlast", evoking the dehumanization of labor when workers lose their rights of ownership to the products they create. The second performance, "Road", is what we travel on and learn from as we progress through life. EUGENE MASHIANE is masterful alone on stage as he struggles to remain close to his work while being pulled, dragged away from it by forces he cannot control. OSCAR BUTHELZI's choreography and dance carry us forcefully along "Road", joined by dancer MUZI SHILI.

THE DUNA DANCE THEATRE (Zimbabwe) filmed its "Making Men" outdoors in the grassland. Four men in native dress embrace their environment, intercut with a narration. They are reaching manhood. They want to grow into men. But fear lingers. Self-doubt holds them back until they break free of the invisible but powerful chains that restrict them.

ABDUL KINYENYA (Uganda) also films outdoors in "Twete (free ourselves)". Moving from greenery and stone to the edge of a stream, the dancer splashes in delight. Stone by stone he moves into the flowing waters, letting nature run through him. Freedom in a glorious land.

In "Thina", LUTHANDO ARTS ACADEMY (South Africa) portrays a young South African family clinging together, then fragmenting into arguments over money and property. The eight sit in a circle on the dark stage, arms intertwined, holding hands. They are comfortable, safe, close. They rise as one and look skyward together in slow, rhythmic motion. A man breaks away and turns his face toward the darkness. The rest release hands and arms slowly, breaking apart, separating, wandering into shadows. The use of lighting is especially effective in this piece.

The dancing in FROM AFRICA is visceral, powerful, and stunningly beautiful.

-Karen D'Onofrio-
ALL ARTS
presents

IN THIS LIFE

Written by BAT-SHEVA GUEZ & ROBBIE FAIRCHILD
Directed by BAT-SHEVA GUEZ

Starring ROBBIE FAIRCHILD

Featuring
KATHLEEN LAITURI, HEATHER LANG, RICO LEBRON, MARTHA NICHOLS, MICHAEL ROSEN, AHMAD SIMMONS, RYAN STEELE, CASSANDRA SURIANELLO, ABBY STEPHENSEN, & JULIEN VALME

Choreographers: WARREN CRAFT, JAMES ALSOP, ANDREA MILLER, CHRISTOPHER WHEELDON, & ROBBIE FAIRCHILD

Production Designer: KAREN WEBER
Mask Designer: JAMES ORTIZ
Costume Designer: BECKY BODURTHA
Score: RIVKA
Sound Designer: ERIC BROWN

allarts.org/programs/all-arts-performance-selects/life-fvtylu/

IN THIS LIFE uses dance to wordlessly convey the impact of loss in our lives. The beautifully executed film allows dance to leave the confines of the stage and weave through the streets, clubs, waters, and church. ROBBIE FAIRCHILD goes in search of something, someone. His hands force his face into expressions. He hides his emotions under layers of white goo. But whatever he does, he still must face himself.

This dynamic production speaks with compelling movement, reaching the viewer on a level far deeper than anything verbal. Denial, anger, depression, peace, all elegantly expressed. A tale that resonates with the times we live in.

-Karen D'Onofrio-
Lake Tahoe Dance Collective
presents
The 8th Annual

LAKE TAHOE DANCE FESTIVAL

NIGHT TWO: MID-CENTURY MODERN DANCE

Featuring Works by MARTHA GRAHAM, PAUL TAYLOR, ERICK HAWKINS, & LESTER HORTON

Hosted by CHRISTIN HANNA & KRISTINA BERGER
Special Guests LLOYD KNIGHT, WENDY WHELAN, & KRISTIN DRAUCKER

laketahoedancecollective.org

July 23, 2020

Another lovely night with the Lake Tahoe Dance Collective. This evening highlights the magical madness of losing the Victorian corsets and in freedom across the stage. Airy fabrics, waving arms, celebrating a new era of performing without limits.

Martha Graham gave it a kick-start with her athletic approach to movement. The dance company she founded is now ninety-four years old, the oldest dance company in the U.S. Dancers embraced her choreography as being emotionally and physically rewarding. The festival featured Graham's marvelous 1952 solo "Moon", so evocative and sensual.

Next came "Nymph of the Grass and Meadows" from the Erick Hawkins masterpiece "Greek Dreams". Flawlessly performed outdoors by KRISTIN BERGER, it was a stunner. Hawkins majored in Greek Civilization at Harvard, then studied at Balanchine's School of American Ballet. He also married Martha Graham, creating a combo neutron bomb of dance revolution.

Paul Taylor's "Cascade" followed. Last was a Lester Horton work, filled with his influence from African and Caribbean music and dance movement. He brought a new vein of riches into the modern dance world.

The commentary by CHRISTIN HANNA & KRISTINA BERGER enhanced the whole experience. Their enthusiasm is contagious.

-Karen D'Onofrio-
Lake Tahoe Dance Collective
presents
The 8th Annual

LAKE TAHOE DANCE FESTIVAL

NIGHT ONE: AMERICAN CLASSICAL BALLET

Featuring Works by AGNES de MILLE, ANTHONY TUDOR, & LAUREN LOVETTE

Hosted by CHRISTIN HANNA & CONSTANTINE BAECHER
Special Guests DANIEL BAUDENDISTEL, STEPHEN HANNA, ADRIAN DANCHIG-WARING, & ASHLEY BOUDER

laketahoedancecollective.org

July 22, 2020

Night One of the festival features works that defined the beginnings of American ballet and laid the groundwork for modern ballet's choreography and style. Video clips from past and present include a pas-de-deux from the Bolshoi. Balanchine's "Apollo", a classic since its 1928 debut, is performed on a Long Island lawn. De Mille's touching "The Other" shows the elation of young love. Tudor's "Jardin Aux Lilas" ("Garden of Lilacs") is a clip from the New York Theatre Ballet. So many delightful snippets of elegant, emotive ballets. A joy to watch.

Hostess CHRISTIN HANNA and her guests explain so much about the choreographers and the evolution of ballet. They give the night's performances a lovely, personal depth. The evening is a joy. The last piece, "Red Spotted Purple", is a modern commissioned work danced on an outdoor stage by ASHLEY BOUDER. It displays her youth, grace, and a real feeling of freedom not often seen in what we would call classical ballet.

Perfectly executed and produced, this festival provides an hour of sweet release. It replaces worry with a mind full of admiration for the dancers, the choreographers, and the composers.

Standing ovation for everyone involved. Bravo!

-Karen D'Onofrio-
Jody Sperling/Time Lapse Dance
premieres
The Dance Film Short

SINGLE USE

Choreographed & Performed by JODY SPERLING

Director of Photography ANGELA HUNTER
Edited by JODY SPERLING
Costume by LAUREN GASTON
Music by MATTHEW BURTNER

timelapsedance.com/events/tldat20/

July 22, 2020 7 p.m.

JODY SPERLING has way too much fun frolicking in the streets dressed as a clump of reclaimed plastic bags. What a happy blob of trash!

She designed her performance to evoke thoughts on the nature of disposability and resuscitation. She begins as a lady gazing at the clothes in a shop window. Then she ties plastic bags on her feet, wraps one around her hair, and dons a mesh dress covered in the flowing colored bags of New York bodegas, drugstores, and groceries.

No longer identifiable as human, she embarks on her Bag Journey. Hopping, skipping, lying on the sidewalk, rolling in the grass of a median, leaning against buildings, and wrapping herself around poles. Splashes of techno music accompany her, aided by a providential police siren in the distance.

At a little under ten minutes long, this is both a statement and a treat. Makes you want to hug a bag, or at least treat it gently when you stuff it into the recycling bin.

-Karen D'Onofrio-

Sokolow Theatre/Dance Ensemble
Premieres
A Virtual Performance of
Anna Sokolow's

ROOMS2020

Music by KENYON HOPKINS

Dance Directed by SAMANTHA GERACHT, ELEANOR BUNKER, & LAUREN NASLUND

Video Directed & Edited by LAUREN NASLUND

Dancers
ILANA RUTH COHEN, ERIN GOTTWALD, SAMUEL HUMPHREYS, ERIKA LANGMEYER,
BRAD OREGO, SIERRA POWELL, MARGHERITA TISATO, & LUIS GABRIEL ZARAGOZA

https://sokolowtheatredance.org/rooms-2020/
Available for view until July 25, 2020

ROOMS2020 is an amazing adaptation of Sokolow's ROOMS, which premiered in 1955. It portrayed the loneliness of city apartment dwellers post-World War II, in the era of polio and the threat of Communism and atomic annihilation. What irony that the year 2020 has time-warped us back to a parallel life. Once again we are all living in ROOMS.

The company originally planned a live performance of ROOMS, when COVID intervened. The result is this marvelous video production, perfectly suited to the theme of isolation and its effects on the mind.

The names of the movements tell the tale: "Alone", "Dream", "Escape", "Going", "Desire", "Panic", "Daydream", "Street", and "The End?", followed by the entire company in "Coda". To the often-atonal edgy jazz accompaniment, each dancer takes a star turn in one or more movements. Each is excellent, evocative, beautiful, real. They stand, stretch, whirl, crawl, claw, hop, seduce, reach elegant arms toward the sky pleading for release, for freedom. The viewer can relate to their desires and frustrations. We are there with them. We understand.

Every aspect of this production is beyond stellar. The music, the video editing, and the fact that each dancer did the video recording of his or her performance. This is a classic.

-Karen D'Onofrio-
THE FLEA THEATER presents BLACK MOON THEATRE COMPANY'S
BLISS
based on THE TIBETAN BOOK OF THE DEAD
Director: Rene Migliaccio
Text Adaptation: Alessio Bordoni
Performer: Alessio Bordoni
Dancer: Charlotte Colmant
Music: Amaury Groc
Artwork: Estella Dupree
Lighting Design: Cindy Shumsey
Choreography: Charlotte Colmant and Rene Migliaccio
Consultant Choreographer: Eric Pettigrew
Assistant Director of Production: Isabella Schiller


The Flea Theater
41 White Street in TriBeCa, 3 blocks below Canal Street between Broadway and Church Street
Call 212-352-3101 or visit http://www.theflea.org
Tickets can be found at https://web.ovationtix.com/trs/pr/961264 for $20-$30.
September 8 – 25, 2016
Black Moon Theatre Company presents BLISS based on the Tibetan Book of the Dead at The Flea which embodies adventurous theatre Off-Off Broadway. In this new multi-disciplinary production, Artistic Director Rene Migliaccio staged the story through dance, voice, visual projections, and music.
BLISS follows a man's cycle of life based on the theory of reincarnation performed by Alessio Bordoni. The journey began when he became conscious during the interval between death and rebirth. He was shadowed by a Butoh dancer, Charlotte Colmant, who represented his supra consciousness on the path of liberation from his former body so that he could successfully enter a new body. Between death and rebirth, as the man was striving to awaken to a Higher Consciousness, he experienced a wide spectrum of moods from dark to ethereal. Pictorial screen projections, in front of the performer and dancer, symbolized the various stages of his journey. Music accompanied the actor as he recited his journey. Altogether, this visual and poetic dance odyssey served as an allegorical guide for the living— when all of us will one day cross to the other side of the veil continuing the cycle of reincarnation.
BLISS was written, produced, directed, and performed with the spirit of adventure and is for like-minded audience members and those with open minds.
- Laura Thompson -
http://www.loralia.com @LORALIA
Delirious Dances presents
TO BEGIN THE WORLD OVER AGAIN
Gibney Dance
Anges Varis Performing Arts Center
280 Broadway
NY NY
30 June-2 July 2016

Choreography by Edisa Weeks in collaboration with the dancers
Composed and conducted by: Joseph C. Phillips Jr.
Featuring: Ardella Bang, Angel Chinn, Michael Henry, Johnnie Mercer, EmmaGrace Skove-Epps, Ricarrdo Valentine


TO BEGIN THE WORLD OVER AGAIN is a multi-disciplinary work that features one actor, six dancers, and ten musicians based on the writings of Thomas Paine.

It begins with the actor and dancers passing out noisemakers and fortune cookies. The cookies have Thomas Paine quotes, which the actor asks various audience members to read aloud. Eventually, the music and dance begin. The choreography is strong. Instead of trying to make it look easy, the intention here is to show how hard the dancers are working. They throw themselves into the dance with such energy, that in such close proximity to the audience, one starts to fear getting a foot in the face! As the evening goes on, the dancers do touch audience members. At first just a lean on the knee or a touch of a hand, progressing to dancers holding the hand of an audience member while they dance, and eventually, audience members are pulled up to dance with them in a simple reel.

In the middle of the evening, the actor interrupts the dancing to hold an election. This is where the noisemakers come in. The audience votes for the dancers they want by making as much noise as possible. The actor playing the host is great for the sections of the show that need a carnival barker, but when it comes time for the reels, it would have been better if he had shown a sweeter side that matched the dancers' connection with audience members.

The musicians, the Numinous Ensemble, were excellent, and worked beautifully with the dancers.
-Jean Tait -
RIOULT DANCE NY
Program B
Joyce Theatre
175 Eighth Ave
NY NY
21-26 June 2016

Artistic Director and Choreographer: Pascal Roult
Company: Catherine Cooch, Brian Flynn, Chais Haines, Jere Hunt, Melanie Kimmel, Corinna Lee Nicholson, Michael Spencer Phillips, Sara Elizabeth Seger, Sabatino A. Verlezza, Holt Walborn


Exquisite. That is the word that best describes RIOULT DANCE NY. The dancers are wonderful and expressive with an easy grace in their strength that looks effortless. The choreography is fresh and dazzling.

There are two programs being presented by Rioult Dancy NY this year at the Joyce. I saw Program B which consisted of Dream Suite, Polymorphous, Duets Sacred & Profane, and Bolero.

Dream Suite is "a contemporary take on Romanticism….with a palette inspired by Marc Chagall" according to the program description. Which it is, but it is so much more. Light moves and changes along with the choreography creating not only color, but shaping of the dancers bodies and their configurations. The fluidity of the changing color is in such synchronicity with the choreography it becomes another dancer in the piece. Jim French is the lighting designer who created this masterful integration of design.

Light is also a major component in Rioult Dance NY's debut piece, Polymorphous. This time it is David Finley who uses light, along with Harry Feiner's set design and Brian Clifford Beasley's projected animation, creating additional "dancers" of light and shadow that move with the human dancers. It's an amazing piece.

Dances Sacred & Profane is a selection of duets, all of which are wonderful, but the climax of the evening is definitely Bolero. It is difficult to believe these are human bodies, the movement so fluidly changes from robotic and percussive to legato and sensual. The twirling and flowing becomes almost Busby Berkeley-like in its design pictures, but with far superior dance skills!

All in all, a glorious evening of dance.

- Jean Tait -
SATELLITE COLLECTIVE
presented
DIG DANCE
Performed at 92Y Harkness Dance Center, Home of Dance Education Laboratory, NYC
June 10-12, 2016
Artistic Director Kevin Draper gave a lovely introduction of the various genres of works to be performed by emerging artists from New York City Ballet and Juilliard and more seasoned artists who recently retired from Alvin Ailey. The program opened up with the spoken word, followed by four works of contemporary ballet, modern dance, a short film and a live string quartet. The multidisciplinary approach proved to be an interesting paradigm with some collaboration between the musicians and dancers.
The dancers were beautiful, the musicians talented, although the music was not for everyone's ears. The short film by Lora Robertson with the protagonist dancing around a steeple seemed a bit long. Satellite Collective brought the steeple physically to the space so it would have been more creative to have had the dancers dance around the real steeple as a surprise for the audience after the short film ended or during the short film.
The last dance was about kindred spirits or lovers who portrayed a relationship that was appreciated, then spurned with retreat, to turn back into the embrace of one another resembling a typical sequence to most types of relationships. Or was the story about the beginning, maturation, and death of a relationship, to be reborn again?
Overall, the interdisciplinary program showcased new works but it needs fine tuning.
By
- Laura Thompson -
http://www.loralia.com @LORALIA
Impulses Dance Theatre Arts Presents
MARGARET BEALS FILMS AND STORIES
The Cloud House Studio
104 West 17th St., 2nd Floor
NY NY 10025
21 May 2016


Margaret Beals is an extraordinary dancer. One of the few who has ever made a career of improvisational dance, she not only improvises her dances to music, but to poems as well. Sometimes with a poem, she recites as she dances, and sometimes plays a recording of herself reciting. It sounds strange until you see it. Then you wonder why it isn't done more!

For these two evenings, Margaret Beals shared films of herself dancing, and told stories about how those filmed pieces came to be. The films are a remarkable record of a remarkable career, and while she is still a lovely and eloquent woman, her impulse to improvise doesn't always make for great storytelling in her own words. But that doesn't really matter, since she tells such amazing stories, not just with her body, but with the sounds her body makes on the floor. I have never before seen a person become waves of the sea, but she did it! It was a truly inspiring evening that should be seen by all dancers, musicians, and other creative individuals.

- Jean Tait -
Rockitaerials presents
CIRCO DE LA LUNA
Baruch Performing Arts Center
55 Lexington Ave
NY NY
1 April-5 June

Directed by: Mark Longergan
Choreography by: Sonia Olla, Pedro Ruiz and Valeria Solomonoff
Featuring Ismael Fernandez, Sonia Olla, Mark Gindick, AJ Silver, Amanda Topaz, Sarah Sophie Flicker, Anna Venizelos, Olga Karmansky

Aerialist Amanda Topaz, along with Flamenco Dancer Sonia Olla and Flamenco Vocalist Ismael Fernandez, have combined Spanish and Latin culture with contemporary circus acts to create CIRCO DE LA LUNA.

It begins with adorable clown Mark Gindick receiving a mysterious package which turns out to be a slide show of various cultural highlights from the Spanish/Latin diaspora which in turn sends him on a journey where he encounters magic, music and dance.

The journey is the tricky part. The circus acts are lovely and the flamenco is fabulous, but there does not seem to be any natural connection between them, so the transitions have no flow. There does not seem to be any relationship between any of the characters except the vocalist and dancer, and even that seems more like a call and response than any kind of connection between the two. The only times it all works is with the Boleadoras artist. There is a fun challenge between him and the Flamenco dancer, and another fun bit with him and the clown. It would have been great to see more interaction like that.

It is certainly not an unpleasant way to spend an evening, but it lacks the magic it purports to create.

- Jean Tait -
BALLET HISPANICO
Performed its 45th Anniversary New York Season at The Joyce Theater from April 5-10, 2016
New York Premiere of Flabbergast by Gustavo Ramirez Sansano
Bury Me Standing by Ramon Oller
Club Havana by Pedro Ruiz
The Joyce Theater
175 Eighth Avenue (at 19th Street), New York City
www.joyce.org

Ballet Hispanico is touring the world, please visit their website for more information.
www.ballethispanico.org

Artistic Director and CEO Eduardo Vilaro commented that the program this year reflected the "breadth and range of the company over the past 45 years of artistic reflection" and the works of the choreographers honor BALLET HISPANICO's ballet legacy fused with eclectic contemporary dance that portrays America's diversity.
BALLET HISPANICO, the nation's premier Latino dance organization, presented three programs. It began with Choreographer's Gustavo Ramirez Sansono's Flabbergast, a story about immigrants with preconceived notions concerning a new and foreign land and it was done with humor and fast-moving, stylistic modern dance set to the music of Juan Garcia Esquival.
The second program was Bury Me Standing choreographed by Ramon Oller with traditional gypsy melodies and flamenco music by Lole y Manuel. Oller created this piece based on the culture of the Gypsy or "Roma" people that reflected their strong communal bonds, sensuality, feelings of oppression and longing and strength. The sensual music was felt in the heart and soul of audience members who were moving their bodies rhythmically in their seats. It felt like a Latino counterpart to Alvin Ailey, the dance troupe that celebrates African-American ethnic traditions.
The third and last program was Club Havana choreographed by Pedro Ruiz set to Latino dance music like the Mambo, Cha Cha Cha, Bolero, Rhumba and Conga. It was a fusion of modern dance and ballet with Latin dances. It's a portrait of glamorous Havana of the 1950s during the heyday of Cuban music, dance, and nightlife. It ended with a Latin social dance under confetti which was magical.
Overall, the BALLET HISPANICO dancers are wonderful to watch and they portray their characters so the stories are understood. The dancers can bend in every direction, leap, strut, and engage in inventive partnering moves. At the end of the entire program, one feels real joy.
I would highly recommend to go to BALLET HISPANICO's other performances throughout the year whether in the United States or around the world.

- Laura Thompson -
http://www.loralia.com @LORALIA
NEW YORK THEATRE BALLET
presented
LEGENDS & VISIONARIES
NYTB 2016 Premiere of Jerome Robbins' Antique Epigraphs set to Debussy's "6 Epigraphes Antiques" staged by Krya Nichols
Melissa Payne Bradley's Chemical Bond set to "Serenade Op. 98 Après un Rêve" by Gabriel Fauré
Richard Altson's Such Longing set to "Mazurkas" by Frédéric Chopin, staged by Martin Lawrence
Philip Glass' Song Before Spring, Piano Etudes Nos. 1-10 choreographed by Zhong-Jing Fang and Steven Melendez, featuring NYU Steel Drum Ensemble led by Director Josh Quillen and his colleague, Jonathan Haas, Director Percussion Studies at NYU Steinhardt
New York Live Arts
219 West 19th Street, New York City
Call 212-691-6500 or visit http://newyorklivearts.org/event/nytb_2016
February 24-27, 2016
The New York Theatre Ballet (NYTB) presented four ballets by acclaimed choreographers staged by emerging choreographers. The programming represented revivals of masterworks (Philip Glass and Richard Altson), a new work, Chemical Bond, by Melissa Payne Bradley that originally premiered in San Francisco, and of course, Kyra Nichols who staged NYBT 2016 premiere of Antiques Epigraphs (Jerome Robbins). NYBT's repertory programming maintains fidelity to the original movements, gestures, costumes and props, according to historical documents when it's based on a revival. As for new programming, it's a combination of dynamic movement, storytelling, and wit.
The ballet troupe performed as individuals, duos, trios, quartets, divided into subunits, all with creative costume designs to depict the scenes whether classical or contemporary (Costume Design: Sylvia Taalson Nolan and Florence Klotz). The dancers soared, jumped, pirouetted, fell elegantly to the floor, demonstrated excellent footwork, intertwined with one another in melodious movements sometimes sensual, other times flippant--all in all, it felt like harmony between the music and movement (Dancers: Steven Melendez, Amanda Treiber, Michael Wells, Elena Zahlmann, Joshua Andino-Nieto, Carmella Lauer, Mayu Oguri, Alexis Branagan, Guilia Faria, Chloe Slade, Amanda Smith and the rest of the company).
The four ballets were performed to live music. The musicians were superb (Piano: Michael Scales, Zheng Ma. Cello: Amy Kang. Flute: Mira Magrill). The last piece Song Before Spring with music originally composed by Philip Glass and arranged by Josh Quillen, NYU Steel Drum Director, turned out to be mesmerizing and surreal. I liked all the ballets but this one impressed me the most.
I think it's a pity it had such a short run but I would highly recommend to go to NYBT's other performances throughout the year. They also perform one hour storybook ballets for families which is tailored to the short attention span of children.
For more information, visit www.nytb.org
Founder and Artistic Director: Diana Byer
By
- Laura Thompson -
http://www.loralia.com @LORALIA
Ballet Hispanico and Apollo Theatre
present the World Premiere

IF WALLS COULD SPEAK

Choreography by Fernando Melo
Music by Adriano Santos, Marcus Santos, Fernando Saci, Keita Ogawa
Costume and Set Design by Elle Kunnos De Voss
Lighting Design by Joshua Preston
Artistic Collaborator: Shumpel Nemoto

Featuring: Lauren Alzamora, Christopher Bloom, Martina Calcagno, Shelby Colona, Kassandra Cruz, Mario Ismael Espinoza, Melissa Fernandez, Mark Gieringer, Christopher Hernandez, Johan Rivera, Ella Valls, Kimberly Van Woesik, Lyvan Verdecia, Cole Vernon, Joshua Winzeler

Press Representative: Michelle Tabnick Communications

Apollo Theatre
253 West 125th Street,
November 20th and 21st at 8pm
November 20th at 2pm En Familia at 2pm
www.ballethispanico.org; www.ticketmaster.com; 800.745.3000

For two evenings Ballet Hispanico, in celebration of their 45th anniversary, partnered with the historic Apollo Theatre for their annual holiday performance of IF WALLS COULD SPEAK. This bold attempt at showcasing Latino culture's diversity, per the program notes, is to be a reflection of Mr. Melo's homeland of Brazil. However, his story is a universal one felt by many who live in overly crowded, major cities - life can be lonelier in cities, surrounded by people, than in rural settings.

This 90-minute experimental piece has more of a silent movie feel to it than ballet. For most of the performance, the dancers perform around a table, two chairs and lampshades. As each person's story is told, a different realm unfolds behind the mirrored walls. The reflections often were of souls leaving their bodies; or dispersing then coming back together. Inside their homes, their emptiness and longing were palpable. Love was elusive: under a tablecloth, under the table, behind the mirror. Out in the world, people were manipulative, fearful and aggressive as they rushed aimlessly to and fro colliding into one another.

The simple set is very appealing with actors in front of and behind the two-way mirrored walls. This talented group of dancers must have worked hard to synchronize reality with reflection. The movements were painstakingly slow. The live music was provided by four percussionists, who complemented the drone-like, orchestral soundscapes; it was anything but Brazilian. This seems more like a work in progress, and could benefit from some diversity for a more cultural flavor.

- Gloria Talamas -
General Mischief Dance Theatre
presents

UP AND AWAY

Technical Director of Mischief: Mark Baker
Head Troublemaker: Emily Smyth Vartanian
Creative Consultant: Amanda Friou
Administrative Assistant: Mia Dichiaro
Treasury Department of Good and Evil: Adam Vartanian
Stage Manager: Hollace Jeffords
Sound Engineer: Tony Lepore
Choreographers: Emily Smyth Vartanian, Madeline Hoak, Celine Rosenthal

Featuring: Jane Abbott, Ellen Henry, Andrea Steiner, Wendy Lechuga, Saki Masuda, Emily Smyth Vartanian, Madeline Hoak, Roy Scandela, Celine Rosenthal

Press Representative: Michelle Tabnick Communications
Goldman-Sonnenfeldt Auditorium, JCC
334 Amsterdman Avenue
October 11, 2015

This one hour program of dances is performed by several enthusiastic young women, accompanied on occasion by a young man. Lots of silliness, playfulness, aerial acrobatics and energy define their pieces.
The dancers engage the audience to make this an interactive event.

The show opens with the company dancing in the dark as they flash and use their smartphones that display a blank white screen. Dances include Hardball, The Love Trio, Suite Shel (inspired by the poems of Shel Silverstein) and the world premiere of Recreation, where they create a large mobile with numerous pieces as they dance.

The music includes Dueling Banjos (Bela Fleck and Boyd Tinsley), the theme from the Pink Panther; Dear Old Dad, Tedabadeda; Spider, Dirty Face, Shoes and Undertake (composed for Mischief by Lizzie Hagstedt); Puro Amor and Milo's Ballet (Written by Donna Viscuso), Caballo Nuevo (by Jackeline Rago and Donna Viscuso).

The dances are aimed primarily at children and families.

Gloria Talamas
DANCE FOR DANCE 2014
A Benefit to support and celebrate
MDDF's Dance and Literacy programs
in New York City Public Schools

Honoring Judith Malina

Presented by Olympia Dukakis

Press Representative: Audrey Ross

Flamboyant Theatre at Clemente Soto Velez Cultural Center
107 Suffolk Street
November 14, 2014
www.markdegarmoarts.org

At last night's fundraiser, Ms. Judith Malina, co-founder of the radical, experimental Living Theatre Company, was presented with the Mark DeGarmo & Dancers/Dynamic Forms (MDDF) Lifetime Achievement Award for Educational Vision.

The evening began with Mark DeGarmo welcoming the audience and stating the two reasons for tonight's event: to honor the legendary Judith Malina; and to benefit the arts and dance programs in underserved New York City schools. We were given a sample of Mr. DeGarmo's choreography as students entered the stage and performed an MDDF piece. Mr. DeGarmo then introduced Nicky Paraiso of LaMama, who served as the lively, theatrical master of ceremonies, and broke out into song before introducing Ms. Olympia Dukakis.

Ms. Dukakis, Oscar winner for Moonstruck, praised Ms. Malina for her vision and daring work and read heartfelt letters from Anjelica Huston and Al Pacino. Ms. Malina's passion and political messages on educating young people is as strong at 88 years of age as it was when she first started Living Theatre Company.

Attendees were treated to a tasty buffet table, wine and beer and an array of silent auction items to bid on.
- Gloria Talamas -
RIOULT Dance NY
In association with the Joyce Theater Foundation
presents

RIOULT DANCE NY

Artistic Director & Choreographer PASCAL RIOULT

Featuring
BRIAN FLYNN, JOSIAH GUITIAN, CHARIS HAINES, JERE HUNT,
MICHAEL SPENCER PHILLIPS, JANE SATO, SARA ELIZABETH SEGER,
ANASTASIA SOROCZYNSKI, MARIANNA TSARTOLIA, & HOLT WALBORN

Production Manager: SPENCER ANDERSON
Lighting Design: DAVID FINLEY & JIM FRENCH
Scenic Design: HARRY FEINER
Projection Animation: BRIAN CLIFFORD BEASLEY
Costume Design: RUSS VOGLER & KAREN YOUNG

Joyce Theater
175 8th Avenue
New York, NY 10011
(212) 242-0800 or www.joyce.com
June 17 through June 22, 2014


The Joyce Theater presents two programs featuring Pascal Rioult's powerful choreography and extraordinary dancers. The Rioult dance company is celebrating its 20th anniversary as a world-renowned assembly of creative choreography and dancers with incredible talent.


In Program A, MARTHA, MAY & ME, RIOULT pays homage to his mentors with a performance of May O'Donnell's Suspension, created in 1943, and Martha Graham's El Penitente, created in 1940. Rioult's own Black Diamond (2003) and Views of the Fleeting World (2008) complete the program.

Program B presents a World Premiere, Dream Suite, set to the music of Tchaikovsky, and the powerful Wien (1995). Program B also includes last year's premiere work, Iphigenia.

In Suspension, with music by RAY GREEN, dancers wear varying subtle tones of blue, moving slowly in a state of suspended balance and order, maintaining harmony using independent patterns. Then these patterns join, separate, energize, and create tension points for each other to maintain the order and balance of the whole. Because of the almost slo-mo grace demanded of the dancers, this piece is lovely, graceful, and unbelievable to watch.

El Penitente, with music by LOUIS HORST, has the look of primitive folk art. Born out of Martha Graham's fascination with the American southwest and a religious sect that believed in purification through severe penance, the dance has a simple formalism, episodic structure, and naïve, archaic gestures. A group of strolling players appear on stage and reenact Biblical vignettes, from Original Sin through salvation.

An abstract piece for two female dancers clad in only in black, Black Diamond achieves poetry through an almost cubist interaction. Each movement translates to qualities embodied by a black diamond: strength, beauty, purity, and mystery.

Views of the Fleeting World was inspired by the ancient woodblock prints of the Japanese master Hiroshige and the ingenious structure of Bach's musical score, "The Art of Fugue". Red-skirted dancers move through the sounds of summer wind, a gathering storm, rain, and a flowing river to reflect the depth of human emotions connected to nature. The background and ephemeral red fabric admirably enhance the Asian elements and feel of this most enjoyable dance.

The drama Iphigenia, with music by MICHAEL TORKE, chronicles a young woman's transfiguration from innocent child to transcendental heroine. It focuses on King Agamemnon's decision to sacrifice his daughter, to the horror of his wife and his daughter's betrothed, Achilles. It culminates with Iphigenia's inevitable acceptance of her fate.

Wien cleverly turns the Viennese waltz's image of grace, clarity, and social refinement inside out, using it as a metaphor for the decadence and moral disintegration of society.

RIOULT Dance NY, as always, does not disappoint. Each piece has a unique nature, utilizing an enchanting blend of styles while injecting the contrast necessary to provide a wonderfully well-rounded evening of dance performance. Bravo, indeed.

-Karen D'Onofrio-
BALLET NY
BALLET NY
Presents the 2014 New York City Season
April 15 -17 @ 7:30 PM
The Ailey Citigroup Theater
405 West 55th Street (corner of Ninth Avenue)
(212) 868-4444 or www.smarttix.com

Dancers
MICHAEL EATON, MIRIAM ERNEST, KATIE GIBSON
TAUREEN GREEN, JESSICA LAWRENCE
IBRAHIM PEREZ, AMY SAUNDER, BRENT WHITNEY

Lighting Director: SCOTT BOROWKA
Company Photographer: EDUARDO PATINO
Website Designer: ENDA KEEEGAM
Wardrobe: KRISTI WOOD
Videographer: BRANDON SKOLNIK
Publicist: MICHELLE TABNICK

In BALLET NY's 2014 Season four distinct dances are presented. Kinderszenen ("Childhood Scenes") is both playful and contemplative as six dancers celebrate sisterhood and brotherhood, as well as solo adventures, choreographed by Antonia Franceschi to a simplistic piano (music by Allen Shawn; pianist – Yushiko Sato). In the Garden of Souls choreographed by Medhi Bahiri is a far more forceful piece with ominous and eerie backgrounds, spirited dances, and almost-Gregorian chants and Middle Eastern music. Choreographer Margot Parsons' Dreams is an ethereal reflection where female dancers cavort to the limits of the mind in silvery goddess costumes. Dancers strut their stuff in urban black costumes in Ginger Thatcher's Urban Study-Excerpts. Hip music by Annie Gosfield make this a fun, rollicking street dance and an homage to the frenetic energy of humanity.

BALLET NY 2014 provides a tasty sampler of the diversities of dance and the many talents that bring them to life.

- Laurie Lawson -


New York Theatre Ballet
Diana Byer, Founder & Artistic Director
Present
KEITH MICHAEL'S
THE NUTCRACKER
With

LEXIS BRANAGAN, SETH IVES, MITCHELL KILBY, CARMELLA LAUER
CHOONG HOON LEE, KYREE NAUDEN, STEVEN MELENDEZ
RIE OGURA, MAYU OGURI, BRIANNA STEINFELDT
AMANDA TREIBER, MICHAEL WELLS, ELENA ZAHLMANN and
STUDENTS OF BALLET SCHOOL

Choreography by KEITH MICHAEL
Music by PETER TCHAIKOVSKY
Costume Design by SYLVIA TAALSOHN NOLAN
Scenery Design and Painting by GILLIAN BRADSHAW-SMITH
Lighting Design by TED SULLIVAN
Properties Design and Construction by HERBERT KUHN
Scenery Construction by TIM ZAY

Florence Gould Hall
55 East 59th Street
(212) 355-6160 or www.nytb.org
December 14, 15 & 22, 2013


A little innovation and creativity can go a long way, and this is evident in Keith Michael's THE NUTCRACKER. Presented by New York Theatre Ballet, this story that has been delighting children of all ages for years is full of flight and fantasy. Polka-dotted mice, oversized chopsticks, red exercise balls, imps, owls, sugar plum fairies and of course Marie and her Nutcracker create an aura of excitement and enchantment. Michael's choreography and Tchaikovsky's music are enhanced by beautiful costumes by Sylvia Taalsohn Nolan, imaginative scenery design by Gillian Bradshaw-Smith, and exquisite lighting design by Ted Sullivan. Keith Michael's THE NUTCRACKER is sure to add holiday cheer to your season. Enjoy!

- Laurie Lawson -
Dances Patrelle
presents

THE YORKVILLE NUTCRACKER

Choreography by FRANCIS PATRELLE

Principal Dancers
JENIFER RINGER, JARED ANGLE, MATTHEW DIBBLE, GRANT DETTLING,
KATIE KEITH DETTLING, JASON STOTZ, JULIE VOSHELL, & NADEZHDA VOSTRIKOV

Principal Character Dancers
NANCY BARRETT, ALEXANDER BRADY, COURTNEY CONNER, MAUREEN DUKE,
ANNE KELLY, DON PARADISE, OWEN TAYLOR, BECKA VARGUS, & ERIC VLACH

Soloists
ISABELLA BRAFMAN, HAYLEY CLARK, ANGELINA MASSA, EMILY SOTIROV, ZOE STEIN, ALLISON SUGINO, FAITH STUART WILLIAMS, MATTHEW BERENBAUM,
& MORGAN STINNENT

The Kaye Playhouse at Hunter College
68th Street between Park Avenue & Lexington Avenue
New York, NY
(212) 772-4448
December 5 through December 8, 2013

This absolutely enchanting reinvention of the traditional Nutcracker begins with a party at Gracie Mansion, 1895. The hosts and guests are New York historical figures. The story progresses as usual. Little Mary is gifted with a nutcracker. She falls asleep and, when midnight strikes, she begins to dream. A band of marauding mice threaten her and the Nutcracker's troops engage in battle to vanquish them. Rewarded with a magic sleigh, they travel to Central Park. The Snow King and Queen "skate" on the pond with the Dakota in the background. The sleigh then takes them to the New York Botanical Gardens in the Bronx for more delights, including a pas de deux by the Sugar Plum Fairy and her Cavalier. The night becomes Christmas morning, and Mary awakes to tell of her adventure.

Stellar dancing combines with holiday charm to create a memorable production. Exquisite choreography, sparkling staging, and top-notch performances make this a must-see.

-Karen D'Onofrio-
VON USSAR danceworks
presents

DANCE GALLERY FESTIVAL

Beginnings Forever Lost (excerpt)
danceTactics performance group
Choreographer: KEITH A. THOMPSON (New Jersey)
Dancers: EMILY BERRY, KEVIN FAY, GEORGE HIRSCH, JIN JU SONG-BEGIN, & SARA ROER

Quiver
Choreographer: DAVID JUSTIN (Texas)
Dancers: KELSEY OLIVER, ERICA SAUCEDO, & JOHNNY CHATMAN
Violin: MOLLY EMERMAN

Chalk Boundaries
Dante Brown|Warehouse Dance
Choreographer: DANTE BROWN (New York)
Dancers: MICHAEL ABBATIELLO, DANTE BROWN, QUENTIN BURLEY, CHAFIN SEYMOUR, & RICCARDO VALENTINE

Vers un pays Sage
ELEPHANT IN THE BLACK BOX Company
Choreography: IRATXE ANSA & JEAN PHILIPPE DURY (France)
Dancer: IRATXE ANSA

The Arc between Two Deaths
Choreographer: ERIN CARDINAL (Florida)
Dancers: SHELLEY BOURGEOIS, ERIN CARDINAL, KATIE COLE, ALY COSCIA,
& BRIAN FIDALGO

Flow
Jiwon Lee/Zion Dance
Choreographer: JIWON LEE (New York)
Dancers: PAUL VICKERS, KYUNGJOON LEE, MORGAN HURST, EUNMI YEO,
DIANA AMLFINO, HOYOUNG SHIN, & DANIELLE ALVAREZ

Dust Dreams of Monuments
NobleMotion Dance
Choreographer: ANDY NOBLE (Texas)
Dancers: TRISTIN FERGUSON, BRITTANY THETFORD, JESUS ACOSTA, & TRAVIS PROKOP

A Rib where Her Voice Had Been
MALLORY LYNN + BRENDAN DUGGAN/LoudHoundMovement (New York)
Choreography: MALLORY LYNN & BRENDAN DUGGAN
Dancers: NICK KATEN, SARAH STANLEY, & SHELBY TERRELL

Notice
ARiAS
Choreography: BRYAN ARIAS (New York)
Dancers: BRYAN ARIAS & EMILY OLDAK

The Ailey Citigroup Theater
405 West 55th Street
New York, NY 10019
(212) 868-4444 or www.SmartTix.com
October 11 through October 13, 2013

This year's Dance Gallery Festival presents an intriguing display of works by up-and-coming choreographers from across the U.S. and abroad. Giving them a big stage in the big city, the festival allows them to present their works as intended, making full use of the space to express their dances in all their dimensions. These brief interludes tantalize the appetite for more.

From the barefoot flow of BEGINNINGS FOREVER LOST to the gym shoes of CHALK BOUNDARIES, the choreographers use movement to evoke sweet sadness, challenge, and isolation. CHALK BOUNDARIES stands out for its insightful mix of urban athletes as they sweep and posture through basketball, boxing, track, and football. VERS UN PAYS SAGE focuses on sharp, controlled, angular movement as the lone dancer tries to find her way. The music, or absence of music, combines perfectly with movement to create polished, refined texture in an interweaving of sound, space, and emotion.

Festival founder and director ASTRID VON USSAR has done a masterful job in selecting these works and presenting them in perfect order to complement and enhance one-another. It is inspiring to see the talent of this next generation of choreographers.

-Karen D'Onofrio-
BALLET HISPANICO

Artist Director EDUARDO VILARO

Featuring
LAUREN ALZAMORA, DONALD BORROR, MARTINA CALCAGNO,
JAMAL RASHANN CALLENDER, MARIO ISMAEL ESPINOZA, MELISSA FERNANDEZ,
MIN-TZU LI, MAJOR NESBY, VANESSA VALECILLOS, KIMBERLY VAN WOESIK,
JOSHUA PETER WINZELER, JESSICA ALEJANDRA WYATT,
ALEXANDER DUVAL, & HILLARY RAMOS

Rehearsal Director: MICHELLE MANZANALES
Technical Director: JOSHUA PRESTON
Wardrobe Supervisor: DIANA RUETTIGER
Stage Manager: GWYNDOLYN KAY

Program A: JARDI TANCAT, SORTIJAS, A VUELTAS CON LOS OCHENTA

Program B: NUBE BLANCO, TANGO VITROLA, DANZÓN. Includes a live performance
by PAQUITO D'RIVERA

Program C: JARDI TANCAT, TANGO VITROLA, NUBE BLANCO

Programs are presented on various days. Check www.Joyce.org for details.

The Joyce Theater
175 8th Avenue
New York, NY 10011
(212) 242-0800 or www.Joyce.org
April 16 through April 28, 2013

BALLET HISPANICO celebrates its 25th season in glorious fashion with new works and classics from its repertoire. Spanning a spectrum that includes the Catalonian folktale-based JARDI TANCAT through the flamenco-inspired NUBE BLANCO, the dancers carry the audience on an airy voyage of enjoyment
and fascination.

The company's delightful blend of movement, voice, rhythm, and music is fascinating. Integrating zapateado footwork with a contemporary twist in one work, swirling through barefoot ballet in another, the dancers show their versatility and bring to life evocative images of music incarnate. The costuming is perfect, whether subtle or stunningly surprising.

The fusion of Latin forms with classical and contemporary techniques has something to please everyone who enjoys the beauty of movement and the power of dance.

-Karen D'Onofrio-
Amanda Selwyn Dance Theatre and Notes in Motion Outreach Dance Theatre
Present

WHITE NIGHTS II - A Moveable Performance Soiree
Saturday, February 23, 2013
Greenhouse
150 Varick Street
http://amandaselwyn.notesinmotion.org/


Amanda Selwyn Dance Theatre's third annual benefit gala performance was a showcase for the company's developing oeuvre – It's a Game and a fundraiser for their Notes in Motion program which brings dance into the New York City schools. Guests were asked to come in festive black and white attire.

On entering the basement level, guests were engaged at a blackjack or roulette table, or in a game of Twister, a raffle or a silent auction. Up one flight, guests participated with the dance educators to learn more about the Notes in Motion program. There was a variety of finger food going around, lovely hosts and two bars specializing in vodka drinks.

The dancers slithered from floor to floor amongst the crowds, tables, and stage. Halfway through the evening, Ms. Selwyn introduced a 12-minute video on the Notes in Motion program, then treated us to a 23-minute preview of It's a Game, which will be staged this June. The graceful female dancers wore leopard printed jungle dresses; the sinewy male dancers, bronze lamé shirts and translucent striped pants. Their movements were far-reaching, abstract and expressive. The eclectic music ranged from African tribal sounds to jazz to classical.

Amanda Selwyn Dance Theatre's Thirteenth Annual Performance Season, the World Premiere of It's a Game, will run from June 27-29, 2013 at New York Live Arts.

- Gloria Talamas -

The Joyce Theatre
Presents

BUGLISI DANCE THEATRE

Artistic Director: Jacqulyn Buglisi
Composers: Daniel Bernard Roumain, Steve Margoshes, Arvo Part, Andy Teirstein, Glen Velez, John Zorn
Production Manager: Anne Posluszny
Lighting Design: Jack Mehler, Clifton Taylor
Costume Designer: A. Christina Giannini, Jacqulyn Buglisi, Reid Bartelme
Press Representative: Audrey Ross Publicity

Joyce Theatre
175 Eighth Avenue at 19th Street
www.buglisidance.org
www.joyce.org, 212.242.0800

BUGLISI DANCE THEATRE celebrated its 20th anniversary at the Joyce Theater this past week with two programs in repertoire. We attended Program B: Caravaggio Meets Hopper, Threshold, Butterflies and Demons, Zjawa and Suspended Women. Butterflies and Demons and Zjawa premiered at the Joyce.
The dancers, the choreography and the music were rich, elegant, emotional and moving. The stories behind each piece had meaning and evoked feelings of joy, sadness, passion, dependence and independence. The director, Jacqulyn Buglisi, is a gifted choreographer whose technique is drawn from her years as a principal dancer with Martha Graham.
The costumes were gorgeous, complementing the respective dances. In Suspended Women, you are caught up in the flow of elegance, with long, frilly dresses to match. In Threshold, a beautiful woman breaks through her cocoon momentarily, to be united in rapture with a wild man. In Butterflies and Demons, which is inspired by a tragic loss, the battle between good and evil is palpable. Each dance number is theatrical, imaginative, unusual, and saturates the senses.
If you get a chance to see this company, don't think twice about it.
- Gloria Talamas -
ALONZO KING'S LINES BALLET
www.linesballet.org

Artistic Director: ALONZO KING
Associate Artistic Director: ROBERT ROSENWASSER
Executive Director: ANN MARIE NEMANICH

Dancers

BRETT CONWAY, DAVID HARVEY, ASHLEY JACKSON
LAUREL KEEN, CAROLINE ROCHER, COREY SCOTT-GILBERT
MEREDITH WEBSTER, KEELAN WHITMORE, RICARDO ZAYAS

Ballet Master: ARTURO FERNANDEZ
Technical Director/Stage Manager: C. CHRIS GRIFFIN
Development Director: ALEXIS WEISS
Marketing Director: GAYLE OKUMURA SULLIVAN
Operations Manager: MONICAL REID

The Joyce Theater
175 Eighth Avenue (between 18th & 19th Streets)
(212) 242-0800 or www.joyce.org.
May 5 – 10, 2009; Opening Night: May 5th, 2009


Pick any "…ating" word – exhilarating, pulsating, captivating, undulating, fascinating, innovating – and that's going to help describe ALONZO KING'S LINES BALLET. In the two works now being performed at The Joyce Theater, Dust and Light (with music by Arcangelo Corelli and Francis Poulene) and Rasa (with music by Zakir Hussain) you are going to see bodies at the peak of perfection moving in a constantly mesmerizing and contradictory fashion. They cavort with abandon and then become co-dependent in an amazingly uniform manner. King's co-mingling of bodies in Dust and Light is brilliant, a beautiful display of domination and submission by one and/or many dancers. In Rasa bodies are dribbled, swung, and bounced to the rhythm of Indian/Asian music, bells, and chants. Creativity and originality run rampant through both pieces.

ALONZO KING'S LINES BALLET is a dazzling dance experience that should not be missed!

- Laurie Lawson -
Shanghai City Dance, Ltd. With
Shanghai international Cultural & Communication Association
Eastern Shanghai International Cultural Film & Television Group
In association with
Nederlander Worldwide Entertainment, LLC
And supported by
The Consulate General of the People's Republic of China in New York
Present

THE DREAM OF THE RED CHAMBER
THE DANCE

As a Cultural Gift to America and
The Broadway & Dance Audiences of New York

Performed by the Award-winning
BEIJING FRIENDSHIP DANCE COMPANY
In celebration of the CHINESE NEW YEAR

Story Adapted by ZHAO MING, WANG XIAOLING, LI FUXIANG, ZHANG WEIDONG
Directed and choreographed by ZHAO MING
Music Composed by SU CONG
Artistic Director: LIU BIN
Stage Art Designer: LI WENXIN
Lighting Design by ZHAO ZHONGCHENG & WENG CHUNPU
Costumes by SONG LI
Press Representatives: THE JACKSINA COMPANY, INC. and
RUBINSTEIN PUBLIC RELATIONS, INC.

Rose Theater in Frederick P. Rose Hall
60th Street and Broadway
February 8th & 9th, 2008 @ 8 PM


In a profusion of swirling vibrant colors, the Beijing Friendship Dance Company performs THE DREAM OF THE RED CHAMBER, The Dance. Adapted from what is often considered the greatest book in the canon of Chinese literature, this dance was presented to the American audience as a cultural gift in celebration of the Chinese New Year.

And what a gift it was! Amidst awe-inspiring sets, graceful dancers in breathtakingly beautiful costumes told the ancient story of a son's rebellion against societal requirements for a noble family and his doomed love affair. With a combination of traditional and modern dance choreographed by Award-winning Director Zhao Ming to the score composed by Academy Award-winning Su Cong, the tragedy unfolds. The multi-faceted THE DREAM OF THE RED CHAMBER mesmerizes from start to finish with its sheer beauty and richly vivid presentation – a stunning beginning to a New Year and a deeply appreciated gift.

- Laurie Lawson -
New Tang Dynasty TV presents
shows.ntdtv.com

CHINESE NEW YEAR SPECTACULAR
February 14-16, 2007 @ 8 PM
February 17, 2007 @ 2 PM & 8 PM
Special 90-minute performances February 15 & 16 @ 11 AM

Radio City Music Hall
1260 Avenue of the Americas (50th Street)
(212) 307-7171 or www.ticketmaster.com


Amidst a profusion of swirling colors and sparkling sequins, New Tang Dynasty TV's CHINESE NEW YEAR SPECTACULAR opens with a lavish production of "Creation" where heavenly and earthly beings join to bring goodness to the planet. In celebration of The Year of the Pig, over 150 dancers, vocalists and instrumentalists take a mesmerized audience back to the golden age of culture with candlelight vigils, big musical numbers, ballet-like folk stories, soprano arias, victory drumming, and dances of ribbons, flowers, Mongolian herders and Dai traditions. Against breath-taking backgrounds graceful bodies in traditional costumes reveal the rich history of the Chinese culture through music provided by a 50-member pit orchestra led by Rutang Chen (formerly with China's Central Philharmonic Society Orchestra). Spectacular is the only word that could be used for this elaborate presentation of a multi-faceted country and its history. CHINESE NEW YEAR SPECTACULAR serves not only to showcase the diversity of the culture but also emphasizes the underlying universality of all mankind - a search for truth, a striving for compassion, and yearning for goodness. This show is truly spectacular in all senses of the word!

- Laurie Lawson -
SOKOLOW THEATRE/DANCE ENSEMBLE
www.sokolowtheatredance.org
with
le concert impromptu
www.le-concert-impromptu.com
in
"SHIP OF FOOLS"
"la nef des fous"

Thursday - Saturday, July 6-8, 2006, @ 7:30 PM
Dance Theater Workshop
219 West 19th Street (between Seventh & Eighth Avenues)
(212) 924-0077 or www.dtw.org

Sokolow theatre/dance ensemble
Artistic Director: JIM MAY
The Company
DAVEY BELLEROSE, MELISSA BIRNBAUM, ELEANOR BUNKER, BENJAMIN CORTES,
ALAN FORBES, SAMANTHA GERACHT, LAUREN NASLUND, JOSHUA SCHULTELS,
FRANCESCA TODESCO, LUIS GABRIEL ZARAGOZA

le concert impromptu
Artistic Director: YVES CHARPENTIER
General Manager: ANNE TORRENT
The Wind Quintet
YVES CHARPENTIER (flute/G flute)
ANNE CHAMUSSY (oboe/english horn)
JEAN-CHRISTOPHE MURER (clarinet/bass clarinet)
HELENE BURLE (bassoon/recorder)
PIERRE ROUGERIE (horn)

Lighting Design: PHILIPPE ANDRIEUX
Photos by ROBIN MEEMS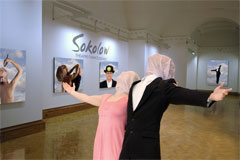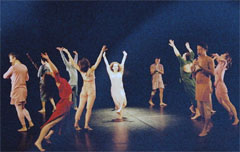 The coupling of the Sokolow Theatre/Dance Ensemble and le concert impromptu in "Ship of Fools" may be one of the best things to happen to Franco-American relations in a long, long time. The dance and music give birth to an eclectic night of entertainment, enhancement, and celebration. Eight pieces choreographed by Anna Sokolow based on the pictures of Magritte ("Magritte, Magritte") provide the perfect blend of theatre and dance, rhythm and poetry, and music and fantasy. From thesauruses gone awry ("Ago!") to the escapism of Luis Gabriel Zaragoza's grace in "The Restless Sleeper" and the theatre of "The Threatened Assassin" delightfully enhanced by the agility and antics of Benjamin Cortes, Director Jim May's light-handed approach breathes life into Sokolow's choreography and Magritte's images. And in full appreciation of the sound, the musicians are brought on stage, magnificently choreographed by May in "Starburst," while the Sokolow Theatre/Dance Ensemble and le concert impromptu cavort in a grand finale choreographed by David Parker that does the title of "La Nef Des Fous" proud. Tomfoolery and talent - now there's a winning combination!

- Laurie Lawson -
Sokolow Theatre/Dance Ensemble presents
www.sokolowtheatredance.org

THE SOUL OF JAZZ
A celebration of the 50th Anniversary of Rooms
Works of Anna Sokolow with Jazz Music

Choreography by ANNA SOKOLOW
Artistic Director: JIM MAY
Lighting Design: PHILIPPE ANDRIEUX
Music: KENYON HOPKINS, JELLY ROLL MORTON, WILLIAM CATANZARO

Performers
DAVEY BELLEROSE
ELEANOR BUNKER
BENJAMIN CORTES
ALAN FORBES
SAMANTHA GERACHT
LAUREN NASLUND
FRANCESCA TODESCO
LUIS GABRIEL ZARAGOZA

Danspace Project at St. Mark's Church in-the-Bowery
www.danspaceproject.org
10th Street & Second Avenue
(212) 674-8194
Thursday-Sunday, October 28-31 @ 8:30 PM



World-renown choreographer Anna Sokolow felt that combining the arts
to express the complexity of humanity was a natural process. In THE
SOUL OF JAZZ, A Celebration of the 50th Anniversary of Anna Sokolow's
Rooms, the dancers seem driven, obsessed and rejuvenated by complexity.
From the awe-inspiring slow-motion cartwheels of Benjamin Cortes to
the stone-faced ragtime patter of Davey Bellerose, the emotions defy
the actions. Both are executed perfectly with only occasional glimpses
of the joy that usually incites and accompanies the activity. Nowhere
is this more evident than in Sokolow's masterpiece Rooms. Dancers
express what we do within the confines of our rooms, real or imagined,
against the backdrop of soulful music by Kenyon Hopkins. A few notes
take you from despair to hope while managing to remind us of the
universality of the human condition. William Catanzaro's diverse
music allows the dancers to loosen up as they eventually become "cool
cats" in Session for Six. In melodrama and exaggerated moves, the
words and music of Jelly Roll Morton depict how the waltz evolved into
ragtime in A Short Lecture and Demonstration on the Evolution of
Ragtime.

In THE SOUL OF JAZZ multi-faceted emotions, high-spirited and focused
dancers, passionate music, and impressive costumes reach far beyond
the conventional borders of dance, making this a fitting tribute to
Anna Sokolow and an evening of powerful entertainment.

- Laurie Lawson -
                      APOCRYPHA Presents
                       Jehan's GODDESSDANCE
                       www.goddessdance.org

      An ecstatic celebration of the divine mystery of life
                featuring a cast of 25 performers,
    with sacred bellydancers, singers, musicians, and drummers
                      from around the world
                       with BALLET MYSTERE
                 featuring Vocalist ALICE RIDLEY

                            Theatre 3
 311 West 43rd Street (between Eighth & Ninth Avenues), 3rd Floor
                (212) 868-4444 or www.smarttix.com
                       July 11 - August 16
Monday @ 8 PM; Friday @ 7:30 and 9:30 PM; Saturday @ 3 PM and 8 PM

Jehan's GODDESSDANCE is a mesmerizing celebration of the
female body and of life itself.  Bellydancing, one of the oldest
recorded dances, is featured because it transcends its Middle Eastern
origin to bring delight to Westerners.  In swirls of colors and
costumes of silk and sequins, undulating bodies perform dances of
rituals, folklore, birth, death, and worship to ancient music updated
with saucy rhythms and sassy lyrics and chants.  Bellydancers are
accompanied by singers, musicians, and drummers from around the
world.  Throw in a few veils, swords, and snakes, and
GODDESSDANCE becomes magical, mystical, and mind-blowing! 
It's a fantasy history lesson that you won't want to miss and you
won't easily forget.  Put this one on your list, and go early.  You just
might want to see it more than once.
                       - Laurie Lawson - 
                   BOOTS, BACK TALK AND BEYOND
            Conceived & Choreographed by JOAN MILLER 
       in collaboration with guest artists and the company

           Artistic Director/Choreographer: JOAN MILLER
               Assistant Director: MARTIAL ROUMAIN
                       Guest Choreographers
              SHEILA KAMINSKY    MARTIAL ROUMAIN    
               GUS SOLOMONS, JR.    MARLIES YEARBY
                             Dancers
   KRYSTAL BREAKLEY      DAVID BROWNE      CHRISTIAN CLEARY    
   DINA DENNIS      DELANO JEAN PIERRE     THOMAS KREVER    
              TYRONE MONROE      NANAKO TSUKIYAMA
                Composer/Coordinator: COOPER MOORE
                   Poet/Narrator: NADINE MOZON
                 Lighting Designer: ROMA FLOWERS
                      Musician: COOPER MOORE
                 Costume Designer:   JESSICA JAHN

                     The Duke on 42nd Street
     229 West 42nd Street (between Broadway & Eighth Avenue)
                          (212) 239-6200
                May 17th @ 8 PM & May 18th @ 3 PM

Communication is the name of the game in JOAN MILLER'S
"Boots, Back Talk and Beyond."  In the tradition of South African
slave laborers, forbidden to speak and forced to use their bodies,
boots and chains, as well as develop a special language in order to
communicate, her dancers burst forth on the stage in a profusion and
sometimes confusion of movements, sounds, thoughts, and antics. 
Diverse works include silent screams, unbridled joy, sounds of
technology, African chants/beats, Jimi Hendrix music, and
Constitutional decrees.  She and her dancers celebrate and bemoan
national, international, and personal triumphs and traumas.  And
some dances are downright genius - "Slap Dance," "Dangling
Participles," and "Dear Family," which I believe includes a poem
entitled "Say When" ("If we must wage war, let it be a war on
poverty, disease...").  All in all there are 14 dances, and it would have
been helpful to identify the pieces so that the audience can keep track
of and follow up on their favorites.  And one more suggestion - since
9/11, hopefully we have all become more aware of our universality. 
So inspiring were some of these performances that less emphasis on
race and more on humankind would have made "Boots, Back Talk
and Beyond" even more spectacular.  We would look forward to
such a satisfying quest; not to worry, JOAN MILLER and her
dancers have enough talent to take on both heaven and earth.
          
                     - Laurie Lawson -                       
                    ANDREW JANNETTI & DANCERS
                20th Anniversary: A Retrospective
                 Choreography by ANDREW JANNETTI

              Guest Choreographer: CHRISTALYN WRIGHT
 Original Music by MARTY BELLER, RONNIE CUSMANO, MELINDA LEVOKOVE
    Lighting Design: JUDITH DAITSMAN, PAT DIGNAN, BARRY STEEL
   Costumes by JENNIFER BRIGHTBILL, SUZANNE GALLO, ELLEN MALHKE
          Stage Manager, Sound Engineer: BETH CHERVENAK
          Stage Hands: KENNETH FREEMAN & JEANINE GALVIN

                           THE COMPANY
    JULIE BETTS, BETH DISHAROON, ANDREW JANNETTI, RACHEL LANE
     ADAM MacLEAN, JENNY MENDEZ, LAUREN NASHLUND, JULIA POND
                  Guest Performer: ANDREAS WIRZ
    Special Guest Performers, Past and Future Company Members
JOANNE CAREY, SUSAN CLINE LUCEY, RACHEL ALEXANDRA COHEN, JEAN MORGAN COMPTON
LORETTA DiBIANCA FOIS, HANNAH ENSLER-RIVEL, HALLIE GLICKMAN-HOCH, STEPHANIE KUNG
JESSICA LEWIS, KATE J.F. LIEBERMAN, ANA POE-KEST, RENEE SKUBA, NADIA TYKULSKER
                         KRIOTA WILLBERG

                     The Duke on 42nd Street
     229 West 42nd Street (between Broadway & Eighth Avenue)
                          (212) 239-6200
                       April 30th - May 4th


Andrew Jannetti's "Much Ado," a intergenerational work
celebrating the past, present, and future company members, sets the
pace for his 20th Anniversary: A Retrospective.  Dancers burst
forth in a profusion of ages, sizes, colors, energy and movements to
the tune of a playful trumpet.  A respect for dance, as well as dancers,
is apparent in each dance.  African chants enhance the gracefulness
and frivolity of "Nightshades," while silliness dominates the
audience-pleaser, "Puddle Bumps."  Jannetti and Andrew Wirz
perform agonized dances of need and desire in "Isolation," and
Bach's "Cello Suite In E Flat Major" is brought to profound life in
"Water Cello Dreams."  ANDREW JANNETTI & DANCERS 20th Anniversary: 
A Retrospective is an impressive and diversified  homage to a master 
of dance and his talented company.
          
                        - Laurie Lawson -
                           SCOTT RINK'S

                            DANCE RINK
                       in two one-act plays

            "Seductions of the Desert" (World Premier)
       adapted from "Nogales," a short story by Tim O'Brien

               Direction/Choreography by SCOTT RINK
                 Audio Collage by SCOTT MARSHALL
                    Set Design by DAVID NEWELL
                     Lighting by JASON LYONS

                             Dancers

STEVE ANDERSON     ERICA EIGENBERG     CHARLES MARTIN     LENNA PARR    
        SCOTT RINK      KEVIN SCARPIN     SERAIDA VASQUEZ
                       Narrator: ELIZA FOSS

           "On His Deathbed, Holding Your Hand" (2001)
            based on the play by David Foster Wallace

               Direction/Choreography by SCOTT RINK
                 Audio Collage by SCOTT MARSHALL
                   Installation by MIKE CARSON
                     Costumes by TOMOKO NAKA
                     Lighting by JASON LYONS

                             Dancers

   STEVE ANDERSON     LENNA PARR     SCOTT RINK    ALICE STOCK
                      Narrator: VICTOR TRURO

                 ATA (American Theater of Actors)
      314 West 54th Street (between Eighth & Ninth Avenues)
                          (212) 620-7474
                      November 12-16 at 8 PM


Scott Rink presents two captivating dance plays in DANCE RINK. 
In the World Premier of "Seductions of the Desert" a lonely woman
(Lenna Parr) feverishly performs a love dance, driven by
desperation, spurred on by fantasy, and invaded by reality.  The
subject of her illusion is a bus driver (Rink) with devious plans and
deadly results.  Narrated by Eliza Foss and punctuated by Doris Day
songs, "Seductions" is a dance on the dark side of love.  "On His
Deathbed, Holding Your Hand" is a brutally honest confession of
a dying father (Steve Anderson) concerning his feelings for his son
(Rink).  A fetus performing a crouched dance on a stool, shadow
dancing, and a symbiotic coupling of Rink and Parr as mother and
son highlight this piece.  Victor Truro narrates.  Somber subjects
with just the right amount of music, dance, and narration make
DANCE RINK an interesting evening of entertainment.
          
                         - Laurie Lawson -                             
The MANHATTAN PRAIRIE DOGS, celebrating their 5th year of performances at the Atlantic
Stampede Rodeo in Washington DC have come home with the gold.  Each year the Rodeo
sponsors the ATLANTIC COAST OPEN, a team dance competition and 1998 found the
MANHATTAN PRAIRIE DOGS on top with first place honors.

The PRAIRIE DOGS are not new to the DC Rodeo having placed third in the very first 
ATLANTIC COAST OPEN in 1995.  PRAIRIE DOG sightings are usually reported in
neighboring states, but they have been spotted performing as far away as Harrisburg, PA and
Boston, MA. In the metropolitan area the PRAIRIE DOGS pop up most often on Saturday
nights at New York City's premiere gay & lesbian dance club The Big Apple Ranch.  New in
1998, the PRAIRIE PUPPIES,  a smaller, streamlined group had their premiere at The Big
Apple Ranch and received at standing ovation at the Rodeo.  The award winning MANHATTAN
PRAIRIE DOGS are directed and choreographed by Jon Lee, with outrageous and stunning
costumes designed and constructed by Michael Shaw.  

The MANHATTAN PRAIRIE DOGS, a country/western dance team can be booked for parties,
benefits and dances.  Line dance and two-step instruction is also available.  For up coming
performances please check www.bigappleranch.com.
---