The Players Theatre's Short Play & Music Festival
presents

SEX: Five one-act plays

The Tinder Scrapbooking Love Guru Victoria
Written & Directed by Cat Migliaccio
Featuring: Cat Migliaccio, Sandra Colchado

Scrimmage
Written by Phoebe Farber
Directed by Nicola McEldwoney
Featuring: Vicki Kulkin, Philip Cruise

Sleeping With Movie Stars
Written by Mark W. Butler
Featuring Kenneth and The Doctor

Yappy Hour
Written by Madeline Puccioni
Directed by Katie Seliyana
Featuring: Wende O'Reilly, Clare Patterson, Michael Siktberg, Lynne Silverman, Xalvador Tin-Bradbury

Broken
Written by Brian Paul Mendoza
Featuring: Charlie Covey, Dianne Diep, Dennis Henriquez

Press Representative: press@victorytheatrical.com

The Players Theatre
115 Macdougal Street
February 13- March 2
https://web.ovationtix.com/trs/pr/931455

The Players Theater's Short Play and Musical Festival's SEX theme presents 15 one-acts from the same number of playwrights over three weekends. Below is a review for the performances on the 2nd weekend. The final weekend of plays is listed at the end of this review.

The Tinder Scrapbooking Love Guru Victoria
A relationship expert, Victoria, with her Working Girl accent, presents a teaser to her sessions on snatching a man that would be the right match for making babies. The actor presents an exaggerated characterization to emphasize the shallowness of finding a mate through social media, along with her "scientific" scrapbook method.

Scrimmage
Parents of soccer team players get into their own scrimmage on how to handle team players and other parents as they get caught up in stereotypical gender roles. The playwright's dialogue resonates with this all-too-familiar male:female head butting that results in a not-too-surprising twist.

Sleeping With Movie Stars
A female sex therapist counsels a young male patient on his obsessive dreams of idealized actresses and personal rejection. She tries to help him, but is caught up in her own sexual fantasies.

Yappy Hour
An unemployed young man sits frustrated at his desk applying for jobs. He has a dog that he does not like and mistreats. A woman he has arranged to meet enters the Café accompanied by her dog. Two actors comically portray the two dogs, down on all fours. The dogs take to each other and have sex with the owners subsequently emulating them.

Broken
A couple kidnaps a young man. They fight about how to treat him, which turns them on. Having him as their victim turns them on. This portrayal, though disturbing, thankfully was not believable.

The one-acts for the third and final weekend – February 27 – March 2nd are:
Week 3: February 27-March 2

A Jimmy Carter Valentine by Daniel Glenn

Adam's Apple by Fidel Fonteboa

At the Wall by Eric B. Sirota
Spoo-gah by Chris Chaberski

Upstairs by Marcia Slatkin

- Gloria Talamas -
MY MOTHER HAS 4 NOSES
Written and Performed by JONATHA BROOKE
Directed by JEREMY B. COHEN
Produced by PATRICK RAINS
Associate Producer: PAM CARTER
Musical Director, Guitar: BEN BUTLER
Cello: ANJA WOOD
Orchestration: JONATHA BROOKE & BEN BUTLER
Set & Projection Design: CAITE HEVNER KEMP
Lighting Design: ML GEIGER
Sound Design: PAUL MITCHELL
Production Stage Manager: ANNE LOWRIE
Musical Contractor: ANTIONE SILVERMAN
General Management: THE WORK ROOM
Assistant Stage Manager: RACHAEL GASS
Marketing: RED RISING MARKETING
Advertising: MEDIA BRIDGE ADVERTISING
Press: SUSAN BLOND, INC. & COYLE ENTERTAINMENT

The Duke on 42nd Street
229 West 42nd Street (between Seventh & Eighth Avenues)
www.dukeon42.org
February 14 – May 04, 2014; Opening Night- 02/20/14
MY MOTHER HAS 4 NOSES is that (yes, 4 prosthetic noses) and a whole lot more than most one person plays. Jonatha Brooke, a talented singer and songwriter, takes on the journey of life with her amazingly eccentric and talented mother, moving us painfully through their last few years together when mom was suffering from dementia until the end. Mom was many things. Among them a poet, a magical thinker and a whole heck of a lot of fun and kookiness. She was also a devout Christian Scientist and this play gives many reminders of what life with pain and without medicine holds in store. Hint Hint: Not much comfort in prayers when there are hard truths and unbearable suffering.

The play connects the special relationship between mother and daughter, described as an "electric current running between us that never stopped humming". Humor, poignancy and poetry carried the story along with the wonderful songs and acting ability of Jonatha Brooke. Accompanied by Ben Butler on guitar and Anja Wood on cello, she also plays the guitar and keyboard beautifully. Brooke proclaimed that her songs and writing are her salvation and lucky us to share these.

In the second act, Brooke shows her unconditional love for her ailing mother mixing humor (poop skits) and pathos (yes, they gave the audience packets of tissues) commenting that if her mom had actually been there (dementia) she would have been so proud. You've got to respect the poetry in describing the fall into dementia as the trail going cold and all the clues are missing.
This two act play with a 15 minute intermission in the lovely Duke Theatre will leave you laughing, crying, and most of all thinking about the power of love, life and connection.

- Ronni Burns -
The Irish Repertory Theatre
In Association with 1407 Productions
presents
the World Premiere Production of

TRANSPORT
Book by Thomas Keneally
Music & Lyrics by Larry Kirwan
Directed & Designed by Tony Walton
Choreography by Barry McNabb
Musical Direction & Arrangements by John Bell
Costume Design: Linda Fisher
Lighting Design: Richard Pilbrow & Michael Gottlieb
Sound Design: Carl Casella
Stage Manager: Christine Lemme

Starring: Pearl Rhein, Jessica Grové, Emily Skeggs, Terry Donnelly, Edward Watts, Mark Coffin, Patrick Cummings, Sean Gormley. Orchestra: Piano/Conductor: John Bell, Guitar: Stew Cutler, Violin, Suzy Perelman; Drums, Thomas Hamlin; Flute/Whistles, Jeremy Clayton

Press Representative: Coyle Entertainment

The Irish Repertory Theatre
132 West 22nd Street
Through April 6, 2014
Wednesdays and Saturdays at 3 and 8pm, Thursdays at 7pm, Fridays at 8pm, Sundays at 3pm
(212) 727-2737 or www.Irishrep.org


The time is 1838 aboard The Whisper, a transport ship carrying female "convicts" to the penal colonies in southern Australia. TRANSPORT is based on a true story written by Thomas Keneally, author of Schinder's Ark (later filmed as Schindler's List). The women were accused of petty crimes, such as stealing bread for which they were treated harshly. The underlying reason for transporting women was to cleanse Ireland of poor undesirables, and to balance out the ratio of men to women in the penal colonies.

On board we encounter four women, a priest, the captain, a crewman and a surgeon. The women are feisty, raucous and strong willed. They lament leaving their homeland and long for the day they will return. There is the older Maggie, who could see into the past and future, and predicted they were all better off in Australia, as Ireland was about to face hard times. Then there is Kate, a young rebel, determined to steer the ship to America. The widow, Bride, is the matriarch of the foursome. Polly, the youngest, and only Protestant on board ship, is with infant. The crewman and surgeon desire Kate and Bride, respectively, and look after them on board.

After Kate's failed attempt at mutiny, and a severe whipping by the captain, the women bond more closely. Through intense heat and rough waters they sail, and things get a bit edgy. Sadness overcomes them when two of the passenger's lives come to an end. But, new hope returns when they finally reach Sydney. Throughout the play, each cast member breaks out in song at every opportunity, backed up by a live band.

- Gloria Talamas -
MATT MURPHY and SHAWN NIGHTINGALE Present

SEX TIPS FOR STRAIGHT WOMEN FROM A GAY MAN
www.SexTipsPlay.com

Written by MATT MURPHY
Based on the book of the same name by DAN ANDERSON and MAGGIE BERMAN

Featuring
ANDREW BREWER, LILNDSAY NICOLE CHAMBERS, GRAND MacDERMOTT
RACHEL MOULTON, JASON MICHAEL SNOW

Directed by TIM DRUCKER
Scenic Design: LUKE CANTARELLA
Costume Design: TILLY GRIMES
Lighting Design: BRIAN TOVAR
Properties Design: ALANNA MANISCALCO
Production & Sound Design: RANDY BLAIR
Choreography: NANCY RENEE BRAUN
Production Supervisor: PRODUCTION CORE
Production Stage Manager: RENEE DeMAIO
Company Manager: MATT FRANZETTI
Press: COYLE ENTERTAINMENT
Casting: GEOFF JOSSELSON
Marketing: RED RISING MARKETING

The 777 Theatre
777 Eighth Avenue (between 47th & 48th Streets)
(866) 811-4111 or https://web.ovationtix.com/trs/pr/930086
Opening Night: February 09, 2014


The first thing that you're going to learn in Matt Murphy's SEX TIPS FOR STRAIGHT WOMEN FROM A GAY MAN is that "your pee-pee is your friend." From then on this hysterical play, based on the book by Dan Anderson and Maggie Berman of the same title, just gets wilder and wilder. The effervescent Jason Michael Snow portrays Dan Anderson as he shares helpful hints about pleasures of the penis, and reticent Lindsay Nicole Chambers is Maggie Berman's replacement upon whom the responsibility of introducing Dan's book has been bestowed. Andrew Brewer is the eye candy, hunkalicious male model used for demonstrations. Together these three, along with the audience, present pertinent information, enact titillating tips and tricks, and guarantee that the audience has one heck of a ride on the bumps and grinds of male motivation and stimulation. Plan to have nothing but fun at SEX TIPS FOR STRAIGHT WOMEN FROM A GAY MAN and you won't be disappointed.

- Laurie Lawson -
Barbara Ligeti with Jeffrey Altshuler and Edmund Gaynes
Presents

RIDING THE MIDNIGHT EXPRESS WITH BILLY HAYES
www.ridingthemidnightexpress.com

Written and performed by BILLY HAYES

Directed by JOHN BOULD RUBIN
Co-Producers:
JONATHAN CHANG, JANN COBLER, EXODUS BROADWAY, JOSEPH TRENT SIFF
Press Representative: GARY SPRINGER, SPRINGER ASSOCIATES
Marketing & Advertising: AMANDA PEKOE, THE PEKOE GROUP
Set & Lighting Design: JOSH IACOVELLI
General Management: FORM THEATRICALS (Anthony Francavilla & Zachary Laks)

St. Luke's Theater
308 West 46th Street (between Eighth & Ninth Avenues)
(212) 239-6200 or www.telecharge.com
Wednesdays @ 2 PM & 8 PM; Fridays @ 5 PM; Sundays @ 2 PM
01/22/14 – 03/23/14; Opening Night: February 05, 2014


Billy Hayes is one hell of a story teller, and that's good because he certainly has an amazing story to tell. His harrowing tale of being caught smuggling drugs out of Turkey, the subsequent penalty of being incarcerated for five years, and his daring escape were made known to millions around the world, first with his best-selling 1976 book and then by the Oscar-winning 1978 movie both entitled Midnight Express. RIDING THE MIDNIGHT EXPRESS WITH BILLY HAYES is the stage version of this legendary saga, and this first-hand account includes never-before-revealed details and behind-the-scenes insights. This is the true story, and Hayes makes it palatable with a self-effacing manner, a non-fictionalized depiction, and a delightful sense of humor. Still serving as a cautionary tale, RIDING THE MIDNIGHT EXPRESS WITH BILLY HAYES is an entertaining adventure with the wiser and seasoned voyager as your tour guide. A rare opportunity that shouldn't be missed.

- Laurie Lawson -
The Gilded Stage Festival
presents

EDISON'S ELEPHANT

Written by CHRISTOPHER VAN STRANDER & DAVID KOTELES

Directed by DAVID ELLIOTT

Featuring
LYNN BERG, SEAN GOUGH, KEVIN ORTON, WENDY MERRITT,
ALYSSA SIMON, CJ TRENTACOSTA, JOHN THOMAS WAITE, & RIK WALTER

Costume Design: CARLA MORIARTY
Stage Manager: ABIGAIL E. STRANGE

Metropolitan Playhouse
220 East 4th Street
New York, NY 10009
www.MetropolitanPlayhouse.org
January 16 through January 26, 2014

It is Coney Island, 1903, and Thomas Edison has decided to electrocute an elephant and film the event. True story, and not a pretty one. Animal lovers may want to stop reading at this point.

Topsy was first displayed as a baby. Animal rights activists were nowhere to be seen in those days, and Topsy's long life was full of abuse. Finally she rebelled. Even elephants have their limits. This suited Edison's plans perfectly. He would execute the "dangerous" Topsy for her own good, "humanely", by killing her with Alternating Current. You see, Edison believed in Direct Current only. By snuffing the poor animal, he would also prove a point: Alternating Current is deadly!

Topsy didn't have a prayer. Excited crowds attended the event. Even old ladies thought it was going to be so entertaining, so much fun. Only Topsy's rummy trainer and Albert, a precocious twelve-year-old, see through the ruse. A clerk in Edison's office is also most depressed at this spectacle. For years he has been typing up the notes of Edison's electrocution experiments on dogs and horses. In short, Thomas Edison was the animal Dr. Mengele of his day, and answered to no one. The play ends with a showing of the actual electrocution footage.

KEVIN ORTON is honest but touching in his portrayal of Whitey Alf, the trainer. LYNN BERG plays it just right as the clerk who is forced to document the madness. CJ TRENTACOSTA is the perfect 1903 kid, ala "Newsies". When he asks Edison "Why'd you kill that elephant?" he is the straightforward, non-judgmental voice of a child getting straight to the point.

A well written slice of history, EDISON'S ELEPHANT smashes Edison from his saintly historic portrayal and shines a burning spotlight on his feet of clay.

-Karen D'Onofrio-
AdLib Productions
in association with The Simon Studio
presents

THE PORTRAIT

Written by SARAH LEVINE SIMON
Directed by ROGER HENDRICKS SIMON

Featuring
RUTANYA ALDA, JESSICA ELEANOR GRANT, JAMES LEAF, CAITLIN O'HEANEY,
ROGER HENDRICKS SIMON, JUNE STEIN, & JAMES WILLIAMS

Associate Director: EDDIE LEW
Set Design: JOSIE WILLIAMS & DAVID BRAGIN
Costume Design: JOSIE WILLIAMS
Lighting Design: EMMA SCHIMMINGER
Publicist: KATIE ROSIN/KAMPFIRE PR
Property Design: JOSIE WILLIAMS
Sound Design: ERIC SOMERS

Theatre 54
Shetler Studios
244 West 54th Street
12th Floor
New York, NY 10019
www.smarttix.com
January 15 through January 26, 2014

This tasty tidbit of salon comedy pits cousin against cousin in the quest for family riches. Everyone is very classy, very wealthy, and very greedy. They have gathered in a Park Avenue apartment, 1982, for cocktails, hors d'oeuvres, and backstabbing. Very tasteful backstabbing, of course.

Presiding over it all is the portrait of their ancestor. Cousin Toddy owns this one, while cousin Henry owns the portrait of another ancestor. The third portrait belongs to their Bohemian young cousin Marty. Toddy and Henry both want that portrait, and will jump through hoops to get it. Their wives are right behind them, coaching from the sidelines.

Exchanging Noel-Coward-worthy zings, constantly interrupted by the ditzy maid, the two older couples circle Marty and his new-age wife like sharks. Someone will come out on top. Maybe.

JUNE STEIN stands out in this production. As Henry's quirky lush of a wife, she is simultaneously repressed, outspoken, and drunk, all the while wearing pearls and sporting a severe hair-do reminiscent of Edith Head's. All in all, this play is a low-key fun romp through family dynamics at its worst.

-Karen D'Onofrio-
The Clearing LLC, 220 Entertainment LLC, JenniferK Kranz Present

THE CLEARING
www.TheClearingPlayNYC.com

A New Play by JAKE JEPPSON

Starring
ALLISON DAUGHERTY, GENEGALLERAND, BRIAN McMANAMON, BRIAN P. MURPHY

Directed by JOSH HECHT
Set Design: DANIEL ZIMMERMAN
Costume Design: TILLY GRIMES
Lighting Design: GERTJAN HOUBEN
Original Music/Sound Design: SAM KUSNETZ
Production Stage Manager: EMILY PAIGE BALLOU
General Management: ROBERT LEVINSTEIN
Voice & Dialect Coach: DEBORAH HECHT
Fight Choreographer: NIC GRELLI
Choreographic Movement: LORIN LATARRO
Press Representative: DAVID GIBBS/DARR PUBLICITY
Production Manager: JOSH KOHLER
Advertising Design: ALAN WAGER

Theatre at St. Clements
423 West 46th Street (between Ninth & Tenth Avenues)
(866) 811-4111 or www.TheClearingPlayNYC.com
January 15 – February 9, 2014


Jake Jeppson's THE CLEARING is a backwards travel through time that brings you right back to the present, reminiscent of the circle of life. Les (Brian McManamon) and Chris (Brian P. Murphy) are brothers bound together by a boyhood pledge. Together they attempt to protect and shelter their long-suffering mother (Allison Daugherty) in their own special ways. Peter (Gene Gallerano) may be able to thwart the symbiosis of this family bound together by secrets and sadness but old habits die hard, not to mention the sacredness of a boyhood pledge.

As you try to unravel the mystery that surrounds the characters, Jeppson slowly reveals the complexity of the characters and the repercussions of tragedies on the human psyche, especially when they go unexpressed. Amidst the bucolic setting created by Daniel Zimmerman, wounded animal sounds and tweeting birds intermix as if to emphasize the convolution. Josh Hecht has directed some scenes to sublime perfection – the nudity and the ground fight are two that come to mind. THE CLEARING is a well-acted, thought-provoking story of the human condition and how we connect and interact with each other.

- Laurie Lawson -
The Hive presents

A BRIEF HISTORY OF THE SOVIET UNION

Written by VLADIMIR ZELEVINSKY

Directed by JACQUES STEWART

Featuring
RON BOPST, HENRY DWYER, GUY RADER, & MARISSA PARNESS

Production Stage Manager: SPENCER CLOUSE
Scenic & Costume Design: MANDIE DeMESKEY
Lighting & Sound Design: BECKY HEISLER
Publicity: KATIE ROSIN, KAMPFIRE PR

Dorothy Strelsin Theatre
312 West 36th Street
1st Floor
New York, NY 10010
www.HiveTheatre.BrownPaperTickets.com
January 16 through February 1, 2014

This production is a whacky yet biting take on the "grand Soviet socialist experiment". Born out of bloody revolution, brutality remained key as the decades passed through Lenin, Stalin, and Khrushchev. Playwright ZELEVINSKY jogs through the 20th century USSR with agility, letting satire tell the tale of broken families, terrified citizens, KGB spies, and indoctrinated petty bureaucrats. The audience, like the Soviet population, has to laugh to keep from crying.

Fueled by sex, gunfire, and a massive amount of vodka, the characters reveal state politics at their ridiculous worst: a miasma of double-talk and duplicity, where no crime is too small for retribution. Off to the salt mines in Siberia! Welcome to the gulag. Drink your cyanide, please. Finally we arrive at glasnost, where socialism converts into capitalist interaction with the Global Village. Sort of.

RON BOPST and GUY RADER steal the show. They have many scenes together, and the chemistry is brilliant. Like two Russian Falstaffs, their physicality enhances the dialogue to provide a lot of dark-comedy laughs from what are, in essence, terrifying tales. This play, The Hive's first production of 2014, kicks off the season with a hit.

-Karen D'Onofrio-
Daniel Neiden & Elsinore County
present

LUSTYNESS: PLAYS ABOUT THIS GUY NAMED LOU

Written & Directed by ANTONY RAYMOND

Featuring
SARA ANTKOWIAK, BENJAMIN BAUMANN, DAN McVEY, ERIC DOVIAK,
J.J. PYLE, & MARY BETH ALBERS

Lighting Design: AJ DOBBS
Sound Design: DEAN WERB
Production Stage Manager: WALTER T. FREE
General Manager: LAURA GOSHEFF

Under St. Mark's Theater
94 St. Mark's Place
New York, NY 10009
(800) 838-0060 or www.ElsinoreCounty.com
January 3 through January 12, 2014

Lou, God's gift to womankind. He's picking up chicks in L.A., texting, sexting, whatever. Hitting on his pal's girlfriend, getting kissy with his married scene partner during "rehearsal". Well, he didn't specify rehearsal for what. Through summer in California, autumn and winter in New York City, Lou has a line of bull for every situation. Men envy him and women are drawn to him. But all good things must end. Spring in New Jersey finds him in a quite different "place", shall we say. One that you can't talk your way out of.

Well acted and brilliantly written, LUSTYNESS is a treat right through to its fearsome-yet-hysterical denouement. It is a dark comedy, but you don't notice. It is just too funny.

-Karen D'Onofrio-
CRY ME A LIVER

Written & Performed by LUCIE POHL

Lighting Design & Board Op: ELLEN ROSENBERG

Stage Left Studio
214 West 30th Street
6th Floor
New York, NY 10001
January 7, 14, & 21, 2014
www.stageleftstudio.net

Stage Left kicks off its 2014 season with "Cry Me a Liver", sixty minutes of LUCIE POHL being everyone BUT Lucie Pohl. Cleaning lady, murderer, county-bumpkin air-quality expert, rambling barista. Pohl is all of them, plus inspirational speaker at an AA meeting and subway beggar. And more.

The opening-night audience was a full house, a testament to Pohl's following. Opening night was also the coldest day in New York since 1896. They clapped not to keep warm, but because they enjoyed the show. LUCIE POHL supplies plenty of laughs and plenty of characters to keep out the blues on a winter's evening.

-Karen D'Onofrio-
Theater at St. John's in association with
June Rachelson-Ospa and Justin Colon present

The World Premiere of

ADAM'S GIFTS
A New Play by PETER FILICHIA
www.AdamsGiftsTheShow.com

Starring
PHILIP HOFFMAN, WILLIAM PARRY, JULIA PETERSON
MAUREEN SILLIMAN, HAYDEN WALL

Directed by DANIEL NEIDEN
Musical Supervisor/Arranger/Pianist – CHARLES CZARNECKI
Cellist – GJILBERTA LUCAJ
"Pront's Theme" – Composted by DANIEL NEIDEN
Production Stage Manager/Prop Master: RYAN NASO
Stage Managers: JUSTIN COLON, RACHEL HAAS
Lighting Consultant: MIKE LOUNSBERY
Master Carpenter: JOSH SHERER
General Manager: LAURA GOSHEFF

St. John's Lutheran Church
81 Christopher Street
December 20 @ 7 PM; December 21 at 2 PM and 7 PM

Peter Filichia's ADAM'S GIFTS is a delightful reworking of Charles Dickens' A Christmas Carol. Like Scrooge, slumlord Pront (William Parry) gets a chance of redemption when he is visited by Ghost Maureen Silliman. Since there's currently an abundance of folks needing redemption, the Ghost must be the travel guide for the past, present and future. And what a charming guide she is! Philip Hoffman is the Cratchit-like beleaguered employee attempting to support his wife (Julia Peterson) and their terminally-ill son (Hayden Wall) on the pittance that Pront provides.

Besides a cast of immense talent, what makes this particular production special is the modern adaptation presented with a broad sense of comedy and a touch of sarcasm. Filichia has taken all the pathos of Dickens' classic and updated it with current vernacular and perspective and yet still manages to infuse it with inspiration and brush it with wit and humor. ADAM'S GIFTS is quite an accomplishment and hopefully will become a Christmas tradition.

- Laurie Lawson -
Bandwagon Productions & Douglas Denoff
Joe Sirola, Sara Crown Star, Neil Gooding Productions and Judith D. Rubin
In association with
Dasha Theatricals and laurel international Holdings Present

HANDLE WITH CARE
www.handlewithcaretheplay.com

By JASON ODELL WILLIAMS

With

CAROL LAWRENCE, CHARLOTTE COHN, SHEFFIELD CHASTAIN, JONATHAN SALE

Directed by KAREN CARPENTER
Scenic Design: DAVID L. ARSENAULT
Costume Design: MARTIN T. LOPEZ
Lighting Design: CORY PATTAK
Sound Design: JILL DuBOFF
Advertising: HOFSTETTER & PARTNERS/AGENCY 212
Marketing: LEANNE SCHANZER PROMOTIONS INC.
Press Representative: SPRINGER & ASSOCIATES PR
Production Stage Manager: J.P. ELINS
Casting Director: WOJAK/SEAY CASTING
Production manager: DEREK JOHNSON
General Management: BRIERPATCH PRODUCTIONS

Westside Theatre
407 West 43rd Street (between Ninth & Tenth Avenues)
(212) 239-6200 or www.TeleCharge.com
Opening Night: December 15, 2013


Emmy-nominated writer Jason Odell Williams' HANDLE WITH CARE takes four eclectic and delightful characters, wraps them in a bizarre series of events, and provides inspiration that will last long after this holiday season is over. Terrence (Sheffield Chastain), an iffy DHX driver, has lost a package. This is no usual package; it contained the remains of Ayelet's (Charlotte Cohn) grandmother, marvelously portrayed by Tony-nominee Carol Lawrence. Terrence calls in his friend Josh (Jonathan Sale) to fix this outrageous situation, and the fun begins.

In addition to charming characters and a story line both poignant and optimistic, the cast makes this production a pure pleasure. Lawrence is superb as the full-of-life grandmother, and Cohn is beautiful as the distressed foreigner in a small Virginia town. Chastain is a bumbling but lovable protagonist, and Sale is the good guy you can't help but root for. Karen Carpenter provides tight direction of these four and keeps the laughs coming. HANDLE WITH CARE is a hearty comedy that shouldn't be missed.

- Laurie Lawson -
Brazen Theater
presents
THE MISS LONGVIEW TEXAS DRAG PAGEANT
Written and Directed by MARK HOOKER

December 12, 2013 – February 2, 2014

Times Square Arts Building, John DeSotelle Studio
300 W. 43rd Street at 8th Avenue, Suite 301, 3rd Floor, NYC
Tickets: http://brazentheatre.ticketleap.com/misslongview/#view=calendar\
or (612) 244-4606
Information: www.misslongview.com

Stage Manager ELSPETH DENMAN
Assistant Director CLINTON MANN
Lighting Designer BRIAN MACMANIMON
Costume Designer JUDE HINOJOSA
Producer DAVE BERG
Co-Director JANICE ORLANDI
Publicity SCOTTI RHODES

Cast
Dinky – Christopher Rivera
Renny – Robert Agis
Harlan – Scott Silvestro
Wylie – Daniel Keith
Tamera – Ali Wetzel
Lloyd – David M. Farrington
Kat – Mary McNulty
Eddie – Nathan Shapiro
Matthew – Max Schloner

THE MISS LONGVIEW TEXAS DRAG PAGEANT production that opened on December 12, 2013 in NYC is the world premiere of this new work that is written and directed by Mark Hooker. Set on Thanksgiving in the Longview, Texas home of Dinky and Renny, the comedy is most successful for not taking itself too seriously, not going over the top and being just the right length.

This work has a bit of everything. It starts off somewhat simply, with one couple hosting another for Thanksgiving dinner. The gentlemen are happy with green apple martinis, spiked punch and the plan for one of the guests to compete in that evening's Miss Longview Texas Drag Pageant. Matters are soon complicated when teetotaller and teacher Tamera arrives, and former and current sexual liaisons and potential ambiguities are revealed. Throw in aliens, an escaped convict, a vampy cop and Matthew McConaughey as the pageant judge, and this 70 minute or so show is pretty packed with ideas.

THE MISS LONGVIEW TEXAS DRAG PAGEANT is fun for what it is. At times the performers present lines almost as if they were from the intro scenes in some old porn movie, but that only seemed to go with the tone. There was limited space for this production, and good use was made of one set to capture inside, outside, and even the drag show. The costumes were fun and definitely used for comic effect for the club scene. The pace is fast, and there are laughs to be had. Happy holidays!

- Kessa De Santis -
STRUCK
By NACL THEATRE

A Co-Production of NACL THEATRE AND CLEVELAND PUBLIC THEATRE
Producers Arnold & Roberta Drumholz

Actors/Creators: BRETT KEYSER and TANIS KOWALCHUK
Director/Creator: KER WELLS
Neuroscientist/Creator: ALLISON WATERS
Dramaturgy and Texts: KRISTEN KOSMAR
Technical Director: ZOOT
Lighting Design: STEPHEN ARNOLD
Aurora Design: JIM RUXRON and BRETT KEYSER
Costume Design: KAREN FLOOD
Video/Digital Artists: BRIAN CAIAZZA and BRETT KEYSER
Technician/Tablas: JOE MURRY
Additional Technical Support: RAY CORNELISON
Table Design: HALL SMYTH and KER WELLS
Video/Sound/Photography: DANA DUKE, BIG TWIG STUDIO
Additional Video Footage: TINA SPANGLER
Poster Art: SEANHIGGINS
Graphic Design: BRETT KEYSER
Press Representative: BILL COYLE

HERE
145 Sixth Avenue (enter on Dominick Street)
December 5-21, 2013; Opening Night – 12/08/13

In response to Creator/Performer Tannis Kowalchuk's actual medical history, the female character in STRUCK has recently suffered a stroke. Leaving one side of her face and body immobile and destroying brain cells, she struggles to find meaning in her new existence. As she attempts to communicate and adapt to her new limited world with both her mind and her body, the challenges are immense. Brett Keyser plays male figures in her past and current life, and neuroscientist Allison Waters provides the medical information.

I'm not going to pretend that I get the message of STRUCK. I'm not even sure there is a message. The attributes of this work are great actors, impressive visual effects, creative staging and props, and magnificent lighting. STRUCK is a 60-minute journey through the mind of a human being's attempt to find their place in the world after a tragedy. It's imaginative, confusing, and often innovative – similar to our own minds under stress.

- Laurie Lawson -
The Interart Theatre Development Series
presents the
blessed unrest production of

A CHRISTMAS CAROL

Adapted by MATT OPATRNY
From the novel by Charles Dickens

Directed & Choreographed by JESSICA BURR

Featuring
DAMEN SCRANTON, SORA BAEK, JESSI BLUE GORMEZANO, TATYANA KOT,
NATHAN RICHARD WAGNER, & JOSHUA WYNTER

Production Stage Manager: JAIMIE VAN DYKE
Set Designer: NEAL WILKINSON
Lighting Designer: CYNTHIA JANKOWSKI
Costume Designer: SUMMER LEE JACK
Sound Designer: SAM KUSNETZ
Charge Scenic Painter: LAURA MROCZKOWSKI
Press: DAVID GIBBS/DARR PUBLICITY

The Interart Theatre
500 West 52nd Street
New York, NY
(646) 238-0829 or www.BlessedUnrest.org
December 5 through December 22, 2013

Even back in 1843, the holidays were fraught with family tensions. Mean-spirited Ebenezer Scrooge hates all this, well, happiness. For him it's about work and money. This makes life miserable for his hard-working clerk, Bob Cratchit. Scrooge's nephew Fred tries to lighten the mood by inviting Scrooge to Christmas dinner. He gets the usual grouchy reply accentuated by a nasty look. "Bah humbug" it is for yet another year. But things are about to change.

This snappy rewrite of the Dickens classic keeps us firmly in the past while adding modern touches and creative staging to surprise and entertain. The cross-dressing multi-ethnic cast is amazing. Using only doors and trunks as props, they recreate Scrooge's past, present, and future. When the gang breaks-it-down during Fezziwig's Christmas party, it is laugh-out-loud fun. DAMEN SCRANTON plays Scrooge with a deft hand, not overdoing it but keeping it real. NATHAN RICHARD WAGNER is also a standout as Mrs. Fezziwig and the owner of the poultry shop. Clever staging includes an outstanding "overhead shot" of Fred's holiday dinner.

The moral of A CHRISTMAS CAROL remain timeless. Scrooge steps over the ill and the poor in disgust on his way to pile up more profit. Putting it in modern terms, Scrooge is a germaphobe Republican at the start. His heart thaws when he begins to see people as individuals, not objects. In the end he is a rip-roaring Socialist Democrat. Take a holiday from your cares and feast on this most enjoyable production.

-Karen D'Onofrio-
Company XIV and The Saint at Large
present

NUTCRACKER ROUGE

Conceived, Choreographed and Directed by Austin McCormick
Set/Costume Design: Zane Pihlstrom
Lighting Design: Jeanette Yew
Sound Design: Austin McCormick
Stage Manager: Natalia Vasilyeva

Starring: Cassady Rose Bonjo, Marisol Cabrera, Laura Careless, Katrina Cunningham, Alexander Hille, Courtney Giannone, Molly Griffin, Jakob Karr, Nicholas Katen, Kana Kimura, Nico Maffey, Tyler Phillips, Davon Rainey, Jeff Takacs, Allison Ulrich, Shelly Watson

Press Representative: DARR Publicity

Minetta Lane Theater
18 Minetta Lane
Through January 5, 2014, Mondays – Saturdays at 8pm, Sundays at 7pm. No performances December 8, 15, 24 & January 1.
www.ticketmaster.com; 800.745.3000, http://www.NutcrackerRouge.com

NUTCRACKER ROUGE telling by the title, is a titillating retake of The Nutcracker. In classic style, Marie Claire is delighted with her nutcracker gift, gets lost in the woods with it, and stumbles upon the Kingdom of Sweets. The show then takes a colorful and risqué turn. In this burlesque castle inhabited with scantily clad dancers - who twist and turn in sexually suggestive fashion - she is entertained by their sweet "treats".

The dance performances include Cherries, Turkish Delight, Candy Cane, Macaroons, Licorice Boys and other bawdy decadence, fantastically costumed in lush colors. The dancers, entreated by Drosselmeyer and his wife, perform ballet and some impressive circus acrobatics. The music is a mix of classic and contemporary adaptions of Tchaikovsky, jazz and Madonna.

Marie Claire's exposure to this new world adds the gusto she needs, and the performance ends with her lusty and seductive take on the Sugar Plum Fairy dance. Terrific dancers and beautiful bodies move through the music, noise and glitter, highlighted by the very talented Davon Rainey.

Gloria Talamas
Sonnet Repertory Theatre, Inc.
In Association with Reynolds Lassiter
presents

THE MAIDS

Written by Jean Genet
Translated by Bernard Frechtman
Directed by Christopher Schilder
Sound Design: Janie Bullard
Scenic Design: Keven Lock
Lighting Design: David A. Sexton
Costume Design: M. Meriwether Snipes

Starring: Rosa Arredondo, Monique Coleman, Chinasa Ogbuagu

Press Representative: Kampfire PR

Ford Foundation Studio Theatre
At Pershing Square Signature Center
480 West 42nd Street
November 27th at 3pm and 8pm, November 29 at 8pm, November 30 at 7:30 pm, December 1 at 3pm
www.ticketcentral.com; 212.279.4200


A wealthy Madame subjects her maids - sisters Solange and Claire - to humiliation and despair. Their strong sense of shame leads them to act out their revenge on their Madame and her Monsieur; a classic play within a play. Certainly the mice do play while the cat is away, transforming into their own rebellious Madame-Maid fantasy.

This all-too-human play bounces between everyday routine conversation and rich, heightened language. The actors do a terrific job in their respective roles. Ms. Arredondo plays the role of a Prima Donna, who gets too personal and irrational with her maids. Ms. Ogbuagu is believable in a subservient role, which fuels her venomous anger. Ms. Coleman, meek and submissive to her older sister, is lured powerfully into the role-play.

This interpretation of Genet's play - originally written and set in 1940's France - takes place in 1940's New Orleans.

Gloria Talamas
Theatre 167
presents

PIRIRA

Written by J. Stephen Brantley
Directed by Ari Laura Kreith
Stage Manager: Sydney Lant
Scenic Design: Brendan Flaherty
Lighting Design: Josh Benghiat
Sound Design: Janie Bullard
Costume Design: Samantha Newby
Fight Choreography: Dan Renkin

Featuring: Flor De Liz Perez, J. Stephen Brantley, Todd Flaherty, Adrian Baidoo

Press Representative: Kampfire PR
West End Theatre
263 West 86th Street
Through November 24, 2013
http://www.theatre167.org/


PIRIRA means perseverance in the Malawi language and these characters do just that. Two separate stories intertwine and play out concurrently in this skillfully directed play. One story is set in Malawi, where two American aid workers – a male and a female - are forced to wait out a riot together in a shelter. The other is in New York City where two flower shop employees – a homosexual and a Malawi immigrant - work in close quarters.

Both scenarios begin to overlap, as the four characters open up about their personal lives and losses. Their lives are interconnected despite geographical distances, implying that we are all interconnected - even when it seems impossibly so - and part of the walking wounded. Each is trying to find a place in life. Near the end, one says "I am here for all the wrong reasons, but I try".

The four characters are well portrayed, giving the audience several reasons to identify with their struggles.

Gloria Talamas
United Solo 2013
presents

THE SCRIPT

Written & Performed by TIM COLLINS

Lights & Sound: ELLEN ROSENBERG

The Studio Theatre
410 West 42nd Street
New York, NY 10038
www.TeleCharge.com
November 22, 2013

THE SCRIPT is the tale of four very different male college students reacting to the rape of a female friend. They are all clueless in their own way. They aren't sure what constitutes "rape". What if a girl is drunk? What if she doesn't say no? The play deftly combines a whodunit with the thoughts and scrambled beliefs of the four. One hint: getting wasted doesn't improve your judgment.

TIM COLLINS not only entertains, he does Good Works by presenting this one-man show on sexual assault prevention. In a world where the emphasis is on women protecting themselves, staying aware, and never going out alone, THE SCRIPT brings into focus the fact that men need to stop objectifying women and realize that silence doesn't necessarily mean "yes". An excellent wake-up call for males, THE SCRIPT doesn't preach. It simply walks men through the thinking process necessary to reach wise decisions in their interactions with females. Both serious and funny, THE SCRIPT is a win-win for everyone.

-Karen D'Onofrio-
New York Deaf Theatre
presents

THE 39 STEPS

Written by JOHN BUCHAN
Adapted by PATRICK BARLOW
Directed by JAMES W. GUIDO

Featuring
J. W. GUIDO, OLIVIA HOWELL, FORREST WEBBER, GARRETT ZUERCHER, CARM KING, KATIE MUELLER, ANNE TOMASETTI, & JAKE WINN

Set Design/Prop Master: SAMUEL CARABALLO
Set & Prop Design: SAMUEL CARABALLO, DIREDRE LAUGHTON, ED LAUGHTON,
& WALTER LOZADA
Costume Design: PATRICIA ORDONEZ
Lighting Design: ANNIE WIEGAN
Stage Manager: CONRADO JOHNS
Voice Coach: MARY KAY ADAMS

Tada! Theatre
15 West 28th Street
Second Floor
New York, NY 10001
www.SmartTix.com
November 14 through November 24, 2013

This is an intriguing and highly entertaining interpretation of the Hitchcock classic. Four actors portray all the characters, communicating in American Sign Language. Four voice actors sit nearby, speaking all the dialogue and creating sound effects. The result is a smashing re-do of the serio-comic noir thriller.

It is pre-WWII Britain. A rather bored Richard Hannay decides to cheer himself up by going to the theater. There he meets a mysterious woman who drags him into the world of international espionage. Hunted by police, stranded in the Scottish countryside, he encounters multiple dangers as he tries to solve the puzzle set before him.

Full of quick-switcheroos, creative use of minimal props, and wonderful acting, this show works on a multitude of levels. The humor, both physical or verbal, hits the mark precisely, as we watch Hannay on his quest. This incarnation of THE 39 STEPS is a delight for both hearing and non-hearing audiences.

-Karen D'Onofrio-
We Are Many Foundation
presents

LEMON MERINGUE

Written by RICH RYAN
Directed & Adapted for the Stage by TERRI MUUSS

Featuring
JOE DE GISE II, JAMES KORONI, MAUREEN VAN TREASE, BRANDON BORKOWSKY, CATIE CUAN, AMY COLEMAN, NICK LEOS, JUDITH GREENTREE, ADAN AGUILAR, & ALEXA ERBACH

Choreography: TRACEY KATOF
Original Music: ATHENA REICH
Set Design: BILL BYLLOTT
Lighting Design: SAM GORDON
Costume Design: LUI KONNO
Stage Manager: ABBY VINCENT

TBG Theatre
312 West 36th Street
3rd Floor
New York, NY 10018
www.SmartTix.com
November 8 through November 24, 2013

Rich is a typical guy from Long Island. Married, kids, house. His life appears successful and happy, and it is, on the surface. But behind closed doors his raging anger threatens to tear him and his family apart. Secrets eat him alive with self-loathing. Rich finally seeks help from a therapist and battles his way through the pain of the lost years of his childhood, the ones he can't remember. The ones during which he was sexually abused.

Playwright RICH RYAN tells his true story in this, his first play. It too is part of his healing process, as well as a vehicle to shine light on this dark subject. Through modern dance, music, mime, and narrative, the production portrays his agony and his recovery. It is a frank unveiling of emotions and the inner conflict of guilt, anger, and hatred that afflict the sex-abuse survivor. What was done cannot be undone, but it can be faced. Once the secrets are out, Rich finds that he is not alone. He comes to an understanding within himself, and works to ease the pain of other victims. It is a victory worthy of sharing.

-Karen D'Onofrio-
MEDEA
By Euripides


Director/Choreographer: Noel MacDuffie
Composer/Lyricist: John La Sala
Translators: Mark Buchan and Bridget Durkin
Additional Writers:Hila Ben Gera and Robin MacDuffie
Costume Designer: Ayano Ganaha
Lighting Designer: Sean Perry

Featuring:
Hila Ben Gera, Keithen Hergott, Phyllis Bowen, Bernard Feinerman, Alex Fox, Emilyn Kowaleski, Fenton Li, Rose Ortiz, Andres Pina, Alexander W. Smith, Rosie Sowa, and Dilon Uruci.
Dancers: Kendra Slack, Martina Bolis, Karen McFarlane.
Guitars and Voice: Elana Belle Carroll of the band Vernous


Beckman Theater/American Theatre of Actors
314 West 54th Street
medea.brownpapertickets.com or 800.838.3006
November 16th at 8pm and November 17th at 3pm

Were Medea's actions the result of a woman scorned by love or the game of politics? This contemporary interpretation of the myth of Jason and Medea is conveniently translated for today's audiences. Sexism and racism are at the heart of this passionate, powerful story of vengeance.

MEDEA, dramatically played by Ms. Ben Gera, is defending herself against the men who have toyed with her and used her as their ploy. Jason is also well cast as political and ambitious, using Medea as an end to his means. In the end, as we all know, no one wins.

The story is told in song and dance. The music was one of this play's chief merits, played by a solo female guitarist, Elana Belle Carroll. The audience is treated to folk ballads, punk, and rock-style music. The dancers added an ethereal element to the play, accentuating Medea's struggles.

Gloria Talamas
Leslie Gold, Peppy Castro and Ken Lubin Present

THE GONG SHOW
www.gongshowlive.net

Directed by LESLIE GOLD
NY Casting Director: ROBERT RUSSELL
Hosted by RAY ELLIN
Judged by LESLIE GOLD, CHUCK NICE and JOE DeVITO

The Gong Show 10 Orchestra
Keyboard: FRANK PISANI
Guitar: ARTE DILLON
Bass: JIMMY CAPUTO
Drums: FELIPE TORRES/PETER GREEN
Musical Director: FRANK PISANI

The Cutting Room
44 East 32nd Street (between Park & Madison Avenues)
http://gongshowlive5.brownpapertickets.com/
Next Show: January 9, 2014


If you were procrastinating about buying a 2014 calendar, I want you to go out right now and get one. Then you will be able to mark January 9, 2014, with THE GONG SHOW in big red letters. Yes, it's back and it's live and it is even more fun than the original if possible.

For those too young to remember, THE GONG SHOW was a beloved television show from1976 to 1981. Hosted by the admittedly insane Chuck Barris, a variety of acts – the crazier the better – competed for the coveted prize of $516.32 if they were lucky enough to avoid the gong. Those who crossed the line of being unbearably bad were gonged off the stage.

Now at the beautiful Cutting Room you can participate in THE GONG SHOW as 14 acts of varying degrees of talent bring back this national treasure. Host Ray Ellin and celebrity judges Leslie Gold, Chuck Nice, and Joe DeVito revel in the insanity and keep the party going. It is a night of high hilarity, fond memories, and out-and-out fun. Food and drinks are available. Come early, stay late, and laugh continually. THE GONG SHOW – do it!

- Laurie Lawson -
an Impossible Thing
presents
AN INFINITE ACHE

Written by DAVID SCHULNER
Directed by JOSHUA WARR

Featuring
ERIC KUEHNEMANN & NANCY SUN

Scenic Design: JASON LEE COURSON
Lighting Design: TIMOTHY MEOLA
Production Stage Manager: ADAM SAMTUR
Publicity: KATIE ROSIN/KAMPFIRE PR

The Gallery at Access Theater
380 Broadway
Fourth Floor
New York, NY 10013
www.infiniteache.com
November 7 through November 22, 2013

This brilliantly written and executed play begins with a couple who have just had their first date. Or maybe it wasn't a date. Charles sure thinks it was a date, and, no social sophisticate, he is already in love and planning their future together. Hope is a practical girl and basically just wants to go home after the awkward evening.

What follows is a fast-forward through the rest of their lives. We are passengers in a speeding train that stops at the high and low points, racing through the twists, turns, and u-turns. The in-between is a blur. They trade old problems for new and new joys for old, rearranging the puzzle pieces of their relationship as the decades roll by.

NANCY SUN and ERIC KUEHNEMANN are perfectly cast. No Broadway star could do better. JOSHUA WARR has done a masterful job of directing. Luminous performances and a vivid, intense script make AN INFINITE ACHE a must-see.

-Karen D'Onofrio-
The Seeing Place Theater presents

MEN IN WHITE

Written by Sidney Kingsley
Directed by Erin Cronican
Lighting Design: Duane Pagano
Production Design: Erin Cronican
Stage Manager: Jasmine Olson
Costume Design: Nicole McLaughlin

Starring: Michael Gnat, Mark Gorham, Adam Levinthal, Logan Keeler, Stephen Dexter, Jim DiMunno, Brandon Walker, Justin Hoch, Frank Schiavone, Nicole McLaughlin, Stewart Steinberg, Jessica Kelly, Hillery Baker, Erin Cronican, Martine Moore, Brian Charles Rooney, Jamie Soltis


ATA's Sargent Theater
314 West 54th Street, 4th floor
Through November 24, 2013
Wednesday – Saturday at 8pm. Saturday & Sunday at 2pm
www.smarttix.com; 212.868.4444

This medical drama, by Sidney Kingsely, won the Pulitzer Prize in 1934 and getting its first revival since the critically acclaimed production in 1933 (followed by a movie version with mixed reviews starring Clark Gable and Myrna Loy). It is the story of a diligent, promising, young internist named George Ferguson. George's distracted classmates pale in comparison to his natural talents and drive. In a few days, George will go abroad to study in Vienna, before coming back to an assistantship with his mentor, the esteemed Dr. Hochberg. Meanwhile, George is working day and night.

His life is upended when his wealthy fiancé convinces him that life and love are more important than work. She and her influential father, who is on the board of the hospital, convince George to forgo his studies abroad, his assistantship and instead open a private practice. George is conflicted but agrees knowing he is ill advised and will not be prepared.

One evening, when work caused a rift between George and his fiancé, a lonely, distressed young nurse stopped in to see George. Their dalliance ends in sadness and loss, but gets George back on his intended path.

This play is about ethics and self-interest, and their consequences. It also reflects on the enormous life-and-death stress–and the limitations of medicine–that young interns and doctors encounter, especially in medicine's early days.

Gloria Talamas
Mary J. Davis Presents

DISASTER!
www.disastermusical.com

Written by SETH RUDETSKY and JACK PLOTNICK
Original Concept by SETH RUDETSKY and DREW GERACI

With

SHERZ ALETAHA, HAVEN BURTON, PAUL CASTREE, CHARITY DAWSON
JOHN TREACY EAGAN, AASUM ESKANDANI, MATT FARCHER, TOM RIIS FARRELL
DREW GERACI, ASHANTI J'ARIA, MAGGIE McDOWELL, MICHELE RAGUSA
SETH RUDETSKY, ROBB SAPP, JENNIFER SIMARD, MARY TESTA, JONAH VERDON

Directed by JACK PLOTNICK
Choreography by DENIS JONES
Scenic & Lighting Design: JOSH IACOVELLI
Costume Design: BRIAN HEMESATH
Sound Design: A7L SOUND PARTNERS
Music Director/Orchestrations: LARRY PRESSGROVE
Music supervisor: STEVE MARZULLO
General management: JOE MONDA
Marketing: RED RISING MARKETING
Press Representative: COYLE ENTERTAINMENT
Producer: JAMES WESLEY
Production Stage Manager: JEFF DAVOLT
Assistant Stage Manager: TOM KOSIS

St. Luke's Theater
308 West 46th Street (between Eighth & Ninth Avenues)
(212)239-6200 or www.telecharge.com
Opening Night: November 04, 2013

If you are looking for a reason to laugh non-stop for two hours and five minutes, then I highly recommend that you check out Seth Rudetsky's and Jack Plotnick's DISASTER! This musical based on every disaster movie of the 1970's you can think of is like slipping down the rabbit hole where a good time is had by all. Combine killer bees, earthquakes, tidal waves, fires, rats, sharks, polyester suits, and shag carpeting with some of the most creative uses of 1970's songs, and the party is on!

Located on a floating NYC casino, several eccentric characters mingle for a night of gambling and entertainment. Let the disasters begin! Think The Love Boat meets the Titanic amidst the background music of Viva Las Vegas. Throw in a multi-talented cast, sharp writing, hysterical choreography, and your favorite songs from the 70's, and you have a recipe for hilarity and tons of fun. It would truly be a disaster if you missed DISASTER!

- Laurie Lawson -
All For One Theater Festival, Inc.
presents

THOSE WHO CAN'T DO

Written by Erin Fleck
Directed by Shari Hollett
Lighting Design: Brant Thomas Murray
Set Design: Lindsay Anne Black
Stage Manager: Phoebe Duncan

Starring: Erin Fleck

Press Representative: Kampfire PR

Cherry Lane Theatre
38 Commerce Street
Saturday, November 9, 2013, 4pm
http://www.afofest.org/tickets
www.afofest.org


The saying Those Who Can Do, Those Who Can't Teach is relevant in this one-woman show about a teacher – Lillian - who instructs 9th grade female students on health education and preventive sex. In this small town school the curriculum is outdated and her administration is unbending. Lillian is awkward in her own skin but she gains the students' trust by being honest and open.

A group of her students creates the Fellatio Club, but are discovered when a parent finds a sexting video of them with members of the hockey team. The principal prefers to have the problem go away by having the troublemakers moved to a different school. Lillian is tasked with shaming the entire class into proper behavior, yet she struggles with her own shame.

Lillian's sexual appetite was stymied at the age of 11 when her mother caught her in an encounter with a male babysitter. Her sex life is unfulfilled, and she relives her own frustrations as a sex-ed teacher. This story questions how adults deal with experimenting teenagers, and when to draw the line. The conflict revolves around progressive vs. traditional ideas on sex education. Any teen, or a parent with a teenager, would likely relate.

In Ms. Fleck's portrayal of the various characters, she cleverly distinguishes them with facial expressions, voice intonation, stage positioning, and writing names on a chalkboard.

Gloria Talamas
All For One Theater Festival, Inc. Presents

KNYUM

Written and Performed by VICHET CHUM

Directed by KYLE SCHAEFER & EMILY RITGER
Executive Director: MICHAEL WOLD
General Manager: CORINNE WOODS
Lighting Designer: NIK ROBALINO
Stage Manager: DANA GAL
Sound Design: PAUL KITE
Festival Lighting Designer: BRANT THOMAS MURRAY
Scenic Consultant: ASHLEE SPRINGER
Festival Stage Manager: PHOEBE DUNCAN
A/V Supervisor: JOSEPH WOLFSLAU
Assistant Stage Manager: ANGELA DUMLAO

The Cherry Lane Studio Theatre
38 Commerce Street
www.afofest.org/tickets
10/27 @ 7 PM; 11/02 @ 1 PM; 11/03 @ 4 PM; 11/08 @ 7 PM


From 11 PM to 7 AM Guy (Vichet Chum) works in the lobby of the Hotel East Houston in New York City. In addition to being financially compensated for his efforts, he utilizes the quiet time to create and work out his dreams and face his demons. The lobby becomes his own personal theater where he confronts his Cambodian heritage, ponders his legacy, acknowledges the sacrifices of his parents, and applauds the survival of humans everywhere.

KNYUM, written by Chum, is a perfect vehicle for this talented artist. He conjures up vibrant visions with his storytelling, breathes life into the other characters in his life with his impressions, and stuns us with his combination of the brutal history of Cambodia and the inspirational dreams of his future in America. Almost makes you wish there really was a Hotel East Houston so you could visit and cheer him on. Do the next best thing and see KNYUM at The Cherry Lane Studio Theatre.

- Laurie Lawson -
All For One Theater Festival, Inc.
presents

A LITTLE POTATO AND HARD TO PEEL

Written & Performed by DAVID HARRELL
Directed by KIRK WHITE

Lighting Design: NIK ROBALINO
Stage Manager: PHOEBE DUNCAN
Audio/Visual Supervisor: JOSEPH WOLFSLAU
Publicity: KATIE ROSIN/KAMPFIRE PR

Cherry Lane Theater
38 Commerce Street
New York, NY 10014
www.afoFest.org/tickets
October 20 through November 9, 2013

DAVID HARRELL was born without a right hand. Otherwise he was a healthy rambunctious boy, and his family didn't dwell on his one oddity. Every so often he had to return to the hospital to be fitted with a new prosthesis and be looked at by a group of curious doctors. But life was good growing up in his small southern town. He could pitch a baseball with the best of them. Then came time to start school, and the teasing began. He had always been told he wasn't "different". Now he was constantly told that he was different. It's a little difficult to get your head around that when you're six years old. But he was, indeed, a tough little potato.

These days DAVID HARRELL is not quite sure whether he succeeded in spite of his missing hand, or because of it. A curious dilemma, but of minor importance. Because he has succeeded and is loving every minute of it. No tears here. Just a strong sense of self-worth and a personality that is always seeking out a new challenge. An enjoyable story of a likeable guy, A LITTLE POTATO AND HARD TO PEEL makes us hungry for more.

-Karen D'Onofrio-
All For One Theater Festival, Inc.
presents

THE OTHER MOZART

Written & Performed by SYLVIA MILO
Directed by ISAAC BYRNE

Composers: NATHAN DAVIS & PHYLLIS CHEN
Additional Music: MARIANNA MARTINES & WOLFGANG MOZART
Design Concept: ANNA SROKA
Costume Design: MAGDALENA DABROWSKA & MIODRAG GUBERINIC
Lighting Design: JOSHUA ROSE
Stage Manager: PHOEBE DUNCAN
Hair Design: COURTNEY BEDNAROWSKI
Publicity: KATIE ROSIN/KAMPFIRE PR

Cherry Lane Theater
38 Commerce Street
New York, NY 10014
www.afoFest.org/tickets
October 19 through October 27, 2013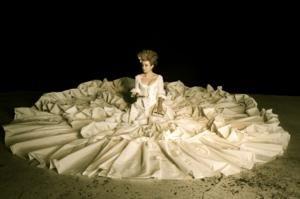 Yes, Wolfgang Amadeus Mozart had a sister. A brilliant, beautiful, talented older sister, Maria Anna, who played and composed as well as he did. But she had a fatal problem. She was female.

Such was the situation in the 18th century (and beyond). While she was a child, Papa took her and Wolfie on tour throughout Europe, where she often received top billing. Marianna, as she preferred to be called, received gifts from royalty and praise from every direction. She adored music in all its dimensions, playing constantly for the joy of it. She and her brother delighted in each-another's company. All was bliss until she reached "marriageable age". Her parents and the culture of the time then considered it improper for her to continue to perform in public. Sent back to Salzburg to live with Mama and find a husband, she was utterly miserable. She played music alone, and lived for the letters from her brother and father recounting their triumphs and travels. She was often ill, often crying, so deep was her unhappiness.

THE OTHER MOZART is a must-see masterpiece. SYLVIA MILO gives an astonishingly brilliant performance as Marianna, surrounded by sheet music and letters from abroad. Costume design and set design are outstanding because they are organically one. THE OTHER MOZART is pure pleasure on every level.

-Karen D'Onofrio-
All For One Theater Festival, Inc.
presents

BEYOND WORDS

Written & Performed by BILL BOWERS
Directed by SCOTT ILLINGWORTH

Lighting Design: BRANT THOMAS MURRAY
Costume Design: MICHAEL GROWLER
Sound Design: DAVID MARGOLIN LAWSON
Stage Manager/Production Coordinator: LAURA LINDSAY

Cherry Lane Theater
38 Commerce Street
New York, NY 10014
www.afoFest.org/tickets
October 12 through November 2, 2013

A gender-conflicted boy in small-town Montana obviously has only one career choice: become a mime.

In those pre-Oprah days, it was all playing cowboy, going to the county fair, and singing along with Karen Carpenter songs. In the basement, with a hairbrush as a microphone. Now BILL BOWERS visits Montana as a "guest artist" from New York City when not busy with other things. This production tells his story and that of others through both mime and narration. From childhood through that awkward teenage phase, then into adulthood, he has the audience laughing at one point, serious the next.

He endured a cranky uncle, enjoyed his first "real" employment in the local restaurant, and had fun with life in general. Using his masterful miming skills he relives childhood joys with wide-eyed abandon. These are intercut with a few harsher tales, about others who did not receive as much kindness as he did. He reminds the audience that it can be a tough world out there. "BEYOND WORDS" gives us mime, merriment, and a moral that resonates with anyone who has been a child.

-Karen D'Onofrio-
Urban Stages Presents
www.urbanstages.org
The World Premiere of

HONKY

By GREG KALLERES

Featuring

SCOTT BARROW, PHILIP CALLEN, DAVE DROXLER
DANIELLE FAITELSON, ANTHONY GASKINS, DeLANCE MINEFEE
REYNALDO PINIELLA, ARIE BIANCA THOMPSON

Directed by LUKE HARLAN
Set Designer: ROMAN TATAROWICA
Costume Designer: SARAH THEA SWAFFORD
Lighting Designer: MIRIAM NILOFA CROWE
Sound Designer: BRANDON WOLCOTT
Production Designer: CAITE HEVNER KEMP
Production Manager: SEAN HAGERTY
Production Stage Manager: BRIAN D. GOLD
Press Representative: JOE TRENTACOSTA, SPRINGER ASSOCIATES PR

Urban Stages
259 West 30th Street (between Seventh & Eighth Avenues)
(212) 421-1380 or www.smarttix.com
October 22 – November 17, 2013

Can racial profiling be excused if it is used to market to different ethnic groups and give them what they want? This, and so much more, is what Greg Kalleres explores in his hilarious play HONKY.

A black designer creates the next gotta-have sneaker for urban youth, and the company for which he works is predominantly white. Somewhere in the 'hood a teenage youth is killed for these shoes. Tragedy or marketing bonus? In a profit-driven world where the goal is to create demand, the answer is not simple. Not only does Kalleres take on this perplexing dilemma, he also presents spoken and unspoken racism from every viewpoint imaginable. While Whites question how much guilt they should carry and what they are allowed to say, Blacks are preoccupied with pains of the past and bombarded with present indignities. Political correctness can't solve or even soothe this gap. We are all a bit racist, nobody owns the patent on pain, and there is still much work to be done.

So what's all the laughing about? HONKY takes the issue of racism to the extremes, sets political correctness on its ear, and gives a humorous spin to undeniable realities. It leaves us with much to ponder and a smile on our face. Quite an accomplishment.

- Laurie Lawson -
Vineyard Theatre
Fouglas Albet, Artistic Director/Sarah Stern, Co-Artistic Director/Jennifer Garvey-Blackwe, Executive Director
Presents

THE LANDING

Book and Lyrics by GREG PIERCE
Music by JOHN KANDER
Story by JOHN KANDER and GREG PIERCE

With

JULIA MURNEY, DAVID HYDE PIERCE
FRANKIE SERATCH, PAUL ANTHONY STEWART

Directed by WALTER BOBBIE
Choreography by JOSH RHODES
Music Director: DAVID LOUD
Orchestrations: LARRY HOCHMAN
Conductor: PAUL MASSE
Scenic Design: JOHN LEE BEATTY
Costume Design: MICHAEL KRASS
Lighting Design: KEN BILLINGTON
Sound Design: NEVIN STEINBERG
Production Stage Manager: ROY HARRIS
Production Manager: DAVID NELSON
Press Representative: SAM RUDY MEDIA RELATIONS
Casting: HENRY RUSSELL BERGSTEIN, CSA
General Management: DR THEATRICAL MANAGEMENT
Music Coordinator: JOHN MONACO

Vineyard Theatre
108 East 15th Street
(212) 353-0303
October 03 – November 24; Opening Night: 10/23/13


I'm at a loss to know what to praise first in Greg Pierce's THE LANDING. This masterpiece is full of clever writing, sophisticated humor, delightfully haunting music by John Kander, and creative choreography by Josh Rhodes. And I haven't even gotten around to the cast.

There are three separate stories in THE LANDING, each with an underlying theme of using flight and fantasy to cope with harsh realities. That living stuff can be difficult! Along with the always-sublime David Hyde Pierce, Julia Murney, Frankie Seratch, and Paul Anthony Stewart take on a variety of eclectic characters, and you would be hard pressed to find an average performance by any of these talented folks. Lines are both spoken and sung, and an occasional dance will make you appreciate Pierce even more if that's possible. Tight direction by Walter Bobbie keeps you continually amused with a tug at your heartstrings every now and then. The last story will take your breath away with its poignancy.

Don't miss THE LANDING. Theatre of this quality doesn't come around that often.

- Laurie Lawson -
manhattantheatresource
presents

ESTROGENIUS 2013 – FIVE SHORT PLAYS

Hidden Beauty
Written by CELESTE KOEHLER
Directed by SHARON HUNTER
Featuring: HELENE GALEK, GLORIA ROSEN, ALISON SALTZ, TREVOR WADE,
& ADRIENNE WILIAMS

The Painting
Written by MAURA KELLY
Directed by MARY HODGES
Featuring: PATRICIA FLOYD & ALDEN TRUESDALE

Human Earrings
Written & Directed by CHERYL KING
Featuring: RENEE ERIKSON, KC WEAKLEY, & CHERYL KING

Traveler from Utopia
Written by EVE BUTLER
Directed by ANDI COHEN
Featuring: TREVOR WADE, AUTUMN HORNE, & HELENE GALEK

Acquisition
Written by CHAR NELSON
Directed by DEBORAH LONG
Featuring: DAVID BAKAMJIAN, GRETCHEN SCHMOKER, & SHASHONE LAMBERT

Producer: DEBORAH LONG
Assistant Producers: ANNE CARLINO & MARGARET STOCKTON
Stage Manager: KATIE DALE
Tech Director/Board Operation: HAEJIN HAN
Lighting Design: KIA ROGERS

Theaterlab
357 West 36th Street
Third Floor
New York, NY
(866) 811-4111 or www.estogenius.org
October 20, 2013

This tasty evening of short plays is a sampler of what's available at the 14th Annual Estrogenius Festival, which runs from October 15 through November 10, 2013. As you may have guessed, the festival is a celebration of female voices, showcasing plays by and about women. The festival features three programs of short plays, three full-length plays, plus readings, dance, and other treats.

These five short plays are all set in an art gallery or museum. In HIDDEN BEAUTY, mom is scandalized by the artist's viewpoint, shall we say. Her daughter thinks the painting is empowering. Upon closer inspection, they both discover something they can relate to. TRAVELER FROM UTOPIA examines a young woman's fascination with the lad in the painting. ACQUISITION shows the dark side of being an artist.

The two standouts (in a group of standouts) were HUMAN EARRINGS and THE PAINTING.
HUMAN EARRINGS is a bit disturbing but got the biggest laughs of the evening. THE PAINTING is softer and gentler, but strong in its message that the viewer must do more than just look at a painting. One must focus and really see into the art.

Judging from this sampler, ESTROGENIUS 2013 offers up clever writing and great acting, laced with a dash of feminism. It's the perfect treat to banish the autumn blues.

-Karen D'Onofrio-
All For One Theater Festival
presents

ANOTHER MEDEA

Written & Directed by AARON MARK
Performed by TOM HEWITT

Lighting Design: BRANT THOMAS MURRAY
Stage Manager: PHOEBE DUNCAN
Audio/Visual Supervisor: JOSEPH WOLFSLAU

Cherry Lane Theater
38 Commerce Street
New York, NY 10014
www.afoFest.org/tickets
October 19 through October 30, 2013

Beware the thwarted actor who has become too immersed in his role. Denied a public stage for his emotions, our actor, Marcus, acts-out on a very personal level. Jealous, powerless, and moneyless, he has no choice but to seek retribution from those who have wronged him. With a gruesome disregard for all that is sacred, he puts his grim plan into action, roaring full speed down a violent path from which there is no return.

Those familiar with the classic "Medea" will know the outline of this play. It is a tale transported from ancient Greece to modern Manhattan and converted into a gay love story of tragic proportions. Marcus willingly abandons his career for his passionate love affair with Jason, a wealthy British doctor. He grows dependent on the penthouse, the wine, the paintings, the perfect words. When he senses that Jason has moved on to another love, Marcus comes apart at the seams. The results are deadly.

All the while seated at a table, dressed in black, on a black stage, TOM HEWITT powerfully conveys the highs and lows of Marcus's emotions, letting his adrenalin thunder though the audience. This textured performance is a stellar, minimalist look at the innate danger of powerful emotions and the grim results of betrayal.

-Karen D'Onofrio-
All For One Theater Festival, Inc.
presents

SLUT ENERGY THEORY

Written & Performed by RENE MARIE
Directed by DONNIE L. BETTS

Lighting Design: NIK ROBALINO
Stage Manager: PHOEBE DUNCAN
Audio/Visual Supervisor: JOSEPH WOLFSLAU

Cherry Lane Theater
38 Commerce Street
New York, NY 10014
www.afoFest.org/tickets
October 12 through October 20, 2013

Do not judge this work by its title. U'Dean cannot be defined by that one word. She is deeper, wider, stronger, and more astonishing than you can imagine. Born in Arkansas, 1892, she might be in that old rocking chair, but do not under-estimate her power and that of her life story. Alternately endearing and shocking, she embraces you with that big heart and free spirit of hers. Through song and spoken word she recreates the simplicity of her childhood, the joys and miseries she has endured, and the just plain ornery streak that got her through it all. Let's hear an "amen!"

RENE MARIE is beyond talented. Endowed with a beautiful voice, she also wrote all the dialogue, songs, and music for this production. She morphs flawlessly from character to character, from Delta blues to gospel. She takes us into the tall weeds of the uncomfortable, then snaps us back into a warm friendship. Philosopher and storyteller, her U'Dean is an incredible, fascinating woman. It's strong stuff, but she makes it a journey worth taking.

If you can face brutal home-truths and blunt admissions about sex, religion, and life, SLUT ENERGY THEORY is a must-see.

-Karen D'Onofrio-
THE PILLOWMAN

Written by MARTIN McDONAGH
Directed by PETER JENSEN

Featuring
DON CARTER, VICTORIA GUTHRIE, ALIYA VICTORIYA, JOSH MERCANTEL, TOMMY BUCK, ALEXEI BONDAR, & LANCE OLDS

Set Design: D. SCHUYLER BURKS
Costume Design: SHERRY MARTINEZ
Sound Design: ANDY EVAN COHEN
Lighting Design: YUKI NAKASE
Props Master: ALEX CARMINE
Technical Director: NATHAN FRIESWYK
Assistant Director: BECKY COPLEY
Producing Director/Dramaturg: JANET BENTLEY
Fight Choreographer: JESS "JAY" AKIN
Publicity: DALE HELLER

T. Schreiber Studio & Theatre
151 West 26th Street
7th Floor
New York, NY 10001
October 20 through November 24, 2013

In a totalitarian state of unknown place and time, two ruthless detectives grill Katurian. Katurian writes macabre stories, and that seems to be his crime. This Kafkaesque tale flows on from that starting point, engulfing the unfortunate Katurian and swallowing those near and dear to him as the brutal interrogation continues.

You will not sit back and enjoy THE PILLOWMAN. You will be riveted by the story as it unfolds, carried by the intense, hypnotic performances of JOSH MARCANTEL as Katurian and ALEXEI BONDAR as Michael. This play won the Drama Critics' Circle Award for a reason. Full of brutality, tempered by tenderness, mysterious, dark, frightening, and multidimensional, THE PILLOWMAN is a masterpiece with a message only the viewer can decode.

-Karen D'Onofrio-
NO SHOW: A ONE WOMAN SHOW

Created & Performed by JENN DODD
Directed by KATIE HARTMAN

Co-Writers: TOM LORENZO & BEN HILL
Graphic Design: DALLAS DODD
Video Editor: SHARON JAMILKOWSKI
Video Cast: TIM GIRRBACH, JASON ROMAS, JOHN MORENO, WALTER REPLOGLE,
JEN TULLOCK, EVAN KAUFMAN, & BARRY LANK

Stage Left Studio
214 West 30th Street
6th Floor
New York, NY 10001
www.BrownPaperTickets.com
October 10 through October 25, 2013

Oh no! JENN DODD is nowhere to be found, and the show must begin. While her faithful minions search for her, we must make do with her avatars. First, a mystic guide warms up the audience with deep-breathing exercises and an enlightening if fractured lecture on "art" and the meaning thereof. (Warning: we are not breathing through our nose and mouth.) Jenn's psychic cousin then takes the helm, followed by live-cam as she searches neighborhood bars. A southern-fried bimbo struts in, searching for her online blind date guy. On it goes, but Jenn continues to elude her search party.

Heraldic music! Video! Equipment failures! Exclamation points! But still no Jenn. Conspiracy theories abound. A fallen child star fills the time with reminiscences of her Disney Channel series, her drug abuse, and her eating disorders. A jaded critic just can't stay silent and rants about the production's multiple shortcomings.

JENN DODD has amazing versatility and a wicked way with words. From Brooklyn to Georgia, she knows the crazy-quilt personalities that make up the female world. By the end of NO SHOW, you are so happy that Jenn disappeared. She certainly could never match the spontaneous, insanely funny women who have taken her place at the last minute. NO SHOW is a show after all!

-Karen D'Onofrio-
Cherry Lane Theatre
Under the direction of Angelina Fiordellisi
ALL FOR ONE THEATER FESTIVAL, INC.
www.afofest.org
presents

A CARLIN HOME COMPANION
GROWING UP WITH GEORGE

Written and Performed by KELLY CARLIN
Directed by PAUL PROVENZA
Executive Director: MICHAEL WOLK
General Manager: CORRINE WOODS
Lighting Designer: NIK ROBALILNO
Stage Manager: PHOEBE DUNCAN
Audio/Visual Supervisor: JOSEPH WOLFSLAU
Festival Lighting Designer: BRANT THOMAS MURRAY
Assistant Stage Manager: ANGELA DUMLAO
Box Office Liaison: KATI FRAZIER
Press Representative: JACKIE GREEN
Manager: JERRY HAMZA

The Cherry Lane Studio Theatre
38 Commerce Street
www.afofest.org/tickets
10/11 @ 7pm; 10/13 @ 1pm; 10/17 @ 7pm; 10/19 @ 1pm


Kelly Carlin, daughter of revolutionary international comedian George Carlin, takes you behind the scenes of a humor-laden childhood of drugs, alcohol, fame, fortune and challenges in her one-woman show A CARLIN HOME COMPANION - GROWING UP WITH GEORGE. The tale of dreams, disillusions, delusions, and astounding success is interspersed with delightful video clips of her father's career and poignant memorabilia of their family life. This alone is worth the price of admission.

Kelly comfortably inhabits the stage and candidly reveals the ups and downs of their relationship. While yielding the spotlight to her infamous father, she is not afraid to reclaim it as she journeys through her unique experiences. What shines through at all times are the love and respect a little girl has for her daddy. A CARLIN HOME COMPANION is a one-of-a-kind opportunity to share and enhance memories of an original American idol.

- Laurie Lawson -
Flying Carpet Theatre Company
presents
THE MEDICINE SHOWDOWN

Written by TOPHER PAYNE & ADAM KOPLAN
Directed by JESSI D. HILL

Featuring
JAY RHODERICK, JOHN WRIGHT, KHALID HILL, TIMOTHY REYNOLDS,
& SUSAN LOUISE O'CONNOR

Scenic Design: JAMES H. AITKEN
Lighting Design: ANNIE WIEGAND
Costume Design: MORIA SINE CLINTON
Choreography: KHALID HILL
Music Director/Additional Songs: JOHN WRIGHT
Stage Manager: KRISTEN TORGRIMSON

The East 4th Street Theatre
83 East Fourth Street
New York, NY 10003
www.BrownPaperTickets.com
October 16 through October 27, 2013

Dr. Eggerton's Medicine Show is a'coming to tiny Norwich, Georgia, in October 1918. Eagerly awaited, it's a combination of street musicians, vaudeville acts, and revival meeting, featuring singers and dancers and music and jokes. Admission is free. And if supplies don't run out, attendees can buy a bottle of Eggerton's miracle health tonic, which cures all ills. Or so he claims.

On the other side of Norwich, Dr. Claudia Hill is increasingly alarmed by the spread of Spanish Influenza slowly creeping its way toward her town. Public gatherings are to be avoided, she insists. She is fighting against common ignorance and private greed. The fact that she's a woman doesn't help. If the medicine show goes on as planned, it could doom them all. The Spanish Influenza is extremely contagious and usually fatal.

Between segments of old songs, tap dancing, and corny jokes by the "medicine show" performers, we see Dr. Hill trying to convince officials to halt the show. She appeals directly to Eggerton, but he's not worried. The show must go on.

THE MEDICINE SHOWDOWN has a lot going for it. From its program, printed to look like an old-time newspaper, to its distribution of medical facemasks and 1918-style "dollar bills" to the audience, it draws the spectators into the era. The "medicine show" performers are versatile and talented, with many silly touches to amuse. SUSAN LOUISE O'CONNOR, as Dr. Hill, the practical realist, is compelling as she bumps heads with local authorities and repeatedly brings us back to the dreaded flu and its deadly power. The ending, let's say, is "killer". This is one public gathering you won't want to miss.

-Karen D'Onofrio-
WorkShop Theater Company
presents

IYOM

Written by LOU-LOU IGBOKWE
Directed by JESSICA CREANE

Featuring
UZOMA EMUKAH, JUDE EVANS, SADAH IEISHA, LAURA E. JOHNSTON,
JACQUELYN JOYCE REVERE, MONIQUE A. ROBINSON, DONNELL E. SMITH,
JULIAN A. WICKS, & AUGUSTUS WILSON

Set Design: COLIN MCGURK
Costume Design: ORLI NATIV
Lighting Design: PHIL KONG
Sound Design: NICHOLAS SIMONE
Stage Manager: KATIE SELYANINA
Fight Choreographer: ADAM ALEXANDER
Dialect Coach: MADUKA STEADY

WorkShop Theater Mainstage
312 West 36th Street
Fourth Floor
New York, NY 10018
(866) 811-4111 or www.WorkshopTheater.org
September 19 through October 12, 2013

Two kinds of people inhabit this world of ours: those who believe in magic and those who don't. Zaki, age 10, truly believes. The only child of Nigerian immigrants living in New Jersey, she inhabits a safe, comfortable world with strict yet loving parents. Between bouts of bouncing off the walls with energy, Zaki goes to her treasure box and practices magic, sure that she will soon, very soon, be able to create miracles. Her parents don't believe, her friend Simon doesn't believe, but she is unstoppable. The magic is in her heart, in her very being.

Her soul-mate arrives in the form of Gram, who comes from Nigeria to live with the family. Gram is a mighty force and fires up Zaki's imagination with tribal tales and traditions. Masked African dancers appear, spirits really, living through the power of belief. They are forceful, dramatic, athletic, beautiful, frightening, and protective. The magic is happening. Until it stops.

Her childhood shattered by betrayal, Zaki changes. Ultimately sent away to school, she returns home 20 years later, burdened with resentment, guilt, and sorrow. Strong and successful on the outside, hurting on the inside, Zaki flexes her inner power against those she feels have wronged her. Only the revelation of family secrets and the release of heartfelt emotions can help her heal.

IYOM is a brilliant production. Well written, perfectly executed, this intense story reaches into the depths of both the brightest hope and the darkest despair. MONIQUE A. ROBINSON, JACQUELYN JOYCE REVERE, and LAURA E. JOHNSON are tremendously powerful as Zaki, her mother Ruth, and Gram. The delightful insights into African lore are woven through a script that has a perfect ratio of love, humor, and drama. The spectrum of emotions evoked through the words of playwright LOU-LOU IGBOKWE dazzles the senses and, ultimately, lifts the heart. IYOM is magic.

-Karen D'Onofrio-
Stage Left Studio
presents

DRAMA AT THE POINT

Written & Performed by KAREN SKLAIRE
Directed by CHERYL KING

Lighting Design: ALEX CHMAJ

Stage Left Studio
214 West 30th Street
6th Floor
New York, NY 10001
www.StageLeftStudio.net
October 4 & 5, 2013

Obviously a drama teacher should expect some drama in her life, right? Well, maybe not this much drama. All bright eyes and cotton-candy dreams, Karen arrives in the Big Apple to teach! She will reach out and embrace the students, who will in turn embrace her. She will conquer the school hierarchy and lead the stubborn baby gangstas to enlightenment through the joy of acting. Some day they will make a film about her life. A film like "To Sir With Love" or "Dangerous Minds".

Then she steps into the byzantine corridors of the New York City Public School System. In the Bronx.

Smiling enthusiastic Karen soon learns the hard way that "making a difference" doesn't make any difference at all, sometimes. School administrators can be a contrary lot, and she gets more than her share of them. She would play by the rules, if she knew what they were. Meanwhile, her students are a mix of hustlers, thugs, and overly energetic non-focused teens. Rather overwhelming for a girl from Connecticut. It may be time for the rubber room.

KAREN SKLAIRE is 5-foot-zero of energy and rocks the stage with her wildly funny tales of shock, frustration, and yes, a little success here and there. Triumphs, really, considering the obstacles she faced. She never loses the upbeat optimistic energy that propelled her through her teaching career and into her acting career. You will laugh out loud, and you may learn something.

-Karen D'Onofrio-
Stage Left Studio
presents

TEACHER IN THE HOUSE

Written by SUSAN JEREMY & MARY FULHAM
Performed by SUSAN JEREMY
Directed by MARY FULHAM

Sound Design: TIM SCHELLENBAUM

Stage Left Studio
214 West 30th Street
6th Floor
New York, NY 10001
www.StageLeftStudio.net
September 29 & October 4, 2013

Believe it or not, teachers do make house calls. Susan does that. She bops around the boroughs, teaching children who have medical or psychiatric issues and can't go to school. From Spanish Harlem to Manhattan, she pushes buzzers, walks up stairs, deals with families, and tries to improve, even if just a little, the education and social functioning of her challenging students. This is not always easy. In fact, she thinks of herself as "Law & Order HTV". Home Tutor Version. It can be that exciting, what with the dangerous neighborhoods and all. Just another day in the life, though. Part of the job, sir.

SUSAN JEREMY has found the outrageous humor in all this while keeping an aura of the kindness she feels toward her students. The result is a tour of both her whacky ever-changing world and her heart, which is strong enough to keep pushing through. Her stories ring true yet are lol funny, as she assumes the character of foreign-born nannies, police officers, and other denizens of her world. She shares what she has learned from her students, too, because education is not a one-way street. She learned, for example, "If someone vomits, leave."

An entertaining blend of down-to-earth and way-out, TEACHER IN THE HOUSE gives the audience a healthy dose of enjoyment while subtly imparting a deeper appreciation for the realities of teaching.

-Karen D'Onofrio-
Ma-Yi Theater Company
In partnership with The Ensemble Studio Theatre presents

BIKE AMERICA

By MIKE LEW

Featuring

VANDIT BHATT, JESSICA DiGIOVANNI, MEALANIE NICHOLLS-KING
DAVID SHIH, MARILYN TORRES, TOM WHITE, LANDON G. WOODSON

Directed by MORITZ von STUELPNAGEL
Producer: SUZETTE PORTE
Set Design: ANDREW BOYCE
Costume Design: MELISSA SCHACHTMEYER, ANY PEDIGO-OTTO
(based on Original Design by MELISSA SCHLACHTMEYER)
Lighting Design: MATTHEW RICHARDS
Sound Design: JILL BC DuBOFF
Production Stage Manager: DAVID S. COHEN
Production Manager: MIRANDA FREDERICK, LAY HOON TAN
Public Relations: SAM RUDY MEDIA RELATIONS

The Theater at St. Clement's
423 West 46th Street (between Ninth & Tenth Avenues)
September 24 – October 20; Opening Night – 10/01/13

Penny (Jessica DiGiovanni) is in search of her true self. So she does what any red-blooded young American does - grabs a bike and takes off on a cycling trip across America. She leaves behind her maybe-boyfriend (Vandit Bhatt) and joins a group of adventurous cyclists (Melanie Nicholls-King, Marilyn Torres, Tom White, Landon G. Woodson) and a prophetic man in a van (David Shih). And this is the premise of Mike Lew's BIKE AMERICA.

Much of this production works. A simple set with clever scene changes by Andrew Boyce takes you to a variety of cities and towns, and Lew's humor is nicely delivered by the talented cast. In the beginning you wholeheartedly root for the vivacious and confused Penny. Self-discovery is a noble cause; however, it becomes tedious after a while even when done in an unconventional manner. That being said, this innovative comedy makes BIKE AMERICA a 90-minute journey worth taking.

- Laurie Lawson -
The 8th Annual Women at Work Festival
presents
ALIEN CITIZEN: AN EARTH ODYSSEY

Written & Performed by ELIZABETH LIANG

Directed by SOFIE CALDERON

Technical Assistance & Board Operator: ALEX CHMAJ
Graphic Design: GENE MICHAEL BARRERA
Projection & Lighting Design: MATT RICHTER
Sound Design: DENNIS YEN

Stage Left Studio
214 West 30th Street
6th Floor
New York, NY 10001
www.StageLeftStudio.net
September 24 and 25, 2013

Do you dream of visiting exotic foreign lands, savoring the local cuisine, making friends, learning the language, and living the romance of different cultures? Elizabeth Liang has done all that, and more. She will tell you about it in ALIEN CITIZEN. When you are done being shocked and amazed, you might reconsider your travel plans. You might also want to avoid Connecticut.

Liang was born in Guatemala of a Chinese-Guatemalan father and a Caucasian American mother. She was very happy being Guatemalan. That lasted only briefly, however. Dad's international employer kept moving the family. Costa Rica, Panama City, Connecticut, Morocco, Egypt. "How wonderful!", you say. Well, not really. Not when you are a child and trying subconsciously to find your place in the world. She had many adventures, made friends, fell in love. But being the new kid over and over gets tired. She was even looked upon as "foreign" at the Foreign Schools abroad! Appearing somewhat Asian, brown-skinned, tall for her age, and multi-lingual, Liang finds over and over again that people just don't know what to make of her. That leads to something very frightening: she doesn't know what to make of herself. It's a process she ultimately conquers, but it was a bumpy path.

Liang is talented and so energetic it makes your head spin. She is also, above all, genuine. Upbeat about even the downbeat side of her growing-up, she makes it all exciting, alarming, surprising, and very funny. It's a world tour no one should miss.

-Karen D'Onofrio-
Boomerang Theatre Company
presents
TO FOOL THE EYE

Based on Jean Anouilh's LEOCADIA

Adapted by JEFFREY HATCHER
Directed by CAILIN HEFFERNAN

Featuring
TIMOTHY BABCOCK, DAVID ARTHUR BACHRACH, STEVEN CUEVAS, SIDNEY FORTNER, VINCE GATTON, JENNIFER LARKIN, MEL NIEVES, JARED REINMUTH, SARA THIGPEN, ANNA NUGENT, & JOE BEAUDIN

Set Design: JENNIFER STIMPLE KAMEI
Lighting Design: BENJAMIN WEILL
Costume Design: CHERYL McCARRON
Sound Design: JACOB SUBOTNICK
Prop Design: SARA SLAGLE
Musical Director: HENRY ARONSON
Publicity: DALE HELLER, HELLER HIGHWATER PR

Theatre Lab
357 West 36th Street
Third Floor
New York, NY 10016
September 21 through October 13, 2013

This production is a mix of cabaret, romance, and farce. Opening with classical musicians and nightclub crooners, it unfolds into the tale of Amanda, a young shopgirl summoned mysteriously to a palatial home. The Duchess wants her to play a role. It seems Amanda looks exactly like the deceased Leocadia, a famous opera singer. The Duchess's nephew, Albert, was hopelessly in love with Leocadia, and threatens to kill himself now that she is gone. Perhaps Amanda can fool his eye into believing Leocadia still lives.

The first half of the play is a rambling affair, with the dithering Duchess, her eccentric servants and side-kicks, and live music in various styles between scenes. Amanda is the only one with any sense, and freely speaks her mind. It does no good. Realizing the absurdity of it all, she attempts to escape, but is unsuccessful. The Duchess has created a whole world of illusion around her nephew's memories.
The only way out is for Amanda to become Leocadia for three days. After that, she is told, she can return to the real world.

The genuine emotion and cleverest wordplay are in the second act, when Albert and Amanda go to an elegant restaurant. She is dressed as Leocadia, of course, and is to behave like Leocadia behaved. The down-to-earth working girl and the wealthy, isolated Albert engage in a witty yet earnest conversation that draws the audience in. Today replaces yesterday, finally. And now, perhaps, the future can replace the past.

-Karen D'Onofrio-
After Midnight Theater Company
presents
REVENGE AND GUILT

Written & Directed by MARC SPITZ

Featuring
PETER BUCK DETTMANN, EMILY RUSSELL, & TOM VAUGHT

Set & Prop Design: ANDREW DIAZ
Lighting Design: JOSHUA ROSE
Costume Design: NIKI KANODIA
Stage Manager: LAUREL DETKIN

The Kraine Theatre
85 East 4th Street
New York, NY 10003
www.brownpapertickets.com
September 19 through October 19, 2013

If revenge is a dish best served cold, Cal has certainly waited long enough. It's been 20 years since he took one guitar lesson from Marvin, and he's never forgotten it. In his slacker mind, that was the day that ruined his life. That failed guitar lesson, that diss by Marvin, prevented Cal from achieving his destiny as a Rock Star.

Enter Gina, one icy female. She, like Cal, basically has no life. Edgy, looking for adventure, Gina pushes the wishy-washy Cal to find Marvin and tell him off, or punch him out, or both. Their quest leads to Long Island, where Marvin hasn't aged well. It seems Fate has been kind to none of them. And it's about to get worse.

This production slams the imaginary worlds of the characters into the stone wall of reality. Everyone has been operating on an almost delusional level. When the humdrum everyday lives of these people is revealed to one-another, the drive for revenge turns to a sort of forgiveness. With that emotional release of the past, a future may be possible.

-Karen D'Onofrio-
Rachel Reiner Productions LLC
presents

the world premiere of

A DISH FOR THE GODS

Written by Victor L. Cahn
Directed by Adam Fitzgerald
Scenic Design: David Arsenault
Lighting Design: Nastassia Jimenez
Costume Design: Brooke Cohen
Sound Design: Colin Whitel
Stage Manager: Sean McCain

Starring: Kevin Critsaldi, Margot White

Press Representative: Joe Trentacosta/Springer Associates PR

Theatre Row's Lion Theatre
410 West 42nd Street
Through October 15, 2013
www.telecharge.com; 212.239.6200

Julia begins her career haphazardly and in defiance of her parents' high standards. After various stints in insignificant jobs, her latest is at a university administrative office. This exposes her to a highly regarded, energized professor named Greg, who teaches a lit class on world drama. He becomes her mentor and eventual lover, and inspires Julia to finish her degree. "A Dish for the Gods", taken from Antony and Cleopatra, is uttered by Greg in reference to her beauty, which sparks Julia and Greg's romance.

Julia begins to flourish as a writer under his tutelage. Though they truly love each other, the fit is not right. Her passion for her work is ignited and she eventually surpasses her mentor. In turn, as her career advances, his life declines.

When Julia gets an enticing offer to propel her career in the big city, she is torn about leaving Greg, but chooses her career. She references Taming of the Shrew's theme that love means giving up a part of yourself to grow as one. She claims she has no regrets, despite being unable to fulfill love in her life.

This is a familiar story about ambition, where a rising star must leave a small town and sacrifice marriage and family to achieve greatness. Julia recalls what Virginia Wolff once said, "For a woman to write fiction, she needed a room of her own. I wanted a whole house!"

Margot White is talented in her portrayal as Julia, spewing off her tale and keeping you interested.

Gloria Talamas
Man Behind the Curtain Productions
presents

McGOLDRICK'S THREAD

Book by MARIANNE DRISCOLL
Lyrics by MARIANNE DRISCOLL & ELIOT RISKIN
Music by RONNIE D'ADDARIO
Irish Dance Music by PATRICK MANGAN

Directed by KIRA SIMRING

Music Director: CHERYL CRABTREE-WOERTZ
Choreography: JOE BARROS
Irish Dance Choreography: JASON OREMUS & GARRETT COLEMAN
Stage Manager: MACKINZIE MEEKS
Set Design: CARL TALLENT
Costume Design: RACHEL GUILFOYLE
Lighting Design: MICHAEL MEGLIOLA
Sound Design: THOMAS KENNEDY
Audio Engineer: MICAH HAVERTAPE
Irish Dance Dress Design: MARY COLLINS & DANIELLE O'LEARY

Featuring
CASEY MURRAY, ELIZABETH WEST, PETER CORMICAN, PAUL NUGENT,
CONOR McINTYRE, JOHN CHARLES McLAUGHLIN, GARRETT COLEMAN,
JASON OREMUS, & JESSIE DRISCOLL

Dance Ensemble
MAIREAD BROWN, DECLAN BYRNE, JESSICA BYRNE, SEAN CROSBY, HAYLEIGH JUSAS, CIARAN O'BRIEN, SHEPPARD SOMERS, & NATALIE VESTERGOM

St. Mark's Theatre
80 St. Mark's Place
New York, NY 10036
(800) 838-3006 or www.1stIrish.org
September 11 through September 29, 2013

Get ready to tap your feet and tumble into the world of Irish competitive dance. Magee, the O'Reilly's youngest child and only daughter, is about to test her talents at the big feis (an Irish Gaelic word, pronounced "fesh"). That's where all the dancers vie for medals. Magee is doubting her own abilities, which is not a good thing. Confidence is all, and she needs a little magical inspiration to push her toward success. She also gets a big boost from her mother, maiden name McGoldrick. Mama knows just what a girl needs to perk up her spirits—something new and shiny. Success is just a few steps away.

Counterbalance to all this girlie stuff is provided by Magee's Dad and three rowdy brothers. Though the family now lives in the Bronx, they continue to watch Irish sports on TV and cheer for Tipperary. If the boys go to see their sister compete, they will have to get up early, and they just don't do that. Mother frowns. It's obvious who will win this battle of wills.

The production features a few "Riverdance" veterans and plenty of award-winning Irish dancers. The music is provided by live fiddle and keyboard, with some recorded additions. It's all great fun. The McGoldrick thread runs through it all, sewing up the story like a Celtic knot. The energy is contagious. Audience enjoyment is inevitable.

-Karen D'Onofrio-
Welthy Holliday Productions
presents

BE A GOOD LITTLE WIDOW

Written by Bekah Brunstetter
Directed by Elena A
Scenic Design: George Hoffmann and Greg Kozatek
Lighting Design: Bradley King
Costume Design: Elizabeth Barrett Groth
Stage Manager: Eileen Lalley

Starring: Matt Bittner, Chris Holliday, Robbie Tann, Aamira Welthy

Press Representative: DARR Publicity

Wild Project
195 East 3rd Street
Thursdays though Saturdays at 8pm, Sundays at 3pm through September 22, 2013

Melody and her husband, Craig, are newly married and relocated to Connecticut for his new high-powered job at a law firm. Melody spends her days and most evenings alone, as Craig's job requires significant travel. She spends her days decorating, practicing yoga, cooking and listening to music. Something is missing in her life and she questions her love for her husband. She particularly enjoys being around his law office assistant.

Her disapproving mother-in-law, Hope, does not find her to be a suitable match for her son and they have an awkward relationship. But when Melody is thrust into widowhood, Hope steps in and assumes control, as Melody is incapable. Having also lost her husband, Hope is now without husband or son. On the day of the funeral, Hope loses hope, and Melody steps in to console her.

The two women come to terms with their differences and help one another grieve their loss.

Gloria Talamas
Concrete Timbre & D'moiselles
in association with La Compagnie Cosmopolite du Pierrot Lunaire
& Theater for the New City
presents

COQ TÔT

Written by JEAN COCTEAU, TERENCE DIAMOND, NANCY GREENING,
SYLVAINE HINGLAIS, ERIC LOCKLEY, & ANN WARREN

Directed by SYLVAINE HINGLAIS, MANUELA LECHLER,
JASMINA SINANOVIC, & ANN WARREN

Featuring
LAURA ROCHERIEUX, PILAR NAVAS, TERENCE DIAMOND, TELMA BERNARDO,
CHRISTOPHER POESCHL, KAMARIA WILLIAMS, NATHALIE BRYANT, AUDREY HAILES,
MANUELA LECHLER, JAMES HAMBLIN, CHRISTOPHER HALL,
CHRIS KADIS MOSCATO, & ANN WARREN

Costume Design: SARAH THEA SWAFFORD
Projections: ROBERT MORTON
Lighting Design: KRYSSY WRIGHT

Theater For The New City
155 First Avenue
New York, NY 10003
www.SmartTix.com
August 21 through August 29, 2013

This work features six compositions inspired by French avant-garde artist Jean Cocteau (1889-1963). These pieces evoke his nonconformist interpretations of painting, poetry, dance, and music. If you are a Cocteau fan, or if you, like the French, believe Jerry Lewis is a genius, this show is for you.

Cocteau liked to mix and blend all media, and so it is with this production. It is a mélange of electronic noise, modern dance, narration, traditional music, and video projection. It is surreal, absurd, challenging, and indefinable, like Cocteau himself.

-Karen D'Onofrio-
FringeNYC & YaYa Productions
present

STRANGE RAIN

Written by LYNDA CRAWFORD
Directed by SIMONE FEDERMAN

Featuring
SAMMY BRAVO, KAETHE FINE, CHARLES GOFORTH, SCOTT KLAVAN,
ANDREW LANGTON, KELLY MILLER, MIKKI OLSON, J. J. PYLE, MALACHY SILVA,
JULIA STEELE ALLEN, & JENNIFER TCHIAKPE

Music & Noise Band: JON PIERSON & MICHAEL ANDREW HIDETO KURIHARA

Costumes: BEN ROSENBERG
Props: MIKKI OLSON
Lighting: TIMOTHY HART
Graphic Design: PERSEPHONE THORN
Stage Manager: RAZGHIEM GOLDEN
Publicity: DALE HELLER, HellerHighwater

The Lynn Redgrave Theater
45 Bleecker Street
New York, NY 10003
(866) 468-7619 or www.FringeNYC.org
August 9 through August 22, 2013

It has been raining for a very long time, and the clouds are red. Two reporters are searching for the truth behind the deluge, leaving no stone unturned. They consult psychics, big-brass military, and university researchers. Theories abound, facts are scarce. The "answer" may be that there is no answer.

Sprinkled with laughs and seeded with hints of mystery, the story travels back and forth through a tangled timeline and a couple of extra dimensions. The discredited meet the delusional and no one knows who to trust or believe. But they all agree that, whether due to mankind's actions or too many flapping butterfly wings, it is raining way too much.

JON PIERSON and MICHAEL ANDREW HIDETO KURIHARA (yes, the Music & Noise Band) are the ones to keep an eye on. They provide music, sound effects, and a little something extra now and then.

-Karen D'Onofrio-
TIMMY THE GREAT

Written by SANDRA HOCHMAN, STAVO CRAFT, & GARY KUPPER
Lyrics by SANDRA HOCHMAN & GARY KUPPER
Music by GARY KUPPER
Directed by JAY BINDER & JULIE ARENAL

Based on the book "King Timmy The Great" by Sandra Hochman & Tadeusz Danielak
Inspired by the work of Janusz Korczak

Featuring
RICKY ALTAMIRANO, ZACHARY BROD, CALEY CRAWFORD, CORMAC CULLINANE,
TOMMY J. DOSE, ANNA McCARTHY, LISHA McKOY, JASON PINTAR, JARED RILEY,
ANNA GRACE ROSENTHAL, ANDY SCHNEEFLOCK, & CLYDE VOCE

Choreography: JULIE ARENAL
Lighting Design: JOHN DEMOUS
Costume Design: MICHAEL PIATKOWSKI
Musical Direction & Additional Vocal Arrangements: ERIC SVEJCAR

Theatre For The New City
155 First Avenue
New York, NY 10003
(212) 868-4444 or www.SmartTix.com
August 18 through September 1, 2013

Even the Land of Hearts has its problems. King Edward the Sensible, despite his name, is a goofy dude, beloved by his subjects but given to painful puns and vaudeville dance steps. His son Timmy is a nice kid. Somehow, somewhere along the way, this happy little kingdom ran out of money. Oops. Time to deal with reality just a little.

Between bad jokes, King Edward works on an alliance with neighboring kings, all of whom are out to get him. He doesn't notice. He should have paid attention. Oops. Now it's time to crown King Timmy and see how he handles the situation. Feeling empowered, the children of his realm revolt and wrest authority from the grown-ups. The adults, at first resistant, give in and become carefree. The young revolutionaries put on their big-boy pants and learn that being the boss isn't all it's cracked up to be.

Be ready to groan at the wordplay. ANNA McCARTHY is a scene-stealer as Betty, the girl charmed by the prince. ZACHARY BROD is perfect as little Frank, her pal. The killer musical number belongs to adult LISHA McKOY, Madame Minister and financial guardian of the realm. Her all-out soulful attitudinal rendition of "I'm Cheap" is a rousing blend of words and voice conveying a message we can all understand and appreciate. TOMMY J. DOSE, RICKY ALTAMIRANO, and ANDY SCHNEEFLOCK are delicious fun as the three evil kings.

With enough visual nonsense and fun music to appeal to children, and plenty of verbal sparring to keep adults interested, TIMMY THE GREAT is indeed "a madcap musical for revolutionaries of all ages".
-Karen D'Onofrio-
Revolve Productions
presents

THE GLORY OF LIVING

Written by REBECCA GILMAN
Directed by ASHLEY KELLY TATA

Featuring
STEPHEN JAMES ANTHONY, CHRIS CORNWELL, AMANDA GARDNER,
MATTHEW HANSEN, LAURA HECKEL, RICHARD HUTZLER,
LINDSEY LIBERATORE, STACEE MANDEVILLE,
HARDY PINNELL, & HANNAH SLOAT

Scenic & Costume Design: ALEXANDRA REGAZZIONI
Sound Design: KORTNEY BARBER
Lighting Design: TUCE YASAK
Dialect Coach: TOM COINER
Fight Director: JOSEPH TRAVERS
Publicity: KAMPFIRE PR

The Access Theater Black Box
380 Broadway
New York, NY
www.BrownPaperTickets.com
August 1 through August 18, 2013

Ah, the White Trash life. Lisa, age 15, lives with her prostitute mom in a trailer in the south. From that position, anything looks good. So when Clint decides he loves her, off they go. It's all sex and country music and disgusting motel rooms at first. Then a surprise mystery guest joins their little family. The new addition adds a strange and uncomfortable dimension to their lifestyle. "Normal" is left by the wayside on Lisa's increasingly bumpy road to age 18.

REBECCA GILMAN's grim play gets darker and darker as the minutes tick by. HANNAH SLOAT's Lisa is equal parts sweet, brainless, codependent, and monster. HARDY PINNELL's Clint is nasty-boy puppeteer sexaholic sadist. What a team. They make their already bad life worse and worse until the inevitable finally happens.

SLOAT is absolutely believable as the complicated Lisa. We feel sympathy for her despite her horrific activities. PINNELL makes himself obnoxious and gritty, working his "charm" on Lisa for his own gain. He is, to put it bluntly, slimy from start to finish. But he loves her, in his way. Maybe. With love like his, Hell is just a car-ride away.

-Karen D'Onofrio-
Vertical Tasting Productions
presents

THE UNFORTUNATES

Written by AOISE STRATFORD
Performed by DIANA CHERKAS
Directed by RYAN SCOTT WHINNEM

Set Design: DAVID M KAPLAN
Sound Design: GREG SCALERA
Costume Design: JULIA SHARP

Teatro LATEA-CVS Cultural Center
Venue 4, 2nd Floor
107 Suffolk Street
New York, NY 10002
www.fringenyc.com
August 13 through August 24, 2013

Mary Jane Kelly, age 25, was murdered by Jack the Ripper in 1888. His last official victim, not much was left of her when police found her body. Her slaughter made for ghastly headlines. Her life was a patchwork of few and often conflicting details. She was born in Ireland, moved to Wales, and ended up in London as a prostitute. This production transforms her vague background into a living, breathing personality, presenting her as she may have been the evening of her death. At the Ten Bells pub she is coy and funny, showing a bit of wear and tear around the edges but still in the game.

DIANA CHERKAS is Mary, talking, posing, doing imitations of friends and acquaintances, drinking, and offering for sale a curious keepsake. She speaks of the Ripper and the fact that his murders have both terrified and fascinated all of London. For women like her, London is a city of pox, drink, and poverty. There aren't many choices. Her choice is to do what's necessary to keep on living, with a bit of fun along the way.

Author AOISE STRATFORD has created an intriguing character and a lost moment of history. Be prepared for a non-stop monologue as Mary Jane chats cheerily with the unseen stranger. She admits she can talk the leg off a table, and it's true. As she tells her tales, she shifts accents and demeanor to portray the denizens of her world. Then she walks off into the night. She doesn't know that Fate awaits her. She walks off singing.

-Karen D'Onofrio-
Albert Podell and The York Shakespeare Company
Present the World Premiere of

THE GREAT SOCIETY

Written by Alexander Harrington
Directed by Seth Duerr
Scenic Design: Michael Minahan
Lighting Design: Dana Sterling
Costume Design: Sean Sullivan
Stage Manager: Kristine Schlachter

Starring: Mitch Tebo, Mac Brydon, Yaakov Sullivan, Reed Armstrong, James Lurie, Curtis Wiley, Charles Gray, Charles F. Wagner IV, Jeff Burchfield, Robert Ierardi, Elena McGhee, and voice of Marilyn O'Connell.

Press Representative: Kampfire PR

Theatre Row
Clurman Theatre
410 West 42nd Street
www.telecharge.com; 212.239.6200
through August 24, 2013
Photos: http://bit.ly/TGSPhotos

Lyndon Baines Johnson was larger than life. In THE GREAT SOCIETY we find he was a charmer and a bully; gregarious and bull headed; a leader who was also childish; manipulative and prone to mood swings. He could at one moment endear you, and then summarily destroy you if you opposed him. Loyalty was important to LBJ, but it was seemingly a one-way street. His character was on full display in this production that covers his years as President of the United States.

He charmed his colleagues – Fulbright, Thurmond, Russell, and others – to sway the Dixiecrats to vote for the Civil Rights Act of 1964 and later the Voting Rights Act of 1965. While he was successful in getting these landmark legislations passed, the Vietnam War was escalating. His limited tactics, employed, to appease and keep Republicans at bay while focusing on domestic policy, proved catastrophic and costly. The war was starving his Great Society. He was told he cannot sustain both programs, though he was determined to have his "guns and butter" too.

The charm turns to bullying when he doesn't get his way. We see him destroy Hubert Humphrey, his Vice President, in front of other cabinet members when Humphrey opposed escalating the war. And equally turns on Martin Luther King, by getting J. Edgar Hoover on his tail, when MLK spoke out against the Vietnam War.

For LBJ, it was all about power and playing the game. He is considered "a master legislator and not a moralist" by his contemporaries. A complex individual, he was consumed with his image, and worked tirelessly to be loved by the people. He was determined to win at all costs. All the while, Lady Bird stays by his side, even when he berates and belittles her.

Mitch Tebo does a fine job as LBJ in this very demanding role, as does Yaakov Sullivan as Dick Russell.
The play is dense and complex imparting many intriguing details of LBJ's years in the White House.

Gloria Talamas
Shida Productions LLC
Flora Major/Gary Goddard Entertainment
Brian Wagner/Adam Lederer/ Whitney Hogland Edwards
Presents

JEANNETTE BAYARDELLE
In
SHIDA
www.ShidaTheMusical.com

Book, Music & Lyrics by JEANNETTE BAYARDELLE

Directed by ANDY SANDBERG
Music Supervision: LARRY LELLI
Arrangements: CLAY BOGAN III
Music Direction: JESSE VARGAS
Scenic Design: CHARLIE CORCORAN
Lighting Design: GRANT YEAGER
Sound Design: DAVID SANDERSON
Costume Design: MICHAEL McDONALD
Press Representative: SAM RUDY MEDIA RELATIONS
Advertising & Web: WIT MEDIA
Audience Outreach: CHERINE ANDERSON
General Management: ALEXANDER ORBOVICH
Production Stage Manager: ASHLEY RODBRO
Production Management: CRISTIN DOWNS & MICHAEL MORENO

Ars Nova Summer Fling
511 West 54th Street (between Tenth & Eleventh Avenues)
(866) 811-4111 or www.ShidaTheMusical.com
July 19 – August 28; Opening Night – 07/31/13


Jeannette Bayardelle is a bubbling ball of energy that hits the stage full force and doesn't stop until her well-earned standing ovation at the end of SHIDA. Even then, she encourages the audience to join her in a farewell sing-along.

The winner of the NAACP Theater Award for Best Lead Actress in a Musical for her performance in THE COLOR PURPLE can undeniably sing. Whether cursing out God, lamenting an unfortunate turn of events, or celebrating her latest triumph, she takes on a variety of rock, jazz, R&B, and gospel and wins every time. She can also act; perhaps "rip your heart out" would be a more appropriate term as she relays the story of an African American girl whose dream was to become a writer and the rocky road she traveled to reach her goal. Full of distinctive characters from a sassy girlfriend and a variety of men to her mother and her teacher, she uses raw emotions and delightful humor with equal aplomb while firmly holding the heartstrings of the audience in the palm of her capable hands. Oh yeah, did I mention that she is also responsible for the book, lyrics and music?

Director Andy Sandberg manages to fully utilize the genius of Bayardelle with a minimum of props and costumes. That's a good thing because the stage can barely contain her many talents; there's little room or need for anything else. SHIDA is an inspirational masterpiece, and Bayardelle is the driving force that makes it soar.

- Laurie Lawson -
Starcatcher Productions
presents

THE KING'S WHORE

Written by ROB SANTANA
Directed by JEN WINEMAN

Featuring
KATE O'PHALEN, CARL HENDRICK LOUIS, LAUREN ORKUS, PAUL NOTICE,
NICK HETHERINGTON, CLAIRE BROWNELL, LAURA ESPOSITO, SLATE HOLMGREN, REBECA MILLER, & DONNA AUGUSTIN

Scenic Design: DEB O
Costume Design: AARON P. MASTIN
Sound Design& Original Composition: JESSICA PAZ
Lighting Design: ALAN EDWARDS
Dramaturg: LYNDE ROSARIO
Stage Manager: HUNTER JOHNSON
Publicity: JUDY JACKSINA COMPANY

Tribeca Walkerspace Theater
46 Walker Street
New York, NY 10013
www.thekingswhore.bpt.me
July 28 through August 11, 2013

This daring, fun production takes the bare facts of Henry VIII's first two marriages and drapes them with hip-hop, rap, and attitude, while keeping it on-point. The innovative presentation of the story takes nothing away from its pathos and believability. Yes, it is a modern historical mash-up, but it totally works. Strewn with small surprises, like jewels hidden here and there, THE KING'S WHORE revs up stodgy history with 21st century behavior and emotion. Pious Queen Catherine becomes a chicken-necking Spanish firebrand. King Henry is a gleefully lecherous, unreasonably jealous whiner. Anne Boleyn goes from Barbie Girl to screeching harridan. Costumes are a blend and clash of right-now and back-then. The whole thing whips and swirls into a quality evening.

Henry is enchanted with the young Anne Boleyn, and struggles to rid himself of old Queen Catherine, who has failed to provide him with a son. Anne flirts shamelessly and continues to entice, without giving in to Henry's sexual advances. Fascinated with Anne, all is love and roses until he marries her. Soon the thrill is most definitely gone. Henry decides it's over. And when King Henry VIII says it's over, it is very very over.

SLATE HOLMGREN is outrageous as Cardinal Wolsey and Henry Percy. Be prepared to laugh, something you probably didn't do in history class. LAURA ESPOSITO ratchets Queen Catherine up to Yoko Ono level. CARL HENDRICK LOUIS is devilishly charming and sometimes terrifying as Henry. KATE O'PHALEM is childish, then scheming, then annoying, then tragic, as Anne's life morphs from charmed to doomed. The rest of the actors are perfectly cast and delicious to watch. A special salute to AARON P. MASTIN for clever costume design.
This isn't history, it's entertainment. Henry to the VIII, yo.

-Karen D'Onofrio-
Play the Spotlight Productions
with the Midtown International Theatre Festival
Present

BLACK IS THE COLOR OF MY VOICE

Written and Performed by Apphia Campbell
Directed by Arran Hawkins

Press Representative: Bunch of People Press & Publicity

Jewel Box Theatre
312 West 36th Street
www.ovationtix.com

Nina Simone was a legendary soul singer and a civil rights activist. This one-woman, semi-autobiographical show takes place in a motel room in Liberia where Nina is holed up for three days to "cleanse" and come to terms with her father's death. She packs only a few treasured items including a photograph of her father.

Ms. Simone had an obvious talent, playing piano at a young age. As her studies begin, she focuses on gospel and classical music. But when she is turned down by the Curtis Institute of Music, she found opportunity in singing the blues – devil's music, according to her mother – in clubs to help fund her education.

Early on she realizes that the color of her skin keeps her and her race down. Race begins to take center stage in her life and her music. The performance includes several of Ms. Simone's songs including "I Put a Spell on You", "Wild is the Wind" and "Mississippi Goddam". The latter was in response to the murder of four young black children in a Birmingham church and became the official song of the Civil Rights movement. Apphia Campbell's voice is reason alone to see this moving tribute.

Ms. Campbell does a fine job of channeling Ms. Simone with a wide range of emotions and songs, as she recounts her life in this monologue to her father. After many rises and falls, missed opportunities, and good and bad choices, we are left with her inspiring music and her efforts to make things right.


Gloria Talamas
CASTLE WALK

Book, Music, & Lyrics by MILTON GRANGER
Directed & Choreographed by RICHARD STAFFORD

Featuring
ASHLEY CHASTEEN, JAMES CLOW, JESS FACTOR, CHRIS KANE, MAY-ELISE MARTINSEN, MIA MICHELLE McCLAIN, WAYNE W. PRETLOW, STEPHANIE ROTHENBERG,
BRETT SHUFORD, LAUREN SPRAGUE, JONATHAN STAHL, & LYNNE WINTERSTELLAR

Costume Design: LOREN SHAW
Prop Design: VICTOR LUKAS
Projection/Lighting Design: GERTJAN HOUBEN
Wig Design: GERARD KELLY
Publicity: KATIE ROSIN/KAMPFIRE PR
Musical Director: MILTON GRANGER
Associate Director & Choreographer: JONATHAN STAHL

The PTC Performance Space
555 West 42nd Street
New York, NY 10036
(212) 352-3101 or www.nymf.org
July 22 through July 28, 2013

You can be forgiven if you don't recognize the names of Vernon and Irene Castle. They may have been famous before your time. But in the early 1900's they were the Rage of the Age, an internationally celebrated dancing couple who blazed the trail of "popular" couples' dancing as we know it today. They were the original Fred Astaire and Ginger Rogers, if that helps you understand. Irene Castle would be most unhappy that I wrote that. I apologize.

She American, he British, as young newlyweds they danced in Paris and created a buzz that swept Europe and the U.S. The delicately beautiful Irene's taste in clothes and hairstyles was copied by women everywhere. Vernon was slim, dashing, and graceful. They starred in silent films and on Broadway, established an extremely successful dancing school, wrote books, were featured in magazines, and became the toast of the town. Vernon's untimely death late in World War I ended the duo. Irene continued to perform on her own and was still a trendsetter. She remarried, had children, and effectively retired in 1929, although she retained a high profile as an animal rights activist for the rest of her life.

CASTLE WALK is named for their signature danced. Set in Hollywood, 1938, CASTLE WALK shows Irene butting heads with the director of a movie called "The Story of Vernon and Irene Castle." She has been hired to be an advisor on the movie. And advise she does, to the chagrin of the director and the particular annoyance of Miss Ginger Rogers, co-starring with Fred Astaire in the film. Irene wants the story told truthfully. She wants the costumes to be authentic. She wants the African-Americans in her life to be portrayed by actual African-American actors, not transformed into white characters. RKO studio just wants to get the darn picture to be done on time, on budget, and make money. This is combat, and Irene Castle is a most worthy warrior in defense of her story and that of her late husband. The fight is on.

Flashing back and forth between Irene's past and 1938, CASTLE WALK is a gorgeous production, rich with costumes of the eras, stunning dance numbers, and unforgettable characters. LYNNE WINTERSTELLER is outstanding as the mature Irene, endearing as she remembers the old days, formidable as she pushes her demands to Tinsel Town moguls. JAMES CLOW plays the film director with perfect smarmy charm, so that we actually sympathize with his position. WAYNE W. PRETLOW adds warmth and humor in his portrayal of Walter Ash, Irene's African-American lifelong friend and counselor.

This is Broadway quality. A joy to watch, inspiring and enchanting, CASTLE WALK should move on to the White Way, where it so obviously belongs.

-Karen D'Onofrio-
The Midtown Theatre Festival
presents

SLAIN IN THE SPIRIT

Written & Directed by LISA MILINAZZO
Additional Scene Development by KATIE CURRI & DAVID NASH

Featuring
JOSH ALSCHER, SPENCER ASTE, TOMMY BUCK, KATIE CURRI, CLEMMIE EVANS, KATHLEEN GOLDPAUGH, ANDREW LEMONIER, EMILY MEIER,
AMINA OMAGBEMI & CATRIONA RUBENIS-STEVENS

Set Design & Masks Design: JANE STEIN
Lighting Design: JEFF NASH
Original Music Composed & Performed by MIMI GOESE & BEN NEILL
Publicity: ANDREA ALTON PR & PUBLICITY

The WorkShop Theatre Mainstage
312 West 36th Street
Fourth Floor
New York, NY 10018
(866) 811-4111 or www.MidtownFestival.org
July 16 through August 3, 2013

In Texas, in Molly's mind, in the Bible, the goal is to be the perfect Christian wife and mother. Obey your husband, keep having babies, home-school them, have dinner ready on time, do the laundry, clean the house, do the shopping, never sleep, never rest, never stop praying, never never never sin. White-garbed harpies surround her, whispering, screaming, crying, demanding things. She has dark thoughts, desperate thoughts, panicky thoughts. Psych meds are the Devil. She refuses to take them. Faith will see her through.

Inspired by true events, this play provides an inside look at the mind of the mentally disturbed. The audience is able, through the nagging band of "voices", to understand what insanity must be like for the person enduring it. Molly's religious beliefs, reinforced by her friends and neighbors, prevent her from seeking the medical help she needs. The Bible Belt is cinched many notches too tightly around her. As the pressure builds, destruction is inevitable. She must be punished for her imperfections. No penance will ever be enough.

-Karen D'Onofrio-
Midtown International Theatre Festival
Presents

LOVE, GENIUS AND A WALK

Written by Gay Walley
Directed by Gregory Abels
Produced by Vicki Abrams
Costume Coordinator: Coleen Heany
Lighting Design by Sam Gordan
Stage Manager: Amanda Wilson

Featuring: Shelley Valfer, Breanna Arneson, Paul Binotto, Lara Hillier, Kathleen Wallace, Alexander Pepperman, Joshua Warr, Jimmy Dailey, Kelly Leissler, Alexandra Dickson, Silas Moores

Press Representative: Bunch of People Press and Publicity

June Havoc Theatre
312 West 36th Street
August 2 at 6pm; August 3 at 5:30pm; August 4 at 1pm
866.811.4111; www.ovationtix.com
www.lovegeniusandawalk.com

In LOVE, GENIUS AND A WALK, Gustav Mahler's life in Vienna is juxtaposed with a 21st century writer's life in New York City. Gusti, as his wife Alma calls him, is obsessed with finishing his 10th symphony. She is frustrated and wants more of Mahler's time and attention. The elder Mahler is madly in love with Alma, and is torn between completing his symphony and devoting time to his wife and their marriage. Meanwhile, the New York City author is obsessed with her current book about Mahler and his life. Her husband does not understand her passion and suggests she write about something more contemporary, i.e. popular culture. Their lives are independent of one another. The author seems to embody both Mahler and Alma in that she is obsessed with her work and wants more of her husband's attention to her and her work.

When Gustav learns of Alma's affair with the architect, Walter Gropius, he reaches out to Sigmund Freud for help. The two Viennese intellects knew of one another but had never met; Mahler not being a fan of analysis, and Freud not being a fan of music. Their one and only infamous four-hour meeting – a walk around Leiden – is an intense discussion between these two geniuses. Freud advises him to spend more time on his marriage and shower his wife with gifts and love. In turn, she will allow him the time he needs for his work. Love is a balancing act. "There is no freedom, no freedom at all, from difficulty. All of life, Herr Mahler, is suffering," Freud offers.

The female writer is often alone at her desk writing, as was Mahler. Her husband, Steve, is frustrated with her obsession, as Alma was with Mahler. She wants more from Steve, but he is a financial analyst who is more interested in his work, his tennis games and seeing his friends. Their lives are not in sync, though she is deeply in love with him. However, as with Alma, she begins to doubt the stability of their marriage, and begins to engage with another man.

The set is simple. The entire cast is seated on stage, and scene changes occur with moving chairs and actors stepping up for their roles, as the stories of the two couples are played out intermittently.

Gloria Talamas
The Midtown Theatre Festival
presents

YESTERDAY IRAN/TODAY IRAQ

Written by L. S. GOLDBERG
Directed by REBECCA ETZINE

Featuring
ANDREW HUTCHESON & BLAKE WILLIAMS

Stage Manager/Social Media Designer: VICTORIA SUN
Set Designer: SCOTT EPSTEIN
Lighting Designer: SHANE MOAN
Sound Design: AIDAN ZEV MEYER

The Dorothy Strelsin Theatre
312 West 36th Street
First Floor
New York, NY 10018
www.ovationtix.com
July 24 through July 26, 2013

This straightforward, likable play presents an energetic young soldier about to leave for Iraq kindly but emphatically dissing his grandfather's service in World War II. Like most young men, he knows everything. He's up in the attic reading the letters granddad wrote home between 1943 and 1945. His grandfather is there in the attic with him, telling his own story and responding to the youth with his own verbal thrusts.

Grandfather went to his post in north Africa by ship, but the kid is going to Iraq by jet. He mocks granddad's sea voyage, his "V-Mail", whatever that is, and his useless job as a carpool mechanic. Grandfather sets him straight. V-Mail is Victory Mail. Nothing like e-mail, of course. But you can hold and touch V-Mail. You can put that handwritten letter from a loved one in your shirt pocket, next to your heart, and it comforts you.

The letters go on to reveal that granddad was stationed in Persia, wherever that is. Grandfather laughs and explains that today it is called Iran. The grandson is astonished, quickly googling it on his cell phone. You can't base your military challenges on technology, the older man warns, waving a paper map. Paper doesn't lose power or drop its signal. The bottom line from the old man is this: no one is ever prepared for war. It is something that can be understood only when you arrive in the reality of it.

ANDREW HUTCHESON and BLAKE WILLIAMS expertly capture the essence of the personal relationship in this production, made all the better by its simplicity of writing and staging.

-Karen D'Onofrio-
The New York Musical Theatre Festival
& Popjam Productions
present

MOTHER, WIFE AND THE COMPLICATED LIFE

Book & Lyrics by AMITY DRY
Music by AMITY DRY & MARK SIMEON FERGUSON
Directed by HILARY ADAMS

Featuring
HAPPY McPARTLIN, CICILY DANIELS, MOLLIE VOGT-WELCH, & VANESSA LEMONIDES

Musical Director: STEPHEN PURDY
Costume Design: JANELL BERTE
Scenic Consultant: JONATHAN COLLINS
Lighting Design: SAM GORDON
Sound Design: BEN TRUPPIN-BROWN
Publicity: HELLER HIGHWATER PR
Choreographer: DAX VALDES
Technical Direction: SCOTT PEGG
Conductor/Piano: MARK SIMEON FERGUSON
Bass: FRANK CANINO
Drums: KEITH CRUPI

The Studio Theatre
at the Pershing Square Signature Center
480 West 42nd Street
New York, NY 10036
(212) 352-3101 or www.nymf.org
July 20 through July 27, 2013

Just as we suspected, being a wife and mother isn't easy. Juggling a career, a crying baby, leaky breasts, and an often clueless husband does leave one exhausted both mentally and physically. This is where besties come in. Female friends can be called upon to advise, sympathize, empathize, pat your hand, or set you straight. In this case they do it with pizzazz and songs that will both entertain you and make you laugh until your sides hurt.

The musical features four ladyfriends in different stages of life: bride-to-be, single mom, married mom, and older mom. They tell it like it is, and it's not always pretty. Those babies can scream and bite, for instance. They often bite delicate places. And poo…well, that goes without saying. Sex life? What's that? Only the newlywed can answer that question. They are living the tunafish-casserole dream. Watch pals become wedding-slaves to the idealistic bride, and learn that it is possible to be a perfect mother, until you actually have children.

Rock with CECILY DANIELS and her knockout rendition of "Breastfeeding Blues." Enjoy the bouncy-ball choreographed "I Don't Care" by MOLLIE VOGT-WELCH, a reaction to her friends' nonstop kvelling over photos of their kids. Nod in agreement with the ensemble "I Will Never." You do not have to be a wife or mother to enjoy the heck out of this show. Great songs and outstanding voices, plus the total resonant truth behind it all, makes it universally appealing and entertaining.

-Karen D'Onofrio-
The New York Musical Theatre Festival
presents

MARRY HARRY

Book by JENNIFER ROBBINS
Music by DAN MARTIN
Lyrics by MICHAEL BIELLO

Directed by KENT NICHOLSON

Featuring
JENNA DALLACCO, CAMERON FOLMAR, ANNIE GOLDEN, ROD LAWRENCE, KATE RIGG, ROBB SAPP, JANE SUMMERHAYS, PHILIP HOFFMAN, JILLIAN LOUIS, & KATIE ZAFFRANN

Scenic Costume & Prop Design: MARTIN T. LOPEZ
Lighting Design: GRANT W. S. YEAGER
Sound Design: CARL CASELLA
Publicity: SPRINGER ASSOCIATES
Stage Manager: MEGHAN FISHER
Orchestration: DAN MARTIN
Musical Director: CHRISTOPHER McGOVERN
Choreographer: WENDY SEYB

The Alice Griffin Jewel Box Theatre
at the Pershing Square Signature Center
480 West 42nd Street
New York, NY 10036
(212) 352-3101 or www.nymf.org
July 20 through July 28, 2013

Harry is looking age 60 square in the eye and running as fast as he can. He has turned his restaurant into a mélange of every ethnic food imaginable, featuring curry one night, sushi the next, while displaying chatzkies of all nations. Lucky Cat waves his paw at the Indian elephant perched near the sombrero. Business is bad, and this isn't making it any better. His longtime lady friend has had it with his flirting, his son, "Little Harry", is about to abandon him, and the rent is overdue. Yet they all sing!

The other half of this tale is bride-to-be Sherri and her rather overpowering mother. They sing happy songs, too! Then the two worlds collide and many complications arise. If you think you know where this is going, you are probably right. Everyone questions their life-choices, encounters obstacles, and keeps singing.

Standout performances include KATE RIGG as the edgy, surprising outsider, Ping, and ANNIE GOLDEN as the earthy Debby. Close behind is JANE SUMMERHAYS as socialite mom Francine. This is not to diminish the amazing voice of JILLIAN LOUIS as Sherri, the girl who wants so much to be a bride but stumbles in her quest.
There is something so corny about love, as the dialogue admits. But it sure is fun to watch and wonderful to hear.

-Karen D'Onofrio-
Form Theatricals
in association with Judson Arts
presents

HANDBOOK FOR AN AMERICAN REVOLUTIONARY

Written & Performed by MATTHEW-LEE ERLBACH
Directed by TONY SPECIALE

Lighting Design: NICHOLAS HOUFEK
Projection Design: AARON RHYNE
Dramaturg: DAVID BRUIN
Sign Language Interpreter: LEWIS MERKIN
Production Stage Manager: JANE MARIE DAVIS
Set Design: GEORGE HOFFMANN & GREG KOZATEK

The Gym at Judson
243 Thompson Street
(at Washington Square South)
New York, NY 10011
www.SmartTix.com
July 22 through August 3, 2013

Through a patchwork of 12 states and one foreign country, MATTHEW-LEE ERLBACH interprets both the dark and the sparkling facets of today's United States. Starting with a wildly enthusiastic entrepreneur in Connecticut, he cuts a verbal swath through places as diverse as Montana, West Virginia, Alabama, and Afghanistan, portraying men and women of varied races, creeds and sexual orientations. From chatty Pakistani taxi driver to determined white nationalist, he evokes the hope, despair, love, and hate each character embodies on his or her personal quest for revolution.

Not preachy, highly entertaining and surprising, this production was inspired by ERLBACH's travels around the U.S. One scene is in sign language, with subtitles on the screen above. One is an email conversation presented solely on the screen. Another is an interactive prayer meeting which includes the audience. ERLBACH has woven his American flag using an amazing array of textures and colors, leaving some patches feeling rough, others soft, others worn with care.

This is not a "flag-waving" salute to America. It is thought-provoking while being fast-paced and ever-changing, like the country it portrays. ERLBACH's performance whisks us through the nation on a first-class tour, challenging our prejudices and employing all our senses. Shout hallelujah.

-Karen D'Onofrio-
PTP/NYC (POTOMAC THEATRE PROJECT)
In Association with Middlebury College
Presents

THE CASTLE: A Triumph

Written by Howard Barker
Directed by Richard Romagnoli
Scenic Design: Jon Craine
Lighting Design: Hallie Zieselman
Costume Design: Jule Emerson
Sound Design: Cormac Bluestone
Stage Manager: Eric Marlin & Michael Block

Starring: Steven Dykes, Quentin Maré, David Barlow, Christina Fox, Jennifer Van Dyck, Jan Maxwell, Robert Zukerman, Brent Langdon, Stephen Mrowiec, Aubrey Dube, Melissa McDonald, Rachel Goodgal.

Press Representative: David Gibbs/DARR Publicity

The Atlantic Stage 2
330 West 16th Street
Through August 4th
http://PTPNYC.org; 866.811.4111

Harold Barker's THE CASTLE, set in 12th century England, is the tale of a group of Crusaders returning after 7 bloody years of fighting. To their surprise, the women they come home to have rewritten all the rules. Stucley, the knight's leader, is devastated to find his wife, Ann, in a relationship with Skinner, a witch and widow. Led by Skinner, the villagers have abandoned Christian morals and laws, having had babies by multiple partners, including old men and priests.

Stucley, still in love with his wife, is now out for revenge. Skinner is desperate for power and to hold onto Ann. Ann does not feel that men are evil, and still has feelings for her husband.

The men reclaim their power by building a towering castle with the help of Krak, the Arab engineer they brought back with them. The structure is built to be impenetrable, though an enemy does not yet exist. Stucley gets the priest to rewrite the bible to suit his fancy, and has Skinner arrested. But after a bizarre turn of events, Skinner returns as their leader.

Among its many themes, THE CASTLE wrestles with the dynamic between love and fear. We are told, "All love is tested, or it cannot know its power", and "Our power comes from love; love is also a weapon." The battle between the sexes rages throughout. The playwright does not intend to have the play's meaning reduced to simple terms.

The acting is terrific despite the play's length. The minimalist set is foreboding with flowing pieces of hanging cloth in Act One, and barbed coils hanging menacingly in Act Two.

This is a fine piece of theatre.

Gloria Talamas
The Midtown International Theatre Festival
presents

CRAZYTOWN: my first psychopath

Written & Performed by JUDE TREDER-WOLFF
Musical Direction & Songs Co-written by WELLS HANLEY
Technical Director: DAVID ULLMAN

The Jewel Box Theater
312 West 36th Street
4th Floor
New York, NY 10018
www.ovationtix.com
July 17 through July 30, 2013

Creative Arts Therapist JUDE TREDER-WOLFF lets it all hang out in this show about her professional life. When she walked into her first mental hospital job so upbeat and optimistic, the rest of the staff rolled their eyes. They had seen that before, and braced for the inevitable. Which, of course, happened. It was just a matter of time.

Having attended Catholic School and been taught by nuns, she considered being a nun. She gave up that idea when she realized she liked sex and shopping. She decided that she could have those things, and still help people, if she became a therapist. Her job at a secure psychiatric facility in New Jersey opened her eyes to some basic truths. For example, never judge a book by its cover. The nicest guy could be the most psycho of them all. You never know.

Meanwhile, the voices in her head nagged away, making her doubt her life decisions. Finally seeking therapy of her own, that inner demon is revealed in the hilarious denouement.

JUDE's story is punctuated by songs such as "Trust Yourself" and "Believe Like Me." The knock-out number is "Getting My Hate On". Clever and heart-felt, CRAZYTOWN provides instant relief from the blues.

-Karen D'Onofrio-
The Midtown International Theatre Festival
presents

HELP YOURSELF

Written by LAUREN HUNTER
Directed by KITTY LINDSAY

The Jewel Box Theater
312 West 36th Street
4th Floor
New York, NY 10018
www.ovationtix.com
July 17 through July 21, 2013

Take one "naturally negative New Yorker", add her search for enlightenment, then laugh in sympathy. Everyone says she has so much potential. But for what? Her heroic quest runs the gamut from play therapy to cupping, yoga, sexual healing, travel, affairs, leather bars, booze, weed, 12-step programs, and endless "affirmations". And lots, lots more. She keeps trying to find herself somehow, somewhere. She hits the gym, gobbles down pills, and sees a psychiatrist who is crazier than she can ever hope to be. Yet she remains a mystery to herself.

LAUREN HUNTER keeps the tale cheerful and upbeat, because that's what affirmation is all about. Even if you're still searching, keep smiling like a cheerleader. The answer could lie just around the next unexplored corner. The quest will last until, as her shrink says, "time's up!"

-Karen D'Onofrio-
The Midtown International Theatre Festival
presents

A SERIOUS PERSON AND THEN SOME
Three One-Act Plays About Blind Dates

Written by JOHN DOBLE
Directed by OLIVIA HARRIS

A Serious Person
Featuring
ADAM LEVINTHAL & LORALEE TYSON

Tatyana and the Cable Man
Featuring
JESSICA AYRES

Coffee House, Greenwich Village
Featuring
ELIZABETH DILLEY, ADAM LEVINTHAL, & NICHOLAS J. PEARSON

The Jewel Box Theater
312 West 36th Street
4th Floor
New York, NY 10018
www.ovationtix.com
July 16 through July 28, 2013

Blind dates take daring, or desperation, or foolishness, or all three. This production lets us peek into what can happen when strangers meet in hopes of a relationship. It's a chess game of seeking information without yourself divulging anything, being wary of potential dangers, and wanting, really wanting, to find The One.

A SERIOUS PERSON pairs an overly-chatty randomly-outspoken airline employee with a rather amazed young man. She takes notes, grills him incessantly, and announces that relationships are fundamentally "compatible neuroses". She may be off her meds or on too many of them. The poor guy doesn't know. He just tries to roll with the verbal punches while deciding if he should stick around or run away as fast as he can.

TATYANA AND THE CABLE MAN is Russian immigrant Tatyana's smoke-break recital of her new date, the technician who came to install her cable. She wanted to watch CNN. He insisted she should watch Fox News instead. Moving forward from their polar-opposite opinions, they have had a couple of dates. This piece is expertly written, and JESSICA AYRES is outstanding in this solo role.

Now for COFFEE HOUSE, GREENWICH VILLAGE, the edgy, surprise-twist date that finishes the trio of plays. This couple met through a singles' ad. Their cautious verbal probing begins to take on a dark feel, occasionally interrupted by an annoyingly smug waiter. Let's just say this match was not made in Heaven. Not at all.

These plays are fun, offering unique viewpoints on that scariest of things, the blind date. Writer JOHN DOBLE deftly avoids anything trite and, surprisingly, in all three pieces the women essentially control the situation. Perhaps he has learned this lesson after a few blind dates of his own.

-Karen D'Onofrio-
Ground Up Productions
Presents

RUBBER DUCKS AND SUNSETS

Written by Catya McMullen
Directed by Kate Middleton
Scenic Design: Travis McHale
Costume Design: Amanda Jenkins
Lighting Design: David Sexton
Stage Manager: Kate August

Press Representative: David Gibbs/DARR Publicity

Gene Frankel Theatre
24 Bond Street
http://www.groundupproductions.org; 800.838.3006
July 12-27, 2013


Three twenty-something friends have just lost a member of their tightknit foursome. They now must deal with life without Al, a famous photographer, lover of Walter and dear friend to Casey and Eli. They were a group that partied together, slept together, traveled together and confided in one another. Now it was time to grieve together.

Al's sister, Amy, decides to make a surprise visit to the grieving friends at Al and Walter's Brooklyn apartment. She and her brother had been estranged and she is now hoping to get a sense of him from his friends. Her visit, though welcomed by all but Casey, ends up wreaking havoc in the end. Then there is Petey, Al's assistant. He is charged with doing a piece on Al for Vanity Fair.

Each of them deals with Al's loss differently – Walter plays guitar in a bathtub full of rubber ducks, where Al died; Eli is trying out for Iron Bro – a competition involving drugs; and Casey helps Petey go through Al's possessions for the Vanity Fair piece. They all become intimately entangled. Eli pursues Amy. Amy pursues Walter. Casey and Petey give it a whirl. On the rebound from Al's loss, they are looking for love in all the wrong places. Their seemingly empty and shallow lives may be tested, but not their bonds of friendship.

The play enthusiastically unfolds in many fast paced vignettes.

Gloria Talamas
The New York Musical Theatre Festival
& Angel Wings NYC
present

THE AWAKENING OF ANGEL DELUNA

Book by JUDYLYNN SCHMIDT
Music by LEE ELLIS
Lyrics by JUDYLYNN SCHMIDT & LEE ELLIS
Directed by WEST HYLER

Featuring
PATTY NIEMAN, MICHAEL THOMAS HOLMES, PAUL C. KELLY, ZAL OWEN,
NICHOLAS KOHN, MATT BAKER, TANYA GAGNE, AIDAN O'SHEA,
AMY REBECCA SHURE, JENA VANELSLANDER, & MATT WILSON

Musical Direction & Orchestration: LARRY PRESSGROVE
Choreography: KATE GRIFFLER
Music Supervisor/Arranger: JESS GLOVER
Set Design: KACIE HULTGREN
Sound Design: ANDREW KEISTER
Costume Design: LEE J. AUSTIN
Lighting Design: ZACH BLANE
Aerial Choreography: TANYA GAGNE
Publicity: DALE HELLER, HELLER HIGHWATER

The Romulus Linney Courtyard Theatre
at the Pershing Square Signature Center
480 West 42nd Street
New York, NY 10036
(212) 352-3101 or www.nymf.org
July 12 through July 17, 2013

Ah, to fly through the air in the arms of your True Love. It's a dream come true, until it turns into a nightmare. Angel slips from his arms and falls back to earth, never to be the same. Her body heals, but her mind remains in the past. Her lover has run away, out of shame, fear, and guilt. She awaits his return while tending the old carousel, her family legacy in the DeLuna Family Circus.

Add the classic mustachioed villain, Depression Era financial woes, and a mysterious clown who appears out of nowhere and knows way too much about the family goings-on. Then decorate with fantastic trapeze acrobatics, magic tricks, and beautiful music to create the love story of Angel and her lost hero.

This show is amazing. Its trapeze artists, floor acrobats, and music alone are enough to fulfill any viewer's expectations. The songs are sweet, with "Heart of Gold" a standout duet. The aerial work is beautifully choreographed to enhance the story.


The show is a musical, a circus, and a darling story all wrapped up in one big shiny bow. With enough plot twists to keep the action going, it provides a satisfying if improbable ending well worth the wait.

-Karen D'Onofrio-
SON OF A HUTCH

Written & Performed by JOE HUTCHESON
Directed by CHERYL KING

Sound Design: JOE HUTCHESON
Script Consultant: CHERYL KING
Technical Director: ALEX CHMAJ

Stage Left Studio
214 West 30th Street
6th Floor
New York, NY 1100
www.stageleftstudio.net
July 16 through July 21, 2013

The tag-line says it all: If Dad's shoes were pumps, they'd be easier to fill! But that's not the whole story, just a tiny corner of it. The bigger tale is one of father and grandfather, uncles and sons, all called "Hutch". Grampa Hutch, Tiny Hutch, Little Hutch. If he's not careful, a lad can lose his identity in this situation. Especially if he is, well, a little out-of-sync with the football-loving, car-mechanic, beer-drinking norm in the Hutcheson family.

JOE HUTCHESON is a fun storyteller and a likeable guy. No angst-ridden tales of trauma. Just his quest to figure out how he fits into the puzzle as he grows from boy to teen to adult. Mom gets many mentions, too. She is way-Christian, and that's not young Joe's style, either. Perhaps the stork dropped him in the wrong location. But whether punking his little brother or playing cheerleader at his dad's baseball game, Joe rolls with the whole thing and keeps his sense of humor.

Ultimately he finds the path to his own unique Hutch-ness, the JOE HUTCHESON we see on stage. He enjoys the result as well as the journey, and so do we.

-Karen D'Onofrio-
Ego Actus
www.egoactus.com
and
Kim M. Jones
Present
LOVE STINKS
By KATE PLUMB RADER

Part of the 14th Annual Midtown International Theatre Festival
The festival runs July 15 – August 4, 2013

July 16 and 18 at 6:00, July 17 and 19 at 8:00 and July 20 at 4:45

Dorothy Strelsin Theater
312 W. 36th Street (between 8th & 9th Aves.), 1st Floor, NYC
Tickets: (866) 811-4111 or www.MidtownFestival.org

Directed by JOAN KANE
Lighting by BRUCE A! KRAEMER
Stage Manager BRIAN-PAUL MENDOZA
Press Representative SCOTTI RHODES PUBLICITY

Cast
Rosie Cosch and Matthew Hammond

The Ego Actus production of Kate Plumb Rader's LOVE STINKS is a fast-paced and well-presented addition to the festival. The ending of this hour plus piece is no surprise, but getting there is a lot of fun, and the script is smart.

The action takes place over the course of an afternoon rendezvous between Colleen (Rosie Cosch) and Jack (Matthew Hammond). Both are attorneys, and when the defendant in the case she is trying becomes violent in court, Colleen's work day is cut short. Jack is at Colleen's apartment during "lunch" and just as he is dressing to go to an appointment, a comment he makes potentially upends their relationship sending events quickly and humorously out of control. An impromptu hook-up devolves quickly into a madcap attempt to salvage the relationship. This was so much to the delight of some audience members that they almost became part of the action with their audible commentary and infectious laughter.

LOVE STINKS is presented in a very limited space with audience seating on three sides of the set. Joan Kane's direction takes the space well into consideration and the actors manage to dress and undress, dress and undress, toss props and have some moderately physical interactions without entering the audience's space, literally inches from where they are performing at times, without missing a beat.

There are four performances of this show left, and it should definitely be considered for attendance. On this very hot week in New York City, as an added benefit the theater was very well air conditioned!

- Kessa De Santis -
The New York Musical Theatre Festival
Monica Raymund of Sisu Theatrical Productions and Cave 76 Productions
Present

VOLLEYGIRLS

Book by ROB ACKERMAN
Music by ELI BOLIN
Lyrics by SAM FORMAN

Featuring

PJ ADZIMA, SUSAN BLACKWELL, JULIANE GODFREY, BENJAMIN HOWES
CHARLES KAREL, JULIA KNITEL, JENNIFER C. JOHNSON
GERIANNE PEREZ, ALLISON JILL POSNER, ALLISON STRONG
DANA STEINGOLD

Directed by NEIL PATRICK STEWART
Choreography: RYAN KASPRZAK
Scenic Design: KEN LARSON
Costume Design: VALERIE THERESE BART
Lighting Design: JASON LYONS
Casting: LINDSAY LEVINE, CSA/TARA RUBIN CASTING
General Manager: CARRIE WALKUP/TOM SMEDES PRODUCTIONS
PR & Marketing: KATIE ROSIN, KAMPFIRE PR
Musical Director/Orchestrations: MIKE PETTRY
Musical Supervisor: MATT CASTLE
Production Stage Manager: E. SARA BARNES
Assistant Stage Manager: KATIE KAVETT
Associate Director: RICHARD J. HINDS
Assistant Directors: JORDI COATS & JORDAN BELFI
Assistant Producer: JORDI COATS

The Romulus Linney Courtyard Theatre
At the Pershing Square Signature Center
480 West 42nd Street (between Ninth & Tenth Avenues)
(212) 352-3101 or www.nymf.org
07/15 @ 9 PM; 07/16 @ 1 PM; 07/20 @ 5 PM & 9 PM
07/26 @ 9 PM; 07/27 @ 5 PM


VOLLEYGIRLS is a high-energy musical production with interesting characters and an inspirational message. The LadyHawks (Juliane Godfrey, Julia Knitel, Allison Strong, Gerianne Perez, Allison Jill Posner, Dana Steingold) are on a losing streak, one that has lasted for over 25 years. The referee (Charles Karel) and endearing broadcaster Xavier (PJ Adzima) love volleyball and cheer this misfit team on the sidelines. Their current coach (Jennifer C. Johnson) is obviously not effective, causing Principal Kavett (Benjamin Howes) to appoint his Shakespearean professor Kim Brindell (Susan Blackwell) as the new coach. Kim has both a secret past and a secret passion.

Together this talented cast slowly weaves a spell that has you thoroughly involved in the lives of everyone on stage. In a manner similar to A Chorus Line, each character stands out as you learn their personal stories and aspirations. With a genius blend of high comedy and poignancy, you will find yourself sporting both a tear in your eye and a smile on your face. Lessons are learned by all and a variety of stand-out songs like "Jabali (big production)," "I Like Girls, (comedy)" and "I'm In Hell (heart wrenching)" make VOLLEYGIRLS a New York Musical Festival winner.

- Laurie Lawson -
The New York Musical theatre Festival and
Dizzy Miss Lizzie's Roadside Revue Present

THE BRONTES
Book by DEBRA BUONACCORSI
Music & Lyrics by STEVE McWILLIAMS & DEBRA BUONACCORSI

Featuring

DEBRA BUGNACCORSI, FELICIA CURRY, HAELY JARDAS
MIKE ROSEMCHAK, STEVE McWILLIAMS, RICH NAGEL
MATTHEW SCHLEIGH, GILLIAN SHELLY, JASON WILSON

Directed by RICK HAMMERLY
Musical Director: STEVE McWILLIAMS
Costume Design: MARIA RODGERS ROYALS
Lighting Design: JOSEPH R. WALLS
Sound Design: DAN MARTIN
Publicity: JOE TRENTACOSTA, SPRINGER ASSOCIATES PR
Stage Manager: ABIGAIL STRANGE
Assistant Stage Manager: JEANIE McALPINE

The Studio Theatre at the
The Pershing Square Signature Center
480 West 42nd Street (between Ninth & Tenth Avenues)
www.nymf.org or (212) 352-3101
07/09 @ 7:30 PM; 07/10 @ 4:30 PM; 07/11 @ 9:30 PM
07/14 @ 5:30 PM; 07/16 @ 5:30 & 9:30 PM


Dizzy Miss Lizzie's Roadside Revue Presents THE BRONTES is a lesson in American literature like no other. In rock and roll format with music and lyrics by Debra Buonaccorsi and Steve McWilliams we visit America's favorite 19th century writers, the Bronte sisters, and their brother Branwell for the inside scoop on their short-lived existences full of trials and tribulations.

A carnival atmosphere is brought to us by a band of visiting gypsies (Gillian Shelly, Mike Kozemchak, McWilliams, Jason Wilson, Rich Nagel). We lament with Branwell (Matthew Schleigh) as he plays the Wheel of Destiny, bop with Emily (Felicia Curry) during the Wuthering Heights Rap, cheer during the Cirque du Anne Bronte (Haely Jardas), and become mesmerized by the Jane Eyre (Buonaccorsi) Voodoo Exorcism. What fun!

This innovative musical full of sarcasm and sauciness, with an occasional political slant and a touch of historical data, is set to rollicking rhythms, passionate lyrics, and campy overacting. And a good time is had by all at Dizzy Miss Lizzie's Roadside Revue Presents THE BRONTES.

- Laurie Lawson -
Picaresque Players Theatre Company
presents
EXPIRATION DATE
By ROSE-MARIE BRANDWEIN
Directed by CHERYL KING

Part of the East to Edinburgh Festival
July 11 at 8:30, July 12, 13 and 14 at 6:30, July 20 at 7:00 and July 21 at 2:00

59E59 Theaters
59 East 59th Street (between Park and Lexington), NYC
Ticket Central (212) 279-4200 or www.ticketcentral.com

Cast
Jean Brookner - Mildred
Andrew Rothkin - Albert
V. Orion Delwaterman - Albert (July 20 & 21)
KC Weakly - Arthur
Dara O' Brien - Alice
Emil G. Keller - Burt

EXPIRATION DATE is set in 2113 in an apparently quasi post-apocalyptic world where there is no vegetation and governmental control has reached a new level of invasiveness. The hour-long work first introduces Mildred, about to turn 150, and her odd and awkward son, Albert. They are debating a line down the middle of the room and the virtues of modern technology.

It quickly becomes clear that this future world, while technologically advanced, is bleak and depressing. Mildred's husband Arthur is there too, but only appears as a head on a TV screen. Arthur has been transitioned into a People-Pod, and because Mildred is about to turn 150, she must either transition or expire. As a P-Pod, Mildred could live on forever, virtually experiencing smells and sights by virtue of enhancement chips, but without the ability to eat, drink, walk or exist except as a video projection.

What happens next is a bizarre birthday party thrown by Albert and attended by a suicidal Mildred, Arthur, and two friends, Alice and Burt, who have also made the transformation. The interaction at the party is funny at times, but the implications of a world in which this would be the future is unsettling and could lead to many outcomes in a more fully fleshed out examination of the subject matter.

EXPIRATION DATE presents a world in which people can essentially live forever, but it is a world seemingly devoid of the things that would make life worth living. Rose-Marie Brandwein's play gives an overview and a glimpse into one life and one person's decision and leaves the audience to ponder the choices presented.

- Kessa De Santis -
The New York Musical Festival and
Denny's Basement NYC, LLC present

LIFE COULD BE A DREAM

Written and Composed by ROGER BEAN

Featuring

DOUG CARPENTER, RYAN CASTELLINO, HIM HOLDRIDGE
VICORIA MATLOCK, DANIEL TATAR

Directed by ROGER BEAN
Choreographer: LEE MARTINO
Musical Director: MICHAEL BORTH
Scenic Design: MICHAEL CARNAHAN
Costume Design: BOBBY PEARCE
Lighting Design: GRANT YEAGER
Sound Design: CRICKET S. MYERS
Projection Design: HANA KIM
General Manager: SAMANTHA LEVENSHUS
Publicity: DALE HELLER, HELLER HIGHWATER LLC
Production Stage Manager: MATTHEW KURTIS LUTZ
Musical Arrangements: ROGER BEAN, JON NEWTON
Additional Arrangements: STEVE PARSONS, MICHAEL BORTH
Assistant Stage Manager: ASHLEY K. SINGH

Band
Keyboard 1: MICHAEL BORTH
Keyboard 2: EMILY CROOME
Guitar: DAN ERBEN
Reeds: JEFF SCHILLER
Drums: ADAM WOLFE

The Alice Griffin Jewel Box Theatre
At the Pershing Square Signature Center
480 West 42nd Street (between Ninth & Tenth Avenues)
https://web.ovationtix.com/trs/pr/923248
07/08 @ 7 PM; 07/11 @ 3 PM; 07/13 @ 5 PM & 9 PM; 07/14 @ 1 PM & 5 PM

OK, time to dust off your record player, pull out your pleated skirt, and resurrect your dreams. Then head on over to the Alice Griffin Jewel Box Theatre. There you'll find Roger Bean's LIFE COULD BE A DREAM, the award-winning 1960's Jukebox musical that is full of crooning and spooning and a rocking good time. Fantastic songs from the 50's and 60's are sung with back-up harmony and enhanced by tongue-in-cheek choreography. Remember "Earth Angel," "Duke of Earl," "Unchained Melody," "Runaround Sue," and "The Wanderer?" That's only a sampling of the musical treasure trove in this production. What a legacy these songs have created!

Optimistic Denny (Daniel Tatar), hysterically nerdy Eugene (Jim Holdridge), and straight-laced Wally (Ryan Castellino) are planning on becoming the next big singing group once they win the Big Whopper Radio Talent Contest. The gorgeous Skip (Doug Carpenter) with a voice to match is introduced to the group, and lovely Lois (Victoria Matlock) shows up to share her sophistication and smooth moves with the boys. You will be totally in love with each and every one of these characters by the time intermission rolls around.

Amidst dreams of stardom, love ever after, and out-and-out fun, the real joy in LIFE COULD BE A DREAM is the flood of memories that come rushing in. Bean has taken songs that defined an era, a talented cast and a sappy but inspirational story line to create a musical journey enjoyed by music lovers of all ages.

- Laurie Lawson -
The New York Musical Theatre Festival
& Charlie Fink
present

MATA HARI IN 8 BULLETS

Conceived & Composed by DAVID RHYMER
Lyrics by BLAKE BROOKER & DAVID RHYMER
Additional Lyrics by EDWARD KNOLL

Directed by PETER SCHNEIDER

Starring
ONALEA GILBERTSON

Violin: JOSH HENDERSON
Guitar & Mandolin: MICHAEL SCHOLAR, JR.
Percussion: MILES LASSI
Piano: DAVID RHYMER
Lighting Design: ZACH BLANE
Costumes: JANELL BERTE
Choreography: ODETTE HEYN
Publicity: JOE TRENTACOSTA/SPRINGER ASSOCIATES PR

The Studio Theatre
480 West 42nd Street
New York, NY 10036
(212) 352-3101 or www.nymf.org
July 8 through July 20, 2013

Eight executioners aimed their rifles at Mata Hari, convicted in France of spying during World War I. Whether she was guilty or not remains a mystery to this day. But she was guilty of reinventing herself until she achieved European prominence as an erotic, risqué performer. In doing so, she reached the pinnacle of success she craved, at the same time putting herself in the crosshairs of political intrigue that led to her cruel demise.

ONALEA GILBERTSON, in her red satin sheath, leads the audience through Mata Hari's bumpy life. From Germany to Java to London to Paris, she evolves into the persona of possessor of exotic sexual secrets. Her perfect voice sings through the years in Berlin, life as a courtesan, performances as mistress of the Kama Sutra, and finally to that eighth bullet, the one that signals the end. Abandoned by her lovers, scorned by the public that once adored her, she faces the firing squad alone.

The music and the musicians do an especially beautiful job of enhancing this production. JOSH HENDERSON's violin work is heavenly. The music itself varies from gypsy to cabaret to soulful, as do the songs. It all paints the portrait of a daring woman who made all the wrong choices when it came to men. High Priestess of the Temple of Love, she became its sacrifice. This production makes us care, and care very much.

--Karen D'Onofrio--
PTP/NYC (POTOMAC THEATRE PROJECT)
In Association with Middlebury College
Presents

SERIOUS MONEY

Written by Caryl Churchill
Directed by Cheryl Faraone
Scenic Design: Hallie Zieselman
Lighting Design: Mark Evancho
Costume Design: Jule Emerson and Krista Duke
Sound Design: Aubrey Dube
Stage Manager: Eric Martin & Michael Block

Starring: Tara Giordano, Steven Dykes, Mathew Nakitare, Jay Dunn, David Barlow, Alex Draper, Megan Byrne, Jeanne LaSala Taylor, Noah Berman, Aubrey Dube, Nesba Crenshaw, Isabel Shill, Sarah Lusche, Molly O'Keefe, Adam Milano, Mari Vial-Golden.

Press Representative: David Gibbs/DARR Publicity

The Atlantic Stage 2
330 West 16th Street
Through August 4th
http://PTPNYC.org; 866.811.4111

Cutthroat business deals, corporate raiding, sleazy relationships, backstabbing and sexual manipulation all factor into this dark satirical British play about the Big Bang in the London Stock Markets in the 1980s. Mergers, buyouts, takeovers, junk bonds, Eurobonds and arbitrage are bantered about – it helps to have some familiarity with financial jargon and the unregulated happenings in the London markets at that time.

Caryl Churchill's play is a parody that pokes fun at the greedy wheelers and dealers in the London markets and on Wall Street. Albion, a firm owned by the Todds, is the victim of a hostile takeover. An American banker is brokering the deal, and an American arbitrageur is sabotaging it.

Things begin to fall apart when Jake Todd is found dead; a possible suicide. His sister is suspicious and believes he was murdered. However, what drives her to follow his tracks is her greed. She assumes he was about to make some "serious money" and she is determined to stake a claim on it. Her obsession leaves her unsympathetic to her father's grief over the loss of his son.

SERIOUS MONEY is a play about ruthless greed and shallowness. Sixteen actors play 24 roles in many quick-changing scenes. The actors do a formidable job interweaving all the characters, dancing, singing and talking in rhyme. The dance scenes at the end of each act are hilarious and beautifully choreographed.

- Gloria Talamas -
Gregory Taft Gerard Presents

THE BANANA MONOLOGUES
www.TheBananaMonologues.com

Performed by JOHN R. BRENNAN
Written by JOHN R. BRENNAN, JASON C. COOPER and MARY CIMINO
Directed by DEBRA WHITFIELD
Set Design: ROMAN TATAROWICZ
Lighting Design: DEBORAH CONSTANTINE
General Press Representative: KEVIN P/ McANARNEY/KPM ASSOCIATES
Advertising: HOFSTETTER + PARTNERS/AGENCY 212
Marketing: LEANNE SCANZER PROMOTIONS, INC.
General Management: MARTIAN ENTERTAINMENT, LLC
Production Stage Manager: SCOTT F. DELACRUZ
Production Supervisor: PRODUCTION CORE

The Acorn Theatre @Theatre Row
410 West 42nd Street (between Ninth & Tenth Avenues)
(212) 239-6200 or www.telecharge.com
Opening Night: June 24, 2013


Men and their penises have often been a subject of humor, especially for women, but John R. Brennan, Jason C. Cooper and Mary Cimino have taken this humor to a whole new level in THE BANANA MONOLOGUES. In a tug of war between the physical, fondly referred to as "Sgt. Johnson," and the intellect, Gus Weiderman (Brennan) relates his four-year attraction to the beautiful Alexis. Portraying all characters, including his nemesis Darby, the high-energy multi-talented Brennan not only keeps the laughs coming through witty dialogue, dancing, workouts, sexual encounters, and military skirmishes, he also finds time to toy with the audience. In his tour de force performance, he manages to slip in a touch of vulnerability hidden by a cloak of macho, a secret good guy persona betrayed by his fidelity, a befuddlement about what women are thinking, and a sense of wonder when he actually gets it right. You gotta love this guy.

Treat yourself to THE BANANA MONOLOGUES. It's a refreshing surprise about an age-old subject, not to mention hysterically funny. Enjoy.

- Laurie Lawson -
Daniel Neiden and Peter O'Connor present

ELSINORE COUNTY
www.elsinorecounty.com

Written and Directed by ANTONY RAYMOND

Featuring

FONZALO TRIGUEROS, JEREMY VOS, ERIC WDOWIAK
SARA ANTKOWIAK, BENJAMIN BAUMAN, NICK HETHERINGTON
CHRISTOPHER McMAHON, DAN McVEY, J.J. PYLE, CATHERINE COBB RYAN
Press Representative: JOE TRENTACOSTA, SPRINGER ASSOCIATES PR
Production Stage Manager: AUSTIN McDONALD SCOTT
Lighting/Sound Design: AJ DOBBS
Choreography: SARA ANTKOWIAK
Costumes: NECESSARY OBJECTS
General Manager: LAURA GOSHEFF
"Big Production Number" by RAYMOND NEIDEN
Musical Arrangement by CHARLES CZARNECKI

The Lion Theatre at Theatre Row
410 West 42nd Street (between Ninth & Tenth Avenues)
(212) 239-6200 or www.telecharge.com
June 20th – July 3rd; Opening Night: 06/24/13


Wil Shakespeare must be chuckling in his grave. Antony Raymond's ELSINORE COUNTY bills itself as "Hamlet's Must-See Season Finale," and that is as good an explanation as any.

Director Raymond keeps the pace fast and furious in "The EC." Combining classic theatre and sappy serial soap operas, Hamlet is performed with tongues firmly secured in cheeks, sarcasm dripping, innuendoes running rampant, and campy overacting. It is fun, irreverent, clever, chaotic, and hilariously comical. With a bow to the timeless masterpiece, there is plenty of cross-dressing, incest, betrayal, pondering, plotting, and murder. The talented cast turns the customary on its head with modern-day treatments that include STD's, a Spanish play within the play, kooky characters, creative choreography, and farcical foolishness.

Shakespeare was not the only one enjoying this ludicrous production; the audience had a ball. Join them in ELSINORE COUNTY for an evening of outrageous comedy.

- Laurie Lawson -
LA BREA

Written by GREGORY S. MOSS

Directed by ADAM GREENFIELD

Featuring
REBECCA HENDERSON, BILL BUELL, DAVID WILSON BARNES,
GABRIEL KING, & CRYSTAL FINN

Set Design: DAVID EVANS MORRIS
Costume Design: SYDNEY MARESCA
Lighting Design: GINA SCHERR
Sound Design: SHANE RETTIG
Projection Design: BART CORTRIGHT
Choreographer: NICOLE BEERMAN

The Wild Project
195 East 3rd Street
New York, NY 10003
(212) 352-3101 or www.clubbedthumb.org
June 22 through June 29, 2013

When the mammoth speaks, listen. She has several thousand years of experience and can see the "big picture" much better than you can. Another piece of advice: if you want to escape the past, don't invite your sister to come live with you. She embodies the past, dummy. Now you have to deal with her and your low self-esteem and your failure as an actor.

In L.A., where the entertainment world can be as cardboard as LA BREA's very clever set, taking rejection is a daily struggle. If that isn't bad enough, Steven's sister Leah arrives from back east, and all the old sibling head-games begin anew. As an actor he's not a has-been. He's a never-was. While he is massively conflicted, Leah seems sure of her path. She has a different sort of talent. A really creepy talent.

Intercut with brother/sister scenes are vignettes in retro diners with a tough old guy, and a play-within-a-play style "classic movie". The entire production is masterfully acted and entirely fascinating.

-Karen D'Onofrio-
Going to Tahiti Productions
presents

BELLA'S DREAM

Written and Choreographed by Dana Boll
Directed by Jessica Ammirati
Scenice Design by Brian A. Kafel
Lighting Design by Sam Gordon
Sound Design by Ien DeNio
Costume Design by Amanda Jenks
Stage Manager: Molly Ballerstein

Featuring: Eva Amesse, Bob Angelini, Suzanne Beahrs, Dana Boll, Suzanne DuCharme, Renee Dumouchel, Jerry Goralnick, Lisa Hokans, Dean Linnard, Jon-Michael Miller; Kristin Parker, Nancy S. Smith, Alex Teicheira, Kathryn Wilkening.

Press Representative: Heller Highwater LLC

Flamboyant Theatre at the Clemente Soto Velez Cultural and Education Center
107 Suffolk Street
Through June 30, 2013
Tuesdays through Saturdays at 8pm, and Saturdays and Sundays at 2pm
http://goingtotahitiproductions.com/


The year is 1939 in Gombin, Poland, prior to the Nazi invasion. Bella's uncle – semcha benim – comes to her in a dream telling her "Don't stay here one minute. Get up in the morning and go".
Bella and Raymond, newly married and expecting, decide to heed her uncle's advice. Raymond is able to pass for a German, helping them get past the borders. They travel 10,000 miles over a number of years, in dire conditions and severe hardship. Bella wore the same dress for five years. The journey starts in a cattle car heading to Siberia, where Raymond is sent to work in the forest, and Bella stays behind in the camps with her newborn son; then to the Uzbekistan desert where he was imprisoned; then back to Poland after the war. The anti-Semitism was too much to bear, so they left Poland for New Jersey.
The journey is told by their granddaughter, Dana Boll, and performed in dance, recorded images and Bella's actual voice. Dana tells Bella and Raymond's story by interweaving present memories with stories she learned from her grandparents. Dana recounts stories of her spirited grandmother, fittingly portrayed by Lisa Hokans, and of her grandfather, who frequently outsmarted Nazis in their travels. His son (Dana's father) was taught by Bella to stand up to hatred, as he is forced to fight off a neo-Nazi in a supermarket parking lot, evidence that racism in our culture still exists.
Though a bit long and in need of editing, BELLA'S DREAM is about true love, loss, and the undying human spirit.
Gloria Talamas
Concrete Temple Theatre
presents

GEPPETTO

Written and Directed by Renee Philippi
Designed by Carlo Adinolfi
Music composed by Lewis Flinn
Lighting Designer and Stage Manager: Casey McLain

Performed by Carlo Adinolfi
Cellist: Jeanette Stenson

Press Representative: David Gibbs/DARR Publicity

SubletSeries@HERE
145 Sixth Avenue
Thursdays – Mondays at 7pm through June 30, 2013
http://www.here.org; 212.352.3101

GEPPETTO, an aging, poor Italian puppeteer, enters his studio cluttered with tools, puppets and props. He is despondent, with only one week to prepare a show for the upcoming festival, as he promised his recently deceased wife he would do.

He frets and fusses and then gives it a try, as he now has to play all the parts – the male, female, dragons, etc. He bumbles and stumbles while engaging his two main puppets in performances of Perseus and Andromeda, Helen and Menelaus and Orpheus and Eurydice. Through the struggles, he very naturally begins to invent and improvise as he rehearses. His own pain and sorrow, of the loss of his wife and fellow puppeteer, is imparted onto the puppets and their characters.

"We can't go back. We have to finish the story." Working within his limitations, Geppetto settles on his own new play. Only the male puppet is left standing, albeit on prosthetic legs made of hammers and clamps.

Adinolfi is a natural in this touching role as Geppetto, which takes its title from the well-known woodcarver in Pinocchio. Ms. Stenson accompanies this delightful 60-minute tragic comedy beautifully on solo cello.

Gloria Talamas
THE YEAR OF DEAD CATS

Written by ERICA HERD & L.E. SWENSON

Performed by ERICA HERD

Directed by CHERYL KING

Sound, Audio, & Video Design: ERICA HERD, L.E. SWENSON,
CHERYL KING, & JOE HUTCHESON
Technical Director: ALEX CHMAJ
Publicity: THE JACKSINA CO.

Stage Left Studio
214 West 30th Street
6th Floor
New York, NY
www.stageleftstudio.net
June 16 through June 30, 2013

Do not, I repeat, do not be put-off by the title of this play. The kitties are mentioned briefly and kindly. Hankies will not be needed. Unless you have to grab one to wipe away tears of laughter,
which is entirely possible.

This production is based on the true story of ERICA HERD's mother, Katherine Lind, a beautiful and successful New York actress. Then schizophrenia crept in, followed by Alzheimer's, making a difficult diva even more difficult. Mom's landlord notifies Erica that her mom is being evicted. This is the fifth eviction, and the time has come. Erica is now in charge.

That adult diapers, government bureaucracy, gibberish, and a hurricane can be made unbelievably funny is incredible but true. Writer HERD, despite what must have been an intensely emotional period in her life, has created one of the most laugh-out-loud plays ever. She portrays her mother, herself, and many other characters along the way with wild pizzazz. And she sings! Enjoy the riotous "Geezer Cabaret" number, or a unique and beautifully sung yet roll on the floor laughing variation of "Memory"
(yes, from "Cats"). There are no serious moments. The facts are unhappy, but that doesn't intrude one little bit on the play, which is 100 percent fun.

"THE YEAR OF DEAD CATS" is a must-see for anyone who wants to get their happyface on.

-Karen D'Onofrio-
Seth Rudetsky and Mary J. Davis Present

UNBROKEN CIRCLE
www.UnbrokenCircleThePlay.com

By JAMES WESLEY
Original Direction by JASON ST. LITTLE

Featuring

SACEY BONE-GLEASON, LORI HAMMEL, SUZANNA HAY
ANIKA LARSON, EVE PLUMB, JAMES WESLEY, JULI WESLEY

Set and Lighting Design: JOSH IACOVELLI
Costume Design: BRIAN HEMESATH
Sound Design: DAN ADAMSKY
Associate Producer: JOEY MONDA
Production Stage Manager: KATIE KAVETT
Assistant Stage Manager: MAGGIE LARKIN
Marketing by RED RISING MARKETING
Press by JOE TRENTACOSTA/ SPRINGER ASSOCIATES PR

St. Luke's Theater
308 West 46th Street (between Eighth & Ninth Avenues)
(212) 239-6200 or www.telecharge.com
Opening Night: June 19, 2013

It is the day of the funeral for the patriarch of a Galveston, Texas, family; and although the bastard is dead, the nightmares have only begun for his relatives. Far from being the glue that held the kin together, it seems that his death has spurred the unraveling of closely-knit secrets honored by several generations. James Wesley's UNBROKEN CIRCLE is a brilliant piece of work that beautifully portrays the domino effect of our actions, both despicable and noble. The story is told with gentle Southern accents in a time frame of the 1970's. Heavily laced with humor and sarcasm, the undercurrent of anger and disappointment is never far from the surface.

Don't bother looking for a bad performance here – there are none. Bobby and Cheryl (James Wesley, Lori Hammel) have fallen upon hard times. They and their daughters (Stacey Bone-Gleason, Juli Wesley) have moved into the home of Matriarch Ruby (sublimely portrayed by Suzanna Hay). Ruby's long-lost daughter Edna (Anika Larsen) has returned home for the funeral, and the bible-thumping eccentric Aunt June (Eve Plumb) shows up in search of a will. Together these multi-faceted characters chronicle a family's legacy which includes denials, lies, mistakes, resilience, courage, survival, and most of all, love.

UNBROKEN CIRCLE will manipulate all your emotions. Your hearty laughter will be short-circuited by an astonishing revelation, and conversely a chuckle will sidetrack your despair and sadness. You will leave the theater in awe of the story, in love with the characters, and in reflection about your secrets and their ramifications.

- Laurie Lawson -
La MaMa
presents

FALSE SOLUTION

Written & Directed by OREN SAFDIE

Featuring
SEAN HABERLE & CHRISTY McINTOSH

Set Design: BLANCA AÑÓN GARCÍA
Costume Design: TRISTAN RAINES
Lighting Design: EMILY McGILLICUDDY
Dramaturgy: FRITZ MICHEL
Movement Consultant: NATALIE MALOTKE
Stage Manager: JESS GOUKER
Press Representative: SAM RUDY MEDIA RELATIONS/BILL COYLE
Casting: McCORKLE CASTING, LTD.

La MaMa
First Floor Theater
74a East 4th Street
New York, NY 10003
(212) 475-7710 or www.lamama.org
June 16 through June 30, 2013

Architect/playwright Oren Safdie's play deal with an architect's struggle to design a Holocaust museum in Poland. Admired German-Jewish architect Anton Seligman feels he is about to produce yet another masterpiece. His assistant, a beautiful first-year architecture student, argues that his concept is unimaginative and without substance. As the evening progresses, the two engage in verbal combat over the effects of war, religious identity, and politics, as their conflicting styles of creative process and moral outlook collide.

This production is a sort of "Who's Afraid of The Fountainhead?" It even has a Shakespearean touch, being full of "sound and fury". More philosophy than story, the racing monologue-versus- monologue style rarely comes across as actual dialogue between two intense, talented individuals. The sexual overtones are there, but the pacing allows no time for tension to build. The words are clever, intelligent, and intense. But with no time to breathe, mentally or physically, much depth is lost due to presentation, not content.

FALSE SOLUTION is directed by its author, so this style of performance obviously fits his vision for the production. While enjoyable and thought-provoking, it is the theatrical equivalent of choking down a box of expensive chocolates without taking time to savor the exquisite taste.

-Karen D'Onofrio-
terraNOVA Collective
presents

HOLD THESE TRUTHS

Written by Jeanne Sakata
Directed by Lisa Rothe
Set Design by Mikiko Suzuki McAdams
Costume Design by Meg Weedon
Lighting Design by Cat Tate Starmer
Sound Designer Composer : Daniel Kluger

Feauturing: Joel de la Fuente

Press Representative: KampFIRE Films PR

The Culture Project
45 Bleecker Street
June 11th at 7pm
http://www.terranovacollective.org

Gordon Hirabayashi is not a household name for many of us. Yet it should be. HOLD THESE TRUTHS is about Gordon's humble beginnings in the Pacific Northwest in the late '30s, the son of Japanese immigrants. His father would tell him not to be conspicuous: "The nail that sticks out is the one that gets hit."

At one defining moment, Gordon did not listen to this proverb. When the Japanese were rounded up after the attacks on Pearl Harbor, Gordon could not believe it would put his citizenship in question. He stood defiant and alone, when he and his family were ordered to vacate their home and sent to an internment camp. He was the nail that stood out.

Gordon spent time in prison, and in and out of courtrooms, He fought for what he believed was his constitutional right intended by the founders of this country and stated in the Constitution. His case made it to the Supreme Court, but was defeated unanimously. Even FDR and the ACLU turned a blind eye. Eventually the government then released all Japanese from the camps, but their lives were not as they knew it. They lost most of their possessions and were treated like outsiders, as they struggled to survive.

Shortly after his retirement as a professor of sociology in Canada, Gordon received a call from a lawyer, who uncovered withheld evidence in his case. The case was reopened, the verdict overturned, and he is exonerated. Hirabayashi says "I feel like I came home".

His journey is nothing short of an American legend, written concisely and entertainingly by Sakata. Despite his mistreatment, Gordon's allegiance never wavers. The one-man performance by de la Fuente is captivating, and brings Hirabayahsi to life. Seamlessly, Joel also portrays several other characters along Gordon's journey: his parents, police officers, friends, roommates and others. This is a must see!
- Gloria Talamas -
PHOEBE IN WINTER

Written by JEN SILVERMAN
Directed by MIKE DONAHUE

Featuring
GERRY BAMMAN, JEANINE SERRALLES, CHRIS MYERS, CHRISTOPHER RYAN GRANT, CHINASA OGBUAGU, & BOBBY MORENO

Set Design: JASON SIMMS
Costume Design: KAYE VOYCE
Lighting Design: BURKE BROWN
Sound Design: STOWE NELSON
Fight Direction: J. ALLEN SUDDETH

The Wild Project
195 East 3rd Street
New York, NY 10003
(212) 352-3101 or www.clubbedthumb.org
June 7 through June 16, 2013

The title, PHOEBE IN WINTER, kind of sounds like a sweet fairy tale. Lose that idea right now, unless you consider "Rambo" a fairy tale.

One by one, three brothers make their way home from war to cranky old dad and his stressed-out housekeeper. Each knock on the door may mean another son has returned safely. Then, tragically, that front door is thrown open once too often. What enters is control incarnate, terror personified. The war is now contained within the four walls of what soon could pass as Hell.

As personal alliances shift, psychological mind-games wreak havoc on everyone. In this combat zone called "family", the improbable reaches its limits, until only the impossible remains an option.

The actors are alternately forceful and vulnerable as events around them shift erratically. Their performances are strong, deep, and bring reality to a very unreal situation. One caution: there are intense flash effects as "bombings" occur. This may not be a production for anyone suffering from PTSD.

-Karen D'Onofrio-
Planet Connections & Gluon Night Productions
present

SOMETHING SUDDEN 5WEPT 0V3R ME

Written by STEVEN MARK TENNEY
Directed and Choreographed by SUSAN TENNEY

Featuring
HALLI HERZOG, ASOL KARIM, MAREK SAPIEYEVSKI, & RICHARD WELTON

Dancers
RINA BARRANTES, SAMANTHA GULLACE, YUKARI OSAKA, & NATALIE ROBISON

Lighting Design: JOE NOVAK
Sound Design: BETH LAKE
Costumes: JANET MERVIN & DOMINIQUE D. PINTO-SANTIAGO
Press Representative: DALE HELLER, HELLERHIGHWATER LLC

Robert Moss Theater
440 Lafayette Street
3rd Floor
New York, NY 10003
www.planetconnections.org
June 5 through June 16, 2013

A pair of graduate students, their professor, and an ethereal team of extraterrestrials provide a lovely new take on science fiction and fantasy in this production.

The happily clueless Norbit, alien artifact researcher and besotted lapdog of his female fellow student, narrates as things sweep over him. Lithe dancers in black, kissed with a touch of glow, move silently around him. The sprite in charge, Mist-Rain-Waves-Tears, remains still except for her quiet pronouncements, commanding attention simply by her presence. Norbit slowly discovers that he is in the midst of the otherworldly and utterly out of his element. And, most critically, New Jersey is involved.

In this story, we are delighted, not terrified, to learn that aliens live among us. They are beautiful, graceful, peaceful, and helpful. They are also amazingly cryptic, a challenge to Norbit's efforts to save the world. If he can unravel all the codes and riddles, and get to New Jersey, he will save us all. Holographic people and the time-travel wastes some time, but ultimately pays off.

The play flawlessly integrates acting, dance, and music into a blissful, humorous, and pleasing tale of love and mystery.

-Karen D'Onofrio-
Articulate Theater Company
presents

DRAGON

Written by JENNY CONNELL DAVIS

Directed by CAT PARKER

Featuring
MAEVE YORE, JOE ROSETO, KATIE MACK, DANIEL KUBLICK,
JAMES LEIGHTON, & TONY PONELLA

Scenic Design: GEORGE ALLISON
Costume Design: KAREN ANN LEDGER
Lighting Design: DENNIS PARICHY
Choreography: BRONWEN CARSON
Stage Manager: LIZ ELISE

Robert Moss Theater
440 Lafayette Street
3rd Floor
New York, NY 10003
www.planetconnections.org
May 29 through June 17, 2013

It sounds like a lovely dream. Dragons really do exist and live among us. And to fall in love with a dragon, and have the dragon fall in love with you, must be incredibly romantic. Well, it is and it isn't. Dragons live on "dragon time" spanning thousands of years, and they enjoy an immense freedom that no human can understand. The out-there pulls them away, leaving broken earthbound hearts behind.

In this production, two wayward dragons return to visit a snowed-in couple and their son. The handsome, intense male dragon has a history with the wife. The feisty young female dragon works her charms on the son. Fire and ice meet in a whirlpool of emotion. Love will prevail, but which love?

DRAGON keeps the audience on its toes as the plot unfolds. The actors carry it off to perfection. Both bittersweet and enchanting, with a mix of sexual chemistry, this play is a charmer.
And "something-like-happy" may be the best one can achieve in the face of magic.

-Karen D'Onofrio-
The Movement Theatre Company
presents

LAST LAUGH

Written & Performed by ERIC LOCKLEY

Directed by JONATHAN McCRORY

Sound Design: SAMUEL NACACH
Costume Design: DEDE AVIT

IRT Theater
154 Christopher Street
3rd Floor
New York, NY 10014
www.terranovacollective.org
May 29 through June 2, 2013

Enter a tuxedoed black man, circa 1940. He laughs it up with the audience, talking about his "white" voice and about how being funny prevents white people from fearing him. He's just a little too manic, a little too demeaning to his own race. In the context of 1940, perhaps that's what's expected. His name is Noman Whitfield.

A second character, "Slowfeet", alternates with Noman. Slowfeet discusses his upcoming entertainment award calmly and professionally. His character is immensely popular on-screen and has earned him both money and fame. There are hints that his bug-eyed "yassir boss" performances trouble him, though. He rationalizes that his success validates his choices. As the play progresses, we learn a deeper motivation.

LOCKLEY personifies the unhappy internal struggle of "give the people what they want" versus "be what you really are." Noname at one point wishes he could lose that black skin, because inside, he's simply another human being. Draped in ebony, he is judged on sight. The most important qualities, those that are inside an individual, require close inspection, not knee-jerk judgments. LOCKLEY's powerful, cheerful, bittersweet LAST LAUGH is a troubling but vastly enjoyable production.

-Karen D'Onofrio-
WIGGERLOVER [whiteboy+blackdad=greyareas]

Written & Performed by JAMES ANTHONY ZOCCOLI

Deejay & Sound Design: GREGOR MORTIS
Projections & Lighting Design: ELIZABETH BOROS-KAZAI

IRT Theater
154 Christopher Street
3rd Floor
New York, NY 10014
www.terranovacollective.org
May 29 through June 2, 2013

Chicago, 1979. Polish Catholic mom and Italian Catholic dad divorce, time-sharing their young son. Soon mom does the (then) unthinkable. She marries a black man, one of her co-workers. The couple are very in love. The son is delighted. Because he always wanted to be black! This is as close as he can get, and he enjoys every moment. When his biological dad remarks about "nigger-lovers", the boy pipes up with "I'm one, too!" After that, Italian dad and Polish grandparents are rarely seen.

The boy grows up in multi-racial neighborhoods, thoroughly embracing his "blackness", although his white skin is a bit of a problem. He's got the dance moves, the clothes, the attitude, the speech patterns, and the sports talent. His black dad is the greatest, even though some whippings do take place when the lad's addiction to watching TV interferes with his chores. Nothing can dim his adoration of the man.

This play is pure fun, taking the audience back to the 1970's and 1980's with an able assist from DJ GREGOR MORTIS. Projections show Charlie Pride, Nipsy Russell, George Jefferson, disco stars, and the occasional family photo. It's upbeat, loveable, and full of laughs. What a treat to see someone recount a joyful, if challenging, childhood.

-Karen D'Onofrio-
SCHUYLER IONA PRESS in

WHAT I'M FAILING TO LEARN
www.WhatImFailingToLearn.com

Music & Lyrics by SCHUYLER IONA PRESS
Choreography by JOEL HANNA
Arrangements by JEB PATTON & SCHUYLER IONA PRESS
Book & Video Lyrics by C. FRASER PRESS
Directed by C. FRASER PRESS & DARREN PRESS
Produced by A MAY SKY PICTURE ENTERTAINMENT
Co-Produced by SANDRA NORDGREN

Starring

SCHUYLER IONA PRESS
CARLOS MENA, ANNETTE HOMANN, HENRY KOPERSKI
MATTHEW GUMLEY, SAM WAGNER, DOMINIQUE PORTER, HANNAH TOBIAS

Lighting Design: ROB BELCHERE
Sound Design: MIKE DeROSA
Stage Manager: LIZ PEAK

13th Street Repertory Company
50 West 13th Street (between Sixth & Seventh Avenues)
(866) 811-4111 or www.13thstreetrep.org
Wednesdays at 7 PM; Saturdays at 3 PM


Fourteen-year-old Schuyler Iona Press has a story to tell, and she has a lot of talented friends who are willing to help her tell it. Backed by a full band and back-up singers, Press takes you on a musical journey through the streets of New York City. With songs that range from jazz, folk, rock and punk and a continual slide show, the diversity of the City That Never Sleeps is portrayed. There's even a little Irish and modern dance thrown in for good measure.

But here's the kicker: Press wrote all the music and the lyrics for WHAT I'M FAILING TO LEARN, assisted in the musical arrangements (which are quite impressive), plays the guitar, sings every song, and even joins in the Irish dancing. That would be impressive at any age, but at fourteen it's awe-inspiring. In truthfulness, it is difficult to believe that someone so young can conjure up memories of New York – she was only two years old when 9/11 occurred. But what she doesn't remember, her momma told her. And many of the lyrics were lost on me (at times her voice blends with the music making it indistinguishable) but there is so much else going on that you can make your own story.

The real reason to go see WHAT I'M FAILING TO LEARN is to get in on the ground floor of what can only become a major artist. Cement shoes couldn't stop the multi-talented Press from soaring to the heights of success. Catch her on the way up, and you can say "I knew her when."

- Laurie Lawson -
BABY SCREAMS MIRACLE

Written by CLARE BARRON

Directed by PORTIA KRIEGER

Featuring
DANIELLE SKRAASTAD, DANNY WOLOHAN, CAITLIN O'CONNELL,
ISMENIA MENDES, & SUSANNAH FLOOD

Set Design: DANIEL ZIMMERMAN
Costume Design: SARAH LAUX
Lighting Design: DEREK WRIGHT
Sound Design: BRANDON WOLCOTT

The Wild Project
195 East 3rd Street
New York, NY 10003
(212) 352-3101 or www.clubbedthumb.org
May 24 through June 2, 2013

A freak storm in the state of Washington downs trees and cuts off power. An eccentric nuclear family of five is stranded at an isolated home and not everyone copes well. Both mother & oldest daughter are heavily pregnant, grandma just rolls her eyes, dad loves to pray, and younger daughter basically stares into space. It's all very awkward and amusing and strange. Mom beams that big pseudo-Christian smile all the time. She's just so happy about everything. Add a dead dog and some glo-sticks, lack of plumbing, and a lot of Jesus, and a bizarre chemistry unfolds.

The brilliance of this production lies in the actors, who present the unnatural scenario in a wonderfully natural way. They are so relaxed, so connected, that nothing else matters. Where the story is going (if anywhere) is secondary to the enjoyment of watching them in action. The set and effects perfectly enhance the atmosphere. The play is amusing and engaging and weird all at once, and that, in this case, is delicious.

-Karen D'Onofrio-
LaMaMa
in association with Talking Band
presents

MARCELLUS SHALE

Written & Directed by PAUL ZIMET

Featuring
HARLAN J. ALFORD, SULI HOLUM, JOHN KURZYNOWSKI, JOEL LEFFERT,
ELLEN MADDOW, MIKE MIKOS, STEVEN RATTAZZI, TINA SHEPARD,
DAVID SMILOW, & LINDA TARDIF

Music & Sound Design: ELLEN MADDOW
Set & Video Design: ANNA KIRALY
Light Design: LENORE DOXSEE & NATALIE ROBIN
Costume Design: KIKI SMITH

LaMaMa First Floor Theatre
74A East 4th Street
New York, NY 10003
www.lamama.org
May 28 through June 9, 2013

MARCELLUS SHALE is not a blues singer, but a layer of rock that holds natural gas deep underground. It's the target in fracking, where sand, chemicals, and millions of gallons of water are injected under pressure to break up the rock and release natural gas. That's big business in the Catskills and much of New York state. As farms fail and industries leave, landowners are offered money for drilling rights. Some see it as a godsend, some as a deal with the devil.

PAUL ZIMET distilled this production from interviews with upstate residents. Using the cadence of their speech, he has written an intriguing work. The stage is the inside of a simple house, its windows opening onto country greenery and unspoiled hills. Projections change that scenery from day to night, house to house. Characters are a mix of old and young, rebellious and resigned. Religion, symbolism, and dreams weave through the quiet day-to-day life. As personal secrets are revealed, the characters become more three-dimensional and the plot thickens.

Through these many outlooks on life we learn that the drilling fields may be the killing fields. Residents unite to fight a common enemy, but they can't agree who that enemy is. Problematic to say the least. Someone has to make the first move. Praise the Lord and pass the ammunition.

-Karen D'Onofrio-
ANTIGONE

Written by SOPHOCLES
Translation by RICHARD EMIL BRAUN

Directed by LENNY LEIBOWITZ

Featuring
BONNIE FRASER, KC WRIGHT, KEVIN GILMARTIN,
GEDDETH SMITH, & PETER JUDD

Scenic Design: KENICHI TAKAHASHI
Costume Design: SARAH THEA SWAFFORD
Lighting Design: MICHAEL GOTTLIEB

TBG Theatre
312 West 36th Street
3rd Floor
New York, NY 10018
(866) 811-4111 or www.MarvellRep.com
May 24 to June 2, 2013

Antigone is young, beautiful, and sad. She insists on burying her brother, despite the king's edict that his body be left in the open to rot. Since this play is a classic Greek tragedy, everyone defies Fate, suffers the consequences, and those who survive live with eternal regret. Deaths are as abundant as the grapes on the vines.

Done in a combination of modern dress and traditional theatrical masks, this production retains the original oratory/narrative style of pronouncements followed by action unseen off-stage. Then as now, powerful men sometimes push things too far. Then as now, that doesn't always work well. King Creon will not listen to his son's reasoning, nor to Antigone's pleas. Even when the trusted prophet visits to deliver dire warnings, Creon ignores him. It seems the king, despite his advanced age and supposed wisdom, must the learn the hard way.

This small company does a clever job of presenting Sophocles in a minimalist yet effective style.

-Karen D'Onofrio-
DIANA OH IS GOING ROGUE, THE SOLO SHOW

Written and Performed by DIANA OH
Directed by LETA TREMBLAY

Featuring
D.J. HUGGY BEAR, SARAH GOOSMAN, & KYLE METZGER

Guitar: PAUL CORNING, JR.
Script Doctor/Co-Choreographer: JESSI D. HILL
Original Songs: DIANA OH

IRT Theater
154 Christopher Street
3rd Floor
New York, NY 10014
www.terranovacollective.org
May 24 through May 30, 2013

OH my! It's a party, so get ready to shake it, sing it, and join in the fun. DIANA OH grabs everyone in her arms and sweeps them up for a journey from Korea to Las Vegas to L.A. and more. Each event, and several lovers, inspire her to write songs. With her beautiful voice, genuine smile, and loving embrace, she entertains and inspires during a riotously good grab-bag of happy surprises.

A highly talented actress, musician, and vocalist, OH also leads artist's retreats, and it shows. She personally engages with the audience, both as a group and on an individual level. Her show could easily qualify as a therapy session. She leaves no time for the crowd to wander off mentally and think of that work deadline or what's for dinner. Everyone is "in the now" and loving it.

As for the "going rogue" part, she is a bit of a tease, as she demonstrates at the end. Just read her signs, follow the lyrics, and everything will be more than fine.

-Karen D'Onofrio-
DOS MUJERES

Written & Performed by DESI MORENO-PENSON
Directed by JOSE ZAYAS

IRT Theater
154 Christopher Street
3rd Floor
New York, NY 10014
www.terranovacollective.org
May 24 through May 30, 2013

One of the two women in the title is an actress, the other an academic. Both have racial stereotypes inflicted upon them despite their demeanor, upbringing, and education. The actress, classically trained, always ends up being asked to audition for the part of a prostitute or the mother of a crackhead. The academic has a husband who demands she be a firecracker in the bedroom and encourages her to shout out in Spanish during sex so the neighbors can hear. DESI MORENO-PENSON brings them to life and lets them vent, voicing their discoveries of self-realization with humor and a tinge of bitterness.

MORENO-PENSON is big and bold as the sometimes over-the-top actress. During her "audition" she presents several versions of her lines, including ala Shakespeare and in German. She exits the stage and reappears as a professor of women's studies, burdened with her husband's proclivities. His latest brainstorm is to have a threesome with her and another Hispanic woman. She is used to following his lead in these matters, but intends to veto the idea. What transpires is a revelation to all.

This is an enjoyable strike-back at the world of bigotry and the sort of everyday racial profiling still encountered by many. She provides a spicy serving of awareness with a side of laughter.

-Karen D'Onofrio-
MERCY KILLERS

Written & Performed by MICHAEL MILLIGAN

Directed by TOM OPPENHEIM

Technical Direction & Design: LIBBY JENSEN

IRT Theater
154 Christopher Street
3rd Floor
New York, NY 10014
www.terranovacollective.org
May 23 through May 31, 2013

This one-man play is not for the emotionally fragile. MICHAEL MILLIGAN relates a powerful story in a powerful way. He's giving his explanation of events. We know his wife died. We don't know the how and the why. What unfolds is a tale of love, frustration, and loss. MILLIGAN keeps the audience engaged with the variety of emotions his story reveals, and with a series small twists and turns that keep the listener guessing how all this will end.

MILLIGAN's character, young Joe, is more pink-neck than redneck. After all, he married Jane, a hippy type who reads food labels carefully and doesn't care for conservative talk radio. Joe's hard-working, blue-collar, and very in love with his wife. They have a comfortable small-town life including a house and Joe's garage business. Then Fate strikes a cruel blow when Jane finds a lump in her breast. Everything in their lives goes downhill with her health. They both fight the good fight, holding tight as everything but hope is stripped away.

Threaded through the narrative is a raw exposure of health insurance costs and failures, government red tape, and the helplessness plain old working people feel with how our society works, or fails to work. The story resonates on many levels while always keeping the viewer engaged. It reveals that, sadly, living is sometimes uglier than dying. Sometimes the outside scars heal but those inside stay raw. And sometimes death isn't easy, no matter how, no matter who decides.

-Karen D'Onofrio-
HOW TO DO A ONE PERSON SHOW

Written by KELLY KINSELLA & PADRAIC LILLIS

Performed by KELLY KINSELLA

Directed by PADRAIC LILLIS

Fight Choreography: DAVID ANZUELO
Choreography: PETER GREGUS
Styling: NICETO FESTIN

IRT Theater
154 Christopher Street
3rd Floor
New York, NY 10014
www.terranovacollective.org
May 23 through May 31, 2013

Here's a clue: it's a one-woman show that has a fight choreographer.

KELLY KINSELLA explains the nuances of how to do a one-person show. She knows the ropes for sure, this being her fourth production. That she multi-tasks while teaching is inevitable. After all, she does have a life outside theater. Or so she insists. She talks about that and more as she runs ideas past the audience. A big production number with a line of dancers would be nice, or just a jazz-hands piece under a lone spotlight. She decides to use all her acting techniques and let her mental-health issues resolve themselves.

The result is the funniest class you may ever take. There is a bonus at the end, so the rewards go beyond laughter. To say more would be to ruin the surprise. All the audience needs to do is loosen up, make eye contact, and let fun begin.

-Karen D'Onofrio-
Marvell Rep
presents

MOMMALOGUES

Written by SHARON LEE GLASSMAN & GRETCHEN KLINEDINST FURST

Directed by WILLIAM SANDERS

Featuring
ELIZABETH STAHLMANN, CLAIRE DUNCAN,
LISA REIGEL, & SHEILA STASACK

Associate Director: DEANN HALPER
Scenic Design: KENICHI TAKAHASHI
Costume & Sound Design: WILLIAM SANDERS
Lighting Design: RYAN SEELIG

TBG Theatre
312 West 36th Street
3rd Floor
New York, NY 10018
(866) 811-4111or www.MarvellRep.com
May 24 to June 2, 2013

Done in the style of "The Vagina Monologues" and "Love, Loss, and What I Wore," this production is a series of monologues about motherhood and daughterhood. Four woman alternate in presenting tales of and by strong mothers, abused mothers, cranky mothers, loving mothers, poor mothers, and of traditions passed down through generations of mothers, grandmothers, and great-grandmothers. From the frantic sleep-deprived new mommy to the older, wiser grandma wannabe, the stories are both funny and emotional, painting an intimate portrait of mother-daughter relationships.

The actresses are versatile and engaging in their performances. The audience laughed at the humor and was quietly touched by the sadness. A combination of nostalgia, bitterness, communication and miscommunication gives variety and texture to play. Emotional warfare is acknowledged, regret expressed, rebellion confronted. Just about anyone who has had a caring relationship with a child, or been a child with a caring adult, can relate. Yes, it's not just for mothers. Fathers, aunts, uncles, and teachers will certainly recognize familiar situations along this voyage down memory lane.

-Karen D'Onofrio-
LaMaMa
in association with Crossing Jamaica Avenue
presents

DEADLY SHE-WOLF ASSASSIN AT ARMAGEDDON!

Music & Concept by FRED HO
Written by FRED HO & RUTH MARGRAFF
Directed by SONOKO KAWAHARA

Featuring
YOSHI AMAO, MARINA CELANDER, RICK EBIHARA, JERRY FORD, AI IKEDA,
TAKEMI KITAMURA, LUCA NICORA, KOJI NICHIYAMA, YUKARI OSAKA, TEAKE,
PERRY YUNG, BRADLEY FONG, & JET YUNG

THE AFRO ASIAN MUSIC ENSEMBLE, led by MASARU KOGA
BEN BARSON, WAYNE BATCHELOR, ART HIRAHARA,
ROYAL HARTIGAN, & YUMI KUROSAWA

Sword Fighting Choreography: YOSHI AMAO
Martial Arts Choreography: EMMANUEL BROWN
Production Design: ANKA LUPES
Lighting: CHAD MCARVER
Production Stage Manager: YOUN JUNG KIM
Assistant Director/Production Assistant: HUI-SHURN YONG
Deadly She-Wolf Producers: BIG RED MEDIA, INC & SPECTRUM MUSIC

Ellen Stewart Theatre
66 East 4th Street
New York, NY 10003
(212) 475-7710 or www.LaMaMa.org
May 16 through June 2, 2013

Beware the amazing She-Wolf Assassin! She cannot be stopped. Each death fuels her power. She has been raised to be the ultimate secret weapon, the last resort when all other warriors fail. The time has come for her to be unleashed on the enemy. Like a puff of smoke, she cannot be captured.
Her foes have orders to execute the executioner. The death-match is on.

A manga/martial arts mélange, this production is at once very Japanese yet universal. The narrator speaks all the lines. The incredibly athletic actors are forceful and graceful, moving through the swordplay with swirling, spinning, and sometimes slo-mo virtuosity. The story is enhanced by the music, a jazzy-dreamy mix of western and Japanese instruments and tonalities. Especially effective is YUMI KUROSAWA
on the 20-string koto.

Like shadows and light, the play moves through many emotions and much symbolism while revealing bits of personal histories and long-held grudges. The physical power of the actors makes the conflict palpable. Narrator MARINA CELANDER brings the tale to life with her incredible vocal skills.
It's all fan-snappingly good.

-Karen D'Onofrio-
Ego Actus
www.egoactus.com
Presents
100 SAINTS YOU SHOULD KNOW
By KATE FODOR

May 9 – 26, 2013

Urban Stages
259 W. 30th Street (between 7th & 8th Aves.) NYC
Tickets: 100Saints.brownpapertickets.com or (800) 838-3006

Directed by JOAN KANE
Set Design by MARK MARCANTE
Costume Design by AUDREY NAUMAN
Light Design by BRUCE A! KRAEMER
Sound Design by IAN WEHRLE
Production Design by KRISTEN SMART
Press Representative SCOTTI RHODES

Cast
Rosie Cosch, Eric Percival, Carolyn Cutillo, Phoenix Lee and Annette Hunt

The Ego Actus incarnation of Kate Fodor's 100 SAINTS YOU SHOULD KNOW starts slowly, but gains momentum, especially in the second act. This is a play about characters in search of answers and in search of connections.

Theresa (Rosie Cosch) is a single mother who works cleaning the church rectory, but has never been religious. Matthew (Eric Percival), the priest at the same church, suddenly appears at his mother Colleen's (Annette Hunt) door claiming to be on vacation after the church leaders ask him to take a leave of absence when questionable images are found in his possession. When Theresa and her troubled daughter Abby (Carolyn Cutillo) make an unannounced visit to Matthew to deliver a book he has left behind, a series of events unfolds that impact the lives of everyone, including the local grocery store delivery boy, Garrett (Phoenix Lee). These events bring to the forefront the individual journeys of the characters.

There are some parallels with the Matthew-Colleen and Abby-Theresa relationships. In both cases, the mothers are trying desperately to connect with and understand their children and their choices. Garrett is a simple but likeable character in search of himself and to understand his sexuality more than anything, and his interactions with the other characters serve as the catalyst that brings them all together. We learn that Theresa is in search of faith, while Matthew is having a crisis of faith. Abby is questioning her "bad girl" behavior, and Colleen wants the respect of her son.

While 100 SAINTS YOU SHOULD KNOW is a decent and ambitious work, almost every scene runs a bit too long, and the play ends abruptly, though as directed by Joan Kane, the scenes keep moving. There are no intrusive set changes or other production elements to detract from the action. The design elements serve to enhance the work.

For a play that touches on what could be rather incendiary topics, 100 SAINTS YOU SHOULD KNOW manages not to come across as controversial, but more as a slice of life drama. Characters are searching for answers that are never given, rendering the work firmly grounded in reality rather than fantasy. There are no leaps of faith offered or taken in SAINTS.


- Kessa De Santis -
Dixon Place
presents

NO NEED FOR SEDUCTION

Written & Performed by VICTORIA LIBERTORE

Direction & Dramaturgy by LEIGH FONDAKOWSKI

Set Design: SARAH LAMBERT
Lighting Design: STEVEN BATTAGLIA
Production Images: JENNIFER E. KOLTUN

Dixon Place
161A Chrystie Street
New York, NY 10002
www.dixonplace.org
May 10 through May 25, 2013

In this intimate performance, VICTORIA LIBERTORE tells the tale of her amazing trip to Bali and the enlightenment it brought her. You might appreciate the poetry of this spiritual journey, if you can stop laughing long enough.

When an Italian Catholic girl from Ohio prays to the Hindu goddess of destruction, the results are extreme. She tries to take back the prayer, although dogma doesn't seem to have an escape clause for that option. Exploring the tropical rice fields and mountains with her steady girlfriend, Victoria fears that commitment will be imposed on her, and she just isn't ready. Or maybe she is. Or not. You get the idea.

To work through the issues in her mind, Victoria revisits her childhood, her attachment to another lover, and her future. Simultaneously she faces the hair-raising aspects of Bali, including wild mountain car trips, live volcanoes, and the firm belief that any minute now she will be proposed to. The outcome is unpredictable, the writing and performance are clever and funny. Ultimately, it's a lovely vacation for all.

--Karen D'Onofrio--
LaMaMa
presents

CHEMISTRY OF LOVE

Written by JILL CAMPBELL
Directed by GEORGE FERENCZ

Featuring
DENNIS PARLATO, MATT BAXTER LUCENO,
KIM MERRILL, & JENNE VATH

Set Design: DONALD EASTMAN
Costume Design: SALLY LESSER
Sound Design: TIM SCHELLENBAUM
Lighting Design: JEFF TAPPER
Video Design: JONATHAN PHELPS
Assistant Director: JASON MARX
Music: JACK FERENCZ

LaMaMa First Floor Theatre
74A East Fourth Street
New York, NY 10003
May 2 through May 19, 2013
(212) 475-7710 or www.LaMaMa.org

Multimedia artist Lara receives a huge grant from a mysterious committee. To keep it, she must produce an innovative work, and quickly. Her three friends are at first overjoyed for her. Then their back-stabbing money-grabbing genes kick in and the battle begins. It's a struggle for love, sex, and money. Betrayal and idea-theft are the weapons. When the emotionally needy meet the financially greedy, chaos ensues. Only the strongest will survive this war.

The play peels back layers of the insular world of arts to reveal a mess Jackson Pollock would be proud of. Intimacy issues, manic depression, pills, booze, and booty calls are not only motivations, they are the artistic product when filmed and photographed. The results appear on the video screens above the stage. The aging womanizer, the boy-toy, and the best girlfriend drive Lara to the brink of both destruction and creation. Along the way they endanger themselves as well.

Only an artist would know if the play's portrayal is authentic, but it rings true. Playwright JILL CAMPBELL uses video and sound to sometimes annoy, sometimes shock the audience. Along with the quest for art, she weaves the tale of a love quadrangle that must collapse under its own emotional weight. The art world she reveals is a jungle, not a garden. Beware.

--Karen D'Onofrio--
WorkShop Theater Company
presents

YOU ARE HERE!

The 2013 Spring Short Play Festival

SECOND TIERS
Written by GLENN ALTERMAN
Directed by KELLY JOHNSTON

THE BLOOMINGDALE ROAD
Written by MARK LOEWENSTERN
Directed by DELISA M. WHITE

GATEWAY FOR ASHES
Written by DANA LESLIE GOLDSTEIN
Directed by WENDY SEYB

THE GERMAN BITCH
Written by DAVID M. MEAD
Directed by KATRIN HILBE

A MAN WALKS INTO A BAR
Written by BOB MANUS
Directed by THOMAS COTÉ

Featuring
RICHARD KENT GREEN, MICHAEL GNAT, KEVIN STANFA, JAMES MICHAEL ARMSTRONG, KRISTIN SHIELDS, LINDA SEGAL CRAWLEY, CHARLOTTE HAMPDEN,
CHRISTINA CORSARO, ADAM MOSEBACH, SUSAN IZATT, DAVID PALMER BROWN,
ANNE FIZZARD, DAVID M. MEAD, & TONY TRAVOSTINO

Supervising Director: THOMAS COTÉ
Set/Light Design: DUANE PAGANO
Costume Design: ANNETTE WESTERBY
Sound Coordinator: DeLISA M. WHITE
Production Stage Manager: LINDSAY STRINGFELLOW

The Jewel Box Theater
312 West 36 Street
Fourth Floor
New York, NY 10018
May 2 through May 18, 2013
(866) 811-4111 or www.WorkshopTheater.org

The short plays in this series had to meet two criteria. They had to be set in a real place that could be found on a map, and the story being told had to be specific to that place. The results are entertaining and insightful looks into both the past and the present.

SECOND TIERS, set in modern Key West, has two old friends reminiscing about past romances with some famous people. Their revelations are surprising, to say the least. Then we go to Bloomingdale Road, Manhattan,1866. Never heard of it? Yes you have, but it has a different name today.

GATEWAY FOR ASHES features two elderly sisters visiting Ellis Island, 1990. They arrived from Russia as very young children, with their mother. Father was to join them, but never did. One sister doubts that he ever existed, while the other desperately searches for his name. The tale is touching but not maudlin.

THE GERMAN BITCH refers to Catherine, czarina of Russia, 1775. There a prisoner in chains, awaiting his impending execution, receives an mysterious night visitor. We remain in the past for A MAN WALKS INTO A BAR, Washington D.C., 1865. A couple of the pub patrons have the surname Booth. One will be appearing at Ford's Theater for the last time later that night. Enough said.

The plays are clever, the acting is enjoyable, and the whole package makes for an pleasant, intriguing evening of entertainment.

--Karen D'Onofrio--
The Beckett Theatre
Scrambled Eggs The Play LLC
John Howard Swain, Abigail Hastings, Summer Crockett Moore
Present

SCRAMBLED EGGS
www.scrambledeggstheplay.com

By ROBIN AMOS KAHN and GARY RICHARDS

Starring

AMY VAN NOSSTRAND, CANDACE BRECKER, JIM FRANGIONE
MICHAEL DEAN MORGAN, ANN O'SULLIVAN, MARY CATHERINE WRIGHT

Directed by MATTHEW PENN
Set Designer: NICK FRANCONE
Lighting Designer: LEE DICKERT
Costume Designer: RACHEL GUILFOYLE
Sound Designer: SCOTT O'BRIEN
Stage Manager: FRAN RUBERSTEIN
Assistant Stage Manager: AURORA HICKS BEACH
Wardrobe Assistant: MARIA OZMEN
Production Manager: NATHAN FRIESWYK
Props: VITO LEANZA
Assistant Set Designer: STEPHEN DAVAN
Master Electrician: CLARK GASSER
Master Carpenter: SCHUYTER BURKE
Photographer: CHRISTIAN WOODS
Assistant Lighting Designer: JOSEPH THOMPSON
Light Board Programmer: JOHN WILDER
Social Media: RAY SCAUB
Graphic Design: BILL BROOKS
Casting PAT McCORKLE, CSA
Press Representation: JOE TRENTACOSTA
Logo: KAREN SCHMEDKE

Theatre Row's Beckett Theatre
410 West 42nd Street (between Ninth & Tenth Avenues)
(212) 239-6200 or www.telecharge.com
April 23 – May 11th; Opening Night – 04/27/13


Hot flashes, night sweats, thinning vulva, itchy skin, memory loss, no sex drive – what's a girl to do when the throes of menopause come calling? Well, if you're Robin Amos Kahn and Gary Richards, you write a hilarious play and title it SCRAMBLED EGGS.

Karen Hoffman (Amy Van Nostrand) takes you on an exquisite female journey from 7 years old through puberty and childbirth and on to the dreaded menopause and ultimately the present. The 60-year-old Nostrand is on stage for the entire 90 minutes – no memory loss going on here - batting around emotions, recalling scenarios, and taking you through the ever-changing stages of evolution. She's supported by Candace Brecker, Anne O'Sullivan, and Mary Catherine Wright who superbly play all the females in her life. Jim Fragione and Michael Dean Morgan are the magnificent men who are swept along with the raging tide of female hormones and barely manage to keep their heads above water. Director Matthew Penn maintains a lively pace inserting just enough pauses for genuine belly laughs and laugh-out-loud chuckles of which there are many.

SCRAMBLED EGGS is a tour-de-force both genuine and inspirational. Whether male or female, you will celebrate the indomitable spirit of the lead character, leaving the theater with fully-massaged emotions and a smile on your face.

- Laurie Lawson -
Peter Walters for Pascal Productions
presents

LOVE THERAPY

Written by WENDY BECKETT
Directed by EVAN BERGMAN

Featuring
ALISON FRASER, DAVID BISHINS, CHRISTOPHER BURNS,
MARGOT WHITE, & JANET ZARISH

Costume Design: PATRICIA E. DOHERTY
Scenic Design: JO WINIARSKI
Lighting Design: JILL NAGLE
Sound Design: JOHN EMMETT O'BRIEN
Fight Director: BRAD LEMONS
Stage Manager: ROSE RICCARDI
Assistant Stage Manager: KATHARINE S. FERGERSON
Press Representative: GLENNA FREEMAN PUBLIC RELATIONS

The DR2 Theater
101 East 15th Street
New York, NY
(212) 239-6200 or www.Telecharge.com
Opening Night: April 29, 2013

Couples Therapist Colleen Fitzgerald is still in training, and finds it difficult to be emotionally detached from her clients. That's a big problem for the higher-ups who monitor her. She insists that "caring" is a vital part of her technique. The boss firmly disagrees, warning that her behavior borders on the unprofessional. Ultimately she crosses the line in a way that cannot be forgiven.

While this production features talented actors, at least one role seems terribly miscast. The Greek Chorus/"character" part of "Madge" just doesn't work, somehow. Award-winner Alison Fraser looks too young and too pretty to offer the contrast needed between her character and that of Colleen. Her Irish accent is a good effort, but easily identifiable as non-authentic. David Bishins and Christopher Jones, portraying detestable male patients, add some energy to the story. Janet Zarish's portrayal of the fragile, damaged "Mary" weaves a subtle thread throughout.

Ultimately the production is an entertaining but not superior effort. It picks up momentum as it goes along, but certainly does not live up to its potential.

-Karen D'Onofrio-
Stage Left Studio's
Left Out Festival 2013
presents

YOU'RE A GOOD BOY, ABERCORN

Written by TOPHER CUSUMANO

Performed by TOPHER CUSUMANO & JOSH LAMON

Lighting Design: ELLEN ROSENBERG
Sound & Prop Design: ROWAN DARKO

Stage Left Studio
214 West 30th Street, 6th floor
New York, NY 10001
(212) 838-2134 or www.stageleftstudio.net
April 24 & April 25, 2013

This play makes "Macbeth" look like a laugh riot, just to alert you. Darker than dark, it takes us to an isolated place and into the life of two extremely damaged men. Rope, chains, and sharp implements on stage give a clue to pending violence. The who, why, and how are about to become terrifyingly clear.

TOPHER CUSUMANO has pulled out all the stops to create an intense theater experience. With his no-holds-barred physicality he forces the audience beyond dialogue and into empathy with the tortured soul of a man pushed to the limit and beyond.

The brutal hayride ends as we know it must. Someone must be freed. Just remember: there are things worse than death.

-Karen D'Onofrio-
Stage Left Studio's
Left Out Festival 2013
presents

TEST

Written by CHERYL KING & WILLIAM LoCASTO
Directed by CHERYL KING

Featuring
CHERYL KING, TC CORWIN, JOE HUTCHESON, MARY ERWIN,
MICHELLE RAMONI, PETER STRAUS, JEREMY NEAL, KC WEAKLEY,
ANTHONY ROMEO, & DONNY REPSHER

Sound Design: JOE HUTCHESON
Technical Assistance: ELLEN ROSENBERG

Stage Left Studio
214 West 30th Street, 6th floor
New York, NY 10001
(212) 838-2134 or www.stageleftstudio.net
April 23 & April 30, 2013

Are you positive? Do you really want to know? Those questions are addressed head-on in this set of six
10-minute plays. Now that there is a home HIV test, anyone can test anywhere, any time. Swab the inside of your cheek, then sit back and wait. Or pace and wait, or procrastinate about viewing the results, or face those demons you've been dodging. The truth awaits. The clock is ticking.

CHERYL KING & WILLIAM LoCASTO have woven this inherently dramatic situation through six scenarios. From dorm roommates to a middle-aged heterosexual couple to the gay man contacting his one female love to tell her his bad news, we spy on that intense moment when the past comes back to get you. Or not.

That writers KING & LoCASTO can evoke laughter side-by-side with terrible apprehension is a tribute to their skill. The actors make it all real. As real as it can be, until you take the test.

-Karen D'Onofrio-
Epic Theatre Ensemble presents

WILLIAM SHAKESPEARE'S RICHARD III: BORN WITH TEETH

Directed by Ron Russell
Sets: Mikiki Suzuki MacAdams
Costumes: Margaret E Weedon
Lights: Melissa Mizell & Cat Tate Starmer
Sound: Ron Russell
Fight Direction: Unkle Dave's Fight-House:Nic grelli & Jesse Geguzis
Movement: Will Pomerantz

Featuring: Peter jay Fernandez, Melissa Friedman, Devin E Haqq, Rhett Henckel, Lanna Joffrey, Michael Kirby, James Joseph O'Neil, Carra Patterson, Godfrey L. Simmons, Jr., James Wallert

Press Representative: Glenna Freedman Public Relations

Signature Theatre
480 West 42nd Street
www.Ticketcentral.com ; (212) 270-4200
www.epictheatreensemble.org/R3
April 16 – May 4, 2013; Wednesdays and Fridays at 7:30 pm and Saturdays at 2 and 8pm

Epic Ensemble's production of RICHARD III: BORN WITH TEETH is a contemporary adaptation in modern dress and set design, yet preserves the language of Shakespeare. Richard III was rumored to have been so villainous that he was born with teeth, long hair, and was in his mother's womb for two years. This classic drama reveals that his mind is as crooked and tortured as his body.

As the play begins, the audience is invited to come up to the stage to greet King Edward, Richard's brother, who is not well. Richard III soon enters delivering his monologue, engaging the audience on his intended scheme to win the throne at all costs. He is a dastardly power-hungry psychopath, manipulating and seducing anyone in his path to the throne. He is envious of his brother's reign and success and bitter about his position and his deformity. His envy leads to villainy as he himself says, "I am determined to prove a villain/And hate the idle pleasures of these days".

He convinces Lady Anne to marry him even though he had murdered her father and husband. He then dispenses with her and all others in line of succession before him by murdering his brothers, his court noblemen, his nephews, and even his devoted, right-hand man. In nightmares, he is haunted by the ghosts of his victims. His final plan is to marry his niece to further secure his claim to the throne. However, he first must fend off his growing enemies in battle. Fortunately for his niece he meets his end, but not before taking on everyone.

This production was a collective effort by all 10 actors, costumed in shiny suits, cocktail dresses, and Gatsby-style suits, while sporting smart phones, laptops and conducting meetings via Skype. Richard III, Shakespeare's most seductively, deceitful actor, was played convincingly by James Wallert, even without Richard's trademark hump.

- Gloria Talamas -
Stage Left Studio's
Left Out Festival 2013
presents

BROTHERLY LOVE

Written by EAN MICHAEL KESSLER
Directed by DAVID DELANEY
Performed by MATT COX & WILL TURNER
Lighting Design: ELLEN ROSENBERG
Stage Left Studio
214 West 30th Street, 6th floor
New York, NY 10001
(212) 838-2134 or www.stageleftstudio.net
April 21 & April 24, 2013

He ain't heavy, he's my brother. He also ain't gay. Nope. Can't be true. Impossible. Shut up.

Gordon comes home from college full of surprising news. His brother Wally flips out in denial. Between slap-fights and beers, the brothers spar verbally in this laugh-out-loud production. The writing is so clever, it challenges the audience to keep up. The actors are perfect in their characterizations and have the true ring of brotherly relationship. They are riotous to watch.
While a serious message underlies the humor, the play is worth seeing for the hysterical dialogue and madcap physical interactions. Sometimes it's wiser to hide your rainbow flag behind that shotgun on the wall and play dumb. The choice between truth and safety can be a tough one.
-Karen D'Onofrio-
Stage Left Studio's
Left Out Festival 2013
presents

THE LOVES OF MISS JIMMIE LeROY

Written by MARGARET MORRISON
Directed by CHERYL KING
Lighting Design: ELLEN ROSENBERG
Performed by MARGARET MORRISON & CHERYL KING
Stage Left Studio
214 West 30th Street, 6th floor
New York, NY 10001
(212) 838-2134 or www.stageleftstudio.net
April 21 & April 25, 2013

This is an excerpt from Morrison's new play in development, a sequel to the erotically-charged lesbian love story, "Home In Her Heart." Now it's 1942, and back in New York City, Miss Jimmie LeRoy is desperate to reunite with the love of her life. Having enjoyed the racial and sexual freedom of Europe before the war, her African-America lover is unable to readjust to American bigotry. She is gone, and Miss Jimmie desperately wants her back.
Enter Miss Jimmie's ex-lover, Margery, who shows up to rip open old wounds and ask for a favor. Margery has wounds of her own to share, and the emotional complications lead Miss Jimmie to assess and reassess her emotions, her duties, and her future.
MORRISON and KING work perfectly together, evoking the love/hate relationship of former lovers turned friends in a perilous era.

-Karen D'Onofrio-
Making Books Sing Presents
www.makingbookssing.org

WANDA'S MONSTER
The Musical

Music & Lyrics by LAURIE BERKNER
Book by BARBARA ZINN KRIEGER

Based on the children's book WANDA'S MONSTER
Written by EILEEN SPINELLI
Illustrated by NANCY HAYASHI

Music Direction and Arrangements by KRISTEN LEE ROSENFELD

Starring

LAURA HANKIN, JAMIE KOLNICK, JAMES ORTIZ, WESLEY TUNISON

Directed by ADRIENNE KAPSTEIN
Production Stage Manager: NIKKI CASTLE
Set Design: DREW FRANCIS
Lighting Design: ARIEL J. BENJAMIN
Costume Design: LESLIE BERNSSTEIN
Sound Design: CHARLES COES
Production Manager & Technical Director: DREW FRANCIS
Casting: MICHAEL CASSARA, CSA
Press Representative: HELLER HIGHWATER LLC
Photography: PETER JAMES ZIELINSKI

Musicians
Keyboard: KRISTEN LEE ROSENFELD
Guitar: FREDDY HALL

Theatre 3
311 West 43rd Street (between Eighth & Ninth Avenues), 3rd Floor
646-250-1178 or www.MakingBooksSing.org
April 19th – May 12th; Opening Night – 04/21/2013


The name of the organization is self-explanatory, and this time Making Books Sing is taking on WANDA'S MONSTER, based on the children's book by Eileen Spinelli. Dedicated to bringing literature to the performing arts arena, Barbara Zinn Krieger has created a full-scale musical featuring the music of award-winning children's recording artist Laurie Berkner. Throw in colorful costumes, fun choreography, a lovable monster, along with audience participation, and a great time is had by all.

Wanda (Laura Hankin) is positive that there is a monster living in her closet. Even though her brother Bobby (Wesley Tunison) assures her monsters don't exist, Wanda calls on the assistance of her Granny (Jamie Kolnick) who gives her a whole new perspective on monsters. Instead Wanda and the monster (James Ortiz) become friends, and eventually she shares him with her friend Ruthie (Lucy Day Mueller). What a wonderful way to deal with the problems of monsters. Appropriate for ages 4-8, I'm sure every child in the audience will rest a little easier tonight.

- Laurie Lawson -
La Mama presents

so go the ghosts of mexico, part one

Written by Matthew Paul Olmos
Directed by Meiyin Wang
Stage Manager: Danielle Thomsen
Set Designer: Nick Benacerraf
Lighting and Video Designer: Jeanette Oi-Suk Yew
Sound Designer: Elizabeth Rhodes

Feauturing: Laura Butler Rivera, Bernardo Cubria, Jose Joaquin Perez, Luis Moreno, Peter O'Connor

Press Representative: Sam Rudy Media Relations

La Mama
74 East 4th Street
www.lamama.org
April 11 – 28, 2013
Thursdays – Saturdays at 7:30pm; Sundays at 2 pm

This play is the first part of a three-play cycle that delves into the destruction wrought by the drug wars in Mexico. Olmos' play is inspired by the true story of Marisol Valles Garcia, a petite twenty-two year old, who volunteered to become the police chief of a small Mexican town, after the previous chief was beheaded. She is determined to put a stop to the violence in Mexico, without guns or violence, for the sake of the children.

The ghosts, including the former police chief, are the hoards of Mexicans who have died for the cause. Mexican ballads are heard playing from radios and assorted old speakers that bedeck the stage, with lots of static. The music haunts the drug lords and soothes the righteous. The new police chief and her husband continue to speak to their imaginary daughter, but she wants to wait for a better world for her daughter to be born in.

In this play, Mari's obsession with good and evil drives her husband away and incites the Narcos, whose threats force her to consider leaving Mexico. The notion of a better life in the US contrasts with the reality of Mexico being destroyed by the US drug trade. This play could rattle your nerves.

- Gloria Talamas -
Sarah Hancock/Rosalind LLC
presents

WOMEN OF WILL: THE MAIDEN PHOENIX

Written by TINA PACKER
Directed by ERIC TUCKER

Starring
TINA PACKER & NIGEL GORE

Scenic & Costume Design: VALERIE THERESE BART
Lighting Design: LES DICKERT
Sound Design: DANIEL KLUGER
Production Stage Manager: KATHARINE WHITNEY
Scenic Assistant & Props Mistress: DEDE AYITE
Costume Assistant: KRISTIN FIEBIG
Assistant Lighting Designer: DANTE OLIVIA SMITH
Assistant Sound Designer: ERIK T. LAWSON
Draper/Costumer: MARIE STAIR
Assistant Stage Manager: JESSA NICOLE POLLACK
Fight Director: TRAMPAS THOMPSON
Press Representative: DALE HELLER/HELLER HIGHWATER LLC

The Gym at Judson
243 Thompson Street
New York, NY 10012
(212) 352-3101 or www.WomenOfWill.com
April 14 through May 26, 2013

In the last of Shakespeare's plays, he reaches into mythology and history, creating women who rise like the phoenix from the ashes to redeem their fathers. By now Shakespeare had been writing for twenty-five years, Queen Elizabeth I had been dead for some time, and life in England just was not the same. The playwright found freedom in telling magical tales from the ancient past. In these works, all does indeed "end well", even if it takes resurrecting the dead.

Tina Packer and Nigel Gore start with Prince Pericles. His wife dies in childbirth, the infant is lost at sea, and Pericles becomes a mental case. After many improbable events, the maiden fixes everything. Then comes "The Winter's Tale". King Leontes is less than kingly when it comes to jealousy. Randomly concluding that his wife was unfaithful, he punishes her accordingly and abandons the infant daughter she had produced. He comes to his senses and repents wildly, but what's done is done. Or is it? Rise the phoenix daughter to restore happiness.

While this is Shakespeare, Packer and Gore make it fun and full of surprises. Their enthusiasm is contagious and their acting is brilliant. Their performance is a treat both for Shakespeare fans and those who have never heard of the man.

-Karen D'Onofrio-
Sarah Hancock/Rosalind LLC
presents

WOMEN OF WILL: LIVING UNDERGROUND OR DYING TO TELL THE TRUTH

Written by TINA PACKER
Directed by ERIC TUCKER

Starring
TINA PACKER & NIGEL GORE

Scenic & Costume Design: VALERIE THERESE BART
Lighting Design: LES DICKERT
Sound Design: DANIEL KLUGER
Production Stage Manager: KATHARINE WHITNEY
Scenic Assistant & Props Mistress: DEDE AYITE
Costume Assistant: KRISTIN FIEBIG
Assistant Lighting Designer: DANTE OLIVIA SMITH
Assistant Sound Designer: ERIK T. LAWSON
Draper/Costumer: MARIE STAIR
Assistant Stage Manager: JESSA NICOLE POLLACK
Fight Director: TRAMPAS THOMPSON
Press Representative: DALE HELLER/HELLER HIGHWATER LLC

The Gym at Judson
243 Thompson Street
New York, NY 10012
(212) 352-3101 or www.WomenOfWill.com
April 13 through May 25, 2013

The Shakespearian ladies in his middle plays have a tough time of it. If they tell the truth, they end up murdered, insane, committing suicide, or a combination thereof. If they cross-dress and pass themselves off as men, they can tell the truth all they want and win in the end. It certainly doesn't seem fair, but that's life in the late sixteenth century.

Tina Packer and Nigel Gore start with "Twelfth Night", which they call "the perfect play." It is about love, not gender, a unisex romp. Viola, our heroine/hero, is fearless, poised, and mature from the first word she speaks and carries through to the end with success after success. The underground woman also features in "As You Like It", when Rosalind finds her voice after she sets herself free in the forest, dressed as a man.

Alas, the women in "Hamlet", "Othello", and "Measure for Measure" decide to stay in their frocks and tell the truth. Not a good idea. Ophelia loves Hamlet but is dominated by daddy. She speaks the truth when she goes mad. It doesn't do her any good. Othello's wife, the dainty Desdemona, sticks to the truth even as she is being strangled. Isabella in "Measure for Measure" is as cold as her words, hiding all her feelings under her nun's robes, telling the truth and sending her brother to a gruesome death.

Packer and Gore take the ball and run with it, as usual. She's plays a man, he plays a woman, and at one point they are playing all the roles, changing gender as needed. It is continuously entertaining and an acting tour-de-force.

-Karen D'Onofrio-
Sarah Hancock/Rosalind LLC
presents

WOMEN OF WILL: CHAOS IS COME AGAIN

Written by TINA PACKER
Directed by ERIC TUCKER

Starring
TINA PACKER & NIGEL GORE

Scenic & Costume Design: VALERIE THERESE BART
Lighting Design: LES DICKERT
Sound Design: DANIEL KLUGER
Production Stage Manager: KATHARINE WHITNEY
Scenic Assistant & Props Mistress: DEDE AYITE
Costume Assistant: KRISTIN FIEBIG
Assistant Lighting Designer: DANTE OLIVIA SMITH
Assistant Sound Designer: ERIK T. LAWSON
Draper/Costumer: MARIE STAIR
Assistant Stage Manager: JESSA NICOLE POLLACK
Fight Director: TRAMPAS THOMPSON
Press Representative: DALE HELLER/HELLER HIGHWATER LLC

The Gym at Judson
243 Thompson Street
New York, NY 10012
(212) 352-3101 or www.WomenOfWill.com
April 14 through May 26, 2013

This production, covering the fourth period of Shakespeare's writing, is as dark as its title indicates. "Coriolanus", "King Lear", and "Macbeth" have no cheery passages to lift our spirits. The women in these plays want to dominate, with no consideration for collateral damage. In short, they think and act like men. Shakespeare's mother died during these years, and he had been in London for a long time. Perhaps he had become jaded. In these plays, all is war, blood, control, death, and madness.

In "Coriolanus", mother rules son, and hopes, through him, to rule Rome. She uses every ploy and threat in her arsenal to shove her son upward through the ranks of power. That he is unhappy or may be killed does not bother her in the least. Overwhelmed by his mother's coercion, he does her bidding and dare not defy her. She wields a verbal power far beyond that of mere swords of steel.

King Lear's two elder daughters make their power-grab with both hands, then abandon their father to the wind and the rain and madness. Lady Macbeth, with possibly the world's worst case of post-partum depression, decides her husband might be just too nice a guy to do all the murders needed to clear his way to kingship. She gives him all the push he needs, and more.

Tina Packer and Nigel Gore take these characters to the limit. Gore gets to play a female in some scenes, wrapping a skirt around his waist, while Packer dons her male garb to give as good as she/he gets. Scenes are alternated with what Packer terms "dramatic discourse", where she and Gore comment on Shakespeare's personal life and the history of the time.

This production is not about women for women. It is about Shakespeare for everyone. No entrance exam required, just an interest in being entertained by two great actors.

-Karen D'Onofrio-

Sarah Hancock/Rosalind LLC
presents

WOMEN OF WILL: THE SEXUAL MERGES WITH THE SPIRITUAL

Written by TINA PACKER
Directed by ERIC TUCKER

Starring
TINA PACKER & NIGEL GORE

Scenic & Costume Design: VALERIE THERESE BART
Lighting Design: LES DICKERT
Sound Design: DANIEL KLUGER
Production Stage Manager: KATHARINE WHITNEY
Scenic Assistant & Props Mistress: DEDE AYITE
Costume Assistant: KRISTIN FIEBIG
Assistant Lighting Designer: DANTE OLIVIA SMITH
Assistant Sound Designer: ERIK T. LAWSON
Draper/Costumer: MARIE STAIR
Assistant Stage Manager: JESSA NICOLE POLLACK
Fight Director: TRAMPAS THOMPSON
Press Representative: DALE HELLER/HELLER HIGHWATER LLC

The Gym at Judson
243 Thompson Street
New York, NY 10012
(212) 352-3101 or www.WomenOfWill.com
April 13 through May 25, 2013

Tina Packer rocks the theater with her explosive exploration of Shakespeare's women. In this production she probes the powerful mix of sexuality, power, and spiritual union that occurred when Shakespeare began to "inhabit" his women, not just write about them. If you think you know Shakespeare, you will still be surprised. If you know nothing about Shakespeare, you will still be entertained.

In "Romeo and Juliet", Shakespeare's women begin to acquire new depth. The relationships between men and women now weave sexuality into an intensely spiritual journey. The balance of power has shifted. Women get equal billing: Juliet in the title with Romeo, Cleopatra with Antony, Cressida with Troilus. In Antony and Cleopatra we see the ultimate Power Couple forsaking it all for love.

Above all, Shakespeare shows the audience that love takes courage, and that courage is enhanced by love. Tina Packer goes from character to character, between roles explaining her interpretations and highlighting incidents in Shakespeare's personal life that may have influenced his works. Nigel Gore flexes his formidable acting muscles portraying the love-struck Romeo, the besotted Antony, the spiritually detached Troilus. Gore chimes in with his own comments, adding to fun. Yes, fun. This is not your high school English class. It is lively and enjoyable theatrical experience.

-Karen D'Onofrio-
Manhattan Repertory Theatre
www.manhattanrep.com
In association with Theatre 68 Presents

SETTLING DOWN

By ALAN BRAUNSTEIN

Featuring

ALAN BRAUNSTEIN. MARIEL MATERO
ALAINA FREEMAN, MARK PERRONE, MARION LeCOGUIC, MARK KOPAS
TOM CARROZZA, PAULA JESSOP, BIANCO SOTO, JENNY HOOFNAGLE

Directed by RONNIE MARMO
Asst. Director/Stage Manager: ISABELLE PIERRE
Lighting Design: CHRISTINA ROBINSON & KELLEY FINN

Manhattan Repertory Theatre
303 West 42nd Street (corner of Eighth Avenue), 6th Floor
Email: mrtreserve@gmail.com
04/10 @ 7:45 PM; 04/12 @ 7:45 PM; 04/13 @ 3:15 PM; 04/17 @ 4 PM


In Alan Braunstein's SETTLING DOWN Jerry (Braunstein) and Susan (Mariel Matero) have become engaged after a five-year courtship. And on the surface that's a good thing but Jerry is having a little trouble committing. There are a few things standing in his way: Susan's semi-psycho gun-toting brother (Mark Kopas), his mundanely married friend Norman (Tom Carrozza), his drinking buddy who is now attempting sobriety (Mark Perrone), a nude photographer/temptress (Marion LeCoguic), and the fact that Jerry has an unfulfilled dream of being James Bond. And in Susan's corner we have her long-time friend (Alaina Freeman), Norman's suburban wife (Paula Jessop), Priest and Judge Julia (Bianca Soto), and an eager real estate agent (Jenny Hoofnagle). These characters are all gems with their own distinct bugaboos, and this is one talented cast.

SETTLING DOWN is chock full of clever lines, tongue-in-cheek humor, and everyday situations that teeter on the border of preposterous, all making for an entertaining venture. Director Ronnie Marmo keeps the pace brisk and Braunstein, while getting the most out of every scene, has posed some serious questions about satisfaction, reality vs. fantasy, and must one really settle when SETTLING DOWN? While you figure out the answers, you're sure to have some fun.

- Laurie Lawson -
Sarah Hancock/Rosalind LLC
presents

WOMEN OF WILL: THE WARRIOR WOMEN

Written by TINA PACKER
Directed by ERIC TUCKER

Starring
TINA PACKER & NIGEL GORE

Scenic & Costume Design: VALERIE THERESE BART
Lighting Design: LES DICKERT
Sound Design: DANIEL KLUGER
Production Stage Manager: KATHARINE WHITNEY
Scenic Assistant & Props Mistress: DEDE AYITE
Costume Assistant: KRISTIN FIEBIG
Assistant Lighting Designer: DANTE OLIVIA SMITH
Assistant Sound Designer: ERIK T. LAWSON
Draper/Costumer: MARIE STAIR
Assistant Stage Manager: JESSA NICOLE POLLACK
Fight Director: TRAMPAS THOMPSON
Press Representative: DALE HELLER/HELLER HIGHWATER LLC

The Gym at Judson
243 Thompson Street
New York, NY 10012
(212) 352-3101 or www.WomenOfWill.com
April 12 through May 24, 2013

Even if you manage to grab Toto and make it to the storm cellar, you will be blown away by Tina Packer. Just surrender and enjoy.

This production highlights what Packer dubs the "warrior women", a type exemplified in Shakespeare's first seven plays. Subtitled "from violence to negotiation", the performance arcs through ladies who use their feminine wiles to survive in a man's world, but who are often quite prepared to wield a sword if necessary. These women are the seedlings of the female characters developed more deeply in Shakespeare's later works.

There is no need to "know Shakespeare" before attending. Packer explains it all as she goes along. It's not a lecture. Her energy and enthusiasm are contagious. Award-winning actor Nigel Gore plays her lover, king, friend, or enemy with dynamic force as they move from character to character, play to play.

Trapped in an era when a woman's only weapon was Cupid's bow and all she could wield were words, Shakespeare managed to show through historic and fictional female characters the warrior lurking within. It is awesome to behold.

-Karen D'Onofrio-
The Apothecary Theatre Company presents

HOW I LEARNED TO BECOME A SUPERHERO

By DENNIS FLANAGAN

Starring

GWYNNETH BENSEN, CURRAN CONNOR, MARA GANNON
ZACK GRIFFITHS, SEAN LOGAN, ROBERT MANNIING JR.
CHRISTIAN NORRIS, CHRISTOPHER SEARS, CARRIE WATT

Directed by CHRIS KLINGER
Lighting Design by LIBBY JENSEN
Original Music by TIM GILES
Costume Design by GINA SCARNATI
Set Design by HARRY O'GANAN
Production Stage Manager: PAIGE STROTHMANN

Gloria Maddox Theatre at T. Schreiber Studios
151 West 26th Street (between Seventh & Sixth Avenues), 7th Floor
www.apothecarytheatrecompany.org
April 4th -27th; Opening Night 04/07/13


The Apothecary Theatre Company is here to tell you that it's not easy being a Superhero. In their original play HOW I LEARNED TO BECOME A SUPERHERO you follow the lives of three individuals who have suffered great pain and loss. Guardian Angel seeks revenge for the brutal death of her sister, Hope attempts to bring salvation to those who have fallen down on their luck, and Safety Pilot, urged on by his large sidekick, is obsessed with fighting crime. It seems in order to be a superhero you had to have needed a superhero at one time in your life.

Creativity and originality run rampant in this production. Simplistic and multifaceted sets designed by Harry O'Ganan include cardboard boxes, cotton balls, and bedpans. Yellow underpants and muscle tee-shirts easily create superheroes (costumes by Gina Scarnati), while lighting effects by Libby Jensen convince you there are lethal fights occurring on stage. And the acting is sublime. The cast takes on some of the strangest characters with utmost glee.

Playwright Dennis Flanagan has fully loaded HOW I LEARNED TO BECOME A SUPERHERO with over-the-edge humor, and director Chris Klinger keeps the pace fast and furious. The lines between fantasy and reality crash and clash, blur and blend, fueled by the past and maintained by hopes of a better future. Suspend your need to understand what is going on at all times, and enjoy this imaginative masterpiece.

- Laurie Lawson -
The Interart Theatre Development Series
presents the Blessed Unrest production of

EURYDICE'S DREAM

Directed & Choreographed by JESSICA BURR
Text by TEDDY JEFFERSON & MATT OPATRNY

Featuring
ANDREW DAHL, MARCO DE ORNELLA, JASON GRIFFIN, TATYANA KOT,
DARRELL STOKES, SONIA VILLANI, & JESSIKA D WILLIAMS

Production Stage Manager: JAIMIE VAN DYKE
Lighting and Set Designer: BENJAMIN C. GEVELOW
Costume Designer: SUMMER LEE JACK
Sound Designer: DAMEN SCRANTON with JAIMIE VAN DYKE
Sound Engineer: RICH JOHNSON
Press Representative: DALE HELLER/HELLER HIGHWATER LLC

The Interart Theatre
500 West 52nd Street
Second Floor
New York, NY 10019
(646) 238-0829 or www.blessedunrest.org
April 1 through April 22, 2013

Blessed Unrest calls itself "theatre for the adventurous", and this production is outstandingly adventurous. Based on the Greek myth of Echo and Narcissus combined with that of Orpheus and Eurydice, the ensemble bends, twists, and slams the story into a trippy stream-of-consciousness pagan spree.

Ethereal modern dance and Cirque-du-Soleil-worthy body movement clash dramatically with unrestrained violent physicality in this hyper-reality interpretation of men, women, and gods. Love can be beautiful, then turn deadly at a moment's notice. Fate is cruel indeed.

It all happens in a timeless place and a placeless time. This lesson about trying to possess the unattainable is given unrestrained interpretation as a thrashing dream. The audience can take away their own understanding of what they have seen. After all, dreams come alive only in the mind of the dreamer.

-Karen D'Onofrio-
Ego Actus
www.egoactus.com
Presents
I KNOW WHAT BOYS WANT
By PENNY JACKSON

March 28 – April 13, 2013

WorkShop Theater
312 W. 36th Street, 4th Fl., NYC
Tickets: IKnowWhatBoysWant@brownpapertickets.com

Directed by JOAN KANE
Sets by STARLET JACOBS
Costumes by CAT FISHER
Lights by BRUCE A! KRAEMER
Sound by IAN WEHRLE
Stage Manager KIM MARIE JONES
Fight Choreographer ANDREW KENNETH MOSS
Press Representative SCOTTI RHODES

Cast
Sara Hogrefe, Dara O' Brien, Janice Amano, Kimberly Diamond,
Lauren D. Salvo, Liam Rhodes, Teddy Lytle and Nick Vennekotter

Penny Jackson's I KNOW WHAT BOYS WANT is a dramatic work that could have been ripped from recent headlines, and certainly takes a look at aspects of modern society that probably will not go away any time soon. The play tells a tale that we have seen in the real world all too often of late. Drunk and/or drugged female in a vulnerable position at a party, with a person she trusts (or is too incoherent to know the difference) and at the mercy of the unnoticed attendee who has a phone with video-taking capability right in his pocket.

In this scenario, some exceptionally privileged high school students in New York City with lofty college dreams have their plans derailed after Vicky (Sara Hogrefe) and Roger (Liam Rhodes) are filmed having sex at a party by jealous classmate Oliver (Nick Vennekotter). The video, captured by phone, is uploaded in a series of scenes and quickly becomes viral on porn sites. Vicky's mother, Margaret (Dara O'Brien), is livid, the school is not supportive, and her friends Lin and Emma (Janice Amano and Kimberly Diamond) receive parental guidance to cut her off.

In I KNOW WHAT BOYS WANT Vicky is presented as an "it" girl surrounded by her ilk and the boys that find this requisite. As counterpoint, two students who are California transplants, Hannah (Lauren D. Salvo) and Ted (Teddy Lytle) act as both the moral compass and the social counterpoints to the "too cool for school" mentality that made the events at the party and the aftermath possible in the first place. What is never quite clear is what part, if any, Roger had in the plan to film at the party, if Vicky was drugged (and if so, by whom) and where Roger's loyalties really lie. At most points of the play, he is unlikeable, but Vennekotter's Oliver is the true villain and the actor plays his part with a smarmy, seedy sleaziness that makes Ms. Hogrefe's vengeance as Vicky seem just. Hannah and Ted, who both do not mind, even when it is uncomfortable, challenging their peers, remind the audience that all is not lost, and both characters do so in small but memorable ways.

While I KNOW WHAT BOYS WANT makes the point that once out there the material filmed will never go away, there is also a push from mom for Vicky to get the phone the video is on and destroy it, ostensibly to prevent any additional footage from being uploaded. This seemed an odd assumption, even in fiction, because my first thought was that anyone who would have the capacity to first film and then release such footage most certainly would have already saved it on a computer or a drive. So, the phone becomes more of a symbol as a target for destruction. This is evident from the moment entering the theater, as the stage sets by Starlet Jacobs have the events unfold beneath a virtual sky of suspended cells phones.

Overall, I KNOW WHAT BOYS WANT is thought-provoking and timely. Unfortunately, there are no solutions to putting it all out there and regretting it later.

- Kessa De Santis -
NAATCO
(National Asian American Theatre Company)
presents

A DREAM PLAY

By AUGUST STRINDBERG
Adapted by SUNG RNO & ANDREW PANG
Directed by ANDREW PANG

Featuring
JOJO GONZALEZ, TINA CHILIP, BRENT YOSHIKAMI, ESTON FUNG, DAVID SHIH,
SIHO ELLSMORE, SOPHIA SKILES, RICA de OCAMPO, ALEXIS CAMINS, & DAX VALDES

Set Design: JOSEPH LARK-RILEY
Lights: SARAH LURIE
Costumes: ALICE TAVENER
Sound Design & Composition: ALEX HAWTHORN
Choreographer: DAX VALDES
Production Stage Manager: ED HERMAN
Press Representation: SAM RUDY MEDIA RELATIONS

HERE
145 6th Avenue
(Enter on Dominick Street)
New York, NY 10013
(212) 352-3101 or www.here.org
March 27 through April 13, 2013

This adaptation of Strindberg's anguished play is a wonderful ensemble effort. Treading between the extremes of tragedy, comedy, and the surreal, the actors portray the endless repetition, fleeting joy, and aching of the soul that is life, or perhaps the dream of life. Past, present, future, illusion, apparitions, and spirits interweave in a place that does not exist and is ultimately beyond explanation. Yet we feel and can identify with the emotion and confusion of the characters as they seek confirmation of their very existence.

The ethereal daughter of a god is transported to earth via lightning bolt and velvet cloud. She wishes to experience life in this strange place. With help from a wise poet, she moves through our world. It is bleak, she finds. Every joy is balanced by a sorrow, every happiness is fleeting. The play contains biting social commentary on rich versus poor, the educated versus the laborer, the uselessness of the so-called justice system, and marital strife. But it also has a lightness in its many soft humorous touches and in the delicate interpretation given to the material by the actors.

Jojo Gonzalez and Tina Chilip are particularly engaging as the poet and the god's daughter. This is not to diminish the rest of the ensemble, who play multiple characters with ease and grace. A DREAM PLAY forces us to ponder some harsh realities, let leaves us content.

-Karen D'Onofrio-
Jeremy Handelman/Off The Leash Productions
In association with Joe Lavezzo presents

F#%KING UP EVERYTHING

Music and Lyrics by DAVID ERIC DAVIS
Book by SAM FORMAN & DAVID ERIC DAVIS
Directed & Choreographed by JEN WINEMAN
Orchestrations & Music Supervision by MATT HINKLEY

Featuring

LISA BIRNBAUM, DAWN CANTWELL, KATHERINE COZUMEL
MAX CRUMM, JASON GOTAY, GEORGE SALAZAR, DOUGLAS WIDICK

IRONIC MAIDEN
Keyboard & Guitar – ELI ZOLLER
Guitar – ADAM STOLER


Associate Producers: ENDELCLOCK PRODUCTIONS, CAP21
Music Director: ELI ZOLLER
Set & Prop Design: DEB O
Costume Design: MELISSA TRN
Lighting Design: JOEL E. SILVER
Sound Design: MIKE TRACEY
Puppet Design: DAVID VALENTINE
Casting Director: DARYL EISENBERG, CSA
Dramaturg: VIRGINIA SCOTT
General Manager: LISA DOZIER KING
Production Stage Manager: MARCI SKOLNICK
Assistant Stage Manager: SARA SAHIN
Production Manager: KEN LARSON
Press Representative: SPRINGER ASSOCIATES PR
Advertising: HOLT+HAWKINS
Marketing: RED RISING MARKETING

The Elektra Theatre
669 Eighth Avenue (between 42nd – 43rd Streets)
(866) 811-4111 or www.fuckingupeverything.com
March 15 – May 18; Opening Night – 03/24/13


Can a Brooklyn geek win the heart of a hot beautiful girl by being true to himself? Himself is a children's puppeteer named Christian Mohammed Schwartzelberg, endearingly portrayed by Max Crumm, and the fair lady is a ukulele-strumming Juliana (Katherine Cozumel). They are backed up and supported by an eclectic group of friends – rock star Jake (Jason Gotay), rock band groupie Ivy (Dawn Cantwell), guitar-playing Tony the Stoner (Douglas Widclick), sultry booking agent Arielle (Lisa Birnbaum) and a monosyllabic drummer (George Salazar). And the one rule for all these folks seems to be that once they start pretending they are something they are not, they begin F#%KING UP EVERYTHING.

This rock musical is far more amusing that I anticipated which is probably why it was such a sensation at the New York Musical Festival in 2009. In spite of some of the titles ("Me and My Bong," "Fuck-It List," and of course "Fucking Up Everything" to name a few), the music is pretty good and the lyrics are clever. One hundred minutes pass quickly, and you spend a great deal of the time laughing through them. The high-energy cast work hard to entertain you, and they succeed. Surprise yourself, and go see F#%CKING UP EVERYTHING.

- Laurie Lawson -
Manhattan Repertory Theatre Presents

A BROOKLYN LOVE STORY

Written and Performed by CHIARA MONTALTO
Initially developed with THERESA GAMBACORTA
Directed by RONNIE MARMO
Stage Manager: PAULA JESSOP
Production Stage Manager: DENISE CASTAGNA

Manhattan Repertory Theatre
303 Eighth Avenue (off 42nd Street)
03/17 @ 6 PM; 03/21 @ 7 PM; 03/23 @ 7 PM


I initially saw A BROOKLYN LOVE STORY under the name of Emergency Used Candles in 2010. A few things have changed. It has been shortened for one, and actually that is a shame because the characters playwright/performer Chiara Montalto creates are the kind with whom you quickly bond. In this one-woman tour-de-force, you enjoy spending as much time as possible with Chiara and her grandfather, along with a couple of potential love interests and neighborhood folks. What hasn't changed is the powerful punch this work packs. In loving tribute to an elderly man at the end of his life, your emotions will get a consummate workout. You'll laugh and you'll cry, and you will leave wishing you had the opportunity to meet the grandfather who inspired A BROOKLYN LOVE STORY.

- Laurie Lawson -
Obie Award-winning Wakka Wakka Production presents
The World Premiere of

SAGA

Written by KIRJAN WAAGE and GWENDOLYN WARNOCK

With assistance from the International SAGA ensemble
KIRJAN WAAGE (Norway)
ANDREA OSP KARLSDOTTIR (Iceland)
ANDREW MANJUCK (USA)
FERGUS J. WALSH (Ireland)
CONAN MAGEE (USA)

Directed by KIRJAN WAAGE and GWENDOLYN WARNOCK
Original Puppets by KIRJAN WAAGE
Original Masks by GWENDOLYN WARNOCK
Set Design: KIRJAN WAAGE and GWENDOLYN WARNOCK
Lighting Design: JAN ERIK SKARBY
Costume Design: GWENDOLYN WARNOCK
Sound Design: WAKKA WAKKA
Press Representative: DAVID GIBBS, DARR PUBLICITY

Baruch Performing Arts Center
55 Lexington Avenue (between Lexington & Third Avenues)
(866) 811-4111 or www.WakkaWakka.org
March 7th – April 14th; Opening Night – March 14, 2013


Creativity, thy name is Wakka Wakka! This Obie Award- winning and Drama Desk-nominated company has produced another amazing presentation with the world premiere of SAGA. Featuring original puppets by Kirjan Waage and masks by Gwendolyn Warnock, the story of Iceland's national bankruptcy (a new world record) is relayed through the crumbling life of Gunnar Oddmunson. Riding the crest of successful businessman with great hopes for the future, we watch Gunnar lose his home, his car, his wife, his son, and ultimately his sanity as revenge becomes his only salvation.

SAGA is a scathing commentary on current economic conditions and the roles that the banks played in this destruction. As far-reaching and devastating as the situation is world wide, you will marvel at this ingenious and artistic production. Appropriate for ages 16 and up, treat yourself to some fantastic theatre with this one.
- Laurie Lawson -
Urban Stages
Presents the World Premiere
of

HONKY

Written by Greg Kalleres
Directed by Luke Harlan
Sound Design: Brandon Walcott
Set Design: Roman Tararowicz
Costume Design: Sarah Thea Swafford
Lighting Design: Miriam Nilofa Crowe
Stage Manager: Brian D. Gold

Feauturing: Scott Barrow, Philip Callen, Dave Droxler, Danielle Faitelson, Anthony Gaskins, Chris Myers, Reynaldo Piniella, Arie Bianca Thompson

Press Representative: Springer Associates PR

Urban Stages
259 West 30th Street
r www.smarttix.com
March 8 – April 7, 2013
Tuesday – Saturday at 8pm; Sunday at 3pm
Saturday Matinees: March 23 and April 6 at 3pm
Holy Week Schedule: March 27 – March 30th at 8pm No performance March 26 or March 31.

In HONKY, the lives of five individuals are enveloped in the space between racism and commercialism. All end up sticking their foot in their mouths struggling to say the right thing and not sound racist. Several of them resort to taking a new drug that makes them color blind - and promises to end racism - with hilariously mixed reactions.

A white CEO at a sneaker company that appeals to black kids works on a marketing scheme to target white kids. His African American colleague develops the funky ethnic look, and a white colleague writes the ad. What ensues is a violent ad where young blacks kill each other for the sneakers, which then boosts sales to white kids. To the CEO, this is just business as usual, but his black colleague is mortified and irate, and his white colleague is guilt ridden and seeing a black female therapist, who is burned out from listening to white folk complain every day. Each character is transformed, either by the drug or the interplay. At one point, the CEO admits: "We're all part of the same infomercial, looking for the one thing that's not for sale".

The actors embody their roles quite well; the stage and projection onto the screens is clever and the dialogue uses humor to bring it all to light. This is the Quentin Tarantino of theater, and is anything but PC.

- Gloria Talamas -
LaMaMa
in association with The Faux-Real Theatre Company
presents

OEDIPUS REX XX/XY

Translated by ROBERT FAGLES
Directed by MARK GREENFIELD

Featuring
STEPHANIE REGINA, TONY NAUMOVSKI, JUSTIN DOBIES, GÖKÇEN GÖKÇEBAG,
MATT KETAI, ARA MORTON, JY MURPHY, AIDAN NELSON, JASON SCOTT QUINN,
ALEJANDRO SANTONI, DORIAN SHORTS, MANUEL SIMONS,
ALEX KRYGER, & DEREK ROBERT SMITH

Assistant Director: ALESSANDRA DeMEO
Masks/Puppets/Backdrops: LYNDA WHITE
Costume Design: IRINA GETS
Lighting Design: KOBUN KALUZA
Musical Director: TONY NAUMOVSKI
Stage Manager: ABBEY BAY
Dramaturge: AARON POOCHIGIAN
Press Representative: DALE HELLER, HELLER HIGHWATER LLC
Musicians: JIM GALBRAITH, ALLISON LINKER, TOM SWIRLY,
JEFF WOOD, & MARI YAMAMOTO

LaMama First Floor Theatre
74A East 4th Street
New York, NY 10003
(212) 475-7710 or www.LaMaMa.org
March 7 through March 24, 2013

Enter the world of Greek theater, 429 B.C. Sort of. The Faux-Real Theatre Company just could not resist bending some already bent genders and juicing up the story. (You will understand if you attend and get there early.) What do you expect from the group that created the play "Htebcam" (Macbeth backwards)?

Oedipus is the hero-turned-villain who unknowingly kills his father, then marries his mother. He has the sad but classic fate of being his own downfall. His quest for truth, usually a noble mission, leads to bloodshed, madness, and ruin. It all comes to pass as foretold by the prophet at his birth.

This production combines humor with tragedy, and succeeds at both. Sex, power, violence, and incest made horrifying-yet-comic is no small feat. Faux-Real pulls it off beautifully. The performance of Tony Naumovski as Jocasta is in itself worth the visit. A masterful blend of ancient and modern, OEDIPUS XX-XY holds several surprises for the audience, all of them wonderful.

--Karen D'Onofrio--
Personal Space Theatrics
Presents

rogerandtom

Written by Julien Schwab
Directed by Nicholas Cotz
Sound Design: Chris Rummel
Set Design: David Esler
Costume Design: Holly Rihn
Lighting Design: Nastassia Jimenez

Feauturing: Suzy Jane Hunt, Eric T. Miller, Jonathan Tindle

Press Representative: Heller Highwater, LLC

SubletSeries@HERE
Dorothy B Williams Theatre at HERE
145 6th Avenue, (enter on Dominick)
http://www.personalspacetheatrics.org/
March 1 – 23, 2013
Mondays, Tuesdays and Thursdays through Saturdays at 7pm.


This play within a play is about actors who embody their characters so fully that the lines become blurred on what is real and what is imagined.

It all begins as a simple production. The stage is an outline of a small apartment, with string and tape defining the walls and floors. Even the bed is "Hobbit-size". Penny and William are breaking up. Penny wants her two brothers – Roger and Tom - to mend fences. Tom has a play he is staging that evening. Penny convinces Roger to see Tom's new play. Roger is resentful that Tom's way of communicating with him is by writing plays about him.

Roger is introduced when we hear a cell phone ringing. It is Penny calling Roger who is seated in the audience watching the play. Roger then enters the stage to play his part, albeit reluctantly. This is where it deconstructs.

Penny convinces William to play along with a scheme she concocts. But it is William who runs with the joke convincing Roger and Penny that what they believe is not real, and plays them against one another. This is where the meat of the play lies.

Roger is Tom or is he not? William is Richard or is he not? Penny is Penny, but is she Tom or Roger's sister?

This is an engaging and provoking hour of theatre that makes us aware of how we can, at times, so steadfastly form convictions. It is art imitating life imitating art. The actors deliver solid performances, and appear to be making the play up as they go along. The end of the play then wraps around to the beginning to add another layer in this convoluted story. You may leave feeling like someone just played with your mind.

- Gloria Talamas -
The Oberon Theatre Ensemble
with generous support from CAMEO and New England Wealth Strategies
presents

THE DRAWER BOY

Written by Michael Healey
Directed by Alexander Dinelaris
Stage Manager: Jenna Lazar
Scenic Designer: Rebecca Lord-Surratt
Lighting Designer: Amith Chandrashaker
Sound Designer/Composer: Nick Moore

Featuring: Alex Fast, Brad Fryman, William Laney

Press Representative: Heller Highwater, LLC

The Abingdon Theatre Arts Complex
312 West 36th Street
March 1 – 23rd
Wednesday through Saturdays at 8pm, Sundays at 3pm (no performance Sunday March 17th)

Angus and Morgan are farmers barely eking out a living on their rural Canadian farm. Angus cannot remember anything from one second to the next. When Miles, a young actor from the city, shows up on the farm to gain material for a play, Angus keeps asking him who he is. Once Miles discovers their secrets and stages a reading of the play, it infuriates Morgan. But the play transforms Angus. His memory is awakened; he now remembers Miles, and the past comes back to haunt him. He learns that he is THE DRAWER BOY who drew up plans for homes that were never built and loves that were lost. The story used by Miles in his play was fabricated by Morgan to hide their pain. Morgan must now reveal what really happened, as a now very angry Angus demands it.

All three men are well cast. Angus' role is part comical and part tragic. Miles is a nuisance, but he grows on you. And Morgan is the stoic, responsible type who is resigned to a tough and lonely existence taking care of his friend. And as he tells Miles, "it's an emotional roller coaster".

The male bond between Angus and Morgan in THE DRAWER BOY brings to mind the relationship between Lennie and George in Of Mice and Men. Angus, like Lennie, is a lumbering sort and mentally impaired. George, like Morgan, is his friend's fierce protector. Morgan and George both retell stories that are soothing to Angus and Lennie.

THE DRAWER BOY underscores the influence of storytelling vs. reality. It touched the hearts of all who have ever loved and cared for an unfortunate soul. The audience was visibly moved.

Gloria Talamas
LRP Presents

CANDY TASTES NICE

Written and Performed by Miranda Huba
Directed by Shannon Sindelar
Production Manager: A.P. Andrews
Sound Design: Erik T. Lawson
Costume Design: Grace Trimble
Press Representative: Heller Highwater LLC

Madame X
94 Houston Street, 2nd Floor
http://www.CandyTastesNiceNYC.com/
February 26 – March 23, 2013
Tuesdays and Saturdays at 8pm

CANDY TASTES NICE tells of a young woman's quest to repay her student loans. She decides to auction off her virginity, and realizes she is holding a prize possession. After receiving her certificate of virginity from a perverse doctor, she finds a pimp who will help her manage the auction.

Many years pass as she and her pimp build interest and momentum for the auction. However, she is now aging and sagging and having bizarre sexual dreams. She is ready to get herself to the auction block and persuades her pimp that it is time. The auction goes global with bidders of all sorts and for all reasons. The billion-dollar payoff is as bizarre as the premise fueled by media frenzy.

This rendition of sexual obsession and business as usual, appropriately staged at this red-velvet, bordello style lounge, reveals our nonchalant attitude towards women's exploitation and a screwy view of sexuality.

- Gloria Talamas -
The 4th Street Theatre
presents

THE PLAY ABOUT THE COACH

Written & Performed by PADEN FALLIS

Directed by TAMARA FISCH

Scenic Design: TIM McMATH
Lighting Design: GILLIAN WOLPERT
Sound Design: GENNARO MARLETTA
Production Manager: TZIPORA KAPLAN
Stage Manager: MICHAEL JOSEPH ORMOND
Publicity: DAVID GIBBS/DARR PUBLICITY

The 4th Street Theater
83 East 4th Street
New York, NY
February 27 through March 17, 2013
(212) 868-4444 or www.SmartTix.com


THE PLAY ABOUT THE COACH is a one-man effort that takes the audience into the final minutes of a high stakes basketball game. We never see a player, a ref, or the crowd. Through the eyes of a desperate man we see his team and very possibly his reputation on the verge of disaster. Coinciding with the NCAA's March Madness, this is no feel-good production. It is anger, fear, and desperation as the clock ticks away the minutes, then the seconds.

The coach goes head-to-head with a backstabbing assistant, a gifted adversary, a God-like referee, and the mysterious caller who keeps phoning his mobile. He realizes that three minutes can be a lifetime, can define a lifetime, can end a career.

PADEN FALLIS captures the energy of courtside as he rants, laughs, quotes Shakespeare, and sweats out each moment of what may be his final game.

-Karen D'Onofrio-
The Strawberry Theater Festival
presents

THE LIGHT IN THE REFRIGERATOR

Written by LAURA ZLATOS
Directed by FRANCESCA MANTANI ARKUS
Produced by AARON SIMMS

Featuring
MARK ELLMORE, RON KAGAN, JOSYLN JENSON,
& MICHAEL PERRIE, JR.

Stage Management: CAROLINE WATTERS
Light Design: MICHAEL McGEE
Set Design: SHANA SOLOMON

Hudson Guild Theater
441 West 26th Street
New York, NY 10001
February 27 through March 9, 2013
(646) 623-3488 or www.therianttheatre.com

THE LIGHT IN THE REFRIGERATOR is death anxiety made humorous, as Ned gets the dreaded diagnosis and sets about planning his future or lack thereof. He finds that he has decisions to make. Who knew death would be so complicated? The up side of his doom is living life to the fullest while it lasts. The down side is having to deal with the practicalities of the event. As he plans his last words and searches for the perfect gravesite, he is torn between fear of death, love of life, and the uncertain territory that lies between the two.

Much of the dialogue is wordplay among the characters. Contradictions contradict contradictions, keeping the characters and the audience on the edge of uncertainty at every turn. Solving the mystery of the light in the refrigerator may reveal all.

This play is part of The Strawberry Theatre Festival's twenty-third season. The festival presents 30 plays in 12 days, featuring 20 one-act plays and 10 full-length plays, all at the Hudson Guild Theater.

-Karen D'Onofrio-

The Shelter
presents

GHOST LIGHT
A Bare Stage, A Single Light, Six Original Plays

MAKE LOVE WITH THE LIGHT ON
Written by BOB KOLSBY
Directed by BETH JASTROCH
Featuring: KATELYN COLLINS & ANDY HASSELL


SCHUHPLATTLER
Written by MEGHAN E. JONES
Directed by LILY ROBBINS
Featuring: STEPHANIE RINGSTAFF & MICHAEL BERNSTEIN

THE FLY SPACE
Written by BETH JASTROCH
Directed by MICHAEL KINGSBAKER
Featuring: NICK STEVENS, DANIELLE BECKMANN, & IAN BELL

SEEN
Written by DAVE LANKFORD
Directed by MEGHAN E. JONES
Featuring: LAWRENCE CRIMLIS & MORGAN McGUIRE

ON WITH THE SHOW
Written by MICHAEL SEAN McGUINNESS
Directed by OLIVIA KILLINGSWORTH
Featuring: MAIKEN WIESE, LOREN DUNN, & AUBREY BALL

INGREDIENTS FOR LOVE
Written by MICHAEL KINGSBAKER
Directed by IAN BELL
Featuring: STEPHEN ALAN WILSON

Piano: ANDY EVAN COHEN
Vocals: OLIVIA KILLINGSWORTH
Sound Design: ANDY EVAN COHEN
Lighting Design: JAKE FINE
Associate Scenic Designer: BRANDON HARDY
Makeup Design: LISA FORST
Costume Design: CHARLOTTE LILY GASPARD
Publicist: DALE HELLER/HELLER HIGHWATER LLC

The Gloria Maddox Theatre
151 West 26th Street
7th Floor
New York, NY 10001
February 21 through March 3, 2013
www.theshelternyc.org/ghostlight

These six plays certainly make for an entertaining evening. All are based on the struggle between light and darkness, whether in the theater or in the heart. The minimalistic setup, with a single light hung above a bare stage, establishes the tone. Some are richly endowed with humor, some more intensely dramatic. The writing is clever, succinct, and engaging, and the actors carry it all off with talent and charm.

The title refers to the "ghost light" traditionally left lit on stage when a theater is unoccupied. It is unclear if this is from superstition, or a safety issue. These plays take the superstition idea and run with it, resulting in stories both intriguing and sometimes Halloween-scary.
Do not attend if you are afraid of the dark.

MAKE LOVE WITH THE LIGHT ON makes the most of the "ghost light" superstition. Two young lovers in an abandoned theater. What could go wrong? Wait and see.

SCHUHPLATTLER is more mysterious. A young and obviously injured girl sits on her lonely cot and talks of travelling the world. The bare light is all she has for company. It may be best that way.

In the comedic romp THE FLY SPACE, a backstage theater tech meets his match and is inspired to live out his dreams, much to the confusion of his hapless assistant.

SEEN takes us back to drama with the struggle of a blind man to face his past, present, and future. He has lost the light in so many ways, and fights against any attempt to help him.

ON WITH THE SHOW leads to more shivers in the dark when a woman tries to conjure up spirits and make them do her bidding. While her attempts are humorous, the results are not.

Saving the best for last, INGREDIENTS FOR LOVE is a delicious piece of writing and a superlative performance by Stephen Alan Wilson. He carries a lovely wrapped gift box for the audience and presents it in an endearing yet shocking way. Wilson communicates every nuance of the writing, whether friendly, funny, kind, mysterious, or something else entirely. It is a treat to watch his performance.

-Karen D'Onofrio-
Living Room Theater Presents

PRETTY LITTLE MOUTH

Written and Directed by MARCUS YI
Presented by John Chatterton's Short Play Midwinter Madness Festival

Featuring

TIFFANY TERRELL and BRIAN KNOEBEL
DANIELLE MA, KAITLIN STERN, MOLLY GRACE BYRNES

Assistant Director/Stage Manager: SONIA NAM
Production Assistant: RICHARD GLUCKSBERG

Roy Arias Stage II
300 West 43rd Street (off Eighth Avenue)
(212) 868-4444 or http://www.smarttix.com/show.aspx?showcode=PRE37
02/18 @ 6 PM; 02/21 @ 7:15 PM; 02/23 @ 2 PM

Emily (Tiffany Terrell) has a pretty little mouth, a past full of dark secrets, and a promising future with her husband who may soon become mayor. Fifteen-year-old John (Brian Knoebel) is infatuated with Emily and has discovered the perfect way to woo her – blackmail. As the "relationship" progresses and Emily becomes more frustrated with the current balance of power, her friend from the past (Danielle Ma) reminds her of the talents upon which she used to rely. As the plot darkens, the story line is punctuated throughout with the exotic dancing of dominatrix fly girls (Ma, Kaitlin Stern, Molly Grace Byrnes). Marcus Yi's dark comedy PRETTY LITTLE MOUTH reminds, and perhaps warns, us that not all that comes from a shapely mouth is pretty.

- Laurie Lawson -
The Attic Theater Company Presents
www.theattictheaterco.com

THE MNEMONIST OF DUTCHESS COUNTY
By JOSH KOENIGSBERG

Featuring

AVA EISENSON, AARON COSTA GANIS, MALCOLM MADERA
JESSICA VARLEY, HENRY VICK, BRIT WHITTLE, KATHRYN KATES

Directed by LAURA SAVIA
Scenic Designer: JULIA NOULIN-MERAT
Costume Designer: TRAVIS CHINICK
Lighting Designer: DAVE UPTON
Sound Designer: STOWE NELSON
Properties Designer: KELLY KUYKENDALL
Casting Director/Company Manager: LEXIE PREGOSIN
Production Stage Manager: KATIE KAVETT

The Beckett Theater @ Theater Row
410 West 42nd Street (between Ninth & Tenth Avenues)
(212) 239-6200 or www.telecharge.com
February 8 – March 2; Opening Night – 02/13/13

A mnemonist is defined as an individual with the ability to remember and recall unusually long lists of data, such as unfamiliar names, lists of numbers, entries in books, etc. This is Milo's (Henry Vick) "problem" according to his best friend Joey (Malcolm Madera) or his "gift" according to psychiatrist Dr. Hulie (Brit Whittle). In THE MNEMONIST OF DUTCHESS COUNTY playwright Josh Koenigsberg superbly portrays both sides of this ability.

As the action moves from a seedy bar in Dutchess County to a psychiatrist's office on campus and on to small performance stages in various locations, thanks to fantastic Scenic Designer Julia Noulin-Merat, Milo struggles to control his talents and win the heart of bar-owner Gina (Ava Eisenson). Along the way he inadvertently destroys the future of student Samantha (Jessica Varley) with his ability to recall tiny details, as the lovable scoundrel Tito (Aaron Costa Ganis) finds a way to create a mutually-beneficial career for the man who forgets nothing.

THE MNEMONIST OF DUTCHESS COUNTY is full of endearing characters slightly on the edge. Together they share a rich story full of humor, a touch of pathos, the universal theme of fitting in, and of course love. Kudos to the gifted cast that breathes life into this work and to Director Laura Savia who manages to keep the plot moving and cohesive. The result is a totally entertaining event.

- Laurie Lawson -
Workshop Theatre Company
Presents

LIGHTNING FROM HEAVEN

Written by Scott C. Sickles
Directed by Thomas Coté
Lighting Design: Diana Duecker
Set Design: Craig Napoliello
Sound Design: Ryan Lee
Costume Design: Joanie Schumacher
Stage Manager: Jason Healy
Press Representative: KampFIRE Films PR

The Main Stage Theatre
312 West 36th Street, 4th Floor
www.workshoptheater.org
February 14 – March 9, 2013
Thursdays, 7pm; Fridays and Saturdays, 8pm; Sundays, 3pm; Monday, March 4, 7pm

When Doctor Zhivago first hit the big screen, we became obsessed with the movie's deeply beautiful, yet tragic love story and its haunting epic music. Yet most people know little about the author of Zhivago, Boris Pasternak, and his editor, Olga Ivinskaya, whose search for artistic expression in Soviet Russia, in the middle part of the 20th century, inspired the characters of Yuri Zhivago and Lara.

In LIGHTNING FROM HEAVEN, a biographical take on the author and his muse, the writer states….."it is not documentarian….it serves as a framework to explore the nature of inspiration in a society steeped in oppression". Boris and Olga's Russia was just that.

Boris and Olga lived during extraordinary times living extraordinary lives, while struggling to finish his masterpiece and get it published. Their lives as artists were especially difficult under Stalin's rule, which prohibited what could be written and read. Doctor Zhivago was first published in Italy, as the play details, since no Russian publisher would touch it. In a heated moment, Boris exclaims: "This is my love letter to Russia, and she's returning it unopened!"

Boris was somewhat untouchable by the KGB with his worldly stature, and protection from his wife's family, but Olga was alone and defenseless. She was sent to prison twice, once while Boris was alive and again after his death. The play centers on the interrogations during her prison sentences, with flashbacks to her time with Boris. She is being asked to denounce Pasternak and his book, but she will not betray him, despite her and her daughter's imprisonment in hard labor camps.

The KGB and Soviet regime believe the novel was a slander on Russia. Ironically, Pasternak's tale is full of love for his country, yet speaks truthfully about the oppression they lived under. His love is so strong for both Russia and Olga that he turns down the Nobel Prize, as accepting it would mean exile.

LIGHTNING FROM HEAVEN makes you want to delve deeper into the lives of Pasternak and Ivinskaya, revisit the book, and fall in love again with their struggle for freedom.

- Gloria Talamas -
Fault Line Theatre presents

FROM WHITE PLAINS

Directed by MICHAEL PERLMAN
Written by MICHAEL PERLMAN
With
CRAIG WESLEY DIVINO, KARL GREGORY, JIMMY KING and AARON ROSSINI

Featuring
CRAIG WESLEY DIVINO, KARL GREGORY, JIMMY KING and AARON ROSSINI

Stage Managed by BROOKE REDLER
Set Design: TRISTAN JEFFERS
Lighting Design: JOHN ECKERT
Costume Design: JESSICA SHAY
Assistant Costume Design: ASHLEY ROSE HORTON
Sound Design: CHAD RAINES
Assistant Directory: JOHN BEZARD
Graphic Design: MANDI O'BRIEN
Development Consultant: DIANA BIURSKI
Line Producer: MELANIE HOPKINS
Production Manager: JAMIE STEFFEN
Press Representative: DALE HELLER

The Studio Theatre
At the Pershing Square Signature Center
480 West 42nd Street (between Ninth & Tenth Avenues)
(212) 279-4200 or www.ticketcentral.com
February 8 – March 9; Opening Night – 02/14/13

Michael Perlman's FROM WHITE PLAINS should be mandatory watching for every high school (maybe even elementary) student in America. Together with his fantastic ensemble cast (Craig Wesley Divino, Karl Gregory, Jimmy King, Aaron Rossini), he has come up with a heartbreakingly honest portrayal of the effects of bullying. In this multi-faceted rendition, he lays forth the raw emotions – fear, shame, pain, denial, anger – of the bullied, as well as the thoughtlessness and mean spirit of the bully himself.

A former bully is called to task for his past offenses against a gay schoolmate who committed suicide. As he suddenly becomes the one bullied when his actions are made known, he attempts to take responsibility for his past actions. But how do you un-ring a bell? As the four men, both gay and straight, are swept up in the action, they grapple with memories from the past, present-day predicaments, and the question of how to move on to the future.

If you think this has nothing to do with you, you haven't heard Gregory deliver his frighteningly powerful statement on the long-lasting consequences of bullying. Michael Perlman and the sublime cast of FROM WHITE PLAINS have given voice to this universal problem and managed to bring us all together by exposing the emotions and effects that never totally leave us. Brilliant! Don't miss this one.

- Laurie Lawson -
Blueprint Theater Project presents
www.BlueprintTheaterProject.org
The World Premiere of

THE HUMAN VARIATIONS

Written by DAVID ALEX ANDREJKO
In collaboration with The Human Variations Company

Featuring

MELISSA McNERNEY, KYLA DEICHT, COLE JOHNSTON, ZAC WALKER
SARAH KING, MOLLY GROOME, NICK HEPSOE, JILLIAN MASON

Directed by ELLEN ORENSTEIN
Assistant Director: JAMIE BILLINGS
Choreographer: ANNA DeMERS
Sound Design: TOBY JAQUAR ALGYA
Lighting design: DEVON BROWN
Company Manager: JASMINE MAHBOOB
Press Representative: HELLER HIGHWATER LLC, DALE HELLER

Red Roots Gallery
25 Central Park West (Corner of 62nd Street)
(212) 868-4444 or www.smarttix.com/Show.aspx?ShowCode=HUM2


David Alex Andrejko's THE HUMAN VARIATIONS takes place at a photography exhibition of the work of Abby Verbosky. Audience members are encouraged to peruse the photography before and after the production, and free wine is available. Using the format of a symphony of four movements (Allegro, Largo, Scherzo and Rhondo), eight men and women interact, connect and disconnect, crash and burn, and rise again in a triumph of sorts, all the time with cell phones in hand or discreetly tucked away in a nearby pocket. In a modern-day world where verbal interaction is the least preferred form, it is a wonder that communication takes place at all. But this competent cast manages to convey how circumstances and spirits can be totally altered with the slightest modification in mood and receptivity. THE HUMAN VARIATIONS celebrates and sometimes laments the effectiveness and boundaries of face-to-face communication between people.

- Laurie Lawson -
The New Ohio Theatre
presents

THE PILO FAMILY CIRCUS

Adapted by MATT PELFREY
from the novel by Will Elliott

Directed by JOE TANTALO

Featuring
NICK PAGLINO, CHRIS CIPRIANO, DRE DAVIS, BRETT GLASS, LAWRENCE JANSEN, GREGORY KONOW, CRAIG PETERSON, MICHAEL SHIMKIN, JENNY STULBERG,
MICHAEL TRANZILLI, & JARROD ZAYAS

Lighting Design: MARUTI EVANS
Costume Design: ORLI NATIV
Sound Design: IEN DeNIO
Fight Choreography: RICK SORDELET
Choreography: MICHAEL BLACKMON & MAIYSHA CADE
Masks: BRENDAN TAY & THE PUPPET KITCHEN
Production Stage Manager: MEAGAN MILLER-McKEEVER
Dramaturg: CHRISTINA HURTADO-PIERSON
Press: DAVID GIBBS/DARR PUBLICITY

The New Ohio Theatre
154 Christopher Street
New York, NY 10014
(212) 868-4444 or www.NewOhioTheatre.org
February 6 through February 23, 2013

Perhaps you have dreamed of running away with the circus. This is not the play for you. In the PILO FAMILY CIRCUS, members are desperate to run away from the circus. And with good reason. It is a terrifying nightmare of scary clowns, freaky acrobats, and one very frightened young man named Jamie.

Jamie finds himself being dragged, confused and against his will, into the world of the clowns. They are recruiting him, and he has no choice but to join them. They are vicious, menacing, and extremely violent. I venture to say that there has never been a play with more shrill insane laughter from one cast.

Jamie doesn't know why they have targeted him. His questions go unanswered as the violence and abuse increase. He just wants to go home. That's not going to happen. They paint his face, and he becomes JJ the Clown, the most violent clown of them all. His struggle becomes internal: good Jamie versus evil JJ.

This is not a play for children. It grabs the rubber chicken of your mind and shakes it like crazy. Its conflicts mirror those of the real world. Freedom or enslavement? Redemption or damnation? Perhaps only the clowns know the answer.

--Karen D'Onofrio--
Sarah Hancock/Rosalind LLC
presents
the New York premiere of

WOMEN OF WILL

Written by TINA PACKER
Directed by ERIC TUCKER

Starring
TINA PACKER & NIGEL GORE

Scenic & Costume Design: VALERIE THERESE BART
Lighting Design: LES DICKERT
Sound Design: DANIEL KLUGER
Production Stage Manager: KATHARINE WHITNEY
Scenic Assistant & Props Mistress: DEDE AYITE
Costume Assistant: KRISTIN FIEBIG
Assistant Lighting Designer: DANTE OLIVIA SMITH
Assistant Sound Designer: ERIK T. LAWSON
Draper/Costumer: MARIE STAIR
Assistant Stage Manager: JESSA NICOLE POLLACK
Fight Director: TRAMPAS THOMPSON
Press Representative: DALE HELLER/HELLER HIGHWATER LLC

The Gym at Judson
243 Thompson Street
New York, NY 10012
(212) 352-3101 or www.WomenOfWill.com
February 3 through June 2, 2013

Ah, the women of Will! That's Will Shakespeare, by the way. He sure knew how to write a play, and Tina Packer sure knows how to bring his female creations to startling, intense, vivid life. She is an electrifying actress. Combine her dramatic force with the genius of Shakespeare's writing and be engulfed in an evening of sheer enjoyment.

Tina Packer developed WOMEN OF WILL during her 15 years as founding artistic director of Shakespeare & Company in Lenox, Massachusetts. She perceived a pattern of change and evolution in the way Shakespeare wrote his female characters as the years passed. In his early plays, the women were rather one-dimensional. The Bard's later ladies grew in depth and breadth, becoming more complex, more enchanting, and certainly more dangerous.

Packer's performance sometimes splices scenes from different plays, switching midway into a contrasting character, then going back and forth between the two. The women are portrayed in the chronological order in which they were written. Packer regularly breaks the fourth wall to explain, in engaging narrative, the how and why of the woman, the play, or where Shakespeare might have been in his personal life at that time. And while we do see some of the most famous ladies, including Juliet and Lady Macbeth, Packer does not deal solely with the "big names". She presents many other women whose lines of dialogue may have been fewer but whose existence was crucial to the events unfolding around them.
Let's not forget Nigel Gore. Because that's not possible. His presence is a forceful complement to Packer's women, whether he is murdering them or wooing them. He too chimes in with clever editorial comments and insights.

The stage is simply the floor, covered with an oriental rug. The audience sits on risers around three sides. There are cushions on the floor for "groundlings". The costumes are simple, the props are few (a chair, daggers, swords). Creative lighting is used in uncomplicated but extremely effective ways to set the shifting moods.

Manic, clinically depressed, coy, homicidal, vengeful, bitchy, cross-dressing, loco, or innocently virginal, the WOMEN OF WILL as presented by Packer and Gore are a treat not to be missed.

--Karen D'Onofrio--
Steve Alpert & Ken Greiner
in association with Slant Theatre Project
presents

THE STEADFAST

Written by MAT SMART
Directed by WES GRANTOM

Featuring

BEN KAHRE, SUSAN GREENHILL, JOHN BEHLMANN, CLOTEAL L. HORNE,
MATT DELLAPINA, BRENT LANGDON, BRENDAN TITLEY, ALEX UBOKUDOM,
DAVID RYAN SMITH, & NICK MILLS

Set Design: DANIEL ZIMMERMAN
Costume Design: TILLY GRIMES
Lighting Design: DRISCOLL OTTO
Sound and Music: DANIEL KLUGER & PHIL PICKENS
Stage Manager: JOHANNA SARRIOT
Production Manager: ISAAC KATZANEK
Press: DALE HELLER

TBG Theatre
312 West 36th Street
New York, NY
(212) 868-4444 or www.smarttix.com
January 20 through February 3, 2013

THE STEADFAST are the U.S. soldiers who fought across the sweep of nine U.S. wars, from the American Revolution to the present Mideast conflict. Common threads unite them over the centuries: their fears, strengths, weaknesses, loves, and losses. But the most common thread is that they are simply human beings dealing with personal lives and deep conflicts in their hearts. They are confronted with one overwhelming fact. War cannot be ignored. It must be dealt with, by either flight or fight. And if you do not deal with it, it will deal with you.

The mother of a fallen soldier refuses to leave the red oak tree her son planted as a child. She awaits under it for his return, convinced that he is not dead, only lost. She must wait there until he finds her. As she waits, the story of her son in combat unfolds, interwoven with the lives of other soldiers in other battles.

A simple but amazing set never changes as we see the lives roll by. Strong acting keeps this story deep and real. Intense yet entertaining and inspirational, it has the power to bring tears to the viewer and stimulate us to consider and reconsider our beliefs, whatever they may be.

--Karen D'Onofrio--
The Amoralists Theatre Company
presents
the World Premiere of

COLLISION

Written by LYLE KESSLER
Directed by DAVID FOFI

Featuring
MICHAEL CULLEN, JAMES LAUTZ, NICK LAWSON,
CRAIG "muMs" GRANT, & ANNA STROMBERG

Production Stage Manager: JUDY MERRICK
Assistant Director: MECHAEL J. KESSLER
Set Designer: ALFRED SCHATZ
Lighting Designer: EVAN ROBY
Costume Designer: JAIME TORRES
Sound Designer: PHIL CARLUZZO
Props Master: JUDY MERRICK
Assistant Stage Manager: JERROD BOGARD
Second Assistant Stage Manager: DAN STERN
Assistant Costume Designer: AMANDA McDOWALL
Wardrobe Supervisors: JAIME TORRES & AMANDA McDOWALL
Production Manager: JEREMY DUNCAN PAPE
Assistant Production Manager: MACKENZIE KNAP

Rattlestick Playwrights Theater
224 Waverly Place
New York, NY 10014
(866) 811-4111 or www.CollisionThePlay.com
January 10 through February 17, 2013

The Amoralists Theatre Company has lived up to its name with this production. Leave your moral compass at the door and have a seat. But don't plan on being comfortable.

In a college dorm, new roommates meet. Grange, the low-key but intense puppet master, quickly succeeds in controlling baby-faced moose Bromley. Grange expands his manipulations by introducing pretty young Doe into the mix. Last, enter the professor, who is swallowed into the ever-darkening swirl of Grange's degrading commands. Sexual relationships bond the four and strengthen them to engage in escalating acts of violence against both friends and strangers.

As Grange plays God, we see just how far some people will go to find acceptance and feel kinship, no matter the price. What starts as a black comedy morphs steadily into dark drama. The acting is subtle and perfect. Nothing is overplayed. Every movement, every word, whether comic or serious, is delivered with precision. As to the meaning of it all, the viewer is forced to draw his own conclusions.

--Karen D'Onofrio--
Justin Reinsilber Presents

SPIRITS OF EXIT ELEVEN
A New Play by MICHAEL PUZZO

With

NICOLE BALSAM, NICHAEL CARSEN, SHANE PATRICK KEARNS
STEPHEN PAYNE, DEBORAH RAYNE

Directed by FRANK LICATO
Producer: JUSTIN REINSILBER
Associate Producer: BRUCE GOLDMAN
Scenic Design: DAVID MEYER
Lighting Design: ADAM H. GREENE
Costume Design: ALEXIS FORTE
Choreography: MARLO HUNTER
Sound Design: DONALD STARK
Casting Director: JUDY BOWMAN
Fight Choreography: DAVID ANZUELO
Pole Choreography: ALISA BONIELLO
Original Photography & Graphics: MONIQUE CARBONI
Additional Photography: DAVID ZAYAS, JR.
Stage Manager: NORAH SCHEINMAN
Assistant Stage Manager: KRISTIN NEMECEK
Production Assistant: ALEX BEJA
GM Consultant: CHERYL DENNIS
Public Relations: GLENNA FREEDMAN

The Lion Theatre at Theatre Row
410 West 42nd Street (between Ninth & Tenth Avenues)
(212) 239-6200 or www.telecharge.com
January 10 – February 2; Opening Night: 01/17/13

It's Halloween at Smitty's Tittys & Pies located just off Exit 11 on the New Jersey Turnpike. To liven up the Strip/Pizza Joint, the workers have shown up in costume to acknowledge the holiday. Michael Puzzo's SPIRITS OF EXIT ELEVEN contains a motley crew of misfits, misfortunates, and misguideds. These over-the-top-but-lovable characters have one thing in common – they are all looking for a little understanding and perhaps a bit of body heat to get them through the chilly evenings.

The fantastically seedy set by David Meyer is full of fading glitter and spirits of failed relationships. Butchy (Michael Carlsen) is not the man he planned to be, while Tommy (Stephen Payne) drinks to forget the man he is. Slightly flighty Agatha (Nicole Balsam) and the world-weary Marie Therese (Deborah Rayne) are the ladies of entertainment, and Shane Patrick Kearns rounds out the group as the one person who knows exactly what he wants. Admirable jobs are done by all.

Puzzo has infused this work with plenty of raucous humor while leaving room for ironic reality, raw emotions, and a touch of hope. The last few minutes have a bit too much going on in an attempt to wrap it all up, but SPIRITS OF EXIT ELEVEN is a fun and poignant endeavor that manages to leave its mark on the viewer.

- Laurie Lawson -
Resonance Ensemble Presents

CONNECTING CIRCUITS

The Truth Quotient
By RICHARD MANLEY

Featuring

BRIAN TOM O'CONNOR, JAREL DAVIDOW, ANGELINE FIODELLISI
SHAUN BENNET WILSON, MEREDIT HOWARD, MAXWELL ZENER

Directed by ERIC PARNESS

R.U.R.
By KAREL CAPEK
Adapted by LEE ERIC SHACKLEFORD

Featuring

CHIRS CERASO, BRAD MADAROWSKI, JANE CORTNEY, SEAN PHILLIPS
CHRISTINE BULLEN, MATT W. CODY, MAC BRYDON, KEVIN BERNARD
JAMES WARE, COREY TAZMANIA, TYLER CAFFALL
CHARLOTTE HAMPDEN, MEG HEUS

Directed by VALENTINA FRATTI

Theatre Row's BECKETT THEATRE
410 West 42nd Street (between Ninth & Tenth Avenues)
(212) 239-6200 or www.telecharge.com
January 9 – February 2, 2013


The mission in Resonance Ensemble's CONNECTING CIRCUITS is to bring together a classic play and a modern play with resonating themes. Richard Manley's THE TRUTH QUOTIENT and Karel Capek's R.U.R. (as adapted by Lee Eric Shackleford) seem like a perfect coupling.

R.U.R., translated into every major language worldwide, has been kicking around for almost 100 years. Originating the word "robot," it considers the possibility of mechanical entities taking over mankind. One can only imagine how this was perceived 90 years ago, but it translates into an action-packed suspense today where the personalities of humans and robots collide into conflict. Not so far from the realm of reality if you consider robo-calls, mechanical instructions, and a multitude of other non-human contacts we endure in our current lifestyles.

In The Truth Quotient robots are welcomed as human replacements. A wealthy businessman in an attempt to fill in the gaps in his life creates his own family and friends through Nureal, a company which promises real companionship through artificial beings. Hmmm…Can you say Facebook, Online Dating, and Interactive Pornography? Reality clashes with possibilities in the effort to find the "best truth."

Both of these works are well-written with fascinating, thought-provoking concepts. Invisible boundaries are crossed with not-so-far-from-the-truth futuristic prospects. The acting, whether human or robot, is superb, and the direction is tight although both plays could have been shaved by a few minutes. Stretch your brain, examine the odds of actualization, and have a bit of fun with CONNECTING CIRCUITS. The Truth Quotient and R.U.R. are running in conjunction with one another through February 2nd. Treat yourself to both – the future is, was, and may be right before your eyes.

- Laurie Lawson -
LaMaMa
presents

WHEN IT RAINS

Created by 2b theatre company

Written & Directed by ANTHONY BLACK

Featuring
ANTHONY BLACK, FRANCINE DESCHEPPER,
SAMANTHA WILSON, & MARC BENDAVID

Sound Design & Dramaturgy: CHRISTIAN BARRY
Projection Designer: NICK BOTTOMLEY
Costume Designer: LEESA HAMILTON
Stage Manager: CHRISTINE OAKEY
Production Manager: LOUISA ADAMSON

The Ellen Stewart Theatre
66 East 4th Street
New York, NY 10003
(212) 475-7710 or www.lamama.org
January 10 through January 20, 2013

This is the story of four people. It includes misplaced lust, an endangered nut, a bare butt, and the question of what is "just". An existential journey in tones of gray, both emotionally and in its staging, the production reaches into the everyday in all of us and extracts kernels of irony and nuggets of truth while drawing us into lives that ring true.

The basic idea is that of a Biblical Job in modern times, but without religion. Misfortunes befall each character: sex life, finances, angst, and pregnancy combine with unique personalities in a cauldron that roils from happiness to unhappiness unpredictably. Some choose misery, while others have misery thrust upon them. Is one misery more valid than another? Is any of this 'deserved', or is misfortune simply an unavoidable result of statistics?

Smoothly written and blessed with a talented cast, WHEN IT RAINS is a thoroughly entertaining yet challenging evening of theater. Kissed with subtle humor while digging into the dark of the heart and soul, it is a play that somehow leaves us happier for the experience, however sad the tale.

--Karen D'Onofrio--
Manhattan Repertory Theatre
In association with Michael Palmer Presents

A SERIOUS PERSON
www.ASeriousPersonThePlay.com

By JOHN DOBLE

Starring

ALEX ENGQUIST and LORALEE TYSON

Directed by OLIVIA HARRIS
Graphic Design: DUNCAN PFLASTER
Production Skills: JOHN KEON
Press Representative: SAM RUDY MEDIA RELATIONS

Manhattan Repertory Theatre
303 West 42nd Street @ Eighth Avenue (6th floor)
Email: Manhattan Rep at mrtreserve@gmail.com
January 9 – 27, 2012; all shows at 9 PM


John Doble, author of last year's finalist for Best Play in the 2012 Midwinter Madness Short Play Festival Coffee House, Greenwich Village, has come up with another winner. A SERIOUS PERSON will debut at the Manhattan Repertory Theatre's Winter One-Act Play Competition, and you can vote for it as a viewer. And let me tell you why you should.

A SERIOUS PERSON is like a breath of fresh air in the midst of the four other plays in the competition. Two distinct personalities have connected via Let'sHaveALatte.com, and whether they will become a "couple" is questionable. What isn't questionable is their exquisite chemistry, the repartee filled with fast-paced humor, and the delightful rapport between the Man (Alex Engquist) and the Woman (Loralee Tyson). There is no subject on which Tyson doesn't have an opinion, and she presents them with the full knowledge that she is quirky bordering on insane. Engquist does an admirable job of holding his own with a calm demeanor against this dynamic force. You end up hoping that these two can work it all out and being grateful that A SERIOUS PERSON has allowed you to share a taste of this eccentric exchange of personalities.

- Laurie Lawson -
Okada Productions
in collaboration with
Yuji Takematsu
present
KIKKI & GRAND-PA & BABY
Written and Directed by Yutaka Okada

January 5 – 26, 2013

American Theater of Actors Chernuchin Theater
314 W. 54th Street (between 8th and 9th Avenues), NYC
Tickets: (212) 868-4444 or www.smarttix.com
Information: www.kikkigrandpababy.com

Music by Shizuka Iwabuchi
Lyrics by Yutaka Okada
Additional Lyrics by Julie Holtzman and Kuni Mikami
Musical Direction by Kuni Mikami
Stage Manager Fulton C. Hodges
Lighting Design by James Carter

Cast
Karin Crighton, Ryan Neal Green, Alex Kafarakis, Geoff Lee
Chevy Kaeo Martinez, Vicki Oceguera, Jalah Williams
Chiho Araki as the Narrator
Tomoko Hayakawa featured singer

Musicians
Mihoto Goto – accordion
Evan Schnoll – percussion
Kuni Mikami – piano


Attending KIKKI & GRAND-PA & BABY was among the oddest experiences I have had at the theater recently. Ostensibly a musical tale about overcoming adversity, as presented, the narrative line is blurry at best and the show itself suffers from the weakest links in the cast, crew and production team. The production was puzzling right from the start.

I imagine that some of the story is lost in translation. The basic plot is that a 16 year old named Kikki (Jalah Williams) encounters an older man while fleeing assailants who she comes to call Grand-Pa (Geoff Lee), and the destitute and nearly homeless Grand-Pa gives her shelter. They find an abandoned baby and Kikki decides to keep it and raise it. The three become an unlikely family. Along their journey, they encounter other down-on-their-luck citizens (Vicki Oceguera, Karin Crighton, Chevy Kaeo Martinez), a government official, Giant (Alexander Kafarakis) trying to evict them from their riverside shanty, and a character called Non Cry (Ryan Neal Green) who wants to stage a festival. Thrown in the mix are jealousy, violence and oppression, along with the group's desire to get out there and put on a show in spite of Giant and the threats of bulldozers and destruction.

Both Kikki and Giant appear to function in the drama as characters who experience growth and change, but the characters are too one-dimensional to achieve this impact on the play or the audience. Kikki should be falling into the role of mother, but she is also a jealous and hot-tempered teen who has fantasy dreams about both marrying and beating 69-year-old Grand-Pa. She seems to experience an epiphany at the end, but not very credibly. Giant posts eviction notices, shows up drunk in the middle of the night, and so on, but then returns to encourage Kikki and company to leave and set everything on fire, partly because he has been called lazy for not evicting them. He too in the end appears to be switching sides, but there is no indication of why.

If the story is lacking, so are some of the performances. It did not help that there were apparently technical difficulties or just missed cues that resulted in lights going out, spots projected on the crew moving set pieces instead of the performers singing and acting and so on. The strongest parts of KIKKI & GRAND-PA & BABY were the music and some of the musical numbers. As a group, there was some enthusiastic ensemble work in this area, particularly in the second act. The singers can sing, and the musicians can play their instruments, and given the chance to do so, the cast went out on this high note, putting on their best stage smiles and ending the evening with faces that bespoke professionalism even if they did not get to show us their A game.

- Kessa De Santis -
7th Annual Women at Work Festival
@ Stage Left Studio presents

NAKED IN ALASKA

Written and Performed by VALERIE HAGER
www.valeriehager.com
Directed by SCOTT SLAVIN
Sound & Light Board Operated by ALEX CHMAJ

Stage Left Studio
214 West 30th Street, 6th Floor
www.stageleftstudio.net
September 29th & October 7th, 2012


NAKED IN ALASKA is the autobiographical journey of Valerie Hager as she searches for acceptance, a sense of belonging, and the universal need to be loved. Creating her own map, she travels from a troubled childhood of eating disorders and self-abuse to the lucrative but questionable career of stripping. Sparkling in sequins, she sublimely portrays the nefarious characters that inhabit the sex-for-sale industry. Utilizing much humor and some very impressive pole dancing, the story unfolds as she competently combines vulnerability and honesty with the survival skills needed to navigate the murky world of strip clubs and private party rooms. The ability to laugh at herself only enhances her charm. You will root for her indomitable spirit and celebrate the triumph of Valerie Hager in NAKED IN ALASKA.

The 7th Annual Women at Work Festival consisting of 11 solo shows – 5 plays – is a benefit for The Girl Effect which helps girls around the world raise themselves and their villages out of poverty. Find out more at www.girleffect.org.

- Laurie Lawson -
Cougar The Musical, LLC
In association with The StoryLine Project LLC & Jared Hershkowitz
Present

COUGAR THE MUSICAL
www.CougarTheMusical.com

By DONNA MOORE

Additional Music
MARK BARKAN, JOHN BAXINDINE, ARNIE GROSS, MERYL LEPPARD & SETH LEFFERTS

With

DANNY BERNARDY, BRENDA BRAXTON, CATHERINE PORTER, BABS WINN

Directed by LYNNE TAYLOR-CORBETT
Scenic & Lighting Design: JOSH IACOVELLI
Costume Design: DUSTIN CROSS
Music Director: JANA ZIELONKA
Casting: CAROL HANZEL CASTING
Marketing: LEANNE SCHANZER PROMOSTIONS, INC.
Advertising: HOFSTETTER+PARTNERS AGENCY 212
Publicity: SPRINGER ASSOCIATES PR/JOE TRENTACOSTA
Production Stage Manager: SUSAN WHELAN
General Management: OLSON ROHDES/TIM HURLEY
Associate Producer: BOB JOHNSON

Orchestra: Piano - JANA ZIELONKA; Drums - SEAN DOLAN

St. Luke's Theater
308 West 46th Street (between Eighth & Ninth Avenues)
(212) 239-6200 or www.telecharge.com
Opening Night: August 26, 2012


Luckily Donna Moore's COUGAR THE MUSICAL is only 90 minutes long because I'm not sure how long your mouth can remain in a constant grin without freezing into that position permanently. This is one fun adventure! Full of clever repartee between hysterical characters, songs loaded with sexual innuendos, choreography that makes you chuckle, and musical styles that range from blues and country/western to ballads, pop and doo-wop, it is difficult to find something that doesn't tickle your fancy.

Three delightful ladies over 40 (Brenda Braxton, Catherine Porter, and Babs Winn) come together to face their issues with aging. So talented are these stage veterans that as soon as they begin performing each becomes your favorite until the next one performs. Danny Bernardy is the lucky lone male who sublimely plays the various young men, as well as one hilarious manicurist. Together this cast is dynamite, and under the direction of Tony Award and Drama Desk Nominated director/choreographer Lynne Taylor-Corbett, you are going to have a blast!

The universal heartwarming message that is agreed upon in COUGAR THE MUSICAL is that love is ageless. Judging from the roar of the audience at the end, their agreement is that this musical is a winner.

- Laurie Lawson -
Barrow Street theatre
Scott Morfee, Jean Doumanian, Tom Wirtshafter
Patrick Daly, 2Manocherians, Christian Chadd Taylor
Burnt Umber Productions, Marc & Lisa Biales
Present

TRIBES
www.TribesThePlay.com
A new play by NINA RAINE

With
RUSSELL HARVARD, JEFF PERRY, SUSAN POURFAR
GAYLE RANKIN, NICH WESTRATE, MARE WINNINGHAM

Directed by DAVID CROMER
Scenic Design: SCOTT PASK
Costume Design: TRISTAN RAINES
Lighting Design: KEITH PARHAM
Projection Design: JEFF SUGG
Sound Design: DANIEL KLUGER
Prop Design & Coordination: KATHY FABIAN/PROPSTAR
Hair & Make-Up Design: LEAH J. LOUKAS
Production Stage Manager: RICHARD A. HODGE
Dialect Coach: Stephen GABIS
Casting: PAT McCORKLE CASTING
General Manager: MICHAEL PAGE
Associate General Manager: AMY DALBA
Production Management: PRODUCTION CORE
Advertising: aka
Press Representative: O&M CO

Barrow Street Theatre
27 Barrow Street
(212) 243-6262 or www.BarrowStreetTheatre.com
Opening Night: March 4, 2012


I probably came to the play too late in this case. After being one of the most talked about plays, as well as recipient of the Drama Desk Award 2012 and the New York Critics Circle Award, it is difficult not to have high expectations. And don't get me wrong – Nina Raine's TRIBES is definitely an above-average play. She tackles family relationships like a pro that has been in the familial dugout for many years. In this case the dysfunctional family has a non-hearing member (Russell Harvard) who has been sheltered and simultaneously ignored. Billy has adapted to the world of the hearing, but when he brings home a girlfriend who is losing her hearing (Susan Pourfar), he realizes that his family (Nick Westrate, Jeff Perry, Gayle Rankin, and Mare Winningham) has done very little to accommodate his silent world.

TRIBES is a beautiful play about how we communicate with one another, how we adapt, the nature of relationships, and resilience of the human spirit. And it is well deserving of its rewards. However, for me it fell a little flat when depicting the underlying currents of dissention. A family full of love, composed of diverse characters trying to do the best they can, should be celebrated for its positive aspects, instead of digging around for shortcomings.

- Laurie Lawson -
Jones Street Productions LLC presents
An Industry Reading/One Performance Only of

MOOLAH
Written by ARJE SHAW

Starring JOE PANTOLIANO and MARIO CANTONE
Directed by CHARLES MESSINA

The Triad Theatre
www.triadnyc.com
158 West 72nd Street, NYC
May 7, 2012


Here are things you must do immediately:

1. Start saving your pennies so that we can all send them to Joe Pantoliano and Mario Cantone to entice them to always be the co-stars of this play.

2. Light candles, say prayers, summon the planets – whatever works for you – to have Arje Shaw's MOOLAH produced in a theatre near you soon.

MOOLAH takes the usual crime family drama and infuses it with priceless "mob" philosophy, wise-guy humor, one-liners that will have you guffawing, and a little bit of 80's music. Did I mention that the two characters are insanely hilarious? They put the fun in dysfunctional. Ant'ny (Pantoliano) is a fast-talking, two-faced self-professed gambler. His younger cousin Sunny (Cantone) is a gay hit man who runs a hair salon by day and whacks people after work in his spare time ("cut by day, clip by night"). As they wait for the much-feared Carmine who is coming to seek retribution for a scam gone bad, these two desperate family members pull out every con in the book in a wild attempt to save their lives.

The high-energy lunacy of Mario Cantone coupled with the comedic fluidity of Joe Pantoliano performing the witty, wordy gems written by Arje Shaw make MOOLAH a delightful spectacle to behold. Here's hoping you get to behold it in the very near future.

- Laurie Lawson -
Stage Left Studio Presents
Left Out Festival 2012

THAT PLAY
A Solo Macbeth
www.solomacbeth.com

Starring TOM GUALTIERI
Written by TOM GUALTIEREI & HEATHER HILL
Directed by HEATHER HILL
Original Music & Sound by ERIN HILL
Lighting by ELLEN ROSENBERG
Costume Consultant: SARA JAMES
Press: THE JACKSINA CO.

Stage Left Studio
214 West 30th Street (between Seventh & Eighth Avenues)
www.stageleftstudio.net
April 14 – 25, 2012


Tom Gualtieri is a force (and the only force) to be reckoned with in THAT PLAY: A Solo Macbeth. He and co-writer/director Heather Hill have taken Shakespeare's Macbeth and turned it on its classic ear, poking holes with witty asides, interactive exercises, and modern drollery. In a mere 90 minutes, the story of the doomed King of Scotland unfolds, complete with battles, witches, ghosts, and a slew of noblemen/women and servants. And the common thread is the genius of Gualtieri who magnificently portrays every one of them! Man, woman, child, living or dead, he is dauntless in his enactment of The Bard's tragedy. 'Tis a sight to behold. So go behold THAT PLAY: A Solo Macbeth.

Part of The Left Out Festival 2012, a celebration of LGBT theatre, all net proceeds will be donated to Bailey House (www.BaileyHouse.org).

- Laurie Lawson -
Vineyard Theatre presents

THE LYONS
By NICKY SILVER

With
MICHAEL ESPER, KATE JENNINGS GRANT,
DICK LATESSA, LINDA LAVIN
BRENDA PRESSLEY, GREGORY WOODDELL

Directed by MARK BROKAW
Set Design: ALLEN MOYER
Costume Designer: MICHAEL KRASS
Lighting Designer: DAVID LANDER
Original Music & Sound Design: DAVIE VAN TIEGHEM
Fight Director: THOMAS SCHALL
Production Stage Manager: ROY HARRIS
Production Managers: BEN MORRIS, DAVID NELSON
Press Representative: SAM RUDY MEDIA RELATIONS
Casting: HENRY RUSSELL BERGSTEIN, CSA

Vineyard Theatre
108 East 15th Street
(212) 353-0303 or www.vineyardtheatre.org
09/22 – 11/11/ 2011; Opening Night: October 11, 2011


Nicky Silver's THE LYONS puts together four distinct and often hilarious characters who attempt to function as a family. And all the fun is in the failure. The frank and foul-mouthed Dick Latessa is the dying patriarch who delivers his lines with the beyond-caring abandon of a man who realizes his life is about to end. The lovely Linda Lavin is perhaps the most sardonic and salty matriarch ever to grace a stage. You have no choice but to love her. The offspring of these two (Kate Jennings Grant, Michael Esper) quite naturally come with their own sets of bizarre behavior. Under the sharp direction of Mark Brokaw, this family keeps you laughing throughout and at times even manages to inspire and provide a glimpse of hope.

Silver is a master at combining the quirks, the insanity, the flaws, and the humanity that hides beneath our public personas and often gets us through the difficult times. THE LYONS is a family you won't soon forget.

- Laurie Lawson -
Cheryl King Productions
Cheryl King, Artistic Director
presents
The World Premiere of

GRAPEFRUIT

An Autobiographical Comedy by SALLY LAMBERT

Starring CHERYL KING

Directed by THERESA GAMBACORTA

Sound Design: Joe Hutcheson
Publicity: Judy Jacksina

Part of the 2011 Women at Work Festival

Stage Left Studio
214 West 30th Street (between 7th & 8th Avenues)
6th Floor
New York, NY
(212) 838-2134 or www.StageLeftStudio.net
September 28-November 2, 2011

This tiny tornado of a play lasts only 60 minutes, but spans a lifetime.

Sally Lambert was an opera star and playwright until a grapefruit got in the way. She died last year, just before this play was to debut with her telling her own tale. Cheryl King has done a masterful job of taking up the role. This is a comedy about tragedy, pulled off brilliantly.

We begin with Sally coming out of the anesthetic. The news isn't great. Then we join her on a voyage through her life's adventures, successes, and dramas. She laughs and we laugh. We are laughing to scare the devil, and we all know it. But we are laughing, and that's what matters.

-Karen D'Onofrio-
The Midtown Theater presents

STEVEN SOLOMON'S
MY MOTHER'S ITALIAN, MY FATHER'S JEWISH,
& I'M STILL IN THERAPY

Written by and Starring STEVE SOLOMON
Directed by ANDY ROGOW
Executive Producers – STEVE SOLOMON & ABBY KOFFLER
In association with The Midtown Theater
Personal Management: I'M IN THERAPY, INC.

The Midtown Theater
163 West 46th Street (between Broadway & Sixth Avenue)
(212) 977-3884 or www.MidtownTheater.net
August 5 – August 31; Opening Night – August 10, 2011


Steve Solomon is back in town with the second installment of MY MOTHER'S ITALIAN, MY FATHER'S JEWISH & I'M STILL IN THERAPY. And he's still funny. In a cabaret-like setting at The Midtown Theater, he shares amusing anecdotes about his childhood, revelations about his relatives, interesting insights about the condition of the world today, and of course funny- sometimes-bordering-on-hysterical familial stories. He does this with a variety of voices and sound effects.

Solomon is a one-man tour-de-force who revels in chaos and a slightly warped perspective of reality. Some of the humor is predictable and all of it definitely is for the mature crowd, but when he hits, it's a touchdown, hole-in-one home run. For those who want guaranteed laughs, MY MOTHER'S ITALIAN, MY FATHER'S JEWISH & I'M STILL IN THERAPY is the way to go.

- Laurie Lawson -
Pan & Ana Yang Present

GAZILLION BUBBLE SHOW
The Next Generation
www.gazillionbubbleshow.com

Featuring

DENI YANG, FAN YANG, ANA YANG or JANO YANG

Created and staged by FAN YANG

Set Design: FAN YANG
Lighting Design: DAVID LAU
Laser Design: DENI YANG
Bubble Effects: ALEX CHEUNG
Theatrical Effects: GARY & STEPHANIE CRAWFORD, EITC
Spotlight Operation: CHARLEY NUNEZ
Laser Production: LORD & ABLE LASER
Sound Director: NAMOA TUPOU
Original Music: WORKSPACE CO., LTD.
Production Manager: DAVID LAU
Show & Technical Director: ALAN KHO
Audience Development: KATRIN KAUSEK
Press Representative: JOE TRENTATCOSTA/SPRINGER ASSOCIATES PR

New World Stages Theatre
340 West 50th Street (between Eighth & Ninth Avenues)
(212) 239-6200 or www.telecharge.com
Friday @ 7; Saturday @ 11, 2 & 4:30; Sunday @ 12 & 3
Opening November 5, 2010


How could you not have fun at the GAZILLION BUBBLE SHOW? Bubbles and smoke and lasers – oh my! Deni Yang (or another member of his family) can make a bubble do amazing things, and no matter what age you are, it is absolutely impossible to resist the urge to pop a bubble when it floats your way. And just when you think you have seen almost anything a bubble can do, there is an amazing laser show amidst (non-toxic) fog and tons of bubbles. Seventy-five minutes of awe-inspiring bubble art makes the GAZILLION BUBBLE SHOW a great way to revisit the wonders of childhood.

- Laurie Lawson -
Daryl Roth Presents

LOVE, LOSS, AND WHAT I WORE
By NORA EPHRON and DELIA EPHRON
Based on the book by ILENE BECKERMAN

Current Cast

PENNY FULLER, RACHAEL HARRIS, DIANE NEAL
SHERRI SHEPHERD, COBIE SMULDERS

Directed by KAREN CARPENTER
Scenic Designer: JO WINIARSKI
Wardrobe Stylist: MATT SHEA
Lighting Designer: JEFF CROITER
Sound Designer: WALER TRARACH
Casting: TARA RUBIN CASTING
Make-Up Design: MARIA VEREL
Advertising: ELIRAN MURPHY GROUP
Press Representative: C&M CO
Marketing: LEANNE SCHANZER PROMOTIONS INC.
Production Stage Manager: NANCY ELIZABETH VEST
Production Manager: SHANNON CASE
Associate Director: ADAMJOHN HUNTER
General Manager: ADAM HESS
Associate Producer: ALEXANDER FRASER
Associate General Manager: JODI SCHOENBRUN CARTER

Westside Theatre
407 West 43rd Street (between Ninth & Tenth Avenues)
(212) 239-6200 or www.telecharge.com


Who would have thought that such a simple idea would hit a universal feminine nerve? Nora Ephron and Delia Ephron have taken a book by Ilene Beckerman and created an off-Broadway hit in which actresses are clamoring to appear. LOVE, LOSS, AND WHAT I WORE hilariously depicts how clothing can mark momentous events in a woman's life. The first bra, prom and wedding dresses, a status sweater that promises gang entry, a ridiculously expensive purse, boots, and an array of apparel evoke tears, laughter, frustration, and almost any other emotion you can think of.

The vignettes are hilarious and sometimes poignant, the actresses accomplished, and the long-forgotten childhood memories flow freely. What an absolute treat is LOVE, LOSS, AND WHAT I WORE! I wonder if men harbor secret memories of their first jock straps?

- Laurie Lawson -
THE ACCIDENTAL PERVERT
www.TheAccidentalPervert.com

Written and Performed by ANDREW GOFFMAN
Directed by CHARLES MESSINA

Choreographer: SHERRI NORIGE
Audio/Visual Designer: ANDREW WINGERT
Dramaturge: LISA LENTINI
Scenic Designer/Technical Director: ANTHONY AUGELLO
Dialogue Coach: STANLEY HARRISON
Graphic Designer: ROBERT TALLON
Press Representative: JUDY JACKSINA
Voice-Overs: JIM DAILAKIS/MARY DIMINO
House Manager: CARLO RIVIECCIO
Production Coordinator: GINA FERRANTI
Lighting Designer: JOSH LACOVELLI
Creative Assistant: CHRISTY BENANTI/ALAN GORDON

The Players Theatre
115 MacDougal Street (between Bleecker and West 3rd Streets)
212-352-3101


How can you take a box of video cassette recordings, all of a pornographic nature, and turn them into the basis of an Off-Broadway play? I don't have the answer but Andrew Goffman sure does. He manages to do just that in his hilarious THE ACCIDENTAL PERVERT. In this true-life odyssey, he stumbles upon his father's hidden collection at the tender age of 11 and thus begins a 15-year obsession with all things sexual. Goffman doesn't scrimp on the details of his XXX adolescence, topping off his poignant honesty with heaping dollops of humor that go way beyond the obvious innuendos and sexual suggestions. Not only does he reveal the trials and tribulations of a young boy learning about sex from all the wrong people, he also acknowledges the resultant effects of such a one-dimensional view of women.

THE ACCIDENTAL PERVERT could have been sad, could have been raunchy, and could have been something we've seen a hundred times before. It is none of that, and this is due to the amazing showmanship and skills of Goffman. He sings, he dances, he reminisces, he re-enacts, he impersonates, and most importantly he keeps you thoroughly entertained. Director Charles Messina keeps the pace rapid, and Goffman provides a night to remember.

- Laurie Lawson -
Kevin McCollum, Robyn Goodman, Jeffrey Seller, Vineyard Theatre and the The New Group Present

AVENUE Q
www.avenueq.com

Music and Lyrics by ROBERT LOPEZ and JEFF MARX
Book by JEFF WHITTY
Based on an Original Concept by ROBERT LOPEZ and JEFF MARX
Puppets Conceived and Designed by RICK LYON

with
SALA IWANATSU, NICHOLAS KOHN, MAGGIE LAKIS, ANIKA LARSEN
SETH RETTBERG, DANIELLE K. THOMAS, CULLEN R. TITMAS

Directed by JASON MOOR
Music supervision, Arrangement & Orchestration by STEPHEN OREMUS
Choreographer: KEN ROBERTSON
Set Design: ROBERT LOPEZ
Costume Design: MIRENA RADA
Lighting Design: HOWELL BINKLEY
Sound Design: ACME SOUND PARTNERS
Animation Design: ROBERT LOPEZ
Incidental Music: GARY ADLER
Casting: CINDY TOLAN
General Manager: DAVENPORT THEATRICAL ENTERPRISES
Production Manager: TRAVIS WALKER, AUTONOMOUS PRODUCTION SERVICES
Production Stage Manager: CHRISTINE M. DALY
Press Representative: SAM RUDY MEDIA RELATIONS
Marketing: SCOTT A. MORE

Stage 3 at New World Stages
340 West 50th Street (between Eighth & Ninth Avenues)
(212) 239-6200 or www.telecharge.com
Opening Night: October 21, 2009


Yay! Tony Award-winning AVENUE Q (2004 Best Musical, Best Score, Best Book of a Musical) is back! This is a musical play so clever, so satirical and so thoroughly entertaining that it should always be playing somewhere. Right now it is on Stage 3 at New World Stages, and audiences are just as enthusiastic as they were when it was discovered Off-Broadway and when it made a well-deserved 2500+ performance trip to Broadway. Fantastic puppets designed by Rick Lyon bemoan economic difficulties, prejudice, love problems, and dreams deferred. And you'll have a blast while they do it with songs by Robert Lopez and Jeff Marx like "It Sucks To Be Me," "The Internet Is For Porn," and "Everyone's A Little Bit Racist," and a humorous book by Jeff Whitty.

Breathing life into Lyon's puppets are Sala Iwamatsu, Nicholas Kohn, Maggie Lakis, Anika Larsen, Seth Rettberg, Danielle K. Thomas and Cullen R. Titmas. Fast-paced direction by Jason Moore and skillful animations by Lopez enhance this sharp, on-the-money presentation. Put AVENUE Q on your list of places to visit. You won't be sorry.

- Laurie Lawson -
HomePage/Entertainment/Computer Update