TRAVEL
SANDAWAY WATERFRONT LODGING
www.sandaway.com
103 West Strand Road
Oxford, MD 21654
(888) 726-3292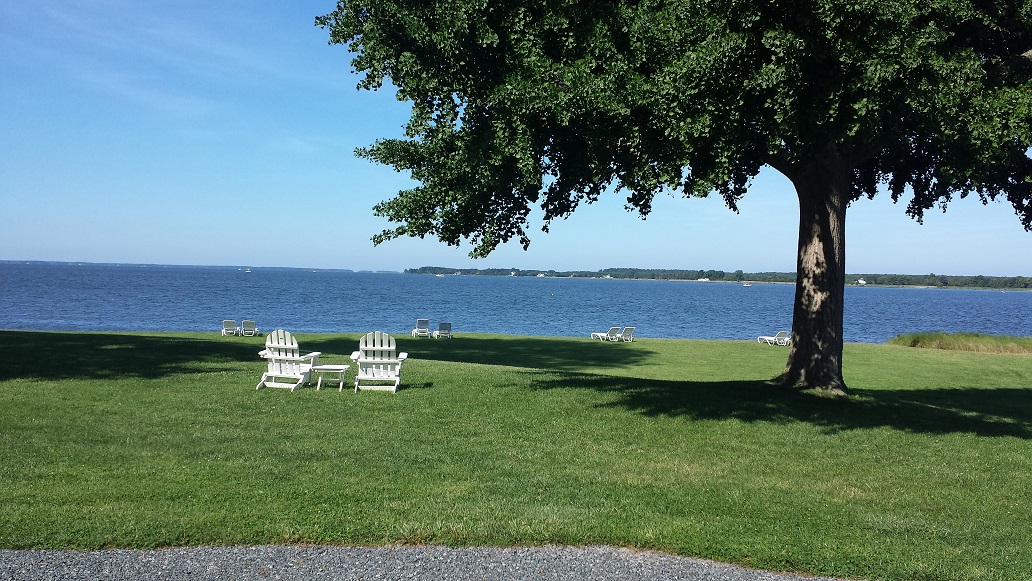 If you are looking for a bit of heavenly peace, I have found the place for you. SANDAWAY WATERFRONT LODGING is a quaint Bed & Breakfast located literally yards from the Chesapeake Bay. Each unique room, suite or cottage is decorated with a mixture of antique furniture and modern accommodations. Four-legged tubs, roll-top desks, four-poster beds and stenciled wood complement free Wi-Fi, plenty of outlets, and flat screen televisions. Boasting its own sandy beach, most rooms have a waterfront view and all have private screened-in porches. Complimentary coffee/tea and snacks are available 24 hours in both the library sitting room and the separate beach house. A basket with fresh baked goods, fruit, beverages and other breakfast items is delivered to your door each morning. In the tiny gift shop, you can pick up toiletries, souvenirs, a set of the luxury sheets used by the Inn, and even a CD of 50's music recorded by owner Kenny Gibson. The Innkeepers really don't know how to do things wrong here. All your needs are met, and if you come up with something special, they will try to accommodate you.
As for activities, you can sit in the Adirondack chairs or chase lounges and watch the boats sail by or you can visit the historic town of Oxford. For a special treat there's a ferry that takes you over to St. Michaels, a slightly more tourist-y town but full of old-world charm. But there is definitely another option – SANDAWAY WATERFRONT LODGING makes doing nothing totally delightful.
- Laurie Lawson –
- Photography by ChaCru -

 
                      TWO-NATION VACATION
                Detroit, Michigan/Windsor, Canada

         Detroit:  1-800-DETROIT or www.visitdetroit.com
        Windsor: 1-800-265-3633 or www.city.windsor.on.ca

        
Detroit, Michigan, is your starting point for a vacation that combines 
international flair, historical value, family activities, adult entertainment,
and surprises around every corner.  Known to most of us as "Motor City" 
or the place where Motown began, this unlikely vacation destination has enough 
variety to please even the most jaded traveler.  And after you have discovered 
the wonders of Detroit, you can head right across the river to Windsor, Canada.  
Use the numbers or websites above to get your free Two-Nation Vacation Value Pass 
full of discounts and bargains that will stretch your vacation dollar.    

An hour and twenty minutes flying time, Northwest Airlines offers direct, 
non-stop flights from New York City to Detroit.  Once there you can comfortably 
settle down at the conveniently-located Courtyard by Marriott Detroit Downtown 
(333 East Jefferson Street, 313-222-7700).  The hotel has 260 spacious guestrooms 
and full amenities, including a restaurant, hair salon, gift shop/newsstand,
indoor pool, solarium, exercise room, sauna, Web/Cable TV, and a business center. 
Getting around this area is a piece of cake thanks to the People Mover, an elevated
computerized rail transit system that stops at 13 stations throughout downtown 
Detroit.  One of the most popular stops is Greektown, a two-block area chock full 
of historic churches, ethnic restaurants and bakeries, shops and nightclubs, and 
the recently-opened Greektown Casino (1-888-771-4386). Stop by the New Parthenon 
Restaurant (547 N. Monroe Street) and sample authentic Greek cuisine. Their Special
Trio offers spinach pie, moussaka, and pastitso; don't leave without trying 
saganaki ("flaming cheese") and deep-fried artichokes served with a spicy
dipping sauce.  After dinner, the Gem and Century Theatres (333 Madison Avenue) can
fulfill your artistic cravings.  The quaint and ornate Gem is currently featuring a
hilarious play by Jeff Daniels ("Tropical Pickle"), and mentalist 
extraordinaire Marc Salem is appearing at the Century (click here for current 
information:  www.gemtheatre.com). Late nighters can top off their evening with a 
visit to the casino.

Venture out a little further from the downtown district and you're awash in history
that helped to shape the course of American life today.  The Henry Ford Museum &
Greenfield Village is an indoor/outdoor historical complex that will keep you 
fascinated all day.  Celebrating the spirit of innovation and resourcefulness, the 
museum features 100 years of the automobile; furniture collections that include the
theater chair in which Abraham Lincoln was sitting the night he was shot, a Holiday
Inn room circa 1950-60, and Edgar Allan Poe's writing desk; a letter from Clyde 
Barrow complimenting the cars he had stolen; the limousine in which John F. Kennedy
was shot; and appliances, airplanes, and anecdotes galore.  The village has been 
authentically replicated to depict life from the late 17th century through the turn
of the 20th century.  Tour the village via coal-powered locomotive or riverboat, 
and you will see Henry Ford's birthplace, Noah Webster's home, horse-drawn 
carriages, the Susquehanna Plantation, the 1850's Eagle Tavern that serves meals
you could have eaten 100 years ago, a sheep farm, and acres and acres of 
opportunities to participate in history.  Click here for more information:  
www.hfmgv.org 

The Detroit Institute of Arts (5200 Woodward Avenue) is the fifth largest fine arts 
museum in the United States.  One of the special attractions is the Rivera Court,
where every wall is covered with beautiful murals painted by Diego Rivera 
depicting Detroit's industrial history.  Coming July 1st is Reflections in 
Black: Smithsonian African American Photography, a perfect tribute to and from
the city that was the last U.S. stop on the Underground Railroad.  Click here
for more information: www.dia.org    And fulfill your lifetime dreams at the 
Motown Historical Museum , the actual  "Hitsville USA" house at 2648 
W. Grand Boulevard, where the music we grew up on began.  Stand in the recording 
studio used by legends like Marvin Gaye, Diana Ross and the Supremes, The 
Temptations, and The Four Tops; sneak a peek at the living space and offices
of creator/founder Barry Gordy; and revel in the photographs, memorabilia, and
costumes of the music that created a revolution.

Grab a delicious deep-dish pizza stuffed with cheese, pepperoni, and/or spinach 
from Pizza Papalis Taverna (www.pizzapapalis.com) before you head on over to 
beautiful Windsor, Canada.  You can either take the 5,160-feet-long  Detroit-
Windsor Tunnel or the Ambassador Bridge, the longest international suspension 
bridge in the world.  Both countries offer duty-free shopping at their borders
(great bargains can be found in Canada because the rate of exchange is so 
favorable to the American dollar).  A valid driver's license, a passport, or 
a birth certificate will be requested for entry.

Windsor is a sleepy little city whose cleanliness will amaze you; green trees 
and parks, immaculate streets and sidewalks, and friendly residents greet you 
everywhere.  As the last stop on the Underground Railroad, cultural and historical
elements from both sides of the border meld and offer a variety of travel 
experiences. The Canadian Club Distillery (2072 Riverside Drive East) still 
operates in its original 1858 Olde Walkerville location.  Tours of the historical
buildings and the processing operations are given daily.  A driving tour of Olde 
Walkerville may take you to the 36-room Willistead Manor of Edward Chandler Walker,
son of the founder of Hiram Walker Distillers.  Surrounded by 15 acres of parkland,
the setting is ideal for weddings, meetings, and other special events. Special 
tours can be arranged by calling 519-253-2300.  Continue on to Olde Sandwich Towne,
the oldest English settlement, and you'll come across Mackenzie Hall built by 
Canada's second Prime Minister in 1855 and the first black church, Sandwich Baptist,
constructed by fugitive slaves in 1821.  Call 519-252-4917 (Sandwich First Baptist
Church) and 519-255-7600 (Mackenzie Hall) to arrange a visit.  And for a dining 
experience that cannot be replicated anywhere, an evening at the Mason-Giradot Alan
Manor (3202 Peter Street, 519-253-9212) is a must.  This family-owned-and-operated 
restaurant is housed in the 1892 home of the Mayor of Sandwich.  Lovingly restored,
it boasts marble fireplaces, stained glass windows, wrought-iron fencing, and a 
hooded bay window that has been the scene for many a patron's special event.  
Enhanced by herbs from their own garden, entrees become exquisite culinary 
phenomenons; presentations are nothing short of works of art.  Save room for the 
mysterious Victorian Strawberries dessert and try to guess the secret ingredient.  

One day is not enough to fully appreciate this lovely city, so you may want to 
stay at the full-service Holiday Inn Select (1-800-HOLIDAY or www.holiday-inn.com).
Two hundred and fourteen luxurious rooms with full amenities and easy accessibility
to Windsor attractions will heighten the pleasure of your visit.  One of the 
attractions you don't want to miss is the all-new Casino Windsor with a total of 
100,000 square feet of gaming space and a 60-foot-high waterfall 
(www.casinowindsor.com or call 1-800-991-7777).  Foreign currency exchange 
facilities are available, and best of all, your winnings in Canada are tax free.  

A perfect way to end your visit is a sightseeing cruise aboard The M.V. Borealis
(1-800-706-2607).  Passengers can enjoy brunch, lunch or dinner and dancing as 
they leisurely cruise the world famous Detroit River.  Sailing along flanked by
the Detroit skyline and the bucolic Sculpture Park of Windsor, you'll be making
plans for your return trip.  Who knew?  International travel has never been so 
easy and delightful!

            - Laurie Lawson-

Photography by Evincent Jeffers
       DELRAY BEACH, FLORIDA          

                                                         


          Greater Delray Beach Chamber of Commerce
          64-A SE Fifth Avenue
          Delray Beach, Florida 33483
          Phone: (561) 278-0424         Fax: (561) 278-0555

          http://www.delraybeach.com

         
          An Overview

         
          Ask any long-time resident and they will proudly tell you that Delray
          Beach, Florida, was a ghost town five years ago.  The source of their
          pride stems from the fact that Delray Beach has resurrected itself into
          one of the most attractive and interesting areas in Southern Florida
          today.  Its revitalization efforts were recently rewarded with the title
          of "All America City," and Florida Trend Magazine declared it "The
          Best-Run Town in Florida."  In addition to three miles of beaches and
          an average climate of 78 degrees, the town is full of quaint and unique
          shops, cultural activities, historic sites, and a casual atmosphere that
          lends itself to an impromptu party or celebration at the drop of a hat
          (or a ball and pineapple come New Year's Eve).           

          A word of caution about Delray Beach: nothing is as it seems.  You
          probably won't be able to buy a 2"-by-4" at the Ocean City Lumber
          Company, but you will find original structures that have been
          carefully reconstructed and now house  the nationally-acclaimed Palm
          Beach Photographic Centre (561-276-9797), The Coffee Table full
          of delicious caffeine and calories, Atlantic Street Station (an active
          restaurant/bar), and several whimsical one-of-a-kind stores.  A faux
          water tower and train depot,as well as an outdoor plaza and a 572-square-foot mural
          depicting a visual history of the town, are favorite
          tourist sites; and nobody has lumber on their minds.  And forget about
          getting a degree at the Old School Square (561-243-7922).  These
          exquisitely-restored buildings are now the hub of cultural activity for
          Delray Beach.  Exhibits and information abound at the Cornell
          Museum of Art & History; the Vintage Gymnasium is a beautiful party
          room; and the 320-seat Crest Theatre presents a variety of
          performances - La Boheme, Idols Of The King (an Elvis revue), and
          Holiday Spectacular On Ice are a few of the upcoming events in
          November and December.  The facilities of all three buildings are
          available for meetings, conferences, and special events.
        
          To learn about Delray Beach's unique approach to revitalization, talk
          to any town resident; they will share memories and proudly point out
          all the improvements.  One of Delray Beach's most colorful
          characters is local historian Virginia Snyder.  The septuagenarian is
          president of her own private investigation agency and was recently
          featured in People magazine.  Her home was a filming site for the
          television series Maximum Bob, and she's rumored to be the
          inspiration behind Murder She Wrote. She can easily be convinced to
          share an inside story or two, as can most of the long-time residents of
          Delray Beach.            

          Getting There 
          
          Nestled between Boca Raton and Boynton Beach in Palm Beach
          County, Delray Beach is easily accessible from both Palm Beach
          International Airport and Fort Lauderdale/Hollywood International
          Airport.  We flew down on the coattails of Hurricane-downgraded-to-Tropical Storm
          Mitch and were amazed at the efficiency of Midway
          Airlines (1-888-44-MIDWAY), a modest but steadily growing
          airlines with its base in Raleigh/Durham, NC.  Delays were minimal;
          the flight was smooth (even when we finally caught up with Mitch);
          and the seats are designed for comfort.  Don't leave the plane until
          you have had a cup of their coffee - some of the best we've ever had! 
          Click here for more information about Midway Airlines:  

          http://www.midwayair.com          

          Where To Stay          

          The 72-year-old Colony Hotel & Cabana Club (561-276-4123 or
          800-552-2363) is the epitome of quaint.  Located in the heart of town, 
          the picturesque shops and  restaurants of Atlantic Avenue are right at
          your fingertips.  Winner of historical and environmental awards, the
          66 guestrooms are available from November 1 through April 30 ($89 -
          $189 based on accommodations and season).  Original decor from
          1926, gleaming hardwood floors of the now-extinct Delray pine, a
          manually-operated elevator, a plug-in switchboard which was used up
          until two years ago, tropical draperies, and wood blinds are all part of
          this hotel's charm.  A complimentary shuttle service takes guests to its
          Cabana Club, where you can have lunch and lounge on the 250-foot
          private beach or enjoy the heated salt-water pool.  From January -
          March, the hotel's restaurant is open.  Two more reasons to visit the
          Colony are Chris Cavaliere, who prepares and serves a
          complimentary Continental breakfast (homemade muffins, Starbucks
          coffee, and juice) on the front porch, and Rob Robbins, who draws
          such a crowd to that same front porch with his nightly live
          entertainment that folks are often forced to dance on the sidewalks. 
          The Colony is a totally non-smoking hotel, except for that famous
          porch.  Click here to learn more about the Colony:  

          http://www.thecolonyhotel.com/florida/
          

          If you choose amenities over quaintness, the Delray Beach Marriott
          (561-274-3200 or 800-228-9290) might be the place for you.  Most
          of the 254 deluxe guest rooms have private balconies and breath-taking views of the
          Atlantic Ocean.  You can create your own dining
          experience at the Seacrest Grill which features fresh seafood, the
          Piano Bar with a dance floor, or the Cascades poolside dining
          complete with a waterfall.  An outdoor heated pool and Jacuzzi, a
          fitness center with in-house masseuse staff, and beach services that
          include cabanas, water sports, and beach volleyball will keep you
          pampered from morning to night.  Executive business services and
          meeting spaces are available at this facility.
          

          The all-suite Seagate Hotel & Beach Club (561-276-2421 or 800-233-3581) offers
          apartment-style accommodations with fully-equipped
          kitchens.  Four hundred feet of private beach with beverage service
          and two heated swimming pools, one salt water and one fresh water,
          are a major attraction at this facility.  The dining room, lounge, and
          terrace all take advantage of the ocean view while serving lunch and
          dinner; dining is definitely fine at these facilities.  Complimentary
          newspapers, an on-premise guest laundry facility, same-day valet
          service, on-premise water rentals, and complimentary muffins and
          coffee each morning make the Seagate a favorite of return visitors.
          
          In between the Marriott and the Seagate is a great restaurant, 
          Boston's On The Beach.  Featuring seafood and pasta dishes, diners
          can eat upstairs and down, inside and out. Good food and a panoramic 
          view of the ocean assure that your meal will be a special experience.           
        
          What To Do          

          Delray Beach has many events scheduled throughout the year.  All of
          them are geared toward getting residents and visitors outside to enjoy
          their "new" town and take advantage of the attractions along Atlantic
          Avenue.  There are five Art & Jazz Festivals (January, May, July,
          October, and December) that close down the Avenue and become a
          party of 15,000 - 30,000 people.  In December a 100' Christmas tree
          is on display; and Palm Beach County's oldest and largest arts and
          crafts festival, Delray Affair, takes place in April.  January 19-23 the
          "Cannes festival of the photographic arts," FotoFusion  99, will be
          presented by the Palm Beach Photographic Centre; featuring 100
          world-renowned photographers and photo editors, this is a rare
          opportunity for both amateurs and professionals.  Family
          entertainment will be found all over the place on December 31st,
          Delray Beach's FIRST NIGHT.
         
          If you can't make any of the annual events, fear not.  There is plenty
          to do around Delray Beach on a daily basis.  Sports fans can flex their
          muscles at the Delray Beach Tennis Center (561-243-7360), the
          Delray Beach Golf Course (561-243-7385), and Funboards
          Yachting & Windsurfing (561-272-3036).  Other places of interest
          include:       
         
          Blood's Hammock Groves      (561-498-3400 or 800-255-5188)
          Sample some of "Florida's Most Pampered Fruit," and learn how the
          citrus fruit is grown, selected, and packaged at this three-generational,
          family-owned company.  Gift baskets, plants, and the family's private
          collection of marmalade & preserves can also be purchased (catalog
          and mail order available).  Don't forget to stop by their juice bar and
          gift shop.  Click here for more information on Blood's Hammock
          Grove:   http://www.bhgcitrus.com         
        
          Morikami Museum & Japanese Gardens     (561-495-0233)
          Home of one of the largest collections of Japanese art in the US, this
          200-acre wonderland is surrounded by tranquil nature paths, ponds
          full of turtles and fish (food can be purchased for 25 cents), and a
          bonsai tree farm.  The outdoor cafe offers superb food, and you are
          sure to find at least one "must have" at their gift shop.
          http://www.morikami.org


          Levenger      (561-276-2436)
          Corporate headquarters for "tools for serious readers," they have
          everything you would ever need to read or write - leather goods, pens,
          watches, desks, lamps, etc. - most of which are developed and
          designed in-house (catalog and mail order available).  For more
          information, click here:  http://www.levenger.com
         
                    Ramblin' Rose II        (561-243-0686)

          Treat yourself to a luncheon cruise on the Intracoastal.  Check out
          celebrity homes, look for native birds and sea life,  and learn a little of
          Palm Beach's history.
         
          Sandoway House Nature Center   (561-274-7263)
          They took a 1936 historic beachfront house and transformed it into a
          fragile environment for a variety of plant and animal species.  A
          computer center, microscopes, and an array of hands-on learning
          experiences make for a fun and interesting adventure.
          
          Atlantic Avenue
          This picturesque avenue is full of unique shops, restaurants and bars,
          and art galleries.  Some of our favorites are...

          
          In Chocolate (561-278-0808) - Chocolate in all shapes, forms, and
          flavors!  Make sure you pick up the specialty of the house -
          cornflakes-and-chocolate cookies.  Yummy!  And once you're
          hooked, they'll gladly ship.
          
          Goodness Gracious Cafe (561-274-0071) - Lots of homemade
          goodies.  Scones and muffins are more like heavenly desserts than
          your standard breakfast fare.
         
          Sonoma Wine Bar & Cafe (561-243-8581) - Stop in for a cup of
          coffee, a glass of wine, and/or a homemade dessert.  Their coffee is so
          fresh they do everything except grow the bean while preparing it for
          you.
          
          Shining Through   (561-276-8559) - A magical, mystical book and
          gift shop full of crystals, aromas, books, candles and jewelry.
          
          Dakotah 624   (561-274-6244) -One of the first restaurants to come
          to Atlantic Avenue during the renaissance and one of the most
          popular, this continental-cuisine restaurant is famous for its martinis.
          We're told there's even a chocolate one!
          
          Elwood's - What used to be the town's oldest gas station has now
          been converted to an outdoor restaurant and bar (a la Delray Beach
          style).  Rumor has it they serve a mean pork sandwich with french
          fries.
          
          Green Owl - An unpretentious breakfast and lunch restaurant with
          good food, reasonable prices, and fast congenial service. Lots of
          town business takes place here in its casual atmosphere.
          
          ...and there are plenty more. Every shop and restaurant has its own
          distinctive personality with a touch of tradition, an up-to-date
          perspective, and an eye to the future.
          
          And therein lies the secret of Delray Beach's success. The town has
          managed to preserve its history while rejuvenating itself. The perfect
          blend of old and new create a congenial living environment, a
          delightful vacation experience, and a powerful incentive to return.
         
               -Laurie Lawson-
          
                                                              Photography by E.Vincent Jeffers                                                   
PALM BEACH COUNTY STILL A TOURIST MECCA


With a record-breaking  increase in the number of visitors, Palm
Beach County, Florida is proving to be one of the most consistent
favorites of tourists worldwide.  Forty-seven miles of pristine beaches,
more golf courses than any other county in the nation, and an average
year-round temperature of 78 degrees may explain some of the
popularity.  Located in Florida's Gold Coast, Palm Beach County is
the only continental U.S. destination to be awarded three AAA Five
Diamond Ratings for its resorts (The Breakers, The Ritz-Carlton,
Palm Beach, and Four Seasons Resort Palm Beach).  In addition to
quality resorts and lodgings to accommodate any budget, there are
entertainment, cultural activities, fine dining, water sports, shopping,
nightlife, and ecotourism opportunities galore.
          
Many of the resorts offer enticing package deals.  Boca Raton Resort
& Club has a Golf Package of deluxe accommodations, unlimited
greens fees, free golf balls, a daily golf clinic, and lots more.  The
Oceanfront Getaway at The Breakers includes a $250 Sports Credit
that can be used for golf, tennis, cabana rental, fitness center
admission, and bicycle rental.  At The Chesterfield the Golfers'
Getaway will give you a continental breakfast, two rounds of golf,
and a complimentary libation each evening.  Four Seasons Resort's
Under the Sun offers a third-consecutive-night-free deal, and PGA
National Resort & Spa's Spa Plan will pamper you with healthy
cuisine and body treatments.
          
April through December is Value Season in Palm Beach County. 
More than 70 resorts, hotels, and motels offer any guest who stays
seven consecutive nights the seventh night free.  Florida's largest
music, art, and waterfront festival, SunFest (April 29 - May 3), is a
great reason to take advantage of Value Season.  And once again,
Palm Beach County is offering "$500 Worth of the Palm Beaches
Free," a free coupon booklet with reduced rates, two-for-one offers,
and other savings on shopping, sports, dining, and attractions.  Call
800-554-PALM for your free booklet or click on the WebSite address
below.
          
For more information on Palm Beach County, contact PALM BEACH COUNTY 
CONVENTION AND VISITORS BUREAU  
           1555 Palm Beach Lakes Boulevard, Suite 204 
              West Palm Beach, FL 33401
          Phone: (561) 471-3995      Fax: (561) 471-3990
                              OR                           
                     Click Below to Visit Palm Beach County's Exciting WebSite                         
      
    http://www.palmbeachfl.com

      -Laurie Lawson- 

HAPUNA BEACH PRINCE HOTEL 62-100 Kauna'oa Drive Kohala Coast, Hawaii 96743 (800) 882-6060 or (808) 880-1111 November 9th - 11th, 1995
---


If you are looking for an excuse to go to
Hawaii (and who isn't?), the WINTER WINE
ESCAPE provides the perfect justification. 
Hosted at the beautiful Hapuna Beach Prince
Hotel in Kona, every effort is made to offer
you consummate escapism while indulging in
healthy, delicious cuisine complemented by
fine wines from the Pacific Coast.  What a
way to eliminate the winter doldrums!



The setting for this event is sublime. 
Located on the Kohala Coast of the Big
Island, the Hapuna Beach Prince Hotel extends
gracious hospitality and plenty of pampering. 
Lush tropical vegetation and flowers surround
this 500-acre resort, and each of the 350
rooms and 36 suites have a private lanai and
an ocean view.  Rooms range from $325 per
night/double occupancy for a spacious
accommodation to $5,000 per night for the
8,000 square-foot private suite with over $1
million worth of furnishings and art.  



Sister-hotel of the renowned Mauna Kea Resort
just down the road, two award-winning golf
courses are available to guests, as well as
tennis, watersports, and a fitness center. 
And, if that's not enough, the beach at
Hapuna Beach and Mauna Kea has been rated one
of the best beaches in America.  In addition,
there are six dining establishments at Hapuna
Beach Prince Hotel offering a sumptuous
variety of local and international cuisine;
and the Reef Lounge serves up a wide array of
international coffees and signature tropical
drinks to the sounds of live musical
entertainment.  You may find that you never
want to leave this idyllic resort.



The WINTER WINE ESCAPE will provide even more
temptation to linger.  The theme of this
year's event was "Celebrating the Enjoyment
of Healthy Cuisine and Fine Wines," and
participants celebrated in grand style.  The
event kicked off with an outdoor Winter Wine
Escapade where Mauna Kea's Executive Chef
Corey Waite and visiting super-star chefs
prepared magnificent tasty dishes.  Over 30
vintners were available to pour their wines.



The second day offered participants a once-
in-a-lifetime experience as they visited awe-
inspiring Waipi'o Valley.  An adventurous
trip to the bottom of the valley produced
visits to taro fields, breath-taking scenery,
and a dining delight.  Visiting chefs Beverly
Gannon of Hailiimaile General Store, Russell
Siu of 3660 on the Rise, Mark "Mako" Segawa-
Gonzales of Roy's Poipu Bar and Grill, and
Glenn Alos of Kona Village Resort prepared
healthy entrees using local produce and
seafood.  Delectable items, such as Seafood
Taro Cakes and Tangy Lobster Salad, were
paired with some of the finest wines of
California.  As diners reveled in the
experience, Sarah Beth King of Bon Appetit
and Master Sommelier Larry Stone of Rubicon
led a lively discussion of the "Food
Laboratory."  Later that evening participants
were treated to a Jordan Winery Dinner
prepared by Chef de Cuisine Thomas Oden. 
Vintage Jordan wines flowed freely and
perfectly topped off a distinguished day.



Day Three began with The Estate Cabernets of
Chateau Montelena where Master Sommeliers
Peter Granoff and Larry Stone led the
discussion of Cabernet Sauvignons.  Basking
in the Glow of Healthy Cooking featured a
mouth-watering luncheon of Grilled Hawaiian
Swordfish, Rare Tuna, and Roasted Pheasant
prepared by California Chefs Michael Mina,
Traci Des Jardins, and Charles Saunders. 
Collio Pinot Bianco 1994, Rubicon Niebaum-
Coppola 1990, Geyserville Ridge 1987 and 1993
were the accompanying wines.  



The Grand Finale Wine Reception, "A Return to
the Past for the Future," was grand indeed. 
Held on South Pointe at Mauna Kea, more fine
wines and foods were bountiful as
participants returned to the glorious Mauna
Kea to view the newly-renovated site slated
to re-open December 1995.  Gourmet farmers,
aquaculturists, seafood experts, artisans,
and master craftsmen displayed their products
and wares as the now-familiar and greatly-
appreciated chefs prepared exquisite dishes
and vintners poured their wines.  This was
truly a memorable experience tainted only by
the awareness that the WINTER WINE ESCAPE was
coming to an end. 



No need to despair if you missed this event. 
Roy Cordeiro, Director of Sales and
Marketing, assures us that plans to make next
year's WINTER WINE ESCAPE even better and
more unforgettable are already in the works. 
So start planning now to be there.  Gourmet
cuisine, fine wines, luxurious lodgings on
one of the most beautiful islands in the
world, all enhanced by the "Aloha" spirit of
friendly people - where else would you want
to be.

  - Laurie Lawson-  

Photography By:EVincent Jeffers

AMERICAN STYLE
1995 AURORA VACATION CHALLENGE
September 22nd - October 7th, 1995
The Concept:
Garry Sowerby (we'll talk about this extraordinary man later) decides to design the American Dream Vacation. He gathers ten fearless couples from all over the world and sets them off on an adventure that will last a lifetime.
The Players:


Team India broke the record (previously held by
Sowerby) for driving around the world; Team Poland
was comprised of a guitar-strumming Nationalist who
drove from the southern tip of South America to the
northern tip of North America and his artist friend; the
Tuvans were throat singers enjoying the status of a
superstar like Michael Jackson in their tiny country;
Team Mexico City included a car racer; and the other
fascinating couples were from Cuernavaca, Turkey,
Israel, Guatemala, Reunion Island, and Canada.  Throw
in a honeymooning couple from Michigan and media and
press along the way, and let the adventure begin! 
The Game:
Teams met in Birmingham, Michigan, to pick up their 1996 Oldsmobile Auroras and learn the First Leg of their vacation. Given only the destination and adventure stops along the way, participants armed with road atlases and Polaroid and Kodak cameras took off. To document their escapades and misadventures, log books were kept. Along the way teams were given challenges, such as finding the tackiest souvenir and the best road meal (much of the fun came from explaining the meaning of "tacky" and "road meal"). The goal was to "out- vacation" each other while seeing as much of the American West as possible.
The Superhighway Connection: All you needed were a computer and a modem to join in the fun. Sowerby's Website documented each step of the journey, and websurfers were encouraged to participate by routing for their favorite team and providing advice, tips, and strategies. Garry and Associates provided daily updates, many from the teams' log books, so you can get a real taste of the event.
Check it out at http://www.adventuredrive.ca

The Car:
The 1996 Oldsmobile Aurora is an awe-inspiring vehicle. The 32-valve, 250hp DOHC V-8 can (and did) easily go from 0-60 in a mere 8.2 seconds. Kongar-ool from Team Tuva felt the car should be equipped with a parachute, and Team Turkey and Team Reunion can attest to its speed (they have the tickets to prove it). Sleekly designed inside and out and fully loaded with luxury features, the Aurora attracts attention wherever it goes. Whenever I left my husband with the car, I would return to a group of strangers standing around the open hood and trunk marveling at its many wonders.
The Route:
The Auroras headed out to The White Gull Inn in Fish Creek, Wisconsin; this was the first of many rendezvous where the teams shared their experiences. Days spent on the road create hilarious incidents, challenging ordeals, and an awareness of the American culture that beg to be recounted. From Fish Creek, it was on to the Paradise Dude Ranch in Buffalo, Wyoming, and then to the North Rim of the Grand Canyon in Arizona. From here the elegant Phoenician Resort in Scottsdale, Arizona, was awaiting the travelers. The lavish San Ysidro Ranch in Montecito, California, was the next stop, and the final leg ended up in the renowned Beverly Hills Hotel.
The Finale:
At a press conference in Beverly Hills the teams gathered for their final day of the AURORA VACATION CHALLENGE. Log books were on display, awards were bestowed on each team for their distinguishing qualities, experiences and impressions were shared with the media, Kongar-ool rendered an amazing performance of throat singing, and sadly everyone began preparing to return home.
The Experience:
Some of the log books were as much as five inches thick, and even the teams that put them together would be hard-pressed to verbalize their experiences. Anyone doubting the possibility of world peace should have been a part of this challenge. Almost immediately these teams bonded, became a part of a new and unique family, and will most assuredly maintain contact with each other for many years to come. Traveling through a foreign country, spotting an Aurora in the distance, and coming across a friendly face has to be a remarkable and welcome surprise.
Team Reunion felt so comfortable with the group that they slipped away to Las Vegas to get married and celebrated with their new-found friends at a rendezvous dinner. Throughout the challenge these atypical comrades discovered a new culture and conquered obstacles together. And Americans along for the madcap ride had an opportunity to see their country from the innocent eyes of visitors. Each team became Ambassadors of Good Will as they encountered friendly strangers and explained their mission. Cowboys in Wyoming were awe-struck as they watched the Tuvan throat singer perform; Team Poland spent the night in their car and were cheerfully rescued by local police the next day; and the stories go on and on. There were no losers in the AURORA VACATION CHALLENGE; everyone came away inspired and enriched.
The Man Behind This Delightful Madness:
Who is Garry Sowerby?  Co-developer of Odyssey
International Limited, he holds a Guinness Book of
Records acknowledgment for driving around the world in
74 days; a long-distance driving record for a trip from
Cape Agulhas, South Africa to North Cape, Norway; and
a driving record for a 28-day trip from Tierra del
Fuego, Argentina to Prudhoe Bay, Alaska. 

Okay, so he knows how to drive and break records, but
what makes him so special?  His ability to share his love
of adventure and his proficiency in putting together
unlikely elements are two priceless qualities. This is
not the first vacation challenge for Sowerby.
Last year he did the same thing in Europe with 8 American couples and 2 Canadian couples, but the 1995 AURORA VACATION CHALLENGE shows the true genius of the man.Taking ten couples from different countries on a journey from the majestic mountains of Wyoming to the affluent sophistication of Beverly Hills and letting them do it in a 1996 Aurora so they can experience the taste of freedom for which America is celebrated was nothing short of genius.Making it fun and safe and successful is mindboggling and miraculous. I came away from the AURORA VACATION CHALLENGE with a course of action. I am periodically checking Garry's Website; I am reading every book he wrote (Road Fever and The Great Gold Toothpick Caper are two that I'm aware of); and whenever I hear the name Sowerby, I am paying attention. This is one fun dude!

- Laurie Lawson-
Photography By:EVincent Jeffers
HomePage/ Entertainment/Computer Update.
© 1995 ELJ,Inc.
---